Looking for the best ZenBusiness alternatives? There are so many reasons why ZenBusiness is a great choice for new businesses looking for an online incorporation service.
In addition to its affordable plans, ZenBusiness offers many services such as bookkeeping, compliance alerts, and registered agent service that you need.
However, if you're shopping around for LLC services that are more affordable and offer added services in their free plan, it's time to explore ZenBusiness alternatives.
Read on to find a suitable alternative to ZenBusiness.
Start Your Business for FREE
About ZenBusiness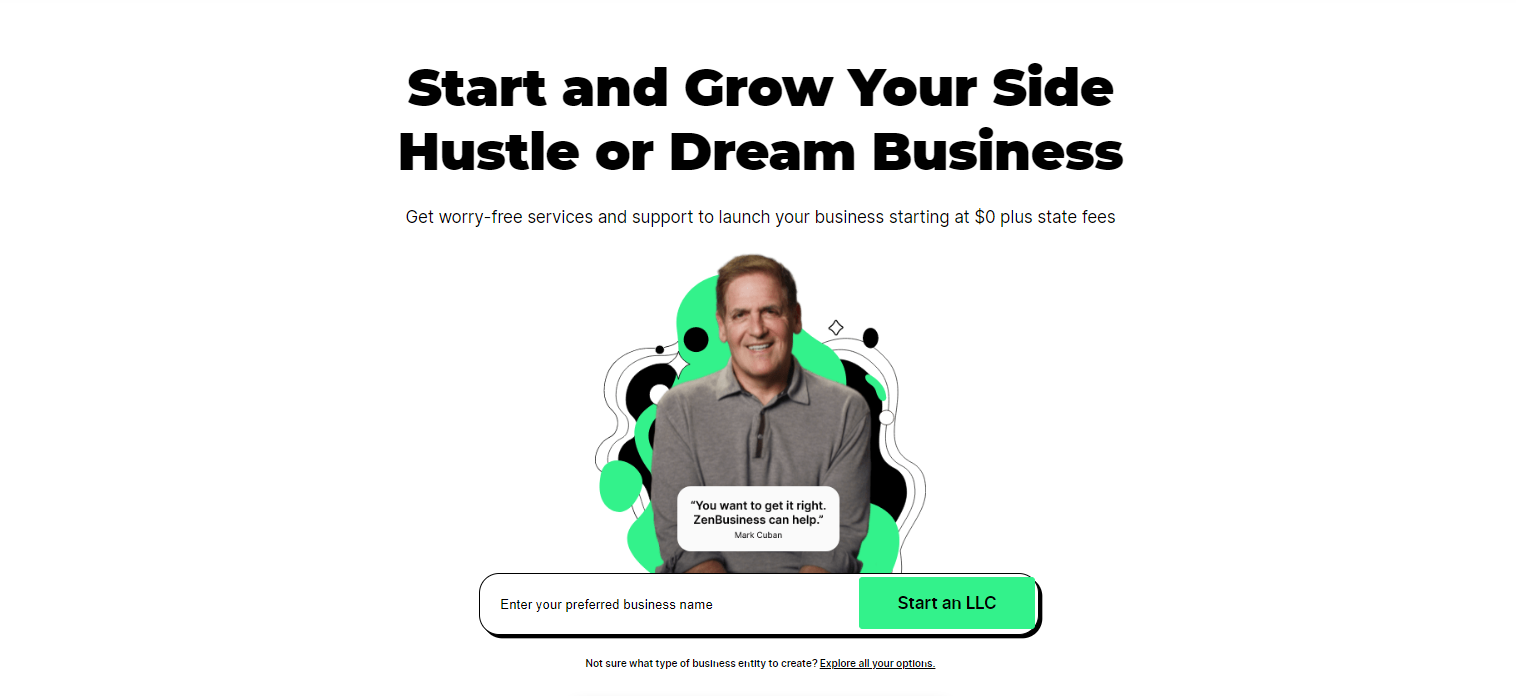 Image via ZenBusiness
Knowing what ZenBusiness offers is the first step to exploring its alternatives such as Incfile and Inc Authority. Here's a closer look at the features, pros, and cons of ZenBusiness.
Start Free with ZenBusiness
What We Love About ZenBusiness
The Texas-based LLC formation services provider is one of the most well-established companies in the industry.
Here are the aspects of this company that stand out.
Affordable Plans
Most business formation services are priced at $290 to $350 per year. While ZenBusiness has three tiers of plans, it offers a Pro plan that is priced at just $199 per year.
This plan offers expedited filing in addition to Worry-Free Compliance and guided operating agreement.
The free Starter plan includes standard filing and expense tracking. ZenBusiness also offers a lot of a la carte services that are ideal for small businesses looking to add on other services as they grow.
Get Started for Free
Comprehensive Features
ZenBusiness offers all the features that new business owners need including registered agent services,
accounting
, banking, and business planning.
Here are the helpful list of features:
LLC, C-Corporation and S-Corporation formation services
Worry-Free Compliance
EIN
Articles of Organization
Operating Agreement
Annual reports
Certificate of Publication in New York
Expedited filing
Smart Financial Tools
In addition to incorporation services, ZenBusiness helps you plan your finances with smart tools. For a monthly fee of $5, you can get various money management tools, including tax saving and expense tracking tools.
Here are the financial tools and services it offers:
Invoices and payments
Expense tracking
Tagging of tax deductions
Mileage tracker to save money
Business checking account with no minimum deposit requirement
What We Don't Like About ZenBusiness
While ZenBusiness has one of the most affordable business formation services, it does not offer a free registered agent service.
You will need to purchase most services such as EIN, license report, and Worry-Free Compliance — some of which have one-time and recurring annual fees.
This can end up making it an expensive option for small businesses.
And so, we have compiled this list of ZenBusiness alternatives to help you find a suitable service that fits your budget.
7 ZenBusiness Alternatives and Competitors
While there are plenty of service providers out there, here are seven solid ZenBusiness alternatives, based on customer reviews and our own research.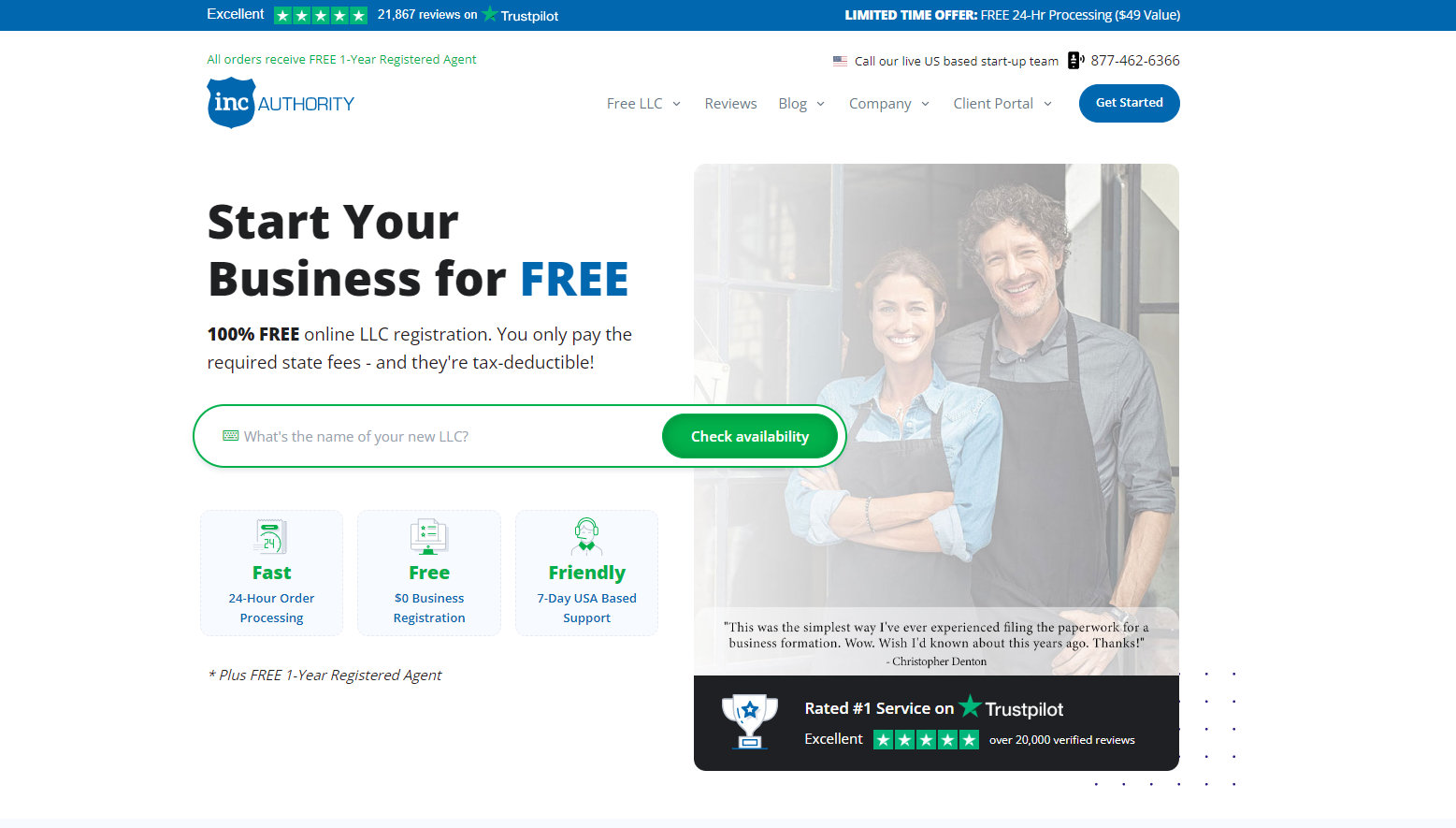 Image via Inc Authority
There are many reasons to consider Inc Authority as one of the top ZenBusiness alternatives.
Not only do they offer 100% free LLC services, including one year of registered agent services, but they have a suite of holistic services that cater to the needs of new business owners.
Limited liability companies can get a range of services including credit coaching, funding solutions, business bank account, website design, and marketing, under one roof.
This makes Inc Authority the ideal LLC formation provider for small to medium businesses seeking the best value from their investment.
Features
Free limited liability company and corporation formation
Free registered agent services for the first year
Business name check
Free tax consultation
Digital document storage
Business funding
Exclusive online client portal
Compliance notifications
Bylaws and operating agreement
Business credit analysis
Domain name and email addresses
Employer identification number (EIN)
Expedited filing
Bank account and private banking specialist
Business planning
Other Services Offered
Trademark search, registration, and monitoring
Stock/ownership certificate
Revocable living trust
Marketing and website design
Where Inc Authority Excels
Unlike most ZenBusiness alternatives, Inc Authority's incorporation services are completely free, making it one of the best LLC services for startups and small businesses.
As one of the top ZenBusiness competitors, Inc Authority has received 5-star ratings on Trustpilot for its responsive customer service to ensure the ease of LLC formation.
In addition to 7-day live customer support, they offer personalized business advice to help remove any confusion and fear linked to setting up a business.
Where Inc Authority is Lacking
Inc Authority has not listed the pricing for its Starter and Fasttrack bundles unlike other ZenBusiness alternatives.
While many services are free, users may find it difficult to understand which services need to be renewed annually and which ones need a one-time payment by visiting the website.
Price
Here are the pricing details:
Basic package: $0 (+ state filing fee)
Starter Business Bundle: Contact sales
Fasttrack Business Bundle: Contact sales
Additional Services: Contact sales
Read this review of Inc Authority to gain more insights into this service.
Choose Inc Authority's Free Plan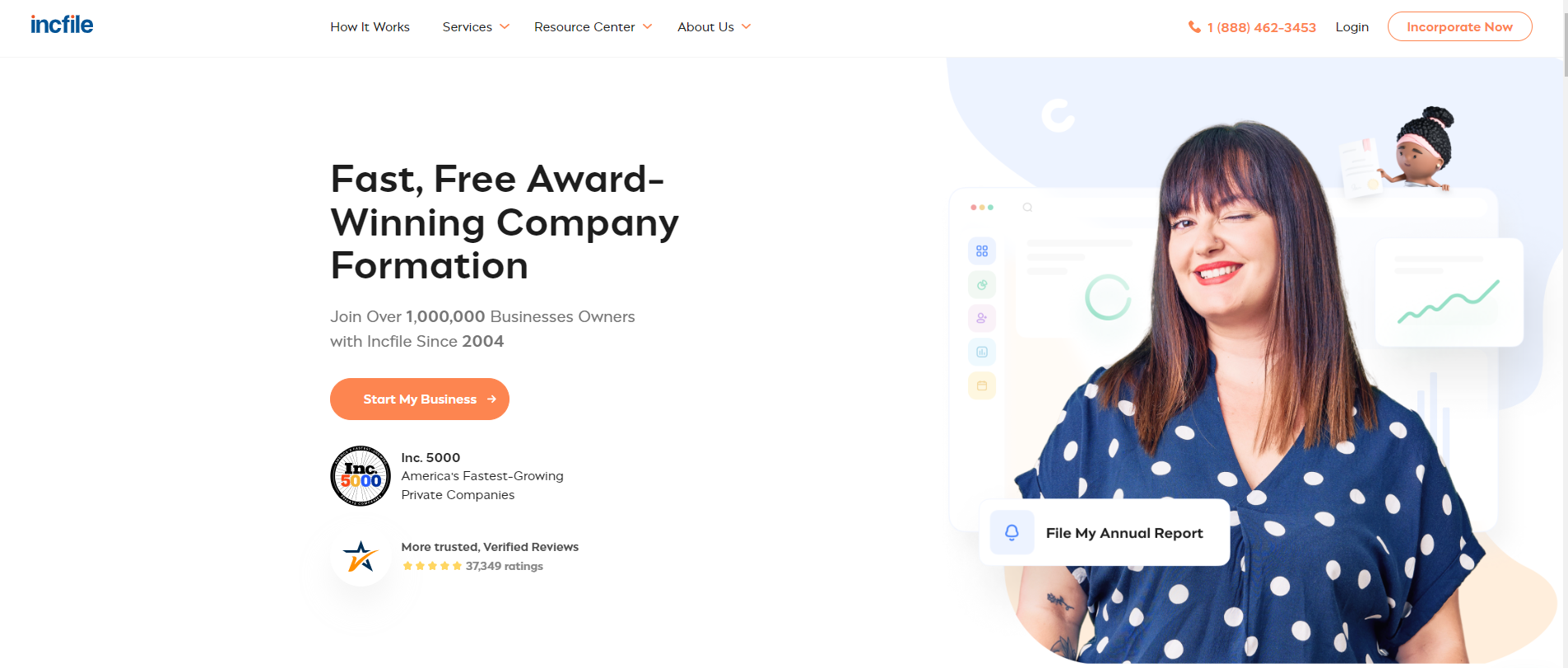 Image via Incfile
If you're looking for ZenBusiness alternatives that can help you set up businesses in multiple locations, Incfile is a great choice.
They even offer 'foreign qualification' services where they take care of all the paperwork related to doing business in 'foreign' states, making the LLC formation process hassle-free.
Incfile is also one of the ZenBusiness alternatives that offer free business formation services in addition to other valuable solutions such as accounting, Certificate of Good Standing, and more.
Features
Free LLC, Corporation, and non-profit formation
Free 1-year RA services
Filing paperwork for foreign qualification
Amendments
Certificate of Good Standing
Filing articles of amendment
Annual reports
Business name change
Contract templates
Trademark services
Free tax consultation
Business license research package
Employer Identification number
Other Services Offered
Business dissolution and reinstatement
Virtual address
Personalized corporate kit
Where Incfile Excels
As expected from top ZenBusiness alternatives, Incfile offers free online formation services and has a transparent pricing structure so potential customers know what to expect.
Apart from LLCs and corporations, Incfile also offers tailored non-profit formation solutions such as helping get the approval for tax-exempt status.
As one of the best ZenBusiness alternatives, Incfile also offers add-on service options that are valuable to new business owners such as bookkeeping and contract templates.
Where Incfile is Lacking
Incfile does not offer multiple customer support options unlike most other ZenBusiness alternatives. Its refund policy is also not very clear.
Many users report that the customer support is not as knowledgeable as expected of the best ZenBusiness alternatives.
Also, expedited (next-day) filing services are only available in the Platinum plan.
Price
Incfile has three types of plans:
Silver: $0 (+ state filing fee)
Gold: $199 (+ state filing fee)
Platinum: $299 (+ state filing fee)
Start Business for Free with Incfile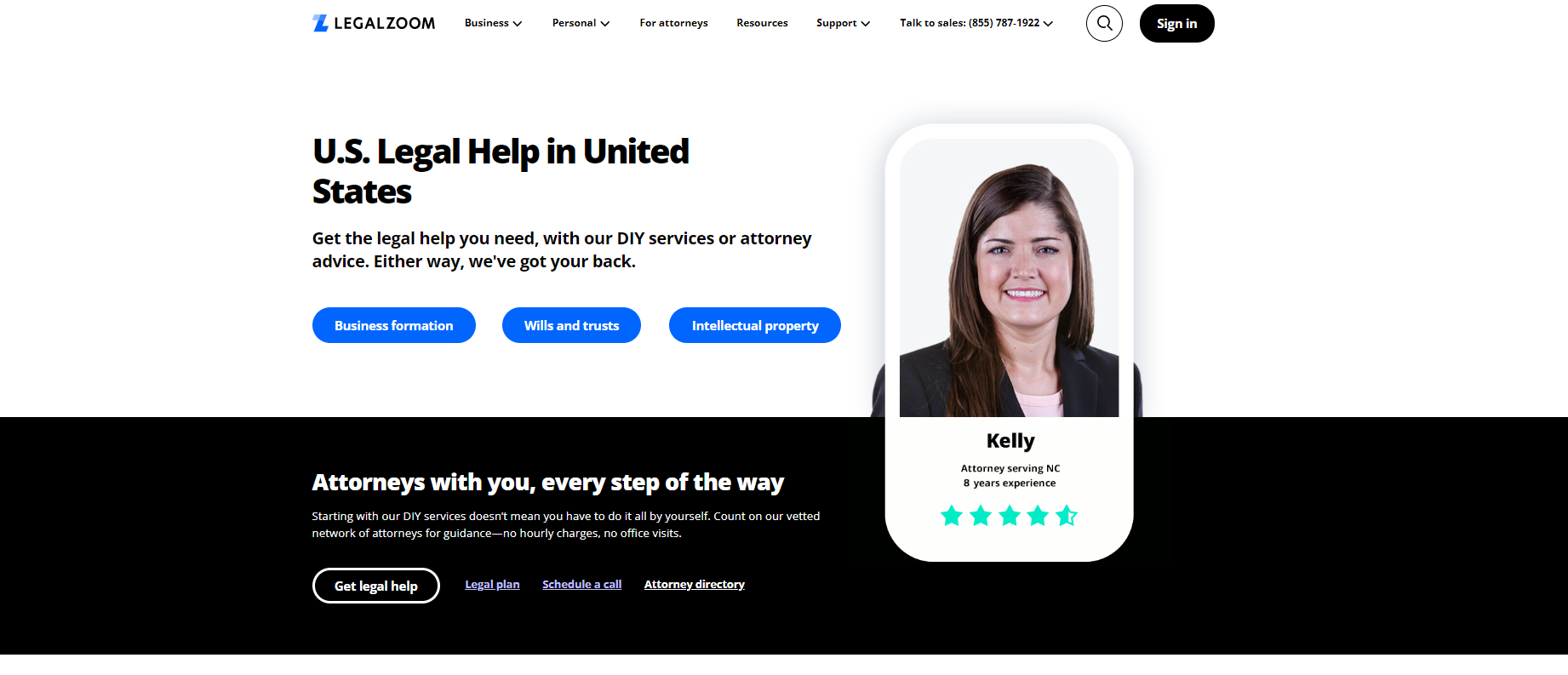 Image via LegalZoom
LegalZoom helps you register your LLC, corporation, or non-profit in the US.
Plus, they offer all the services that ZenBusiness offers, such as RA, contract templates, and DBA.
Over the years, they have helped over 2 million businesses get registered.
Their expertise, as the name suggests, lies in offering legal help for all aspects of running a business. Find out how it compares with other ZenBusiness alternatives.
Features
Incorporation services for LLCs, non-profits, corporations, and sole proprietorships
Annual reports
RA
Foreign qualification
DBA
Business licenses
Corporate amendment
Tax services
Business dissolution
Business advisory plan
Compliance calendar
Corporate kit
Other Services Offered
Legal forms package
Corporate name change
Trademark search, monitoring, and registration
Copyright and patents
Where LegalZoom Excels
Unlike most ZenBusiness alternatives, LegalZoom has a network of legal experts who can guide on all aspects of forming and running your business.
Apart from extensive resources, they offer additional tools to help you get started, including legal forms and corporate supplies.
LegalZoom also offers a 60-day refund policy, clearly stated on their website's home page.
Where LegalZoom is Lacking
While it is an established business formation services provider, LegalZoom is one of the more expensive ZenBusiness alternatives.
While they do offer a basic LLC formation package that is free, it includes limited services such as a business name check and preparation of Articles of Organization.
RA services are not free and you may need to purchase certain services, such as DBA, separately for an additional cost.
Price
Unlike most ZenBusiness alternatives, LegalZoom has different pricing tiers for each type of business structure. Only the LLC formation service offers a free plan.
LLC
Basic: $0 (+ state filing fee)
Pro: $249 (+ state filing fee)
Premium: $299 (+ state filing fee)
Corporation
Economy: $149 (+ state filing fee)
Standard: $329 (+ state filing fee)
Express Gold: $349 (+ state filing fee)
Non-profit
Economy: $99 (+ state filing fee)
Standard: $239 (+ state filing fee)
Express Gold: $359 (+ state filing fee)
Here's a detailed blog post comparing Inc Authority and LegalZoom.
Form Business with ZenBusiness

Image via Tailor Brands
Tailor Brands has helped over 30 million entrepreneurs form their businesses since its inception.
But what makes Tailor Brands one of the top ZenBusiness alternatives?
As a one-stop-shop, they offer LLC formation services in addition to other tools and features such as branding, logo maker, website design, and more.
The automated platform has helped power over 50 million designs and is known for its user-friendly interface.
Features
LLC formation services
Annual compliance
Operating agreement
Expedited processing
Trademark application
12 contracts and agreements
EIN
Registered agent
Logo maker
Free website domain for 1 year
Website builder
Other Services Offered
Business Mailbox
Branded merchandise
Social media post creator
Business cards tool
Where Tailor Brands Excels
Tailor Brands is one of the suitable ZenBusiness alternatives for those looking for expert assistance with business branding.
The AI-powered tools it offers help you create logos, business cards, and other graphics with ease while a website design expert can create a custom website.
When it comes to LLC formation, Tailor Brands does offer a range of services that you would expect from ZenBusiness alternatives.
Where Tailor Brands is Lacking
Unlike most ZenBusiness alternatives, Tailor Brands does not offer free LLC service or comprehensive company formation services.
The pricing is not mentioned on the website. Users can only find out the final cost on the checkout page.
Price
While pricing information is not provided, Tailor Brands mentions that its plans for LLC formation range from $199 to $300.
Launch Your Business for FREE

Image via Rocket Lawyer
Rocket Lawyer is an online legal services company that provides legal documents, advice, and LLC formation services.
While it may come across as a legal services company, it offers pretty much everything that a business would need to get started and operate, right from formation to trademark.
The online incorporation service handles the paperwork while helping you register your business and reserve the business name.
Features
Corporation, non-profit, and LLC formation services
Registered agent service
Filing documents and forms
DBA
Articles of amendment
Business dissolution
Operating agreement
Trademark search and filing
Tax preparation
Other Services Offered
E-signature
Form builder
Legal services including attorney consultation
Where Rocket Lawyer Excels
Rocket Lawyer is definitely one of the most affordable ZenBusiness alternatives thanks to its low-cost yearly subscription plan.
A key feature is the direct contact businesses have with legal experts in addition to extensive legal document templates and forms.
Business owners can get all their business documents and contracts reviewed by an attorney to ensure accuracy and peace of mind.
Where Rocket Lawyer is Lacking
Unlike ZenBusiness alternatives such as Incfile and Inc Authority, Rocket Lawyer does not offer free services such as tax planning or registered agent.
While there is a discount on these services, they have to be purchased as add-ons to the basic LLC formation service.
Price
Rocket Lawyer has two types of plans:
Monthly: $39.99 per month (+ state filing fee)
Annual: $239.99 per year (+ state filing fee)
Choose ZenBusiness for Free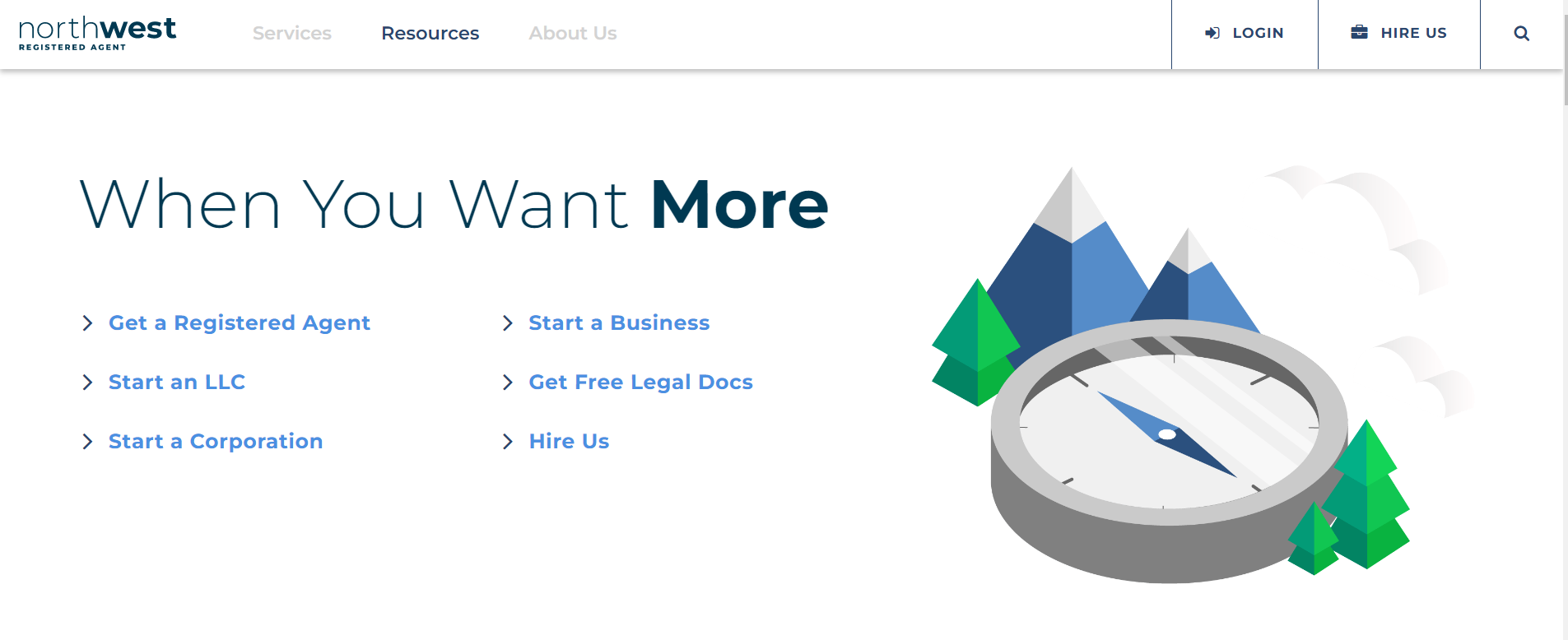 Image via Northwest Registered Agent
Northwest Registered Agent ticks all the boxes when it comes to the features and services you would expect from the best ZenBusiness alternatives.
While it offers services such as filing Articles of Organization, trademark application, annual report filing, EIN, and more, it is particularly known for its tailored registered agent services.
Businesses in Utah can also benefit from their 'law on call' service that gives instant access to licensed legal experts. Plus, there are no hidden fees involved in their plans.
Features
Corporation, non-profit, and LLC formation
Registered agent services including national registered agent, BOC-3 process agent, and local document scanning
Corporate and legal forms
Annual compliance reminders
Articles of organization
Trademark application
EIN
Foreign registration
Certificate of Good Standing
Other Services Offered
Virtual office and mail forwarding
Business formation for non-US residents
Corporate seal and book
Law on call
Where Northwest Registered Agent Excels
Northwest Registered Agent is one of the best ZenBusiness alternatives because it offers registered agent services with a difference.
In addition to giving you the option to appoint individual and bulk registered agents, the registered agent services also include scanning of documents, real-time notifications, and corporate guide service.
They have a commitment to protecting your data while their pricing is transparent. In addition, they provide precise turnaround time for LLC formation and other processes.
Where Northwest Registered Agent is Lacking
Northwest Registered Agent's services are costlier when compared to other ZenBusiness alternatives such as Incfile and Inc Authority.
This is because Northwest Registered Agent charges additional fees for most services including EIN, trademark, and application filing.
Also, there is no free package nor is there a free trial.
Price
Here's the list of the pricing for different services:
Business formation + Registered Agent: $225 (+ state filing fee)
Foreign Qualification + Registered Agent: $225 (+ state filing fee)
Registered Agent: $125 per year
Trademark services: $249 (+ USPTO filing fees)
EIN:
For US residents: $50
Non-US residents: $200
EIN + incorporation + Registered Agent + business forms: $275 (+ state filing fee)
Get Free Business Formation Services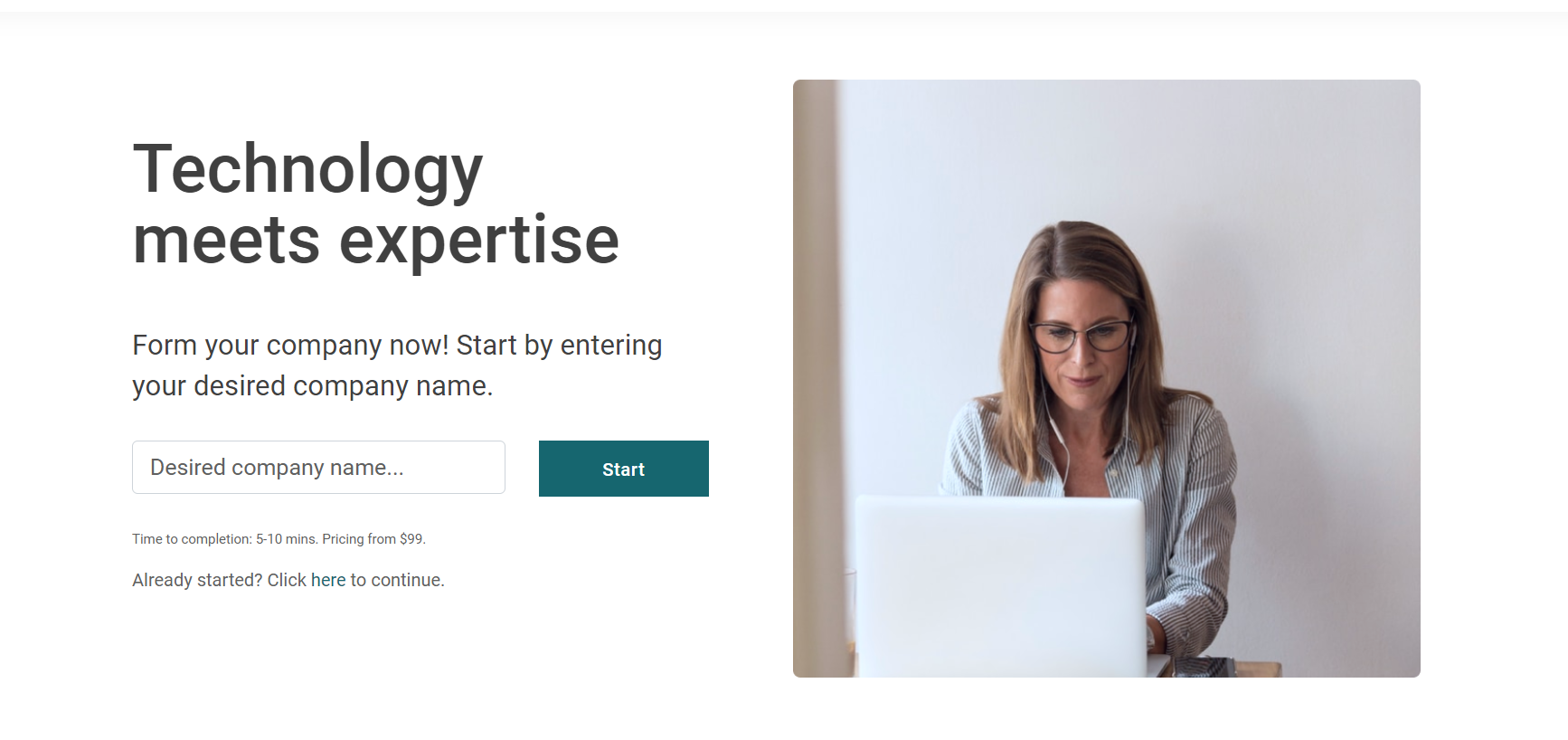 Image via Corporate Creations
With decades of experience in the field, Corporate Creations offers a wide range of services including incorporation, registered agent, and more to companies of all sizes.
Why is it one of the top ZenBusiness alternatives?
Well, in addition to the staples that most ZenBusiness alternatives offer, Corporate Creations has other tailored services such as Beacon Entity Management that helps businesses manage vital documents and functions online.
Features
Business name search and name reservation
RA services
Incorporation
Filing paperwork related to amendments, qualifications, dissolutions and mergers
DBA
Certificate of Good Standing
Business license filing
Corporate seal
Annual reports
Other Services Offered
Beacon Entity Management
Assistance with sales tax and payroll
Apostille and legalization
Where Corporate Creations Excels
Corporate Creations offers a lot of services designed to streamline their clients' work processes and LLC formation.
The company leverages technology such as the GEMS platform to help businesses manage their documents and compliance.
There is also a digital system that helps you take your business online to manage litigation and other vital functions.
Where Corporate Creations is Lacking
Unlike popular ZenBusiness alternatives such as Incfile and Inc Authority, Corporate Creations does not have many reviews.
The pricing information is not mentioned on the website nor does the company offer a free business incorporation package.
Price
Contact sales
Start Your Business for FREE
FAQ
Q1. Is it worth using ZenBusiness?
A. Absolutely! ZenBusiness offers a complete suite of services including LLC/corporation formation, business credit card, invoicing, and Worry-Free Compliance.
They also offer a free formation package in addition to having a policy of 60-day refunds.
However, ZenBusiness does not include many services in the free package. You may have to purchase services such as Worry-Free Compliance, registered agent, EIN, and operating agreement separately.
If you are looking for comprehensive legal assistance or other business services such as one-on-one credit coaching, you might want to explore ZenBusiness alternatives such as Inc Authority or Incfile.
Q2. Is ZenBusiness a good registered agent?
A. ZenBusiness charges $199 per year for registered agent services and their services are known to be reliable.
However, you may need to consider ZenBusiness alternatives such as Northwest Registered Agent if you need nationwide registered agent or free change of agents.
Q3. Is ZenBusiness a good website to get your LLC?
A. Yes. ZenBusiness is a great website to get your LLC, as it offers an all-in-one package for businesses.
The best part is that the ZenBusiness website has a chatbot that guides you through the process of setting up your LLC.
Explore the other ZenBusiness alternatives we have listed here to compare the features.
Q4. Is ZenBusiness a subscription?
A. ZenBusiness has three types of plans that need to be renewed annually if you want to continue to avail their services. The starter plan is free of cost while the pro plan is priced at $199 and the premium plan costs $299 per year.
Q5. ZenBusiness vs. LegalZoom: Which is better?
A. Both ZenBusiness and LegalZoom are reputable incorporation service providers. The one you choose really depends on the type of business you are setting up and what your needs are.
LegalZoom is a great option for those who need more detailed legal advice and help with forming LLCs or Corporations. However, the cost of these services is higher compared to what ZenBusiness offers.
ZenBusiness provides services such as invoice, expense tracking, and Worry-Free Compliance but at a lower cost, and their streamlined process allows for quicker set-up.
Start Free with ZenBusiness
Top ZenBusiness Alternatives: The Final Verdict
We hope this article has been helpful in showing you some of the top ZenBusiness alternatives in 2023.
Each of these solutions offers its own unique set of features, so it is important to take the time to compare them and consider which one best suits your business needs.
You can also try the features with a free trial (many ZenBusiness alternatives offer a 60-day refund) to find the right solution for your business.
Choosing the best ZenBusiness alternative will help ensure that you can stay competitive and succeed in an ever-changing marketplace.
Start Your Business for Free
Disclaimer:
This content contains affiliate links, which means we'll earn a commission when you click on them (at no additional cost to you).