Inc Authority Review: The Summary Box
Inc Authority is a full-service business formation company that provides a variety of services for those looking to start a business. They offer templates and services to help you get started and offer a number of resources to help you understand the incorporation process.
In addition to being a user-friendly site, Inc Authority is one of the very few companies to offer completely free LLC formation services. The company has received positive reviews on TrustPilot for its responsiveness, quick turnaround time, and a vast array of services.
| | |
| --- | --- |
| User Friendliness: | |
| Customer Service: | |
| Pricing: | |
| Overall Rating: | |
Why do you need an Inc Authority review?
Starting a business requires a lot of hard work and dedication. You have to make sure you are following all the correct steps, doing your research, and filing the relevant papers with the IRS.
It's no secret that the top challenges entrepreneurs face in their journey to setting up a business related to funding, time management, and handling paperwork.
This is where business formation companies such as Inc Authority come in.
In this Inc Authority review, we will take a close look at the company, its services, pricing, and more to help you decide if it's the right business formation service for you.
Inc Authority Review: Why You Should Consider It
Inc Authority is a business filing service that helps entrepreneurs and small businesses form LLCs, corporations, and other types of business entities. The company was founded in 1989 and is headquartered in Reno, Nevada.
So why should you consider using Inc Authority? Here are some reasons:
Makes Business Formation Easy
The incorporation process can be confusing, but Inc Authority's team of experts will walk you through every step so that you can focus on running your business.
With Inc Authority, you can form an LLC in any of the 50 states for free.
Saves Time And Money
Inc Authority offers free Limited Liability Company (LLC) formation services in addition to a wide range of add-on services to help you get your business off the ground. From incorporating your business to getting funding and everything in between, Inc Authority can help you.
Incorporating your business on your own can be time-consuming and expensive. With Inc Authority, you'll get everything taken care of quickly and affordably.
Access to Valuable Resources
As a client of Inc Authority, you'll have access to a wealth of resources that will help you grow your business. From templates, record books, to compliance notifications, you'll find everything you need to take your business to the next level.
Good Customer Support
Inc Authority is committed to providing outstanding customer service that is rated highly on most Inc Authority review sites including TrustPilot.
Form Your LLC on Inc Authority for Free
Inc Authority Review: Free Features
Inc Authority offers a variety of features to help you grow and manage your business. The Basic plan is free. In this section of this Inc Authority review, we'll discuss the features you'll get with the free plan.
Business Name Check
When you incorporate your business, one of the first things you need to do is check that the business name you want to use isn't already taken. You can do this by searching the business names register on ASIC Connect.
Inc Authority has an easy-to-use search feature that allows you to check the availability of your chosen business name. The LLC formation service provider scours government databases to check if the business name is available in your state.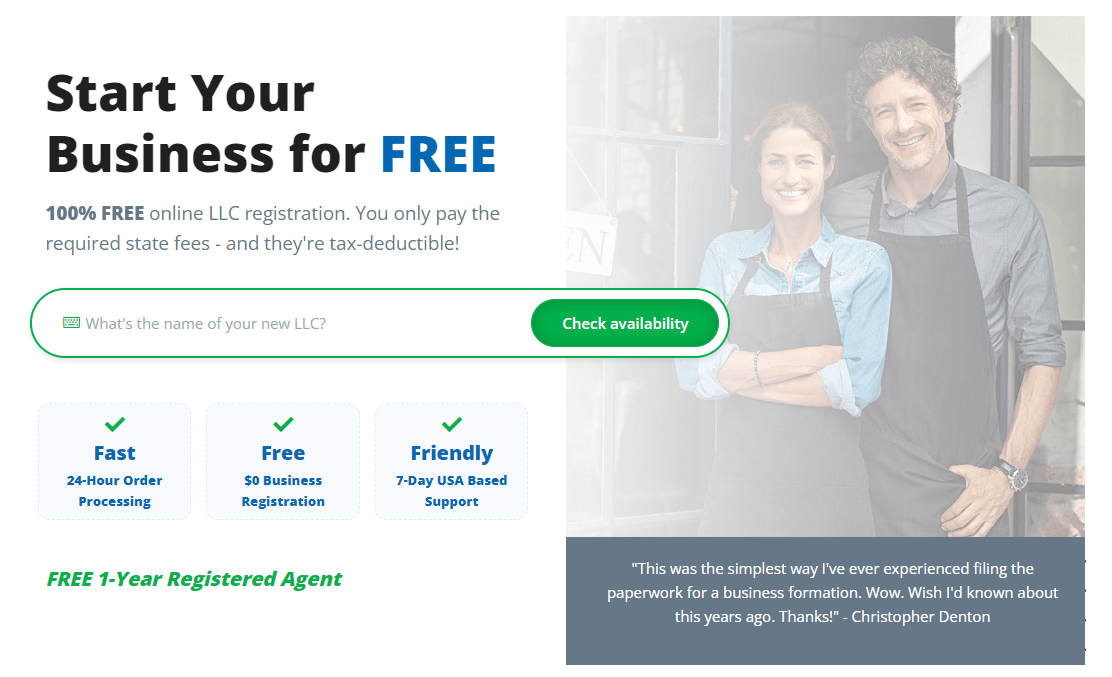 Image via Inc Authority
During our Inc Authority review, we found that the search bar is simple and easy to use. The results are accurate and the entire process is quite smooth.
Registered Agent Service
For most startups, it can be difficult to dedicate time to receive and respond to legal documents, given their focus on building their business. However, Limited Liability Company owners who fail to respond to legal documents can face fines and penalties.
Moreover, many startups that are running online businesses may not have a physical address. And many entrepreneurs may not want to provide their home addresses for the sake of privacy.
Inc Authority offers registered agent services, meaning, it accepts legal and compliance documents on behalf of your LLC, free of charge for one year.
By receiving the relevant documents and forwarding them in quick time to your LLC, Inc Authority can help you save time and avoid penalties.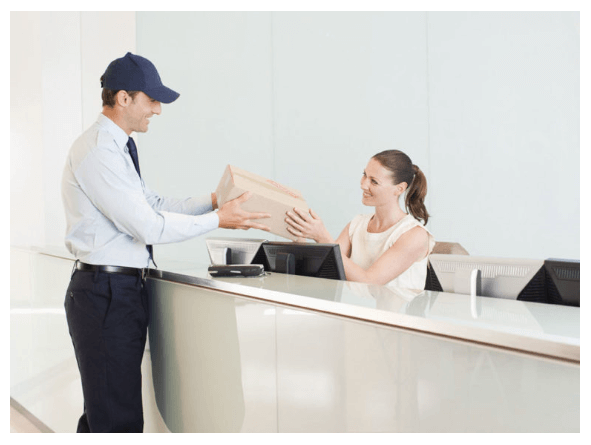 Image via Inc Authority
The Inc Authority Registered Agent service plan includes:
One year of free registered agent service
Unlimited document receiving and forwarding
Online access to all documents
Registered Agent support via email, chat, and phone
As part of our review, we compared this service with that offered by other similar companies and found it at par. If you decide to upgrade to the paid service after a year, it's competitively priced and worth the investment.
Preparation and Filing
There are a few key business entity formation documents that need to be prepared and submitted in order to legally establish your business. These include the Articles of Incorporation (or Certificate of Formation) and the Operating Agreement (or Partnership Agreement).
The Operating Agreement (or Partnership Agreement) is a contract between the owners (or partners) of the business that outlines their roles, responsibilities, and ownership shares.
Some states also require that LLCs file an initial report, which is similar to a partnership's annual information return.
Inc Authority offers free preparation and submission of these documents in its basic package.
We did a comprehensive review of Inc Authority's filing services and found it to be quite seamless. With over 25K reviews and a 4.9 rating on TrustPilot, you can rest assured that you'll get the best-in-class service.
Tax Planning Consultation
If you are running a business, it can be hard to keep track of everything. That's where a tax planning consultation service comes in.
Inc Authority's free basic package includes tax planning consultation where a tax professional, discusses your business and your current tax situation. The goal is to come up with a plan to minimize your taxes and maximize your profits.
During our Inc Authority review, we compared its services with many such service providers. We found that offering free tax consultation is quite rare and most companies charge for this service.
Though you only get a short consultation for free, it's still a valuable service that not many other companies offer.
Business Credit and Funding Analysis
The first step in business credit and funding analysis is understanding your business's financial situation. This means creating a snapshot of your current assets, liabilities, and equity. You can do this with the help of Inc Authority's Business Credit & Funding Analysis service.
Inc Authority connects businesses with potential business funding sources such as banks, which is helpful for individuals who are not familiar with obtaining start-up capital.
An expert evaluates your financing needs and the current credit situation to give you suitable options for funding. There are many different sources of funding available to businesses, so it's important to compare and contrast the options to find the best fit for your company.
Inc Authority will help you build your credit rating and suggest credit providers.
Digital Storage and Delivery of Business Documents
When you form an LLC, the state will require you to file certain documents in order to officially register your business. These documents can be delivered and stored digitally, which makes the process more convenient and efficient.
The most common document that needs to be filed when forming an LLC is the Articles of Organization. This document includes basic information about your LLC, such as the name, address, and contact information of the business. You will also need to include the names of the LLC's members and managers, as well as the purpose of the LLC.
Once your LLC is formed, you can keep track of important paperwork and documents that are stored electronically via Inc Authority, so you can access them anytime, anywhere.
As part of our review process, we created an account and checked the interface. It's quite user-friendly, and managing and accessing documents is pretty easy.
Free Preparation of the S-Election Form
If your business has less than 100 shareholders and offers one class of stock, you can opt to form an S-Corporation by filing the S-Election form. As an IRS form, the S-Election form allows a small business to elect to be taxed as an S-Corporation.
Forming an S-Corporation has significant tax implications for your business, so it's important to understand the form and fill it out accurately.
Inc Authority's basic package includes free preparation and filing of S-Election Form 2553 with the IRS.
Our detailed review revealed that this is usually a paid service that other companies charge hundreds of dollars for. It's a steal deal that you get this for free with Inc Authority.
Inc Care Support
Inc Care is the customer support service from INC Authority that is designed to provide personalized support for small businesses and entrepreneurs.
You can contact a customer service representative through phone or email who will help you with whatever you need.
The support is available Monday through Friday from 6 am to 5 pm.
When you review the customer support options offered by similar companies, you'll find Inc Authority's support to be on par, if not better.
Customer reviews for Inc Authority will also confirm the high-quality of support that it provides.
Check Out Inc Authority's Free LLC Plan
Inc Authority Review: Paid Features
Inc Authority offers two paid packages under "Premium Service Bundles" to help users get the most out of their services. You will need to contact Inc Authority's Business Startup Experts to purchase any of these bundles.
As part of this Inc Authority review, let's check out the two paid plans it offers and their features.
Starter Business Bundle Review
In this section of the review, we'll list all the services offered in the Starter Business Bundle. We'll also provide a brief review of these services.
Custom Filing of Articles with the State
If you are starting a Corporation in the United States, you will need to file articles of incorporation with the state in which you are forming your company.
These articles are also known as corporate charters or Certificates of Incorporation. Each state has its own requirements for what must be included in the articles, but most states require basic information such as the company name, address, and names of the directors.
In the starter bundle, Inc Authority offers custom filing of articles for the state or states where you want your business to be registered.
Our review revealed that the experts at Inc Authority specialize in this and make the entire process seamless.
Complete Operating Agreement
When you form an LLC or Corporation, you'll need to create an operating agreement or corporate bylaws, respectively. An operating agreement outlines the ownership, business structure, responsibilities, and rights of members of an LLC. It can also help prevent disagreements between members or shareholders.
Some states including Delaware, New York, Missouri, and Maine require LLCs to create an operating agreement. For a Corporation, corporate bylaws solve the same purpose.
Inc Authority offers complete assistance in the creation of bylaws or operating agreements as the case may be.
Employer Identification Number
If you're starting a business in the United States, you will need to obtain an Employer Identification Number (EIN) from the Internal Revenue Service (IRS). An EIN is also known as a Tax ID Number, and it is used to identify your business for tax purposes.
Businesses also need an EIN for opening a business bank account or for hiring employees. If you're starting a business, the Inc Authority Starter Bundle includes everything you need to get started on the right foot, including obtaining your EIN/Tax ID Number.
Professional Tax Consultation
Businesses need to ensure they are compliant with tax laws. That's where Inc Authority's professional tax consultation service comes in.
A tax expert can help you understand your tax obligations and ensure that you're paying the right amount of tax. They can also help you claim deductions and exemptions.
According to our review, this is not only an extremely useful service, but one that can help businesses save a lot of money.
Deluxe Record Book
Inc Authority's Deluxe Record Book is the perfect way to keep track of your business operations, finances, and legal documents. The easy-to-use record book helps you keep a record of:
Operating agreement
Corporate bylaws
Shareholder agreement
Business checking account information
Approved contracts
Process of contract approval
Employee authorized functions
Sale or purchase of major assets
Tax election
Dispute resolution
Amendments to the corporate bylaw or articles or organization
Initial Meeting Minutes and Resolutions
The initial meeting of the board of directors of a corporation is an important time to set the tone for the company. The board will discuss and approve corporate resolutions that will guide the company's actions.
The minutes of the meeting are a record of these decisions, so it is important to take accurate and detailed notes.
Inc Authority offers personalized minutes and resolutions templates in its starter package.
This helps you capture and maintain accurate records on these items typically covered in initial board meeting.
Annual Compliance Notifications
As a business owner, it's important to stay up-to-date on all the latest compliance requirements. Inc Authority's starter package comes with a handy Annual Compliance Notification Bundle.
Inc Authority's compliance notifications ensure businesses are compliant with the local, state, and federal regulations.
After careful review, we can assure you that Inc Authority does a great job of sending timely notifications to help you stay compliant.
Corporate Forms Package
A corporate forms package includes all of the necessary paperwork to get your business registered and organized. This can save you a lot of time and money in the long run.
The corporate forms package from Inc Authority includes everything you need to get your business up and running including:
IRS Form SS-4
Articles of organization
Certificate of formation
Operating agreement
Tax registration
Name reservation application
Annual reports
Membership or Stock Certificates
Unlike corporations, stocks are not issued by LLCs. While the membership interests are detailed in the operating agreement, these are not given as certificates.
Signing up for Inc Authority's starter package will ensure you get personalized certificates denoting LLC ownership for members.
These certificates indicate each LLC member's percentage of ownership.
Similarly, stock certificates are issued to the shareholders of a corporation that show evidence of the stake they have in the business.
Inc Authority creates personalized stock certificates for the corporation with the name of the company, and the number of shares or units. This helps avoid confusion and ensures a consistent branded appearance for ownership/stock documents.
Web Domain + 5 Email Addresses
A web domain is a unique address on the internet that is used to identify a website. Your domain name should be reflective of your brand and easy to remember.
You'll also need a reliable email service to communicate with customers and partners. With Inc Authority's Starter bundle, you can get 5 professional email addresses with the new domain name, at no extra cost.
Fast Track Business Bundle Review
In addition to all the features listed under the Starter Bundle, the Fast Track Business Bundle offers the following additional features.
INC Success Advisor Package
Advisory services, per Inc Authority's description, include customer support for multiple aspects of business formation including:
IRS notifications
Tax
IRS audits
Accounting
Business funding
Payroll
Business banking
Local and state business licenses
Lawsuit defense
Credit Cards
Express processing
The executive business bundle includes expedited filing where your application gets top priority in the system and gets processed faster.
Express processing services are also available as an add-on option with the Starter package. The service ensures your documents are sent the next business day to state authorities.
Private Banking Specialist
A private banking specialist offers a wide range of services, including investment advice, financial planning, and asset management for premium clients. These specialists typically have extensive experience and knowledge in the financial industry.
Personalized Business Advice
If you're looking for personalized business advice, Inc Authority's Fast Track Bundle is perfect for you.
Their business experts work with you one-on-one to help you achieve your specific business goals. Fast Track Bundle users have access to a range of custom business advisory services that cover:
Choosing a business name
Deciding the structure
Understanding the legal obligations
Obtaining funding and building credit
Please note that all these services listed under the Fast Track Bundle are available as add-ons under the Starter package as well.
Create Your Inc Authority LLC Today!
Additional Services
Inc Authority offers a wide range of additional services to help you with all aspects of starting and running a business. Let's check these out as part of this Inc Authority review.
Business Plan
Creating a business plan can seem like a daunting task, but Inc Authority can help. They offer a variety of services to assist you in developing your business plan, including:
Financial planning and analysis
Market research
Competitive analysis
Business model development
Writing a mission and vision statement

Image via Inc Authority
The Business Plan package includes a dedicated business plan advisor to guide business owners through the LLC formation process.
Inc Authority's business plans are aligned with investor and bank guidelines to optimize your chances of obtaining the funding you need to start your business.
What's the verdict based on our review?
This is a useful service and Inc Authority does a great job at making the process easier.
Website and Marketing
In this section of the Inc Authority review, we'll cover the web design services that it offers.
Inc Authority can help you create a professional website for your business, as well as provide marketing services to promote your site and attract site visitors.
In addition to helping you create stunning websites, Inc Authority can help you with search engine optimization (SEO) to make sure your site ranks for relevant search queries.

Image via Inc Authority
Here are the specific website design and marketing services that Inc Authority offers through its partners:
Private consultation with a website designer.
Custom website design based on your business needs.
Dedicated marketing specialist to develop compelling website content.
Comprehensive SEO including optimizing headings, alt tags, internal links, meta descriptions, meta titles, and meta keywords.
Professionally designed custom logo.
500 personalized business cards with a wide range of design options to showcase your business name, logo, email, and website.
Location listing and optimizing your site for voice recognition on mobile phone or tablet.
Business Funding
There are a variety of business funding options available to entrepreneurs and small business owners.
In this section of the Inc Authority review, we'll see how it can help you in this regard.
Inc Authority can help you identify the best option for your business and pre-qualify you for a loan in minutes.
With a strong network of lenders, including banks, venture capitalists, and private equity firms, Inc Authority works with you to determine the best low-interest loans and high credit limit credit cards for you.

Image via Inc Authority
We conducted a review of its website and found that Inc Authority's business funding services include:
Guidance on pre-application compliance and information verification process to ensure the accuracy of funding applications.
Help with connecting businesses with FICO Pro certified underwriters for a one-on-one consultation.
Customized plan to help businesses access capital of $30,000 to $100,000
Option to submit funding applications.
Assistance to ensure high approval rates.
Business Credit
Inc Authority's Business Credit program is designed to help build your business credit so that you can get the funding you need to grow your business.

Image via Inc Authority
The package includes:
A dedicated business credit coach who offers one-on-one credit coaching for 90 days to help you build A+ business credit.
Multi-tiered credit building system to efficiently build credit. The platform shows updated, customized and pre-screened credit vendor lists at each tier.
A proprietary business credit LaunchPad that guides businesses through business credit development.
Registration and credit report from Dun & Bradstreet Credit Bureau and Experian Business.
Based on our review, we found this to be quite useful, especially for new business owners struggling to find suitable lines of credit.
Federal Trademark
A federal trademark is a trademark that is registered with the USPTO. The process of registering a federal trademark can be complex but with this additional service from Inc Authority, you can ensure you have a federally registered trademark.

Image via Inc Authority
The services include:
Comprehensive search of USPTO's records and 50 state databases for corporate names and domain names.
Expedited e-filing in 24 hours with the USPTO upon completion of the application.
Trademark specialist who assembles and files the trademark.
Government filing fee covering one class of services or goods.
Three years of trademark monitoring to prevent any infringements.
Assistance with the trademark registration process.
Revocable Living Trust
A revocable living trust is a legal document that allows you to manage your assets during your lifetime and determine how they will be distributed after your death.
Inc Authority can help you create a revocable living trust that meets your specific needs and goals. Their services as part of this add-on include preparation of:
Revocable Living Trust
Last Will and Testament
Power of Attorney for husband and wife
Durable Power of Attorney for Health Care
Form for transferring personal assets into Revocable Living Trust
Revocable Living Trust certificate
Instruction Letter on transferring assets to Revocable Living Trust
Form Your Business for Free
Inc Authority Review: Pricing
Inc Authority offers several pricing options for its users. The most basic level of service is the free LLC formation bundle, which allows access to the Inc Authority platform and a wide range of services.
Users can choose to subscribe to the Starter Bundle or the Fast Track Business Bundle for additional services such as personalized business advisory and private banking.
Inc Authority also offers a la carte services for those who need help with specific tasks related to incorporating their business.
These services include preparing a business plan, website design and marketing, business credit and funding, federal trademark, and revocable living trust. Prices for these services vary depending on the service requested.
You can contact the customer service for pricing information.
Get Free Business Formation Services
Inc Authority Review: Pros and Cons
There are many advantages of forming a business with Inc Authority. It is an easy and free way to get your business off the ground quickly and with less paperwork.
On the other hand, there are some downsides to consider before taking this route. In this section of the Inc Authority review, we will take a look at its pros and cons.
Pros
Here's a quick snapshot of the advantages of working with Inc Authority: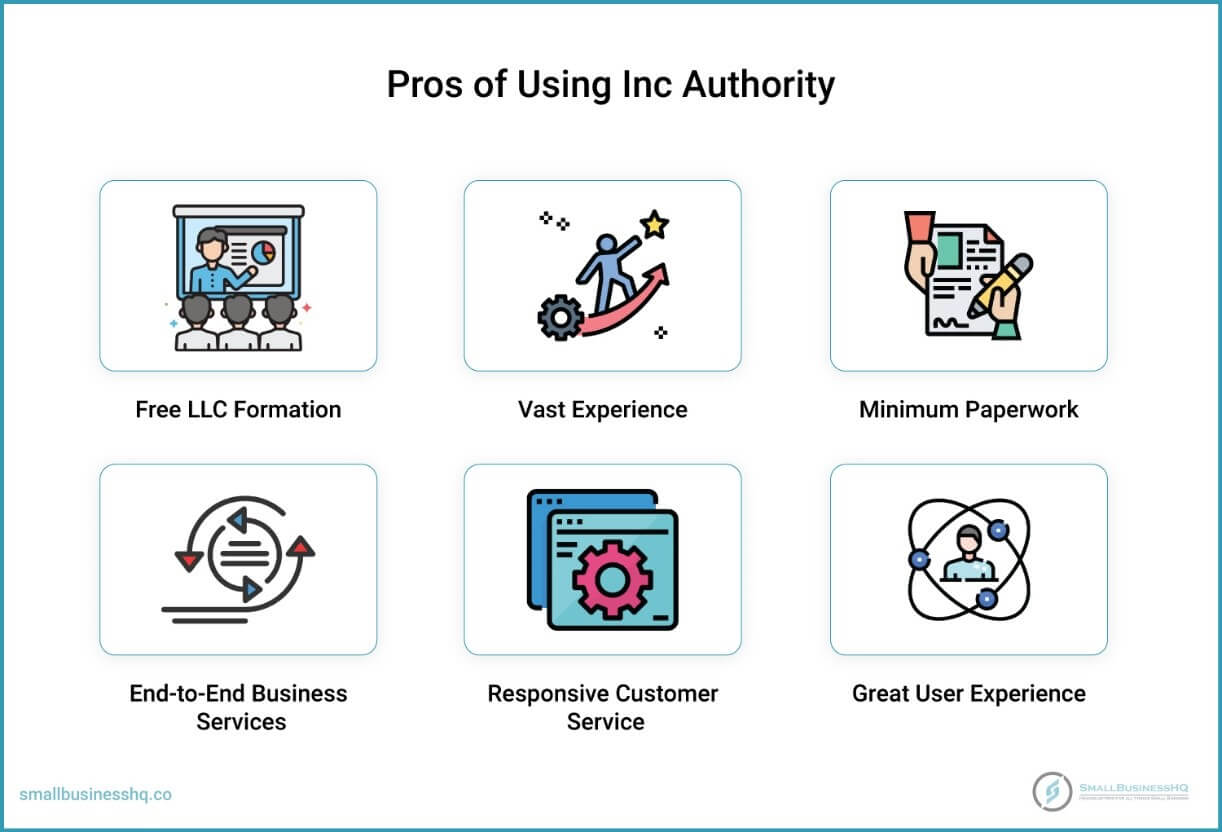 Free LLC Formation
With Inc Authority's free package, you gain access to a range of services that you need to form an LLC. You only need to pay the state fees while forming an LLC in just three quick steps.
Incorporating through Inc Authority is also relatively inexpensive when compared to other services or hiring a lawyer, even when you opt for paid plans.
With dedicated credit coaching, access to funding, and comprehensive business plan writing services, the paid plans are worth the price you pay.
Vast Experience
Inc Authority has a consistent track record, since its inception in 1989, of successfully forming businesses. With over three decades of experience, they have formed over 250K business entities.
Minimum Paperwork
The main advantage of using Inc Authority is that it can help reduce the amount of paperwork and red tape associated with forming a business.
Right from business name search and securing funding, to filing all the paperwork required to form a business entity, Inc Authority handles it all.
End-to-End Business Services
Inc Authority is a full-service LLC/corporate formation services provider, which means you do not need to consult or hire multiple companies and agents to form your business.
Right from business planning, bookkeeping, legal planning, credit building, and tax consultation to website design and SEO services, Inc Authority's services help you focus on your business.
Responsive Customer Service
The basic packages also include phone and email-based customer support Monday to Friday between 6 am and 5 pm. Although live chat support is not yet available, Inc Authority's customer service reps are professional and knowledgeable.
Most Inc Authority reviews on TrustPilot mention that customer service representatives provide personalized attention and detailed explanation.
Great User Experience
Inc Authority reviews also talk about the easy-to-use website and checkout process. The process of checking the business name and registering the LLC is explained in simple steps.
Through the process, Inc Authority does offer additional services such as credit building and tax consultation that are not overly intrusive.
Fasttrack Your Business Formation
Cons
No Inc Authority review can be complete without talking about its cons, alongside the pros. So, let's check these out.
Lack of Pricing Information
Unlike most of its competitors, Inc Authority has not provided pricing information for its paid plans. You can, however, order a paid package by contacting a customer service representative.
Refund Policy
You can only obtain a refund if you cancel within 14 days of placing the initial order. While this applies to automatic monthly subscriptions, Inc Authority does offer a 60-day money-back guarantee.
Upsells
Although LLC formation is free, users will encounter marketing tactics and upsells throughout the process of business name search or LLC formation.
Who Should Use Inc Authority?
Small business looking for a free LLC formation service.
Businesses that are looking for a quick turnaround time for LLC formation.
Startups who want registered agent services for a year at no extra cost.
Businesses who prefer responsive and professional customer service.
Start Your LLC with Inc Authority
Who May Not Need Inc Authority?
Anyone who wants to register a Sole Proprietorship or nonprofit organization.
Businesses looking for accounting and bookkeeping services.
Businesses that need advanced features at a low price.
Check Out if It's Right for You
How Does Inc Authority Compare to Other Business Formation Service Providers?
When it comes to choosing a business formation service, there are many factors to consider. Three of the most popular options on the market are ZenBusiness, IncFile, and LegalZoom.
In this section of the Inc Authority review, we'll compare these services to help you decide which is right for your business.
Inc Authority vs. LegalZoom
There are a few key differences between Inc Authority and LegalZoom.
The most important one is that while Inc Authority offers free LLC formation, whereas the basic Economy package that Legal Zoom offers costs $79. Here is a comparison of the costs of some services offered by these two companies: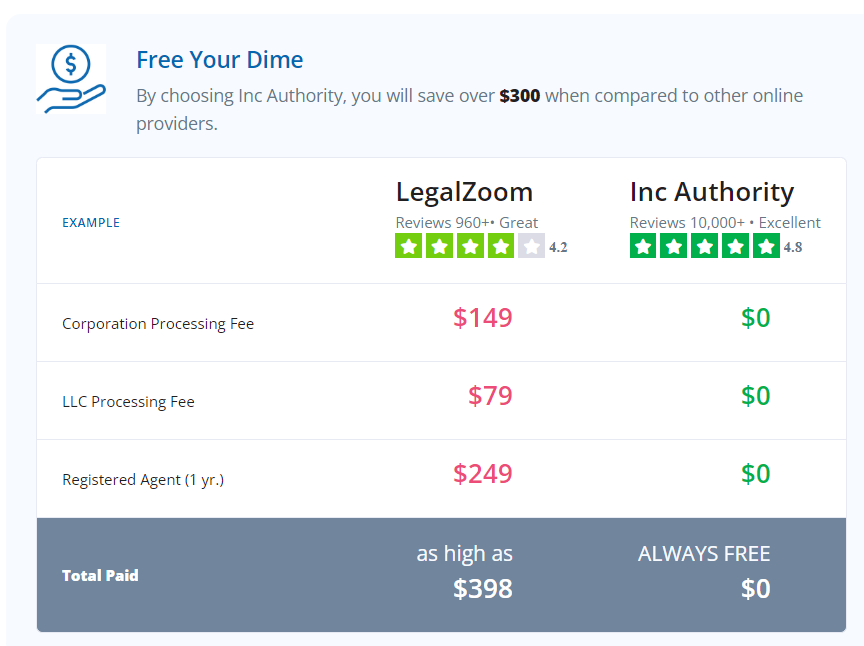 Image via Inc Authority
Additionally, Inc Authority offers a wide range of services beyond just forming your LLC. They can help you with everything from incorporating, credit coaching, business funding, and business banking to taxation and more.
Legal Zoom does not offer the same comprehensive suite of services that Inc Authority does.
Lastly, Inc Authority has had a strong presence for over three decades, while Legal Zoom has 15 years of experience in the field.
Start Your Business with Inc Authority
Inc Authority vs. ZenBusiness
ZenBusiness offers a wide range of business formation services, including LLC formation, corporate filing, and more. They also offer a variety of value-added services, such as registered agent service, free LLC operating agreements, domain name registration, and tax consultation.
Packages start at $49 and go up to $299 for premium services. While the pricing is transparent, Zen Business does not offer a free plan like Inc Authority.
IncAuthority also has more experience compared to ZenBusiness which was established in 2015.
Another important difference to consider is that ZenBusiness does not offer a free registered agent service, unlike Inc Authority. With ZenBusiness, getting a registered agent costs you $199 per year as an add-on.
Inc Authority vs. Incfile
The features offered by Incfile under its "Silver" package and Inc Authority in their free plans are similar. The difference is that Incfile offers different pricing packages based on the type of business structure and the state of incorporation.
Like Inc Authority, Incfile also offers a Registered Agent service that is free for one year when you pick one of its formation packages.
Both companies offer some services that the other does not. For instance, Inc Authority offers business credit assistance and revocable living trusts that IncFile does not.
However, IncFile offers amendments, business accounting services, and dissolutions.
While IncFile offers chat, email, and phone support, they are not rated highly when it comes to responsiveness. It can take up to 24 hours for their team to respond whether it is a call or email.
In comparison, Inc Authority has earned great reviews on TrustPilot for its service.

Image via Inc Authority
The next section in this Inc Authority review focuses on customer testimonials. Keep reading.
Start Your Business in 3 Easy Steps
Inc Authority Customer Testimonials
Most Inc Authority review sites give a high rating to Inc Authority. On TrustPilot, Inc Authority has received a 4.9-star rating based on over 25,000 reviews.
Customers appreciate Inc Authority's responsive customer service team and their comprehensive suite of customer service tools and resources.
Take a look at some of the Inc Authority reviews to see if it is the right choice for you.
"Very complete and streamlined services for LLC start up. I am very pleased with the detailed guidance and quick responses through each step. I am truly amazed and satisfied through the process and upfront results. Both Ty Robertson and Hayden Hughes were on point, very professional, and leave me with a strong sense of support. Thanks!"
– Preston Owens
I would recommend Inc Authority to anybody starting a business. What they have to offer is perfect for your business startup needs. To top it off they give you a Financial Advisor to help you with creating your business. Jesse Pacheco was awesome & just went above & beyond getting me started with Inc Authority. He gave me peace of mind knowing that my business has been properly established.
–Shawn Venegas
Create Your Free LLC Today!
FAQs
1. Is Inc Authority a good company?
Founded in 1989, Inc Authority is a well-established company known for its free LLC formation services.
It offers a variety of other business-related services, such as registered agent services and tax consultation. Overall, it has a good reputation and is generally considered a reliable company.
Read our ultimate Inc Authority review to learn more about the company and its services. You'll also find an in-depth review of its features and services.
2. Is Inc Authority BBB accredited?
While Inc Authority is not BBB accredited, they do have a 5-star rating on TrustPilot from over 16,000 customers. It is an experienced and trusted company providing business formation services for decades.
3. Is Inc Authority a legit company?
Absolutely. Inc Authority is one of the oldest business formation companies that has been around since 1989 and has helped over 200,000 businesses get started.
Inc Authority is also one of the only companies to offer a completely free LLC formation package.
Just because it offers free services does not mean it's not credible. Our comprehensive Inc Authority review will help you understand all that it offers and remove any doubts you may have about its legitimacy.
4. Is Inc Authority free?
Yes. Inc Authority offers a basic free package for LLC formation that comes with a range of features including:
Business name check
Registered Agent services
Digital storage
Tax consultation
S-Election form submission
Preparation & Filing
Business Credit and funding analysis
Customer support
To learn more about the services offered by Inc Authority, read our in-depth review.
5. What are the Inc Authority's packages?
In addition to the free forever LLC formation package, Inc Authority offers these premium paid plans that come with a suite of advanced features:
Starter Business Bundle
Fast Track Business Bundle
Read our in-depth Inc Authority review to learn more about these plans. It also includes a review of its features and services, both free and paid.
Try Inc Authority for Free
Is Inc Authority Right for You?
After reading this Inc Authority review, you know that it is a full-service business formation solution that can help you with everything from filing your paperwork and obtaining your EIN to Registered Agent service and credit coaching.
In addition to free LLC formation, another factor that sets Inc Authority apart from other services is its team of experts who provide high-quality advice.
Based on our in-depth review, here's the final verdict:
Inc Authority is the best option for you if you are:
A small business or startup looking for free LLC formation
Looking for a quick turnaround time to set up your business
The best way to determine if Inc Authority is right for you is to sign up for their free plan. You can always opt for add-ons as you go. Inc Authority also offers a money-back guarantee, so you can rest assured that you're making a wise investment.
So if you're looking for a good company to help get your business off the ground, we recommend giving Inc Authority a try.
Start Your LLC with Inc Authority