LegalZoom has long been the go-to choice for entrepreneurs and business owners seeking online legal services.
But, with the legal services and business formation industry evolving, it may be time to look at the latest LegalZoom alternatives that can get you the best value for your investment.
In this post, we'll take a closer look at the top 7 LegalZoom alternatives for 2023. These companies offer a range of legal services and solutions, each with their unique strengths and advantages.
Whether you're seeking assistance with business formation document preparation or tax consultation, these alternatives are worth considering for their affordability, convenience, and reliability.
So let's dive in and explore the top 7 LegalZoom alternatives that you need to know about in 2023.
But first…
About LegalZoom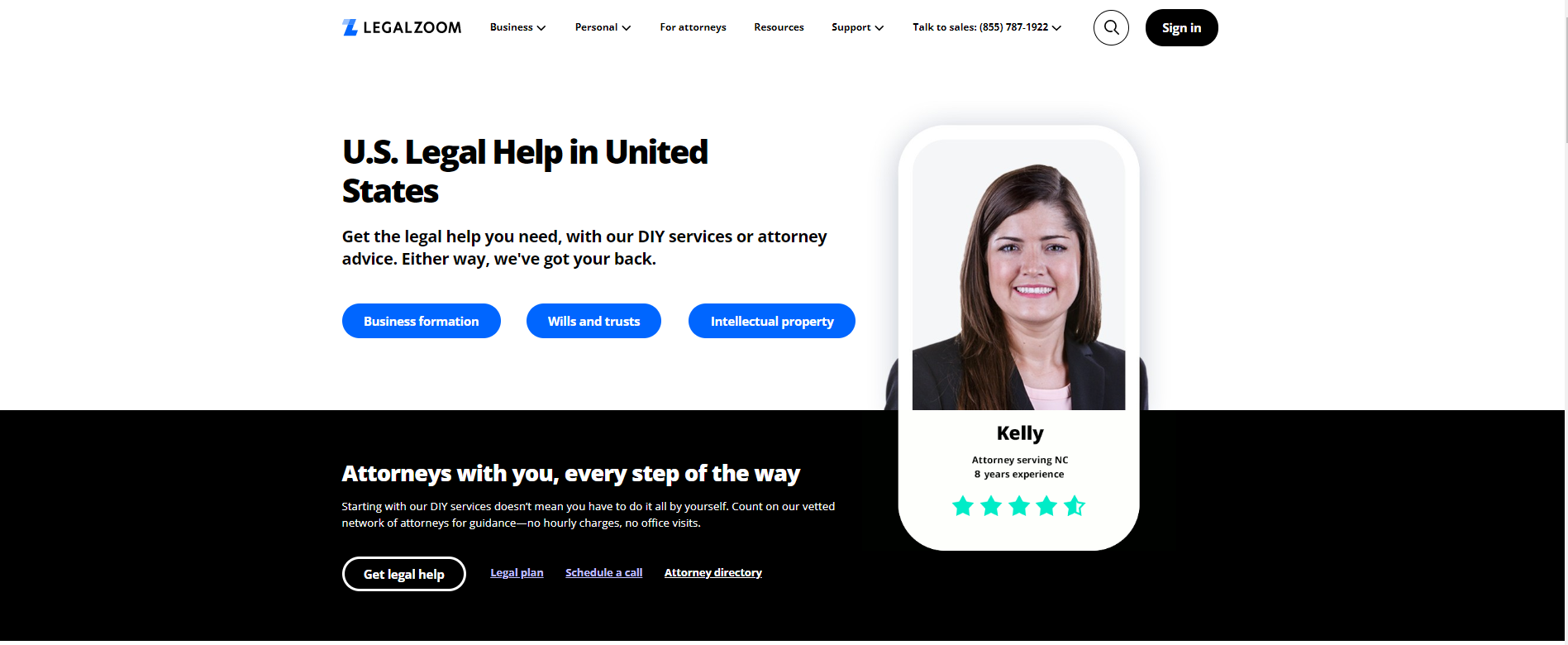 Image via LegalZoom
The best way to evaluate LegalZoom alternatives is to take a close look at what LegalZoom offers.
You can then compare the features and pricing to determine the best business formation service for your business.
What We Love About LegalZoom
Here are some of the strong points of LegalZoom.
Affordable Legal Services
LegalZoom aims to provide affordable and accessible legal services to businesses and individuals who might not otherwise be able to afford or access the services of a law firm.
It offers a unique 'Business Advisory Plan" at a flat fee of $39.08 per month that includes a range of excellent legal advice and services such as:
30-minute attorney consultations
Unlimited downloads of legal forms
Legal document reviews
Annual business evaluation
LegalZoom offers a flexible pricing plan for this service with plans available for 6 months or 12 months as the need may be.
While this is an add-on service, business owners can also get attorney consultations in the premium subscription plan to resolve any legal doubts and concerns.
A Wide Range of Services
LegalZoom has a free plan in addition to two paid plans that offer a wide range of valuable business services such as:
Registered agent services
EIN
Name check service
Operating agreements
Digital welcome packet
Customizable website powered by Wix
Business license guide
Attorney consultation
Insurance and tax consultation
Copyright registration
Amendment filing
Free legal forms
Doing Business As (DBA) filing
Personalized Business Advice
LegalZoom also offers business and tax advisory services that are designed to help individuals and businesses better understand their insurance and tax obligations.These services help them make informed decisions about their finances.
LZ Tax™ is a dedicated tax advisory service rendered by tax professionals who help businesses prepare and file annual state and federal taxes in addition to optimizing tax savings.
The tax experts also offer unlimited tax advice and ongoing support to set you up for financial planning success.
What We Don't Like About LegalZoom
LegalZoom probably has one of the most expensive registered agent services priced at $299 per year.
There are many LegalZoom alternatives that offer free registered agent services for the first year in addition to offering affordable yearly renewals at $99 to $199.
Services such as foreign qualification and annual reports are also expensive add-ons compared to what other LLC formation companies offer.
This brings our focus on suitable LegalZoom competitors in 2023.
LegalZoom Alternatives and Competitors
Go ahead and explore these 6 LegalZoom alternatives that we've compiled for you.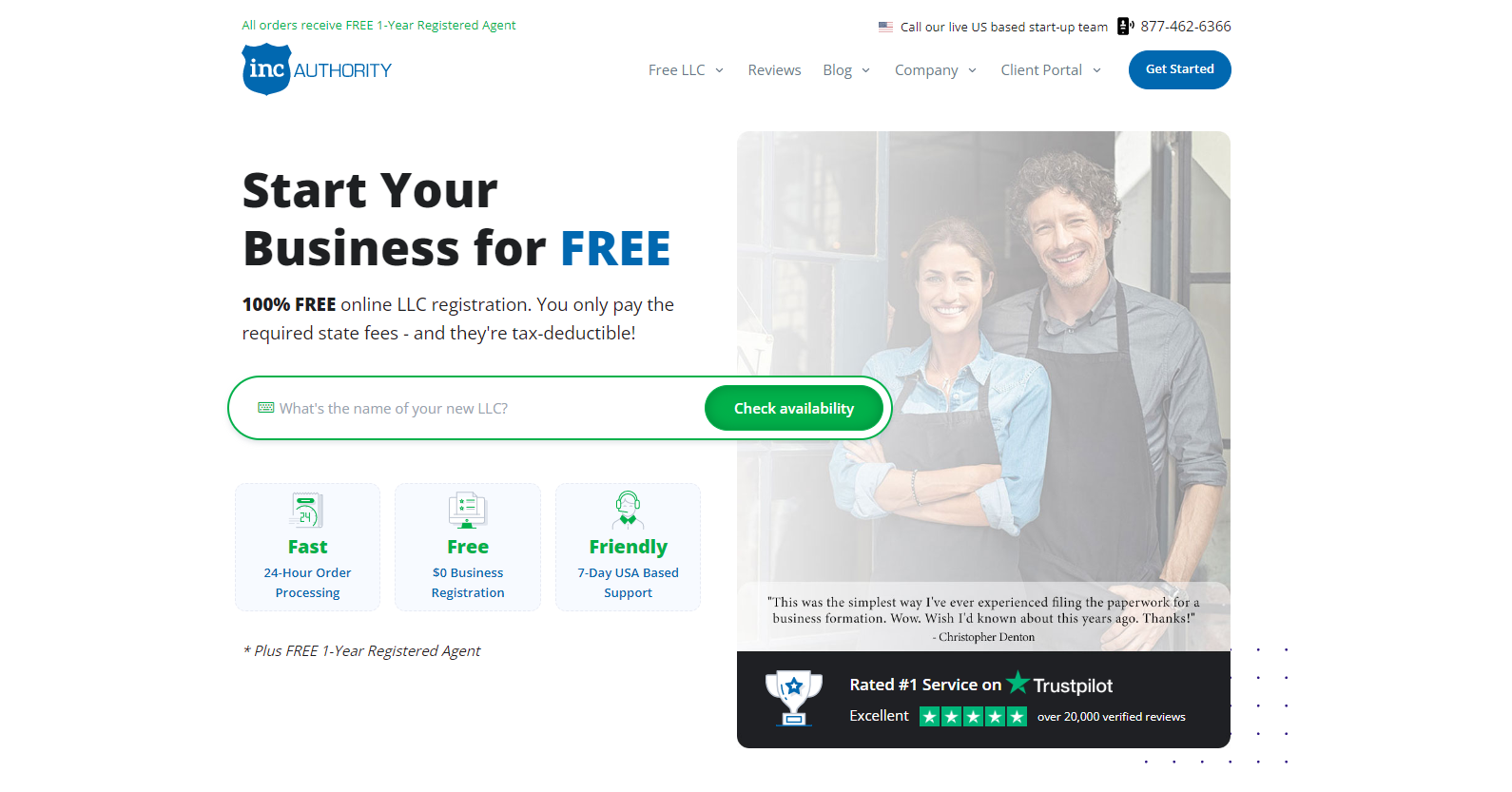 Image via Inc Authority
Inc Authority is undoubtedly one of the most popular LegalZoom alternatives based on its positive reviews, free LLC formation service, and other useful services.
Excellent customer support is another strong point of Inc Authority with most customers rating them highly for fast and efficient support.
The free LLC service includes many useful features such as a free tax consultation and business credit analysis, something that very few LegalZoom alternatives offer.
Features
Free business name search
Free tax consultation
Free registered agent service
Expedited filing
Document preparation and filing
Operating agreement
Digital document storage and client portal
S-Election form
Business credit analysis
Funding solutions
EIN
Live customer support
Annual compliance notifications
Corporate/legal forms
Initial meeting minutes
Private banking specialist
Other Services Offered
Deluxe record book
Website design and marketing
Business plan and advice
Trademark services
Revocable living trust
Where Inc Authority Excels
Inc Authority has over three decades of experience in the field and has earned an impressive 4.9/5 rating on Trustpilot.
Apart from its excellent customer service, the company offers one of the best LLC formation packages and additional services such as free credit analysis, tax consultation, and funding solutions.
Its knowledgeable business formation experts work with clients to make the business formation process easy and hassle-free.
Where Inc Authority is Lacking
Inc Authority does not reveal the pricing for its paid plans or for the add-on services, such as website design, unlike other LLC service providers.
Some customers complain about the upselling of services that the clients may not need.
Price
While there are three types of plans, including a free LLC formation plan, you will need to contact sales to know the pricing for the paid plans.
Free: $0 (+ state fee)
Starter Business Bundle
Fasttrack Business Bundle
Start Your Business for Free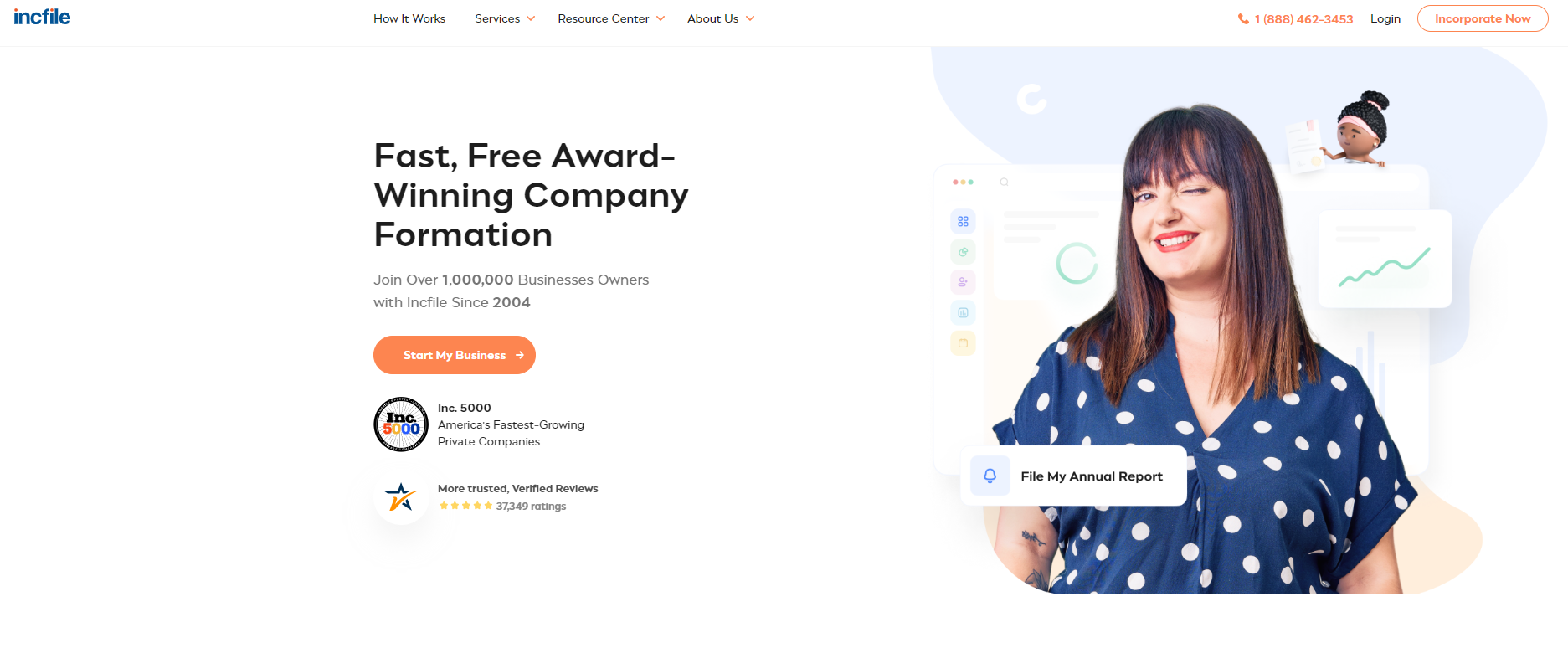 Image via Incfile
Incfilе specializes in assisting individuals who want to form a limited liability company, corporation, or a non-profit.
Why is one of the best LegalZoom alternatives?
As one of the oldest business formation companies, Incfile has earned over 30,000 reviews from clients and has a rating of 4.7/5 on Trustpilot.
It is also one of the few LegalZoom alternatives to offer free registered agent services for the first year.
Here are the other features that make it one of the most trusted LegalZoom alternatives.
Features
Preparation and filing service
Free registered agent for the first year
EIN
Unlimited business name searches
Corporate bylaws
Operating agreement
Online client dashboard
Banking resolution
Tax consultation
Business checking account
S-Corp election
Contract templates
Doing Business As filing
Business name change
Foreign qualification
Other Services Offered
Trademark services
Lifetime compliance alerts
Certificate of Good Standing
Finances and accounting
Where Incfile Excels
Incfile is one of the suitable LegalZoom alternatives for small businesses that want to get started for free.
In addition to a free plan that offers basic LLC formation packages in addition to free registered agent for the first year, Incfile offers transparent pricing with a clear listing of the included services in its paid Gold and Platinum plans.
Incfile's LLC formation services also include a lot more features as compared to other LegalZoom alternatives like ZenBusiness. This means, you do not need to purchase certain services at extra cost.
Where Incfile is Lacking
Incfile's refund policy is not quickly accessible. Plus, you can only get a refund if the company has not yet submitted the legal documents to the respective state.
Some users also complain that customer support is not as responsive as expected of the best LegalZoom alternatives.
This post gives you more information on Incfile and Incfile alternatives.
Price
The pricing plans are as follows:
Silver: $0 (+ state fees)
Gold: $199 per year (+ state fees)
Platinum: $299 per year (+ state fees)
Start Your Business with Incfile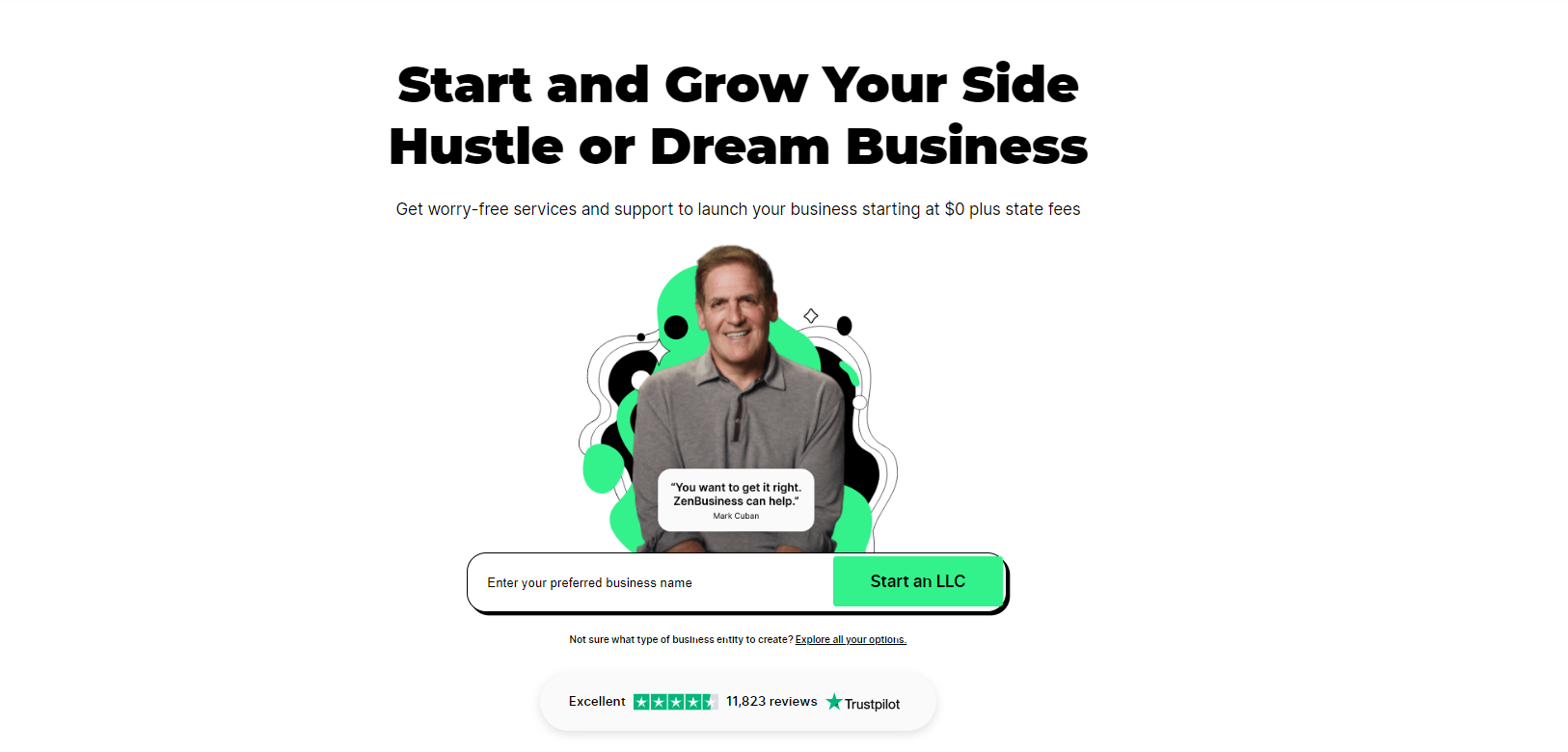 Image via ZenBusiness
ZenBusiness is one of the popular LegalZoom alternatives known for its quick turnaround time and responsive email and phone support.
Since its inception in 2015, ZenBusiness has helped over 300,000 businesses register their LLC or Corporation.
As one of the trusted LLC formation providers, ZenBusiness offers useful features such as Worry-Free Compliance and website builder designed to make the process of setting up and running a business seamless.
Let's see if ZenBusiness has what it takes to be called one of the top LegalZoom alternatives.
Features
LLC and Corporation formation
Expedited filing
Expense tracking
Registered agent service
EIN application
Document templates
Certificate of Good Standing
Annual report
Operating agreement
Worry-Free Compliance
Business license report
Other Services Offered
Business email address
Custom business website and domain
Amendment filing
New York publication
Where ZenBusiness Excels
As expected of top LegalZoom alternatives, ZenBusiness offers good customer support and expedited LLC filing service to help you form your business in one to two days.
There are also a lot of affordable add-ons available such as ZenBusiness Money and ZenBusiness Banking that give you expense tracking, banking, invoicing, and tax tools to help you manage and save money.
In addition to a 60-day refund policy, ZenBusiness clients can also benefit from the exclusive Bank of America bonus of between $100 to $500 when they open a business bank account.
Where ZenBusiness is Lacking
A lot of services are add-ons which means you will end up paying extra for services such as registered agent, EIN, annual report, and Worry-Free Compliance.
The free plan offers nothing much other than document preparation and filing.
Price
Here are the pricing details:
Starter: $0 plus (+ state filing fees)
Pro: $199 per year (+ state filing fees)
Premium: $299 per year (+ state filing fees)
Start Your Business for Free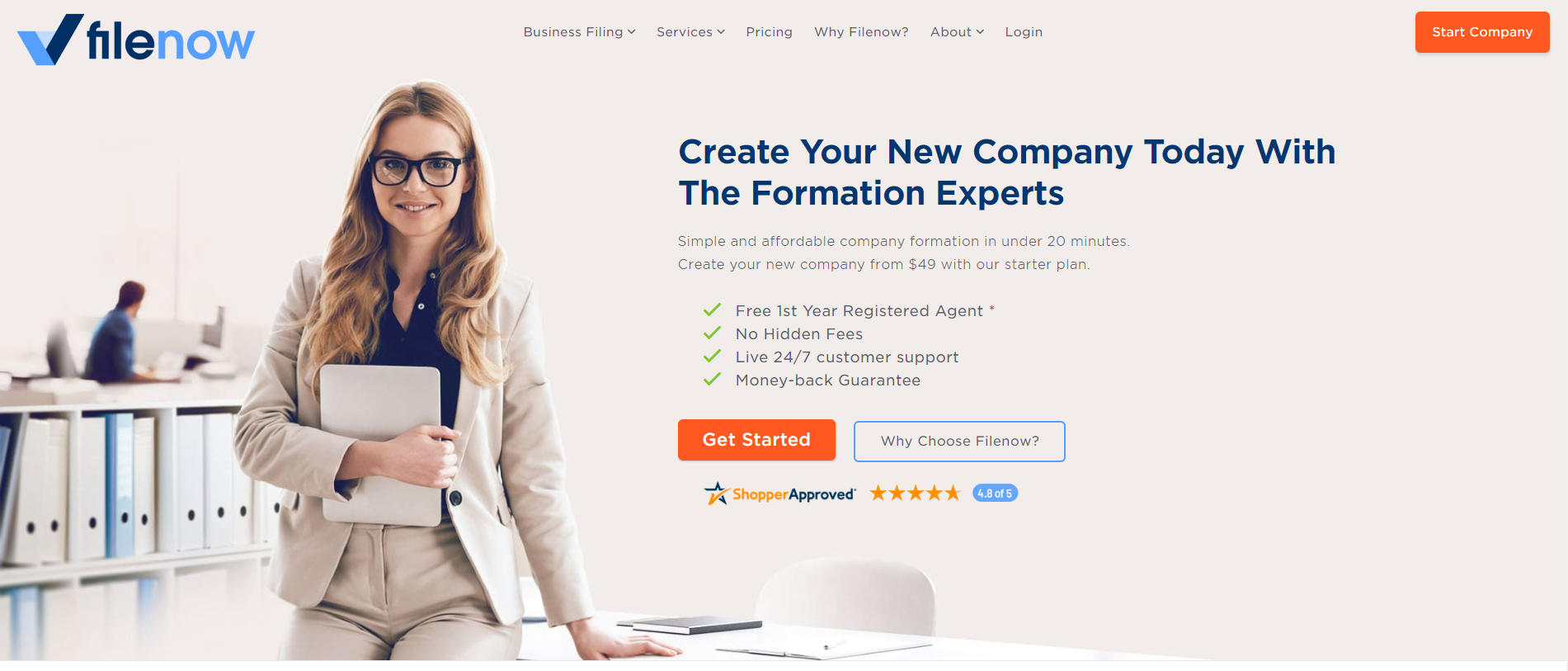 Image via Filenow
Next up in our list of LegalZoom alternatives is Filenow.
This business formation service helps you pick the right business entity, file various documents, and register your company.
According to the website, Filenow has received a rating of 4.8 out of 5 with most customers appreciating the quick and easy process of business formation.
Let's see how it compares with other LegalZoom alternatives.
Features
Free registered agent services for the first year
Filenow Wizard helps pick the right business entity
Business name verification
Document preparation and filing
Operating agreement
Tax consultation
Expedited 24-hour filing
Doing Business As filing
24/7 live support
EIN/Tax ID
Business licenses report
Other Services Offered
Foreign qualification
Certificate of Good Standing
Business banking account
Contract templates
Where Filenow Excels
Filenow is one of the most affordable LegalZoom alternatives.
Plus, the pricing is transparent and there are no hidden costs. You can also get your money back if your application gets rejected due to errors in the documents prepared by the company.
In addition, they offer order status tracking — something that very few LegalZoom alternatives offer. Their customer service is also known to be responsive.
Where Filnow is Lacking
Filenow does not offer a free plan unlike other LegalZoom alternatives.
Compared to other business formation services such as Inc Authority that have been around for decades, Filenow is relatively a new entrant with less experience in the field.
Price
Filenow has simple pricing tiers that are the same for both LLC and Corporation formation.
Starter: $49 (+ state filing fees)
Premium: $199 (+ state filing fees)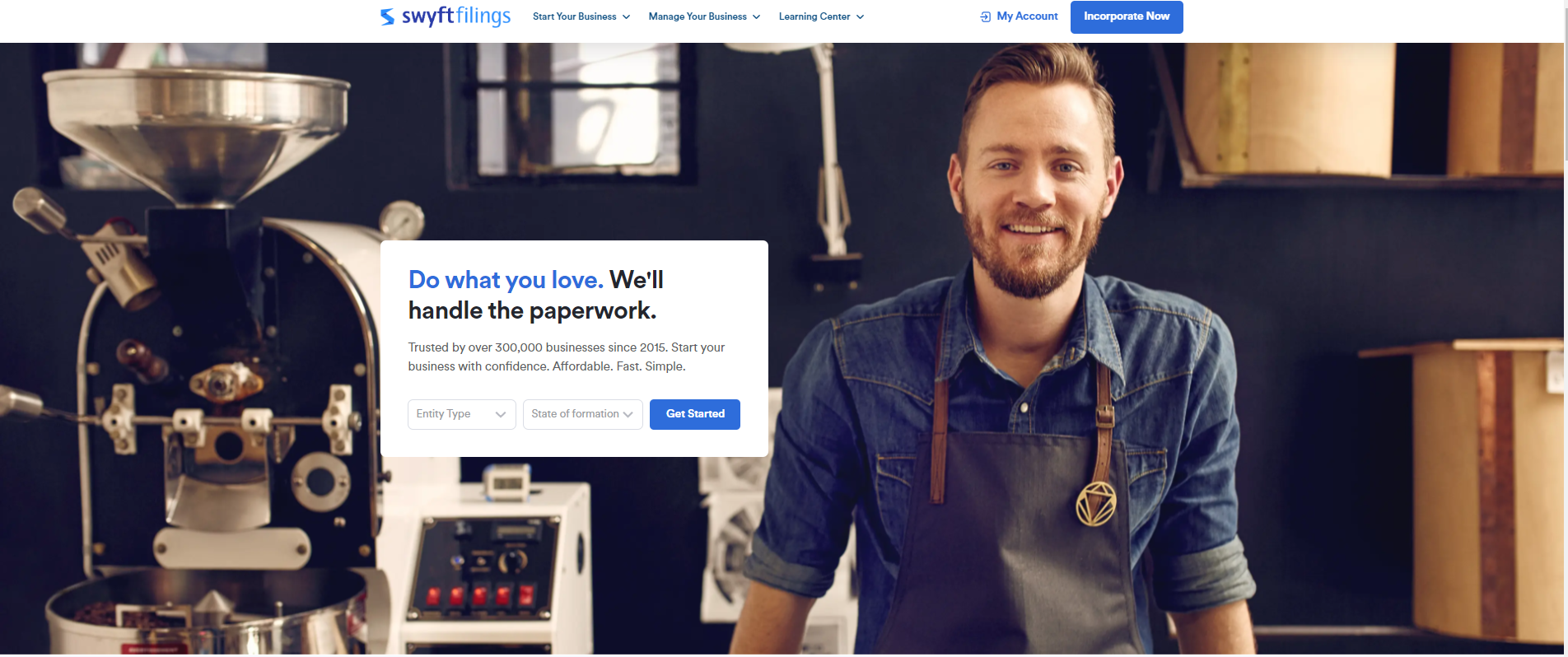 Image via Swyft Filings
Swyft Filings, since its inception in 2015, has helped 300,000 businesses form or incorporate.
You can expect most of the services and features that other LegalZoom alternatives offer from Swyft Filings.
The company has received many positive customer reviews on Trustpilot and a rating of 4.8/5 in addition to a rating of 4.39/5 on Better Business Bureau.
Here are the features that make Swyft Filings one of the most reliable LegalZoom alternatives.
Features
LLC, Corporation, and Non-Profit formation
Registered agent service
S-Corp election form
Tax ID/EIN
Corporate bylaws
Operating agreement
Annual reports
Certificate of Good Standing
Digital corporate kit
Seller's permit or sales tax ID
Business licenses
Other Services Offered
Trademark registration
Change of registered agent
Business dissolution and name change
Foreign qualification
501(c)(3) application
Where Swyft Filings Excels
Swyft Filings is known for their responsive customer support and ability to fasttrack LLC and Corporation formation.
In addition to a wide range of services, they offer plenty of useful resources on various aspects of forming and running a business.
They also conduct in-depth research and offer insightful industry reports.
Where Swyft Filings is Lacking
While the cost of the basic package is mentioned as $49 + state filing fees, the detailed pricing information is not available.
Unlike other LegalZoom alternatives, Swyft Filings does not offer a free plan. Services such as registered agent, operating agreement, S-corp election, and corporate bylaws come at additional cost.
Price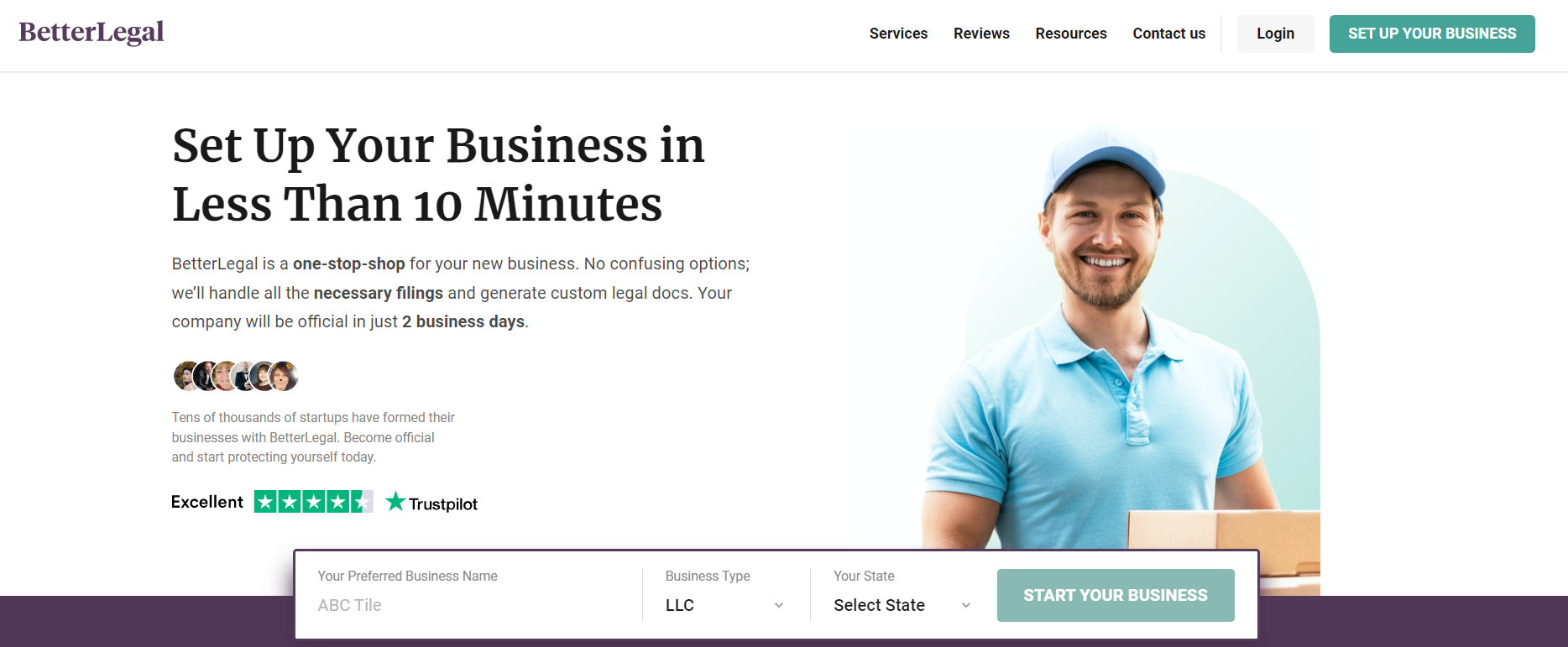 Image via BetterLegal
One of the first things that you're likely to notice when you visit BetterLegal's website is the straightforward pricing for LLC and Corporation formation.
They promise to be a one-stop-shop for new businesses with "no confusing options."
Take a look at the services BetterLegal offers to learn if it is one of the best LegalZoom alternatives for your business.
Features
Expedited filing for LLC and corporation formation
EIN/Tax ID
Corporate bylaws/operating agreement
Banking resolution
Basic business documents
Free business checking account
Free website
Free tax consultation and insurance evaluation
Registered agent service
Compliance service
Permits and licenses research
Other Services Offered
Accounting and bookkeeping
Business banking
Payroll and HR
Business amendments
Where BetterLegal Excels
What we like about BetterLegal is the clear listing of services that are included in the plan and the services that are available as freebies and as add-ons.
Another aspect that makes it one of the best LegalZoom alternatives is the quick turnaround time of 2 business days for business formation.
Where BetterLegal is Lacking
Unlike other LegalZoom alternatives, BetterLegal does not offer a free plan or free RA service.
Services such as business license, compliance, and amendment also come at extra cost.
Price
BetterLegal offers just one pricing plan:
LLC/Corporation formation: $299 + state filing fee
FAQ
Q1. ZenBusiness vs. LegalZoom: Which is a better choice?
A. It depends on your individual business needs and goals.
Choose ZenBusiness if you want tools for tax preparation, banking, and invoicing. LegalZoom is a great choice if you want ongoing legal services from experienced attorneys, giving you peace of mind from start to finish.
Q2. How credible is LegalZoom?
A. LegalZoom is a trusted company that provides businesses with excellent legal services in addition to LLC formation services.
It also offers more flexible pricing structures for legal services in addition to specialized services such as document review, license guide, and free website.
Q3. What is the point of LegalZoom?
A. LegalZoom provides quick and easy access to legal documents, such as LLC formation and other business filings, and offers advice from experienced attorneys who can provide customized guidance for your specific needs.
Q4. Is LegalZoom a subscription service?
A. Yes. LegalZoom is a subscription-based LLC formation company with a free plan as well as two paid plans.
In addition to transparent pricing, the service provider also offers expert legal advice, tax consultation services, and more.
Q5. BetterLegal vs. LegalZoom: Which service should I choose?
A. Choosing between these two online services depends on your individual needs.
In addition to business formation services, BetterLegal offers freebies in its all-inclusive plan such as free website, tax analysis, payroll, and business checking account, making it attractive to new business owners.
LegalZoom is known for their affordable legal services that you can avail by subscribing to one of their premium plans or by adding them on to your free plan.
Best LegalZoom Alternatives: Conclusion
As you can see, there are many alternatives to LegalZoom that can help you with your business formation needs.
Whether you need assistance with filing documents, tax preparation, marketing, or managing your finances, each of these services offers something different and has its own benefits.
The best way to choose an alternative to LegalZoom is by researching what they all have to offer and then selecting one that suits your specific budget and business needs.