Looking for Incfile alternatives that better suit your needs? We've got you covered.
Sure, Incfile is undeniably popular for its enticing features. These include a free package and a complimentary year of Registered Agent services.
Nevertheless, it's essential to evaluate if Incfile truly meets all your business needs.
Turns out numerous Incfile alternatives offer similar advantages. These alternatives also offer free LLC formation and other business services.
Some go as far as providing tools for logo creation, access to dependable lawyers, and plenty of services designed to not only establish your business but also drive its success.
That's why we've created this roundup of 8 Incfile alternatives. Make sure to consider these alternatives before making a final choice.
About Incfile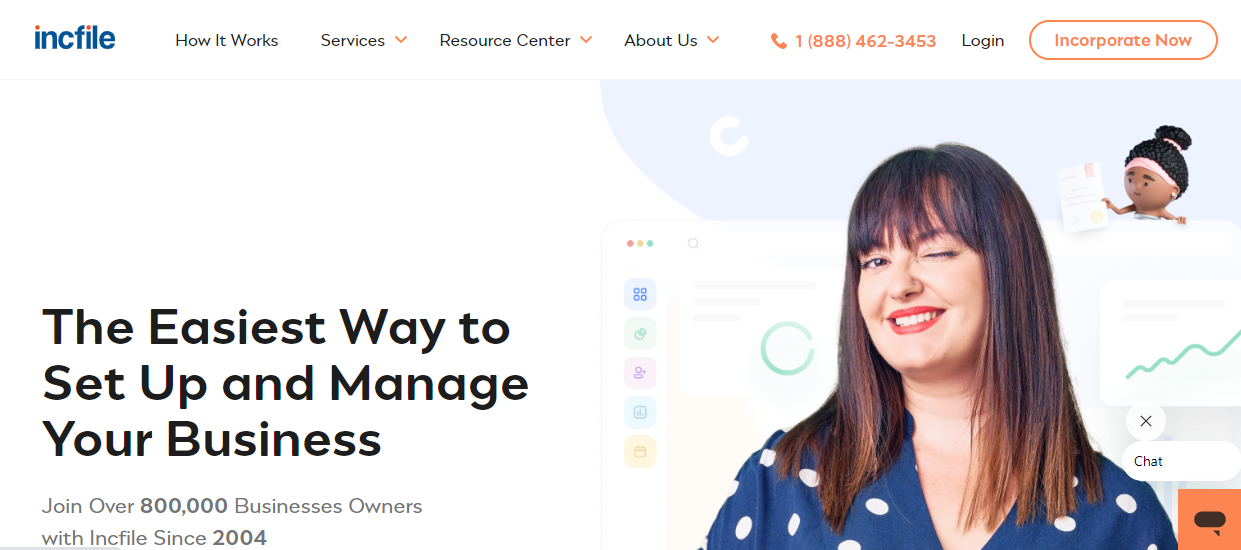 Image via Incfile
Before we move on to the best Incfile alternatives, here are the upsides and downsides of using Incfile's services that will help you identify and choose the best replacement for it.
What We Love About Incfile
A few things stand out about Incfile.
Fair Pricing
Incfile has some of the most affordable packages you'll find on offer and charges a one-time payment.
Silver: $0 plus respective state fees
Gold: $199 plus respective state fees
Platinum: $299 plus respective state fees
With the Silver plan, you get the bare minimum, which includes preparation and filing the business formation documents with your state. You also get a free year of Registered Agent services and unlimited business name searches.
For essentials like EIN business tax number, you'll need to either upgrade or pay for these services separately.
Still, this is a good deal. Not many business formation service providers can provide great service for free.
A Feature-Rich Package
In addition to a free business formation package, unlimited name searches, and a year of free Registered Agent Service, Incfile's premium packages come with a wide variety of services.
These include:
EIN
Operating agreement or Corporate Bylaws
Banking resolution
IRS Form 2553
Business banking account
Free tax consultation
Online order status tracking
Fictitious name or DBA filing (Doing Business As)
Online access dashboard
Accounting and bookkeeping services
Reminders of compliance requirements
Business contracts and other legal templates
Domain name
Business email
Lots of Other Services
With Incfile, you can form a Limited Liability Company (LLC), C-Corporation, S-Corporation, or non-profit. And once your business is up and running, you can still use Incfile to get other ongoing support services you may need such as:
Company name change
Filing Articles of Amendment
Certificate of Good Standing (COGS)
Research on business licences and permits
Company dissolution
Trademark registration
What We Don't Like About Incfile
Incfile is notorious for aggressive upsells through email, phone, and text. There's a lot of marketing for their third-party offers as well.
Their customer support leaves a lot of room for improvement too. Although they're available, they aren't as knowledgeable as you would want them to be.
The language on the website is also not so clear, especially on areas like the refund policy.
These shortcomings inspire our list of Incfile alternatives.
8 Incfile Alternatives and Competitors
Here are the top Incfile alternatives in the market.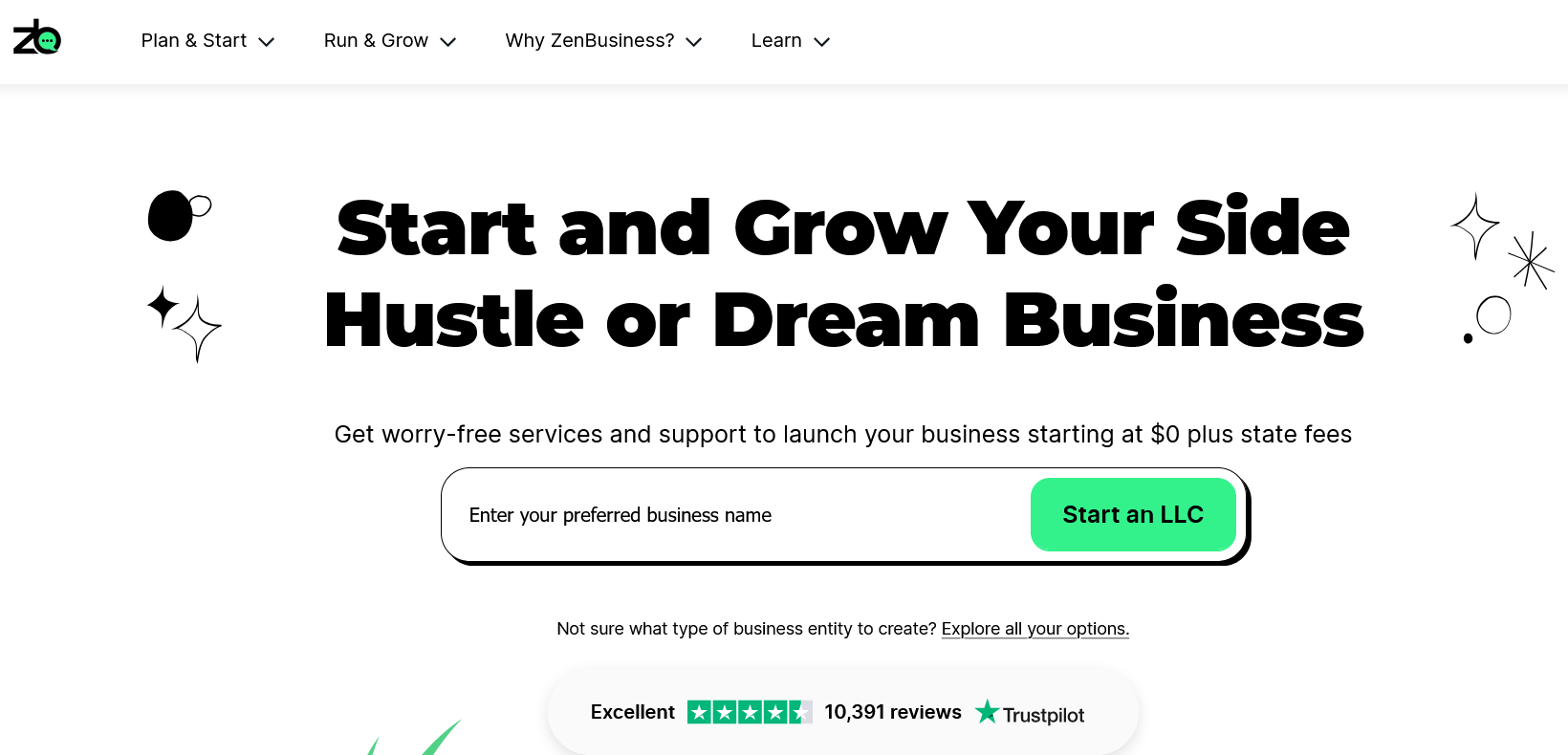 Image via ZenBusiness
ZenBusiness is one of the best Incfile alternatives in the market.
It comes with an interactive chatbot that you can use to get the services you require.
What you'll love about ZenBusiness is its Worry-free Compliance Package. It takes the burden of making annual reports off your back, among other things.
It's available in the paid business formation packages, but you can also get it as a separate service for $199 per year.
Features
Automatic expense tracking and deduction tagging
Name search
Free tax consultation
Online access of your documents
Expedited filing speed
Operating agreement or Corporate bylaws
Annual report filings
Two yearly amendments
Website, domain name, and email address
A reliable Registered Agent service
Employer ID number (EIN)
Annual report filing
Other services offered
A report of the required business licence and certifications
Certificate of Good Standing
Where ZenBusiness Excels
This Incfile alternative has a more helpful customer care team than Incfile.
In addition, ZenBusiness has a 60-day refund policy. Incfile's refund policy only applies if the money has not been forwarded to any government agency. And there's a $30 cancellation charge.
Where ZenBusiness is Lacking
Incfile provides a one-time fee for its services, while ZenBusiness uses a subscription model for most of its services.
It can get confusing about which service ZenBusiness offers at a one-time fee and which one needs annual renewal.
Price
Here are the prices for ZenBusiness:
Starter: $0 plus respective state filing fees
Pro: $199 per year plus state filing fees
Premium: $299 per year plus state filing fees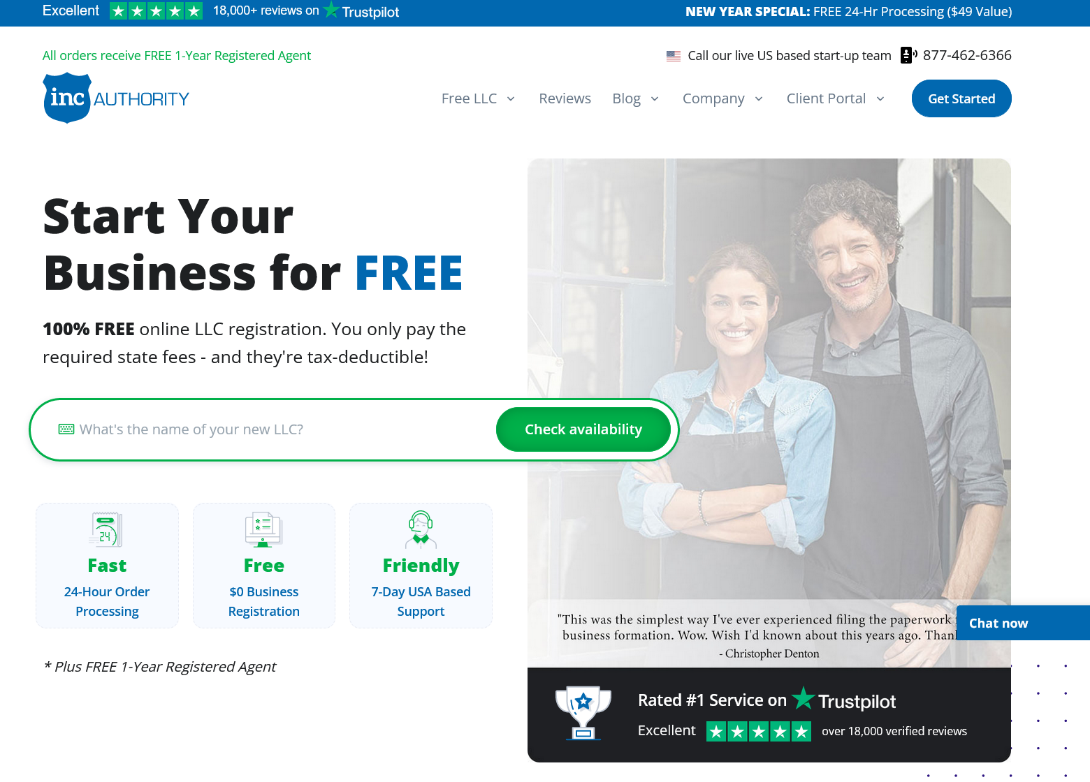 Image via Inc Authority
If you're looking for Incfile alternatives with a focus on LLC formations, Inc Authority is worth considering.
Based in Nevada, Inc Authority is passionate about helping entrepreneurs start their business and partnering with them to make them successful. It does this by offering a free LLC formation service.
You can also get help with the foundational paperwork and other legal requirements at a fee.
Features
Business name check
A free year of Registered Agent service
Operating agreement or Corporate bylaws
Deluxe record book
Ownership certificates
Stock certificates
Tax ID number
Tax consultation
Private banking specialist
Initial meeting minutes and resolutions
Credit and funding analysis
S-Election
Digital storage and delivery of your formation documents
Other services offered
Revocable Living Trust
Business funding
Business and financial plans
Trademark
Website designing and marketing
Where Inc Authority excels
Inc Authority has excellent customer service with 24/7 live US-based support. A dedicated team of experts is always available to help you with the business formation.
Here is a comprehensive review of Inc Authority vs. Incfile.
Where Inc Authority is lacking
Like Incfile, brace yourself for lots of upsells from the Inc Authority customer support team.
Inc Authority also lacks a refund policy of any kind. Once you pay for a service, that's it.
If you're contemplating between ZenBusiness and Inc Authority as alternatives to Incfile, here is a detailed Inc Authority vs. ZenBusiness comparison that can help.
Price
Inc Authority prepares and files your LLC formation documents for free. And you get a free year of Registered Agent service. Additional services, such as EIN filing come at a fee.
You can also pay for a premium service bundle. There are two options available—Starter and Fast Track. You need to contact the customer care team for prices.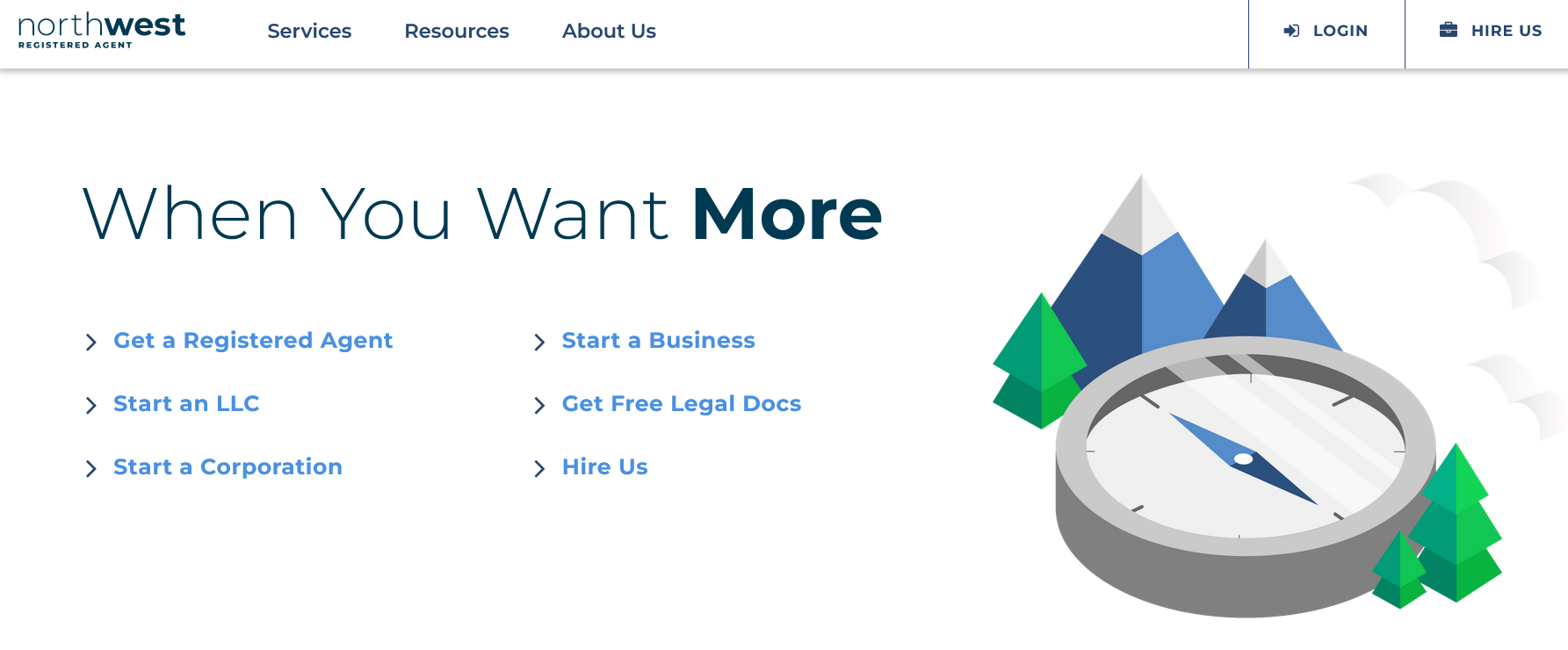 Image via Northwest Registered Agent
Primarily, Northwest Registered Agent is, as the name suggests, Registered Agents with offices in all states. But they also offer excellent business formation services making it one of the best Incfile alternatives in the market.
You'll love the data privacy that Northwest Registered Agent provides.
This Incfile alternative never lists your business physical address in any of the public filings. They use their own, which also means you'll have less junk mail.
If you want to carry out the LLC formation the DIY way, we recommend Northwest Registered Agent as an ideal Incfile alternative for you.
All the forms you need to form and maintain your startup are available for download.
Features
Annual report alerts
Online dashboard to access your documents
Registered Agent services
Free mail forwarding services
EIN service
Annual compliance filing
Other services offered
FMCSA BOC-3 registration
FCC 499-A registration
Trademark
Phone service
Payment processing
Certificate of Good Standing
Where Northwest Registered Agent excels
Northwest Registered Agent uses very simple language in their site. They're very honest about what they offer and the fees are transparent.
Their customer support is top-quality too and composed of subject-matter experts.
Where Northwest Registered Agent is lacking
Northwest doesn't offer any free package like Incfile does. There's only a DIY option where you get the documents and tools you need to do it yourself.
You don't get a free Registered Agent service either. It costs $125 on top of a $100 filing service fee.
Price
This Incfile alternative only offers one paid package at $225 plus the respective state fees.

Image via Rocket Lawyer
If you are looking for ongoing legal support, Rocket Lawyer is a great alternative to Incfile.
Besides business formation, Rocket Lawyer provides an array of services, such as access to reliable legal documents, attorney services, and tax services.
But like most Incfile alternatives, you have to pay for membership to access these premium services.
As a Rocket Lawyer member, you'll have peace of mind knowing every legal aspect of your new business is covered.
Features
Annual filings
Registered Agent service
IRS tax filings
Legal consulting services
Legal templates
Business incorporation services
Annual filings
Other services offered
Copyright protection
Real estate support, including tenant screening, lease agreements, eviction notice, Quitclaim Deed, and more
Trademark registration
Corporate records
Where Rocket Lawyer excels
The customer support is great. And having real lawyers handle your business incorporation and offer expert advice provides peace of mind.
Where Rocket Lawyer is lacking
Paying for membership makes you eligible for free LLC formation services and an exclusive discounted price on other essential services.
But if forming a company is all you need and legal assistance is not an ongoing requirement, Rocket Lawyer is too expensive.
Rocket Lawyer is also more focused on providing online legal services than business formation.
Pricing
The membership costs $39.99 per month or $239.99 if you pay yearly. There's a 7-day trial.
Members get free LLC formation and an exclusive discounted price for services, such as:
50% off tax services and trademark application
25% off Registered Agent Service
40% off if you hire an attorney from Rocket Lawyer
Incorporating a business through Rocket Lawyer as a non-member costs $99.99 plus state filing fees. You have to pay for other services separately.

Image via Tailor Brands
If you are looking for Incfile alternatives that will help you with your LLC formation and at the same time grow your brand using superior AI-powered tools, try Tailor Brands.
Where Tailor Brands stands out is in its features that help you create a strong online presence and look professional.
You can create a user-friendly website, get a logo, create digital business cards, and get graphic design tools that help you build your credibility and win customers' trust.
Features
Business name search
Registered Agent service
Employer Identification Number (EIN)
Operating Agreement
Annual report
Other services offered
Logo maker
Website builder
Domain name
Business mailbox
In-house website design experts
Digital business card
Branded merchandise
Where Tailor Brands excels
This LLC formation service provider goes the extra mile and provides branding and business-building tools.
Where Tailor Brands is lacking
You need to be ready to take full advantage of the business-building tools provided in the premium plans to justify the high cost.
Price
Lite: $49 as a one-time payment
Essential: $239 billed annually
Elite: $299 billed annually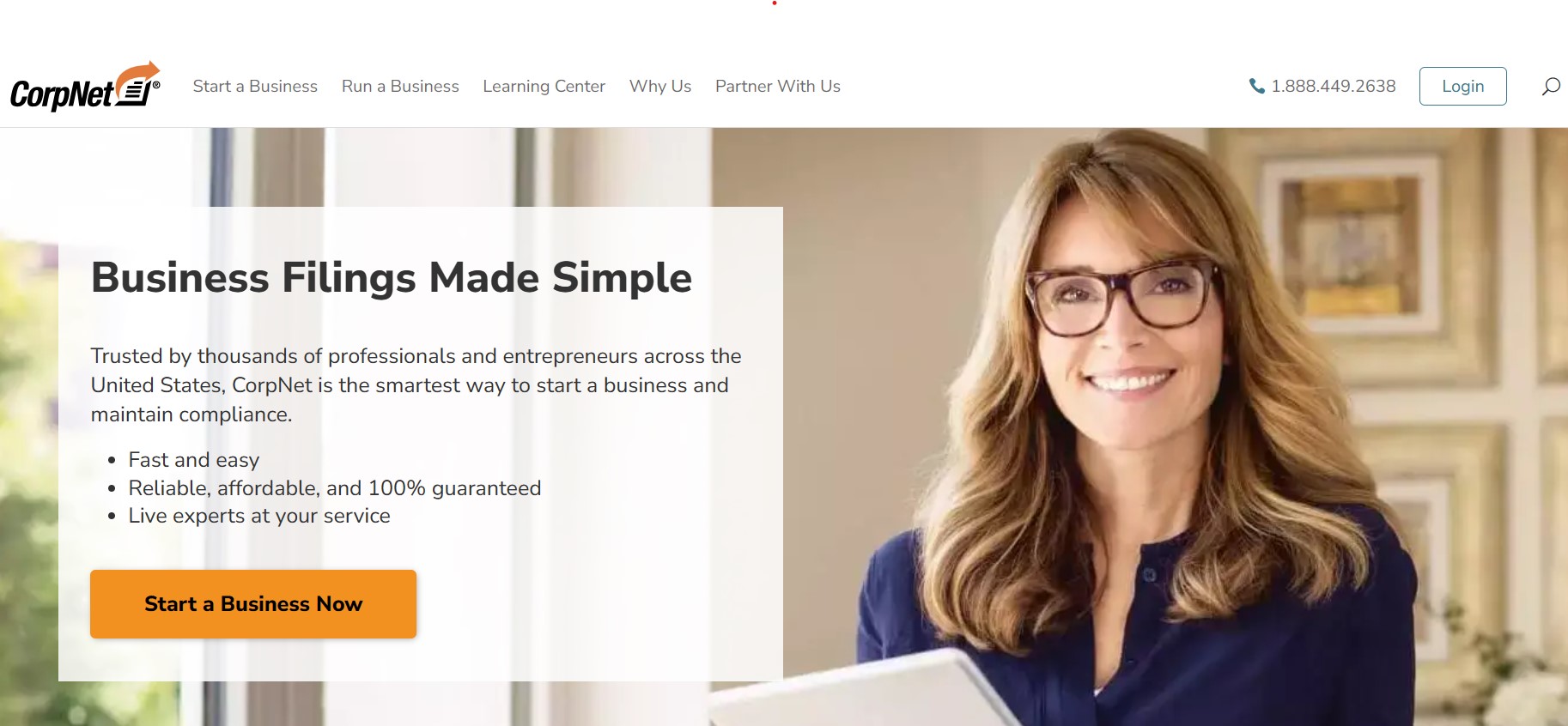 Image via CorpNet
If you'd like Incfile alternatives with a strong reputation and high praise for exceptional customer satisfaction levels, CorpNet is a great option.
When it comes to starting a business and maintaining compliance, family-owned company CorpNet offers a reliable, affordable, and hassle-free service.
Features
Business name search
Registered Agent service
State sales tax registration
Filing Articles of Organization
Filing Articles of Incorporation
Business filings & compliance services
Customized LLC kit & seal
Express filing services
Other services offered
Business license research package
Corporate compliance tool
Trademark search service
Corporate supplies
Partner program
Where CorpNet excels
CorpNet provides excellent personalized service and experience and a 100% satisfaction guarantee. CorpNet offers a corporate compliance tool to help businesses stay on top of important filing deadlines and requirements.
It also offers a partner program. You can participate in either the Reseller Program or Referral Program (or both). There's no minimum sales volume required to participate.
Where CorpNet is lacking
CorpNet's services aren't as affordable as some of its competitors. You might find their packages relatively expensive compared to other Incfile alternatives.
Price
CorpNet has Basic, Deluxe, and Complete packages for your business formation filing needs. These are available for 3 tiers, namely Standard Processing, Express Processing, and 24-Hour Rush Processing.
For Standard Processing:
Basic: $99
Deluxe: $219
Complete: $269
For Deluxe Processing:
Basic: $199
Deluxe: $319
Complete: $369
For 24-Hour Rush Processing:
Basic: $249
Deluxe: $369
Complete: $419
These prices don't include state fees or shipping and handling fees. A price list is available for additional services.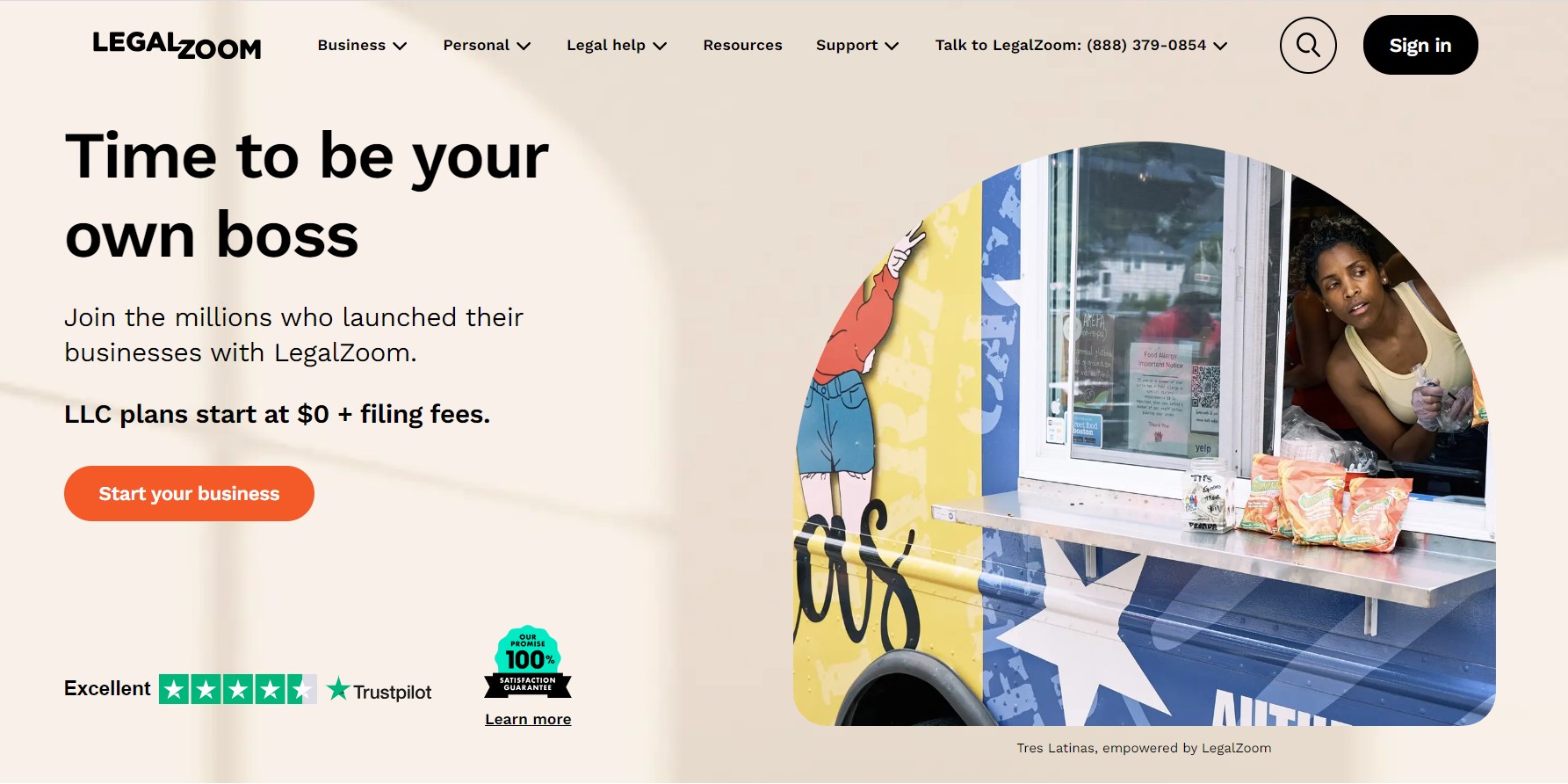 Image via LegalZoom
Perhaps you'd like to consider some Incfile alternatives that not only handle LLC creation but also have a network of legal experts at hand. LegalZoom fits this bill.
LegalZoom is a popular business formation services provider. While it might have a relatively long order processing time, it makes up for it by providing ongoing legal support. This way, LegalZoom ensures you're not on the hook for business liabilities.
Keen to uphold its reputation for being reliable and professional, LegalZoom offers a generous 60-day 100% money-back guarantee.
Features
Annual reports
Registered Agent service
Contracts & agreements
Articles of amendment
Foreign qualification
Doing Business As (DBA)
Business licenses & permits
Corporate amendment
Compliance calendar
Minutes manager
Tax services
Other services offered
Trademark search and registration
Legal documents
Intellectual property
Corporate supplies
Where LegalZoom excels
LegalZoom is known for its extensive range of legal services beyond business formation.
It provides you access to attorneys and legal professionals for consultation and advice on various matters. This can be beneficial for entrepreneurs seeking broader legal support.
But does LegalZoom stand a chance among the top Incfile alternatives? Here's an Incfile vs LegalZoom comparison to help you make up your mind.
Where LegalZoom is lacking
LegalZoom doesn't provide full legal representation or advice. It only facilitates the creation of legal documents and connects you with independent attorneys, not in their employ.
Some customers may also find its upsells or add-ons costly. If you're one of them, you'll certainly appreciate learning about these LegalZoom alternatives.
Price
LegalZoom offers three packages for LLC formation:
Basic: $0 + State filing fees
Pro: $249 + State filing fees
Premium: $299 + State filing fees
For your corporation:
Economy: $149 + State filing fees
Standard: $149 + State filing fees
Express Gold: $149 + State filing fees
The prices for other business formation services are available on LegalZoom's website.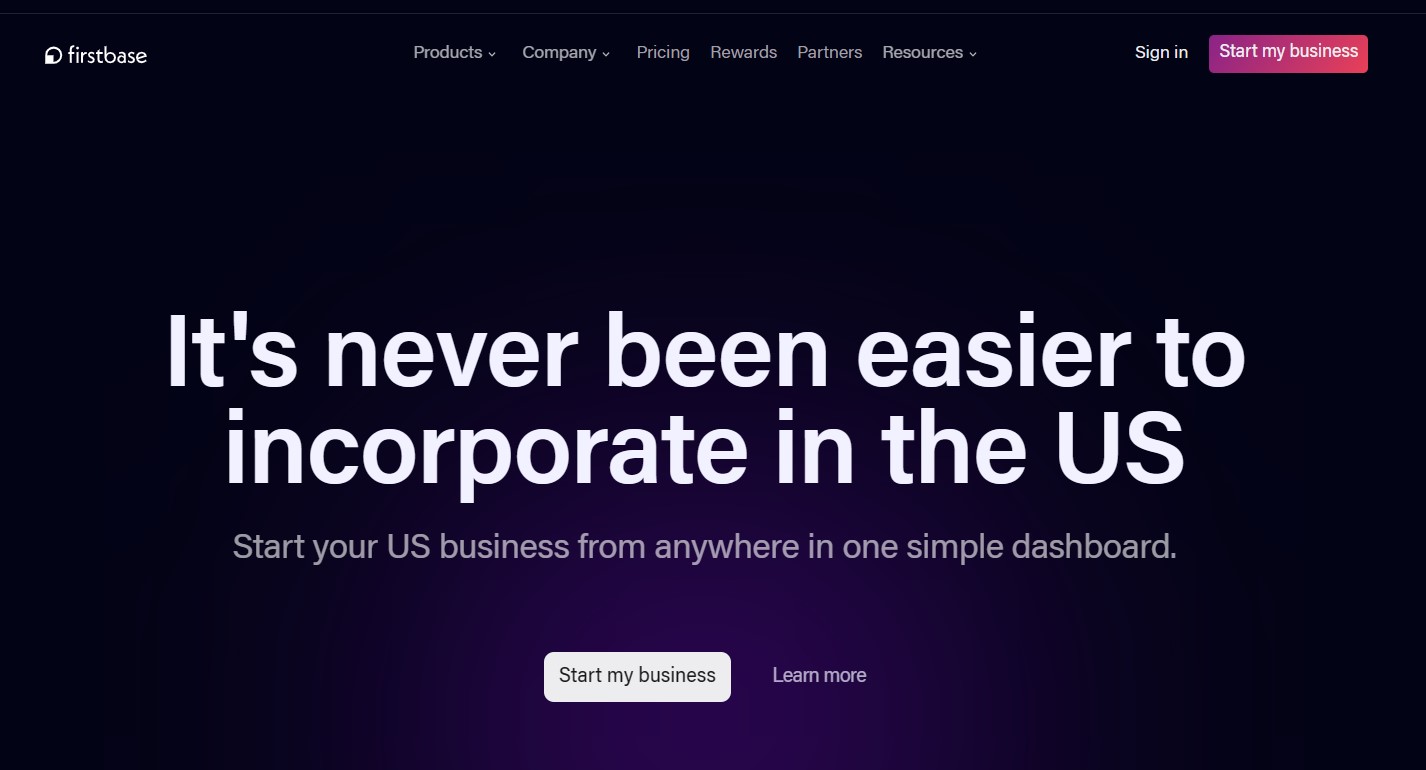 Image via Firstbase
Firstbase is easily one of the top Incfile alternatives for anyone looking to start their US business. It helps you start your US business overnight with a simple application process and fast turnaround time.
Firstbase doesn't just help founders and entrepreneurs launch their businesses online, it also assists you in managing and growing your business, It does this by providing you with insurance, payroll, virtual mailbox, and other tools.
Features
Business name check
Registered Agent service
Operating agreement
Stock purchase agreement
Annual report and franchise tax filings
Corporate bylaws
US EIN (Tax ID Number)
US business bank account
US address setup
Free tax consultation
Other services offered
Post-incorporation documentation
Payroll tax registration
Insurance
Dedicated lifetime expert support
Where Firstbase.io excels
With Firstbase, you can open a bank account for your company, even without an EIN, from the first day. Full integration with digital banking partners like Brex, Mercury, Relay, and Jeeves makes this possible.
You get a free consultation package for legal, marketing, and tax services. There's also expert lifetime support available in 5 languages, and free payment processing, payroll, and accounting via Firstbase Loop.
Where Firstbase.io is lacking
While Firstbase has flat and transparent pricing, there's only one pricing plan available.
Price
Firstbase Start, which helps you incorporate your LLC or C-Corp, charges a one-time fee of $399. This fee also covers discounts and special offers available on the Firstbase.io Network.
Firstbase Agent, with its Registered Agent service and automated compliance reminders, helps you remain compliant. It costs $99 per year.
Other charges apply for getting a US business address (Firstbase Mailroom) and insurance. Note that insurance isn't required to incorporate your company.
FAQ
1. Is Incfile trustworthy?
Yes. Incfile is a trustworthy online business formation service.
But you need to do careful research first about the services you want. This is because their refund policy only applies if the money has not been forwarded to any government agency. Plus, there's a $30 cancellation charge.
There are other Incfile alternatives with a solid refund policy like ZenBusiness.
2. Why do I need Incfile?
Incfile can help you incorporate your business as an LLC, Corporation, or Non-Profit. It also provides other services that help you keep your business compliant, such as:
EIN number
Operating agreement or Corporation bylaws
Banking resolution
IRS Form 2553
Business bank account
Tax consultation
Reminders of compliance requirements
3. Does Incfile have an annual fee?
Incfile charges a one-time payment for its online business formation service packages.
4. Which are the best Incfile LLC service alternatives?
Some of the top Incfile alternatives include:
ZenBusiness
Inc Authority
Northwest Registered Agent
Rocket Lawyer
Tailor Brands
5. Is Incfile worth it?
Incfile is one of the most affordable business incorporation services. It has a range of valuable features that will come in handy when setting up your business. But it has some drawbacks as well, such as:
Less than average customer support
Aggressive upsells from customer support
The language on their website isn't straightforward, which can get confusing for new users
6. Can I use Incfile if I already have an existing business?
Yes, Incfile can assist with certain services for existing businesses. Examples include changing the business structure, managing compliance requirements, or company dissolution.
However, Incfile's core service is business formation.
7. What's the turnaround time for Incfile?
Your LLC will take 15 business days to be ready if you incorporate it with Incfile.
You can pay an expedited filing fee to the Secretary of State to have your California LLC created on the same day. Alternatively, you could pay Incfile's $50 fee for an expedited 5-day processing time.
Best Incfile Alternatives: Conclusion
Incfile is a great business formation service, but these 8 Incfile alternatives are worth checking out.
Compare the features and services each alternative offers and map them to your business needs. And it's always good practice to check if the service has positive customer reviews before making your selection.
Disclaimer: This content contains affiliate links, which means we'll earn a commission when you click on them (at no additional cost to you).