We've recently seen a paradigm shift in the way businesses build and maintain relationships with their customers: CRM systems have revolutionized the entire process. With a good understanding of common CRM mistakes and how to avoid them, businesses can leverage CRM applications to their full extent.
How dominant is CRM software in businesses these days? You might be surprised to learn that CRM adoption in the US is a whopping 83.6%!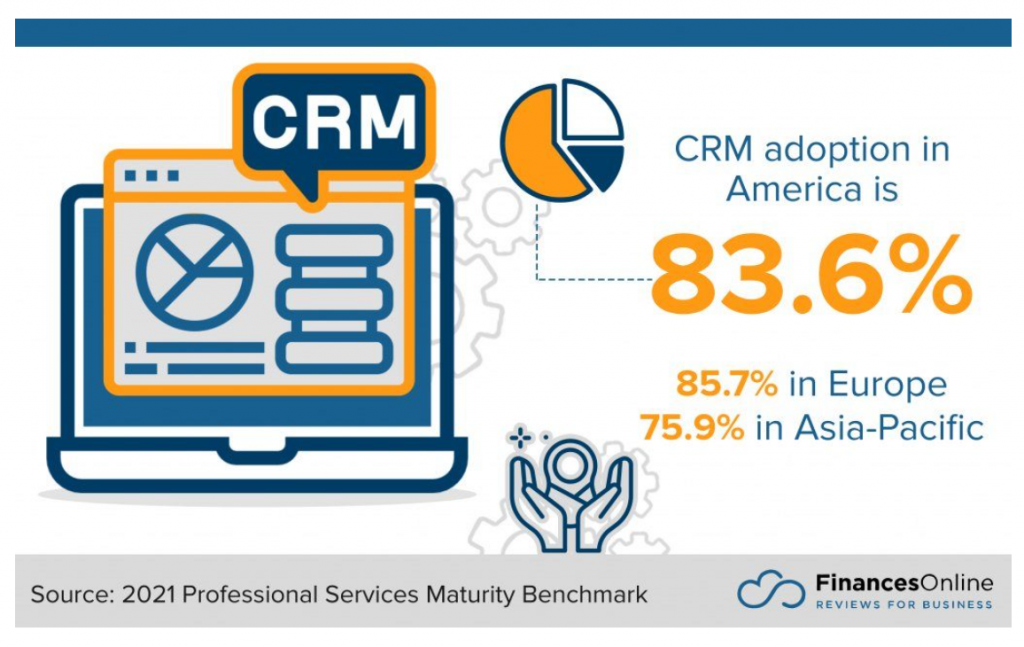 Image Source – Finances Online
Add to this the fact that a full 91% of companies with more than 10 employees use a CRM system. It's evident that smaller businesses too rely on a CRM solution to improve efficiency, streamline their sales pipeline, elevate customer satisfaction, and build long term relationships with their customers.
All this said, choosing such a game-changing tool and implementing it successfully can be challenging, and plenty of CRM mistakes can be made.
Before you take the plunge, you'll need to consider a number of factors and become aware of the most common CRM mistakes to avoid.
To help you get the best out of your CRM program, we'll be talking about the 10 most common CRM mistakes that businesses make and how you can successfully avoid those CRM mistakes to embrace CRM technology successfully.
Let's get right to it.
12 Common CRM Mistakes and How to Avoid Them
Businesses today have realized that CRM technology is vital to delivering quality CX (customer experience). That's why the CRM market is expanding phenomenally. In 2021, the customer relationship management market size in the US was $21.1 billion.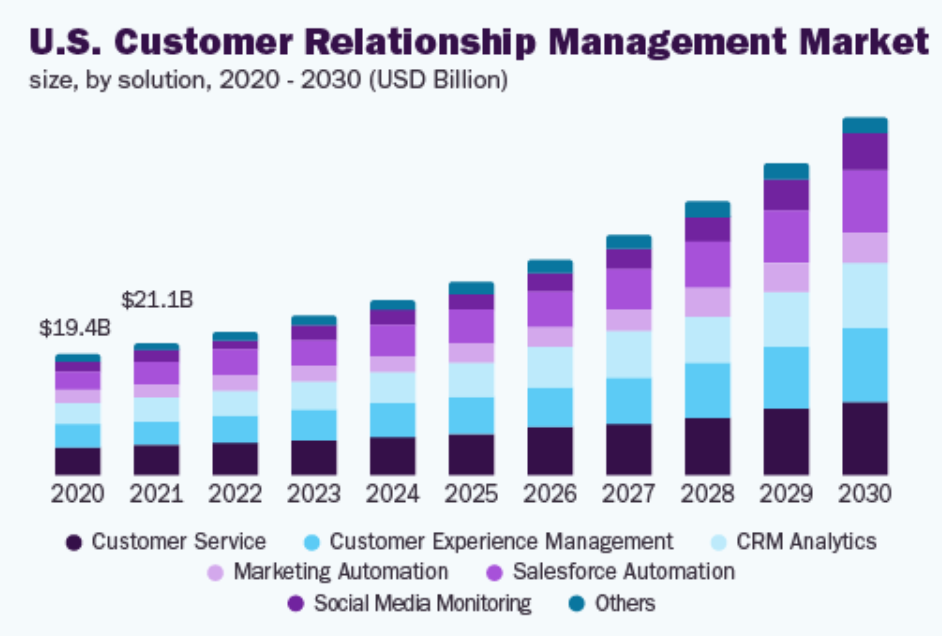 Image Source – Grand View Research
If you're considering purchasing a CRM system for your business or already have one in place, you'll need to know about some of the common CRM mistakes that many businesses make and how to avoid them.
Let's get started!
1. Lack of Leadership
One of the fundamental CRM mistakes that business leaders commit is directly handing over the CRM tool to middle management. At this stage, your employees could still be a bit reluctant to try the CRM program.
It is the responsibility of the leaders to first start using the software and ensure that the transition from the old to the new platform is a smooth one. If there's a lack of leadership, the team may never fully utilize the CRM solution. This lack of confidence on the part of the sales representatives may result in mistakes and unintentional, but avoidable, errors.
How to Avoid This CRM Mistake
This is one of the simplest CRM mistakes that can be easily resolved when small business owners and top leadership walk with their employees for the first few steps during the training sessions to make sure they get started on the right path.
2. Choosing CRM Software Without Clear Goals
You're eager to implement a CRM system and start reaping its benefits. That's great! But one of the common CRM mistakes when faced with this eagerness that most businesses make is not having clear goals and objectives.
Deloitte lists down six territories of customer needs. To build quality customer relations, businesses need to be clear about which territories they want to target.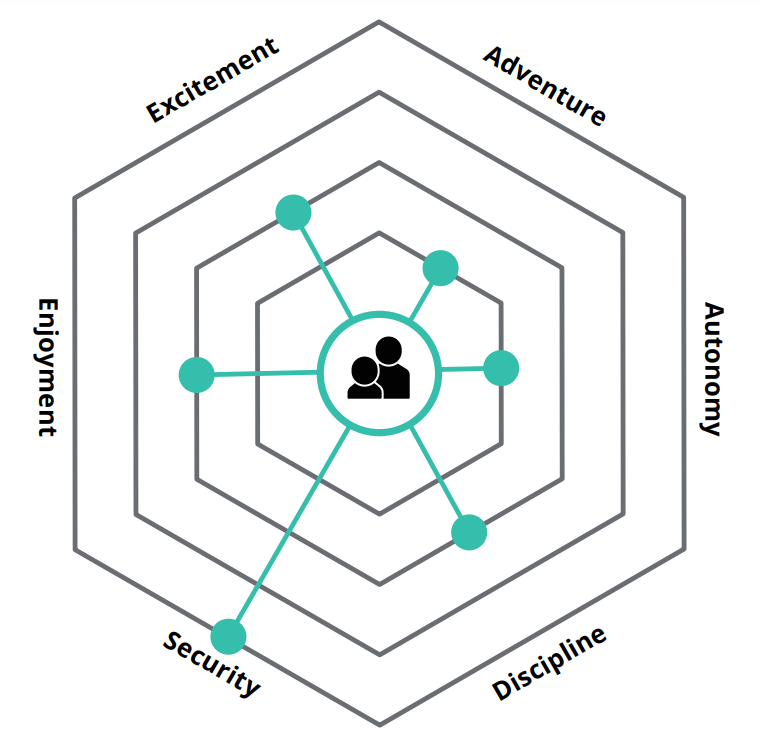 Image Source – Deloitte
Without defining a proper business plan, what you want to achieve with a CRM system will be unclear. Whether you want to accumulate accurate customer information, make your marketing strategy more effective, or streamline the sales processes, you'll need to be clear about what you want to achieve with the CRM system.
How to Avoid This CRM Mistake
Goals need to be set before you purchase a CRM tool. This will help you to align it better with your sales goals to achieve the results you are expecting.
3. Not Clearly Defining the Benefits of CRM System to Your Team
A lack of clear understanding of the benefits of CRM systems could be one of the most fundamental CRM mistakes. When your sales reps don't have a clear understanding of how software can boost their performance, it may act as a barrier to successful CRM implementation.
This may also have adverse implications for their learning processes. The sales team may exhibit a lack of willingness to work on the new system if they are not convinced that the present CRM tool is better than their old methodology.
How to Avoid This CRM Mistake 
Sit your sales team around a table and discuss with them what they are expecting from a tool. Get the end-users onboard while purchasing a CRM tool to give them a sense of ownership in the initial stage. This will encourage them to proactively understand the tool better and use it in the best possible manner.
4. Lack of Quality Training
Poor or no training is one of the top CRM mistakes small businesses need to avoid if they want to successfully incorporate CRM into their business process.
The adoption of a CRM system may go on for months. During this entire period, sales teams need to be on their toes to learn about it and upgrade their skills.
Again, without a thorough understanding of how the software works, your employees won't be able to implement the new tool in an appropriate manner.
If, as a business owner or a CRM practice leader, you feel that it's not worth spending the time to train your team, think again. This is one of those CRM mistakes that could cost you dearly.
How to Avoid This CRM Mistake 
Invest your time and resources in high-quality training. It can help you speed up the implementation process and use the tool to its full potential in the long run.
5. Opting for More Features Than You Need
Most people think that more is better, and that's true in many cases. But getting more may not be appropriate when choosing a CRM solution. One of the most common CRM mistakes businesses make is getting drawn in by a tool that has a long list of features.
As impressive as this list may look, you may not require all those features to execute your customer relationship management strategy successfully. Instead, your sales team may end up getting confused with such advanced features, which could result in low productivity. Don't forget to alight your choice with your budget as well.
How to Avoid This CRM Mistake 
Some of the CRM mistakes can be avoided at an early stage when you are researching the top tools in the market, and this is one of them. Be sure to narrow your list to only include the most relevant features for your business.
Ask your sales team and marketing team about their challenges and look for CRM features that can address these pain points. Based on these factors, you can then select the right CRM solution.
6. Lack of Scalability
Earlier, we touched upon how the lack of clear goals can affect the effective implementation of CRM systems, and would like to reiterate that same point once more.
Listed among the top CRM mistakes is a lack of scalability. A large percentage of business owners look only at their current requirements while choosing a CRM solution. What may seem like the right fit today may soon become insufficient as your business grows.
Opting for a CRM solution that lacks scalability may prove to be one of the most expensive CRM mistakes for a small business.
How to Avoid This CRM Mistake 
Choose a CRM that grows with your business. You should consider investing in a tool that has the capacity to grow with your changing requirements and manage the increased workload.
7. Neglecting the Use of Mobile CRM Software
Customers are rapidly moving from desktop to mobile devices to access the internet. They watch videos on the go, listen to music, trade online, attend meetings, and even shop using their smartphones. In this scenario, ignoring mobile CRM could be one of the biggest CRM mistakes small businesses can commit.
Not opting to maximize the use of mobile CRM will slow down your business in many ways. Without mobile access, you will not be able to access customer data on the go or respond to their queries in a timely manner. This will all lead to failing to achieve your sales target.
How to Avoid This CRM Mistake 
When purchasing a CRM system, make sure it has a well developed mobile app. It should be user-friendly and quick when accessed from a mobile device. Such a solution will help you stay ahead of the curve and dodge this easily-avoidable CRM mistake.
8. Lack of Accurate and Clean Customer Data
A CRM thrives on customer data. If that data is not entered accurately or is not updated regularly, the entire purpose of using a CRM system will be lost. You may call this one of the unforgivable mistakes because it not only affects the way you connect with your customers and deliver customer experience, but also misses the mark by a mile with your sales forecast. That's a CRM mistake you'll surely want to avoid!
Duplicate records, wrong contact details, outdated information, empty fields, wrong spellings, and many other errors fall into the category of 'bad data'. Such inaccurate data may be more dangerous than having no data as the consequences are quite harmful.
How to Avoid This CRM Mistake 
There is no quick solution to such CRM mistakes. One of the best ways to avoid bad data is by training your team adequately so that they thoroughly understand their tasks and responsibilities. Having mandatory fields in your system will ensure accuracy and avoid duplication.
9. Not Considering Social Media Features
The places and manners in which customers engage with brands have dramatically changed in the past few years. Social media channels have become one of the most preferred platforms for customers today to connect and interact with their favorite brands.
That's why most CRMs come packed with social media functionalities. But when businesses ignore these features, they are committing one of the biggest CRM mistakes out there.
Customer data generated from your interactions on social media are vital to creating highly targeted marketing campaigns. Failing to utilize such valuable data is a big CRM mistake that may lead to the unsuccessful implementation of CRM software.
How to Avoid This CRM Mistake 
One of the best ways to avoid such CRM mistakes is to opt for social media integration with your CRM system. If you do this, you'll be able to get a good understanding of the behavior and preferences of existing as well as potential customers. Analyzing this data will then help you to create tailored marketing campaigns.
10. Being Overly Ambitious
That's right! One of the most common CRM mistakes that we observe is being overly ambitious. Business owners often, in their excitement to create exceptional CX, may end up over-complicating their CRM solution.
Be it failing to allot enough time to implement a CRM system, setting too-close deadlines for executing a campaign, or setting overly-optimistic goals and objectives for a campaign, one can easily go overboard and become unrealistic. This CRM mistake will exert unnecessary pressure on the sales and marketing teams as well as the software tool, and they may miss the target.
How to Avoid This CRM Mistake 
Slow down and take one thing at a time — this is the mantra of success. Give your team the time and space it needs to understand the new system to avoid this mistake. Divide your plans into smaller segments and focus on each of them one at a time. Be rational while setting deadlines and targets. All of this will ensure the successful implementation of a CRM solution.
11. Not Customizing the Tool to Your Business Needs
This is one of the most common CRM mistakes that those who are implementing the system for the first time often encounter. Assuming that an out-of-the-box CRM solution will work for you doesn't take into account your goals, key systems, workflows, and more.
By and large, CRM systems work best when they are customized to a business's needs. Even those marketed as out-of-the-box solutions are not that effective until you customize them to suit your needs.
That's why it's important to think of CRM applications less as complete solutions on their own but rather as capable wireframes you can tailor to your specific workflows.
However, most organizations don't customize their CRM investment and use them just the way they are. The lack of customization often leaves things feeling a little bit clunky.
This leaves room for errors such as duplication and deletion, which could harm your customer relationship management efforts.
How to Avoid This CRM Mistake 
To avoid this CRM mistake, make sure you pick a CRM system that gives you the flexibility to customize it to your needs. Talk to the sales rep selling you the software and let them give you details on how the tool will work for you.
Ensure they tell you how you can create custom fields on opportunities and leads, sales pipelines, and other CRM workflows.
12. Underutilizing Your CRM System
CRM systems have powerful marketing automation capabilities when combined with other systems. Not taking full advantage of all the features means you're leaving money on the table.
Most marketers only scratch the surface with their CRM tools, and this is one of the common CRM mistakes you need to avoid.
Failing to utilize your CRM system to its full capacity could see you miss out on valuable opportunities to grow your business and is one of the greatest CRM mistakes. For example, you may struggle to identify useful leads or connect with prospects you can nurture into a deal.
How to Avoid This CRM Mistake 
Take time to understand a tool before committing to it. Find out how it works and how you can utilize its capabilities to achieve your marketing and sales goals.
If you're choosing a CRM for the first time, ask the vendor to guide you through the tool and how to use it effectively.
FAQs
1. What is the most common mistake in CRM? 
Some of the most common CRM mistakes are:
Lack of leadership
Choosing CRM software without clear goals
Not clearly defining the benefits of the CRM system to your team
Lack of quality training
Opting for more featured than you need
Lack of scalability
Neglecting the use of mobile CRM software
Lack of accurate and clean customer data
Not considering social media features
Being overly ambitious
Not customizing the tool to your business needs
Underutilizing your CRM system
2. What are the common barriers to CRM success? 
Here are some of the common barriers to CRM success:
Resistance from the workforce to change
Failing to see the full value of CRM
Changing your business approach
Dealing with cost and time spent to implement CRM
Data security
Lacking clarity in goals and objectives
3. What problems can CRM solve? 
CRM systems can solve or mitigate a number of problems businesses face every day. Some prominent ones are:
Organize messy and decentralized data
Channelize workflow
Provide better customer service
Improve overall sales and productivity for mobile CRM
Quality customer engagement
Collect valuable social insights
Make reporting easy and effective
Improve customer retention rate
4. Is a CRM suitable for small businesses? 
Yes, absolutely. In this day and age, a CRM solution is a must for small businesses, too. Such a tool can simplify your business process and enhance productivity. With a small workforce, small businesses can leverage the benefits of CRM to a great extent, and avoiding the CRM mistakes listed above will ensure a smooth implementation.
Make your selection based on user-friendliness, affordability, business needs, and the right features to strengthen your relationship with your customers and boost sales.
5. How do I choose a CRM for my business? 
You need to consider a number of factors before you purchase the CRM solution that best suits your business. Here are some important things to consider:
Goals – what do you want to achieve with this CRM?
Decide on the functionalities and features you need
Check if training is included in the package
Duration of implementation
Product mobility
Compatibility with other applications you're already using
Cost of CRM software
Consider reporting capabilities
User-friendliness
Scalability
6. What's the best CRM for small businesses? 
The CRM market is quite crowded with several worthy tools. Check out Salesforce, Freshsales, Zoho CRM, HubSpot, and Vtiger. The tool that provides the most suitable features and fits into your budget would be the right choice for your business.
7. How can CRM benefit your small business? 
Here's how CRM software can benefit your small business:
Helps you understand your customers better
Puts a value on your customers
Centralizes all relevant information
Improves customer satisfaction
Helps your teams collaborate better
Automation of repetitive tasks
Elevates the quality of data analysis and reporting
Focused lead generation
8. What are CRM best practices? 
Some of the important CRM best practices are:
Audit your requirements to set goals and choose the most suitable CRM
Work towards simplifying the workflow
Optimize automation to ease the workload and improve efficiency
Make data-driven decisions
Be flexible and adapt to changing business needs
Make the most of social-listening
Train your team well
Are You Ready to Leverage the Benefits of Customer Relationship Management Software?
Every segment of your business, be it marketing, sales, or customer relationship can benefit phenomenally from a CRM solution when implemented successfully, as long as major CRM mistakes are avoided. A good understanding of the most common CRM mistakes and how to avoid them will help your small business have a smooth transition.
A majority of CRM mistakes can be avoided by convincing and training your team (the end-user) to use the CRM efficiently. When they begin to use the tool to its full capacity, you can expect to reap great benefits in terms of improved customer relationships, better sales, and overall business growth.
Now it's time to get into action! Avoid the most common CRM mistakes and get ready to experience enhanced performance with your CRM software.