Copper CRM Review 2022: The Summary Box
Copper CRM is a powerful CRM solution that's especially helpful for those businesses that are using Google Workspace. It helps you automate tasks, track emails, and manage your leads and contacts like any other CRM. But what makes it stand out is its project management features with kanban cards, eliminating the need for any other platform.
| | |
| --- | --- |
| User Friendliness: | |
| Customer Service: | |
| Pricing: | |
| Overall Rating: | |
Looking for an easy-to-use CRM that is both affordable and allows you to scale your business? If your business uses Google Workspace, then Copper CRM is your best bet.
This Copper CRM review looks at the platform's key features, benefits, and challenges you need to know. It goes further to compare it with other top CRM tools in the market to give you ample information to decide the best one for your business.
There are numerous benefits of CRM software for both small businesses and large enterprises. Generally, a good CRM system should, among other things, help you:
Automate your operations
Boost customer service
Grow sales
Operate remotely
Lower your costs
Does Copper CRM do all this?
Let's find out.
Copper CRM Review: Why You Should Consider It
Copper was formerly known as ProsperWorks. It's arguably the only sales automation solution that was made with Google Workspace, formerly G-Suite, as the focus.
This feature sets Copper apart from other CRM software in the market, with its niche focus and unique quality.
Copper CRM works easily with Google Docs, Google Drive, Google Sheets, Gmail, Google Calendar, and the entire Google Suite. This is beneficial for businesses that use Google Workspace in many ways.
It reduces the time your team would spend switching between applications. With Copper CRM, you can access your files and contacts and also share these files directly on Gmail from the Copper platform.
If you use Google Workspace, you will not need extensive training to onboard your team onto the Copper software. The software functions much like Google products, making it easy to understand and simple to use. In other words, if you've used any Google product, you understand how Copper CRM works.
Another main reason why you should consider the Copper CRM is its affordability. Starting from $29/month, you can subscribe to their basic plan and enjoy the whole Google integration suite and other features.
What's more?
You also get a 14-day trial period, where you can test out the platform's features before making any financial commitment.
These are some of the features that set Copper CRM apart from most other tools in the market.
However, there's more to this software in terms of features and pricing that you'll need to understand before making a decision.
Let's review this platform's features in more detail.
Start Using Copper Now!
Copper CRM Review: Key Features and Functions
As mentioned, most types of CRM software help automate tasks, manage projects, have lead generation features, and produce detailed reports and analytics.
In this Copper CRM review, we'll cover the major features the tool offers.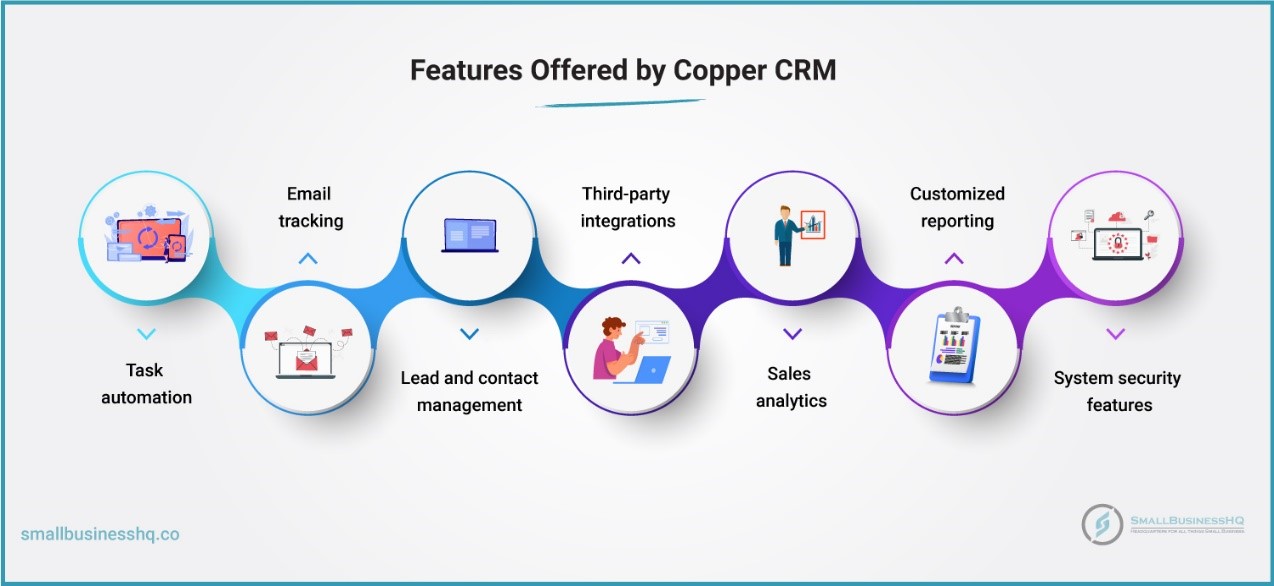 Task automation
Email tracking
Lead and contact management
Third-party integrations
Sales analytics
Customized reporting
System security features
Let's review each one of them in detail, in this section of this Copper CRM review.
Task Automation
Copper has a workflow automation feature that eliminates the need for manual data entry as well as repetitive and administrative tasks. This way, your sales team can focus on more valuable tasks in their schedule.
Automation is one of the key features businesses look for in customer relationship management tools. As a business grows, keeping up with operations manually becomes an uphill task, especially the small repetitive ones
Therefore, when conducting a CRM review, workflow automation should be at the top of your list.
As an operational CRM, Copper takes care of items such as meeting schedules, logging calls, updating contact lists, and attaching files. You also get to pick the tasks you would want the software to handle for you.
To do this, you'll need to set up triggers and actions. The trigger tells Copper when to perform a task and the action tells it what to do.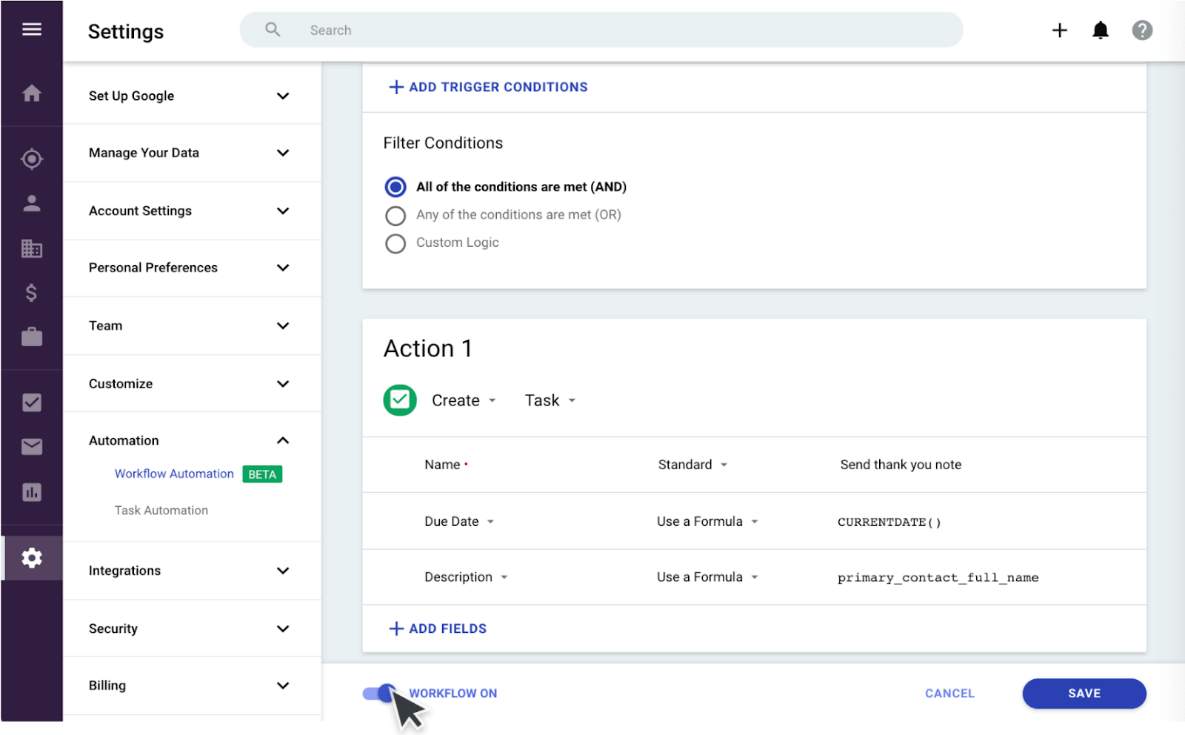 An example from a sales scenario would be sending an automated thank you message every time your business wins sales. Here's what that would look like.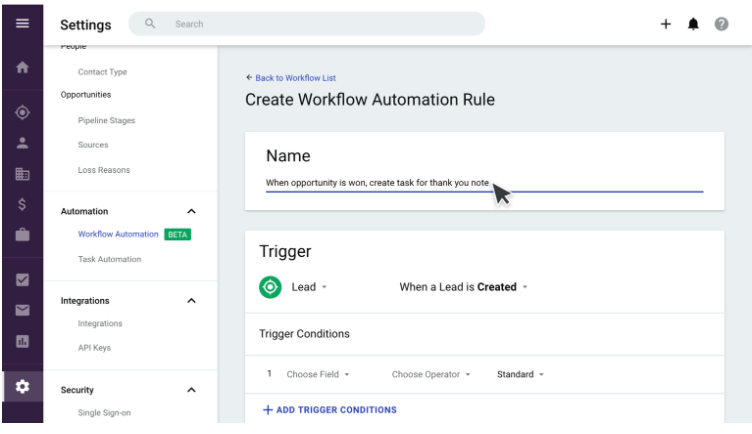 Another example can be creating a task and naming it "Follow Up". This helps automatically create and assign the task to a relevant team member.
Achieving this is very simple, you just need to define a trigger and action.
For instance, let's say you want an engagement to be assigned to James Brown if it moves to the follow-up stage.
Here "if an engagement moves to the Follow Up stage" is the trigger, and "assign it to James Brown" is the action.
What's more?
A trigger can be used to achieve multiple results all at once by using the "and" and "or" logic.
This whole concept of task automation helps cut costs in customer support and marketing. It also allows you to redeploy your staff members to other departments or have them focus on growing the business.
(Want to try Copper? Get your free trial now!)
Email Tracking and Customization
Copper CRM has seamless integration with Gmail that enables it to track emails through your Gmail inbox. From its Chrome extension or mobile app, you can access your Gmail account directly.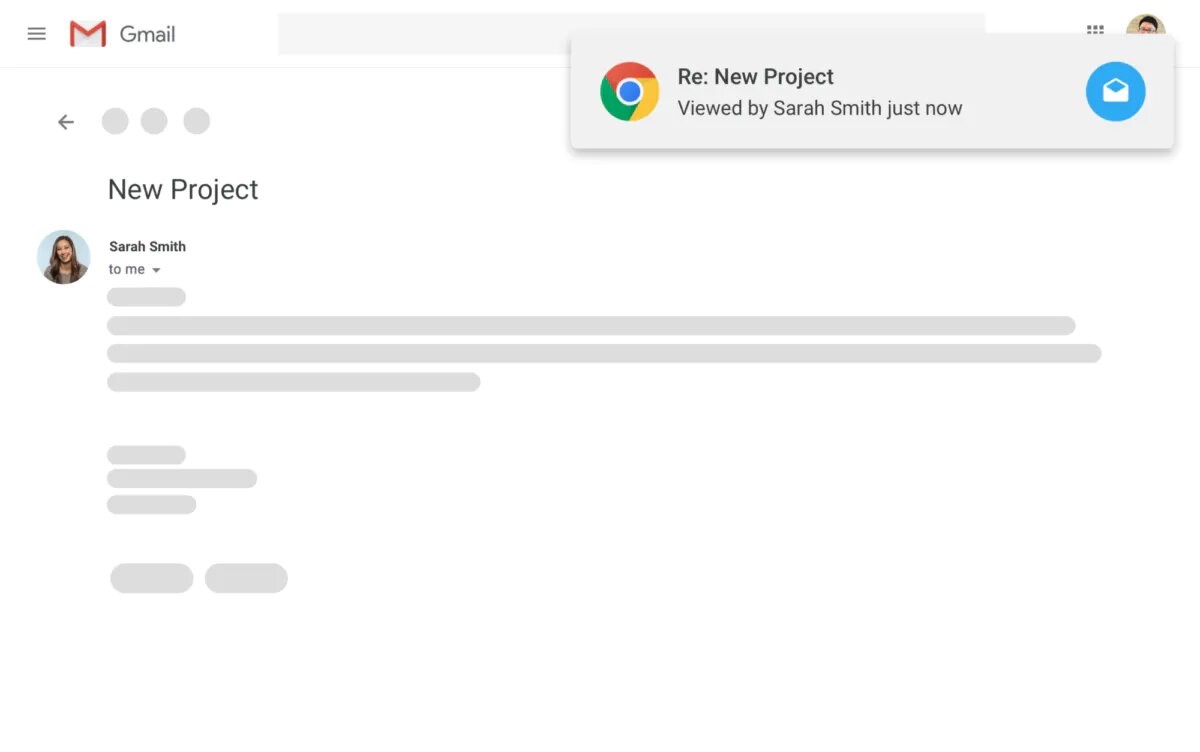 This email tracking feature notifies you when the recipient clicks on your email, opens it, or engages with it. This way, you'll be able to respond to them instantly and will also know how to respond to them.
This feature makes it a great lead generation tool that you can use to better interact with your prospects. And you also get to do so without leaving the Copper platform.
The real-time insights into your emails also give you ample data based on which you can make better email marketing decisions.
Your sales team will be better placed to do follow-ups on time and keep your lead opportunities updated.
Depending on your communication with your prospects, you'll also know which leads are likely to convert and which ones are failed opportunities. This would help optimize your sales efforts.
Copper also provides editable email templates so you won't have to write every email from scratch. This is something we greatly liked while reviewing the platform.
This way, you can generate emails in bulk and send them to many prospects at once.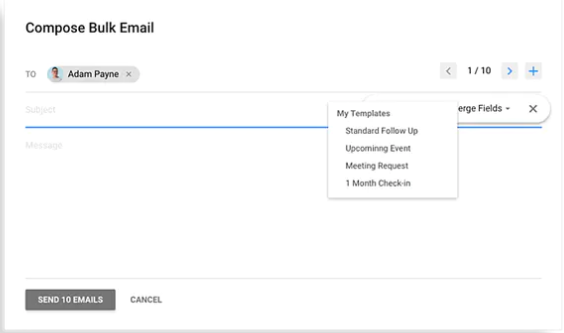 Besides emails, Copper CRM tracks your calls, and reviews calendar events and meetings so you can keep up with your teams' activities and progress. You get to review all these updates in real-time on a single platform too.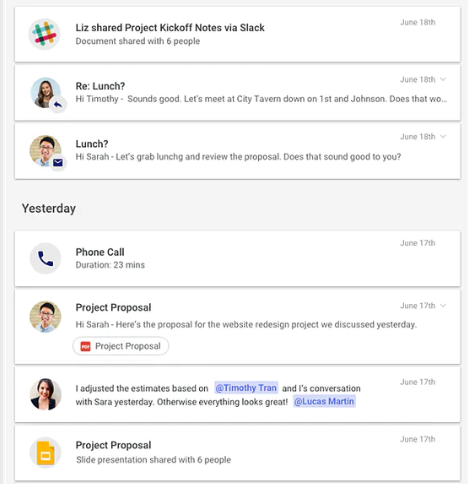 Lead and Contact Management
One of the most important functions that Copper CRM specializes in is managing contacts and growing leads.
Copper's contact and lead generation features enable you to source contacts and grow new leads. With this feature, you can bring in prospective clients manually or import them in bulk from other platforms.
The easiest way to grow your contact list with Copper CRM would be through your Gmail account since it's already integrated with your Copper CRM. Therefore you do not need to take any extra action to import contacts from third-party applications.
However, for other external integrations, you'll need to go through extra steps to import leads automatically. Such platforms include LinkedIn, Mailchimp, and Salesforce.
With the Professional and Business plans, you can integrate with these lead generation platforms and more.
You can set triggers, and Copper will review your recorded communications and filter your leads.
It does this based on what the communication is about. After filtering through your list, you can then decide to add them to the system as leads.
(Want to give Copper CRM a try? You can get a free trial of Copper for 14 days now!)
Sales Analytics
A good CRM tool should help with precise sales forecasting. Here's a review of Copper CRM's Analytics tool.
The sales analytics feature offered by Copper CRM enables you to make accurate growth predictions.
It's one thing to get a lead but it's completely another for the lead to convert. By using Copper as your CRM tool, you can determine leads that are most likely to convert by analyzing sales data.
With such historical data, your sales team will know which leads to pursue and which ones to drop, improving their operational efficiency and conversion rates.
As a business owner, you can also monitor the activities of your salespersons and track their interactions and conversations in real-time. The leaderboards, dashboards, and reports help you track these performances conveniently.
You can see who is meeting targets and who is not. This can help you optimize the performance of your sales reps too.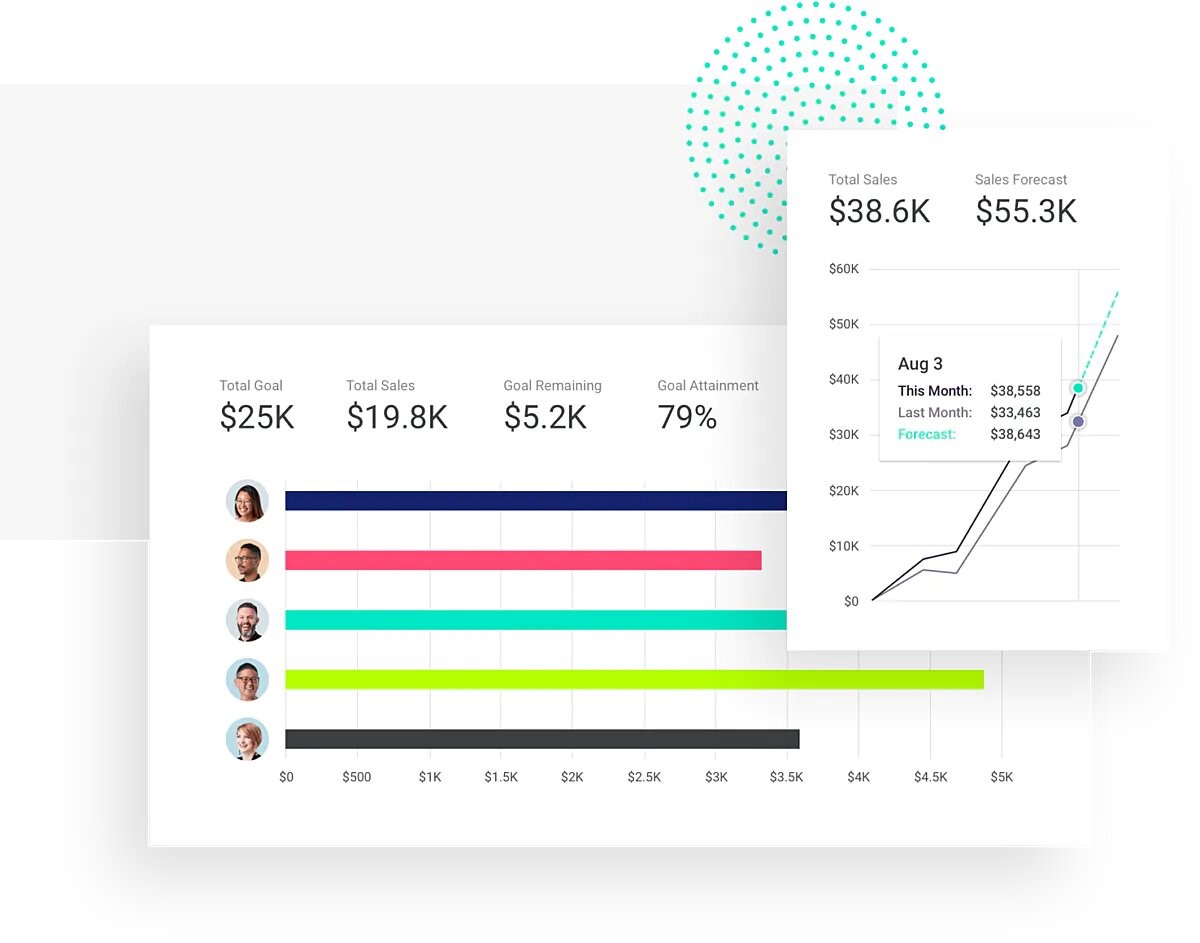 Third-Party Integrations
In this section of our Copper CRM review, we'll review the number and types of integrations that it offers. Here we go.
Google integration is Copper CRM's most popular integration. Businesses using Google Workspace can easily use any plan offered by the platform for their needs.
However, other integrations of Copper CRM get unlocked only with the Professional plan and beyond, so you'd have to pay more for those.
These third-party applications include Slack, DocuSign, LinkedIn, Mailchimp, Salesforce, QuickBooks, and more.
All these integrations are seamless and can help you with your marketing campaigns and lead generation.
(Give it a spin to find out how Copper can help your campaigns. Try it for free now.)
Project Management
Copper has flexible Kanban boards for easy project management and team collaboration. The dashboard syncs with your Google Workspace, making it easy to review and manage your customer relationships.
All your workflow automation and marketing projects can run smoothly due to the collaborative nature of this platform. Additionally, it brings transparency for all your team members as they'd know exactly where things stand.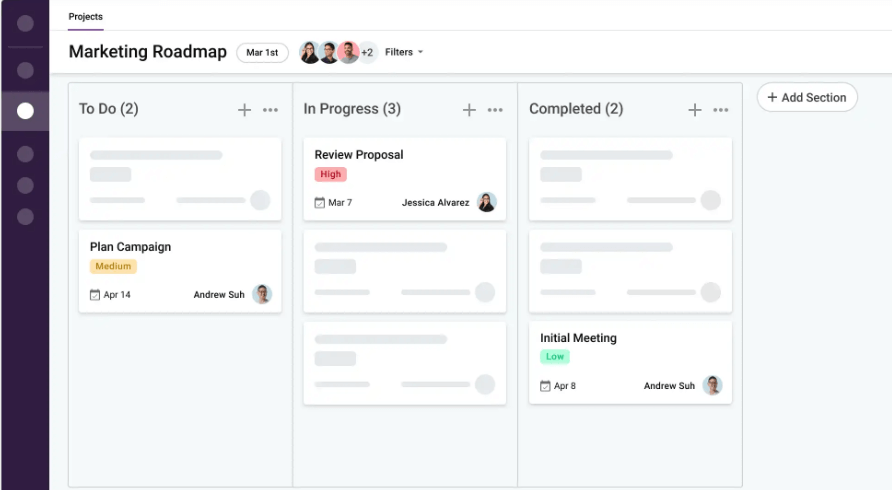 Customized Reporting
Copper CRM also helps you with the creation of reports that you can use for internal evaluation and also share with your clients.
With this functionality, you can easily review the following five powerful metrics.
Opportunity Pipeline
This report shows you the opportunities that your business has for conversions along with their value. Low opportunities coming in show that your marketing strategy needs some improvement.
Besides this, the report will also let you know your most valuable opportunities that can directly impact your bottom line. These are the opportunities where you need to put in the most effort to drive maximum revenue.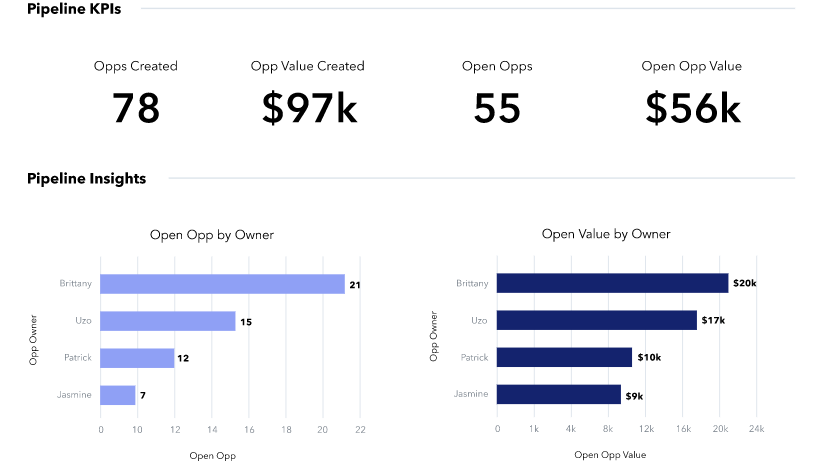 Forecasting KPIs
This is your go-to report if you want to determine if you are achieving, for example, your monthly goals. It also helps you prepare and make adjustments along the way to ensure you are still aligned with your objectives. You can track your forecast vs. your current status.

(Try your hands at forecasting your KPIs with Copper. Get it free for 14 days now!)
Sales Lost and Abandoned Report
This report enables you to review your wins and, most importantly, your losses. It breaks down the number of losses, missed opportunities, and why they happen.
It also gives you a detailed report of the value of losses, and the stage where the loss occurred. You also get to see which salesperson was responsible.
All these statistics can play a crucial role in determining where you need to strengthen your sales funnel to reduce your lost deals and drive more conversions.

Sales Performance Report
This report gives you a full overview of your sales KPIs. This includes your opportunities, won opportunities, value of those opportunities, and more. The report enables you to track the performance of your sales team and the overall sales driven by them.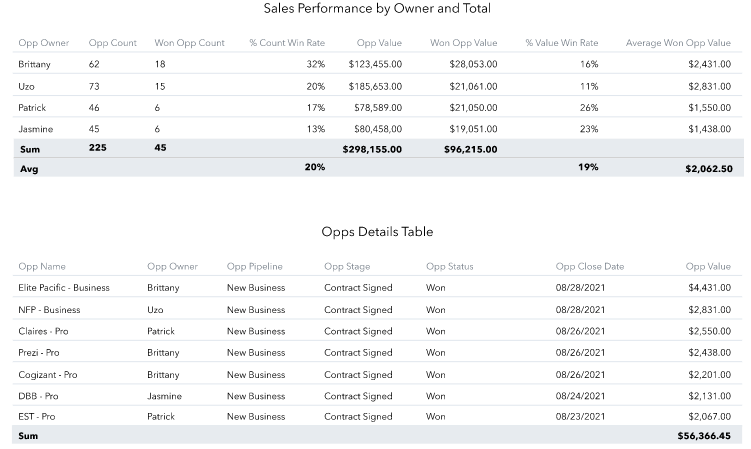 Source Performance Report
This report is ideal for your marketing team. It gives them a clear picture of their marketing leads and the performance of these opportunities.
It's a great way to review your current marketing strategies and find out if they're working. This enables you to optimize your marketing campaigns for driving better results.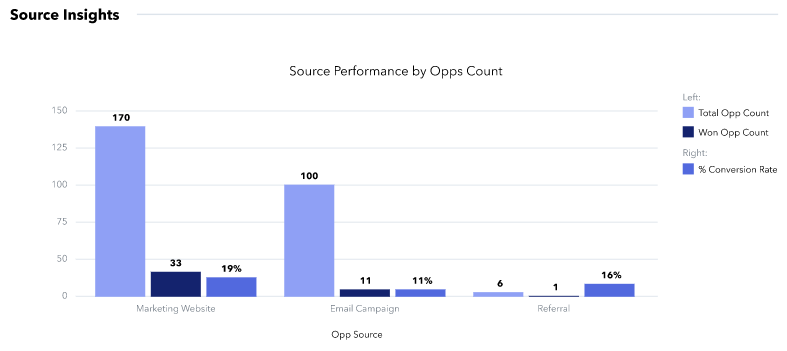 (Create your reports for free with a 14-day free trial from Copper.)
System Security
When it comes to the use of CRMs, keeping your client's information safe is a top priority. Overlooking this feature is one of the biggest CRM mistakes that you can commit. Any potential data breach could have big repercussions.
Whether your data is on-premises or in the cloud, it needs to be well-protected. Copper CRM knows this well and has done a good job with its security features.
The software has elaborate security functions that deliver first-class backup management and data resiliency systems.
Additionally, Copper has a close integration with Google using OAuth. This eliminates any form of password storage by Copper. It also follows Google's Security Audit rules to ensure that it's compliant with standard security practices.
Copper also uses third parties to test its security systems regularly. When it comes to emails, it has a strict policy that ensures synced emails are private and can only be viewed by the account owners.
In addition to adhering to OAuth, Copper CRM also adheres to API, OpenID, and SSO best practices.
Here's a review of the state-of-the-art security measures Copper CRM uses.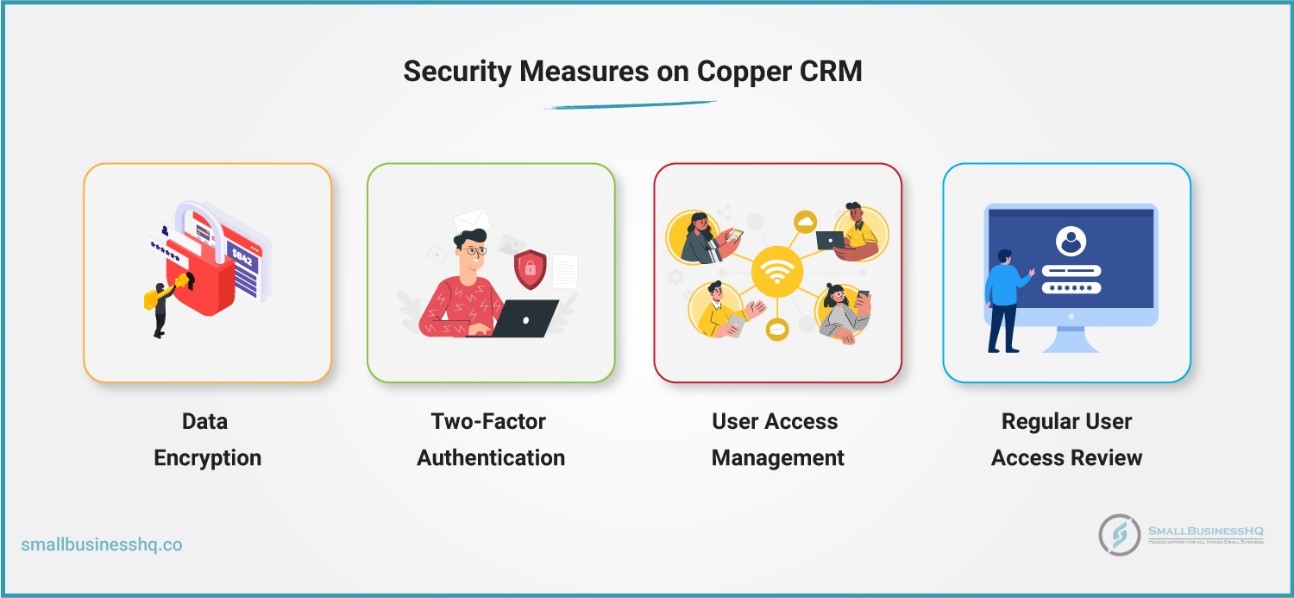 Data Encryption
This is a security method that encodes information that can only be accessed by an authorized user. The method scrambles the contents of a message and only allows access upon decryption.
Copper uses this method and ensures that messages remain encrypted at rest or in transit.
Two-Factor Authentication
This security feature requires a user to verify their identity before gaining access to data.
This ensures that only legitimate and designated users are able to access sensitive data.
User Access Management
Copper has tightly regulated access controls for all customer and business data. Access is restricted on a need-to-know basis using role-based access controls.
Regular User Access Review
Copper's resources are monitored and all employee access is controlled. This ensures that any change in employment status or role is well updated.
This close supervision makes Copper's security system reliable. The review ensures that any breach or suspicious activity is flagged and addressed as early as possible.
(Test out the security features offered by Copper now. Get started with the free trial.)
Diverse Industry Options
One of the other important things we noted in this review is that Copper CRM has provisions for different business types in varied industries.
These include: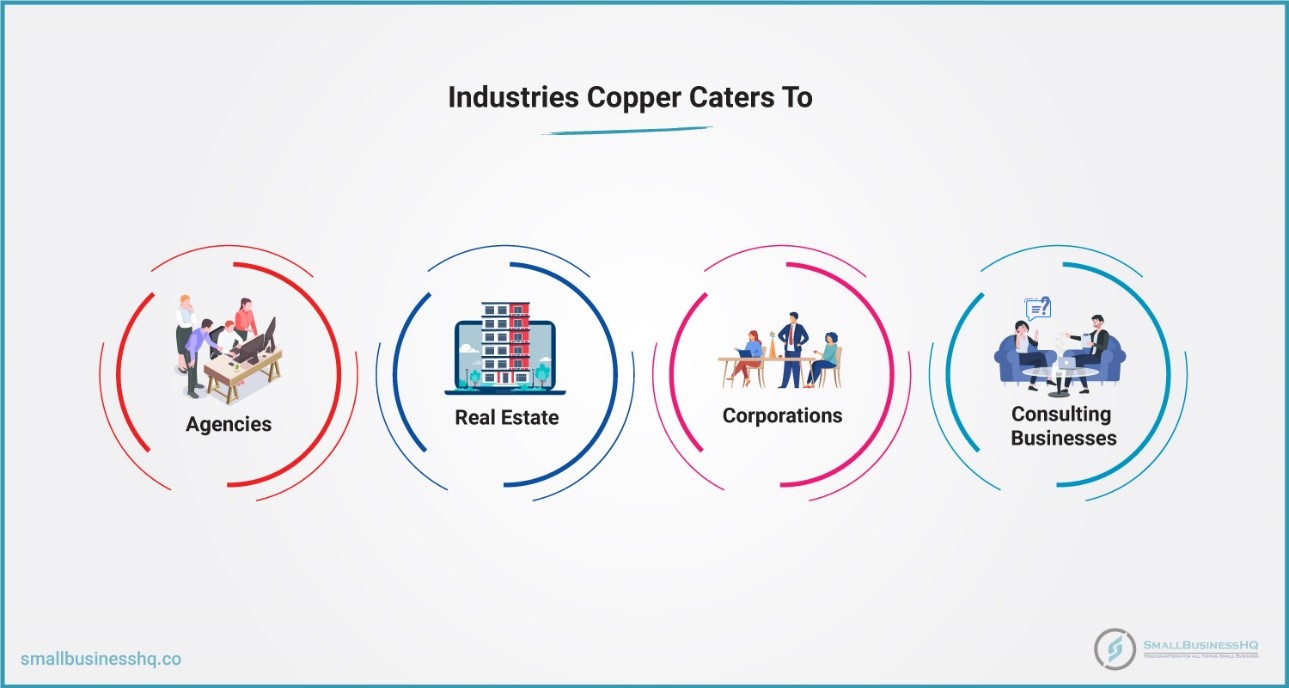 Agency
With Copper's real-time updates and team visibility, agencies can create and maintain customer relations with prospective leads. They can also manage sales for their clients.
Real Estate
Real estate agents can market their new listings and build contact lists automatically to drive traffic to properties for sale or rentals. They also get to easily communicate with prospects and nurture new leads to drive more conversions.
Corporations
Copper keeps all your data in one place, and tracks it to each relevant contact. Every communication in your Gmail inbox, files, and term sheets is updated as it happens. You can always access this information whenever you need it.
Copper CRM also has customizable drag-and-drop pipelines that let you review and monitor your deals in real-time. This way you always know how far each deal is, who is handling what, and how much progress your team has made.
You also get to manage all your customer communication and relationships from your Gmail inbox.
Consulting Businesses
Consultants need a simple tool that can organize their clients' information. Copper CRM's features are perfect for consultants. You can build relationships with your clients, generate leads, update your contacts, nurture your leads, and even manage their customer relationships.
Try Copper for Free
Copper CRM Pricing Plans
Copper CRM has affordable pricing. Starting from as little as $23 a month, paid annually, you can get its Basic subscription plan which comes with full integration with the Google Workspace.
You also get a 14-day free trial to experience the software before moving to paid options. Here are the paid plans we'll discuss in this review.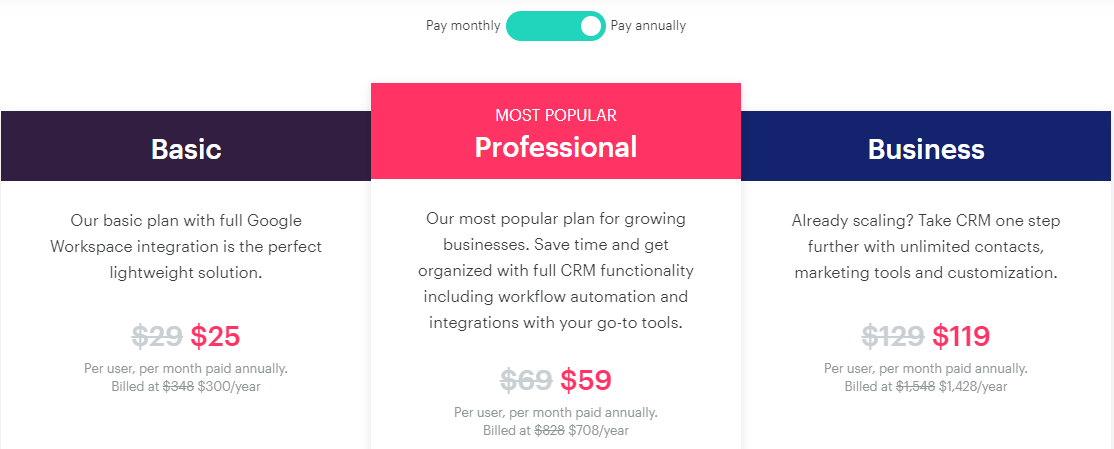 Basic Plan
The Basic plan is billed at $29/user per month, paid monthly, and $23/user per month, paid annually.
This is the most affordable plan offered by Copper. With the Basic plan, you can manage a maximum of 2,500 contacts.
Other features you can get with this plan include:
Team collaboration
Project management,
Multiple pipelines.
Contact enrichment
This plan is suitable for small organizations looking for light CRM software, especially those that rely on Google Workspace.
Professional Plan
This is the plan that is the most popular among Copper users. It costs $69/user per month if you pay monthly or $59/user per month, annually.
This plan is best for growing businesses as it comes with the full functions of a CRM, including workflow automation. Besides Google applications, it provides integration with other tools as well. These include:
Email marketing tools like Mailchimp
Other CRM and marketing software like HubSpot and Zendesk
Some accounting software like QuickBooks and Xero
Communication tools like Slack
File hosting tools like Dropbox
You can import up to 15,000 contacts, and you'll get reporting capabilities and email marketing templates.
Business Plan
This is a plan for enterprises. It's the premium plan that comes with all the features Copper CRM has to offer.
With the Business plan, you can have unlimited users and contacts. It's also possible to customize the software to a great extent.
The plan costs $99/month per user, paid annually, and $134/month per user, paid monthly.
This plan has features that include:
Marketing options for developing drip email campaigns
Lead scoring to help you gather more prospects
Website tracking for a more personalized user experience
Unlimited contacts
Some additional integrations on this plan also include LinkedIn and WordPress Forms.
These three plans give you options at each stage of your business and enable you to upgrade as your business scales. This makes it affordable for both small businesses and large enterprises.
Next in this Copper CRM review, we'll review its pros and cons.
Try it Free for 14 Days
Copper CRM Review: Pros and Cons
While Copper may not match up to the best CRM tools in the market in terms of features, it has several benefits. This section of the review goes through all the pros and cons of this tool.
The Pros
Here's a review of how your business can benefit from using Copper CRM.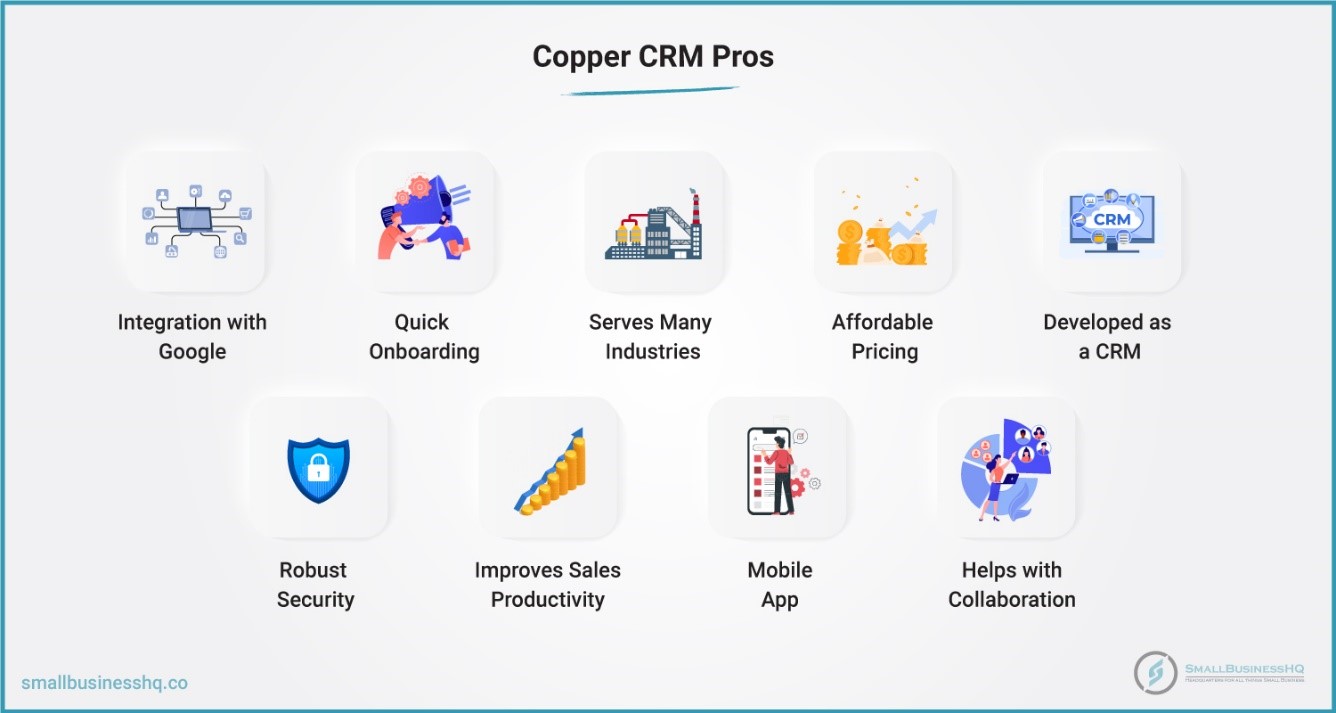 Seamless Integration with Google
This is the single biggest benefit of Copper CRM. It was developed with Google users in mind and that's why it's so helpful for any business that relies on Google Workspace.
As a CRM tool for Google Workspace, Copper provides powerful integration with products like Google Sheets, Google Docs, Gmail, and Google Calendar.
This means that you can easily review everything from a single platform. This includes being able to manage your files, share documents, track communication, and follow up on leads from the same platform.
While other CRMs would require you to use third-party add-ons to integrate with Google Workspace, Copper CRM definitely wins with this solid integration.
Seamless Onboarding
Copper functions much like Google applications and this makes it a simple tool to use. Since you have most likely used a Google product, you may figure out how to use Copper quickly.
So, you won't have to go through a long process to teach them how to use the CRM.
If you're using a CRM for the first time or making a switch to Copper, you will love the experience. Copper has simplified their onboarding process and provided enough educational material for the same.
They offer several tutorials and guides that will enable you to set up faster and bring your team up to speed quickly.
To make the whole process even better, they have an efficient customer support team too.
Wide Industry Range
The products that Copper offers can be used by a range of organizations, including agencies, real estate firms, and tech companies.
Copper is useful to all businesses that want to boost client relations, manage listings, and scale upwards.
It's also a worthy tool for businesses such as consultants and corporations and helps them manage deals.
Affordable Price Plans
Compared to most other CRM tools, Copper is relatively affordable at every tier. Their Basic plan is affordable and it provides integration with every Google Workspace tool.
It's affordable for a tool that provides workflow automation and intuitive lead management too.
Copper may not have a freemium plan, but it does offer a 14-day free trial for businesses before they can pay. This allows you to review the features and functionalities and see if they meet your business needs.
Built As a CRM
Copper was made specifically as a CRM to source, manage, and grow leads. It allows teams to manage their customer-related tasks on a single platform without having to switch between applications.
Most other CRM tools double up as marketing tools and this sets Copper apart.
Robust Security Practices
Copper CRM has many security features to ensure that their clients' information is safe. This includes features such as data backups, data encryption, two-factor authentication, and Google security standards compliance.
Better Collaboration
Teams need to communicate with each other for better collaboration and usually require a separate tool for this. With Copper, you can easily share files across teams, receive updates, manage the project, and track each other's progress — all without leaving the platform.
You can also integrate other communication tools with it, such as Slack for team communication and Dropbox for file sharing.
Increased Sales Productivity
With Copper's lead and pipeline management capabilities, you can easily track your tasks. You'll know what's complete, and how far your incomplete tasks are.
This makes everything organized and efficient, which, in turn, gives your sales team better results.
You'll be better able to streamline your contacts, identify potential leads, and strategize your sales ventures. Doing this increases your sales productivity.
Mobile App
With Copper CRM's mobile application, you can continue working while you're away from your PC. You can respond to emails, interact with your customers, and track your sales on the go. This can particularly benefit your field sales team as they can enter information on the move.
Additionally, you can achieve most of the tasks you would do from your desktop with this app. This includes monitoring your pipeline, organizing activities, and viewing updates in real-time.
Get Copper CRM
The Cons
Despite all of the above benefits, Copper CRM has its challenges like all other CRMs. These include.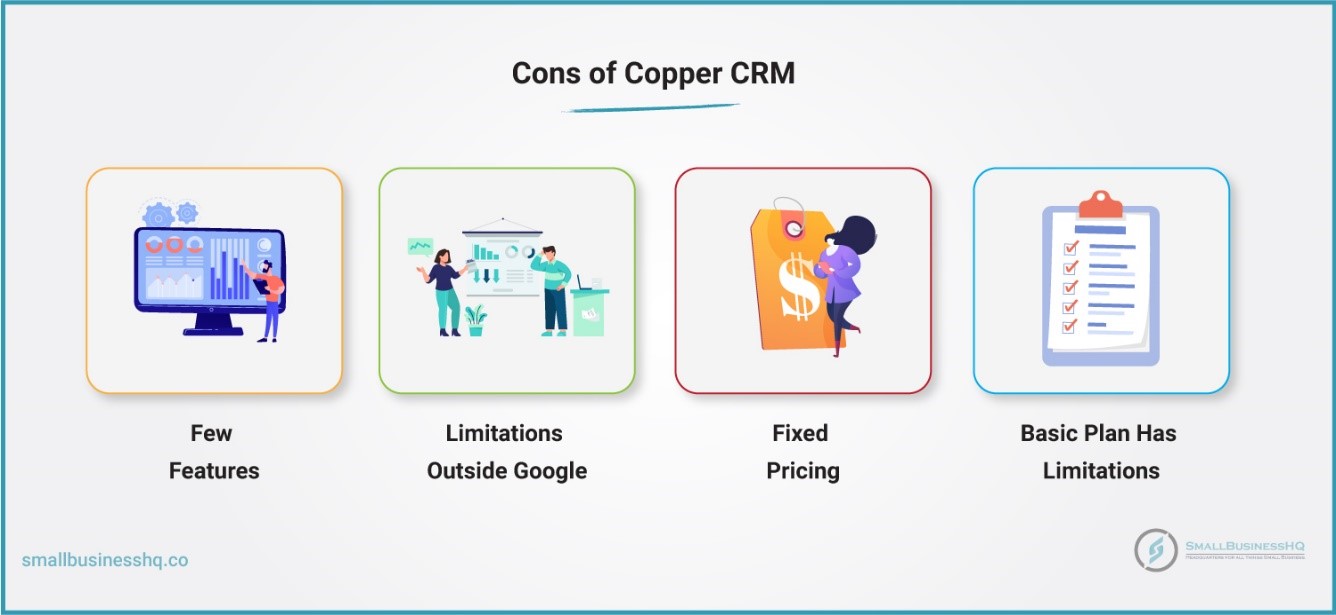 Inadequate Features
Copper CRM lacks features that are provided by other popular CRMs such as a click-to-call and a dedicated account manager. These are features and services that you may consider useful as a business, depending on your scope and preferences.
It thrives in simplicity so enterprises with complex structures and advanced needs may not find much value in it.
Limitations Outside Google Workspace
Copper is not as flexible outside of Google Workspace and may be less useful for companies that don't use Google's products.
If you are a business that uses other email hosting services, you may need more third-party integrations. As such, Copper CRM may not be the best option in this case.
Fixed Pricing
Copper provides three paid plans with fixed pricing. Its Basic plan has few features while the Business plan contains all the features.
Additionally, Copper does not provide a custom payment plan that allows businesses to choose only the features they would like to use. Instead, they've got to choose from one of the three options offered.
It doesn't offer a freemium plan, unlike other CRM software like HubSpot and Zoho. This puts Copper on the backfoot when it comes to pricing.
Limited Basic Plan
The only features on the Basic plan are the Google Workspace integration features, project management, and multiple pipelines.
Other important CRM functions like workflow automation are only available in the Professional and Business plans. This makes it slightly costly for a small business that wants more features.
Who Should and Shouldn't Use Copper CRM
Here's a quick review of who needs to use Copper CRM vs. who doesn't, based on its pros and cons.
Who Should Use Copper CRM
Small organizations looking for a CRM that syncs with Google Workspace.
Sales teams that are looking to automate daily repetitive administrative tasks.
Teams that are looking for a collaborative task management tool
Companies that are focused on lead tracking and opportunity management
Who May Not Need Copper CRM
Small startups looking for a free CRM with light features
Users who do not use Gmail or other Google products
Organizations looking for numerous integrations at affordable costs. Most Copper integrations are only available on the Business plan.
Large enterprises looking for a CRM with a multitude of advanced features.
This next section reviews Copper against other popular CRM tools you may have considered.
Try Copper Now!
How Does Copper CRM Compare to Other Top CRM Software?
Several features set Copper apart from many other CRM tools as you can already tell from this Copper CRM review.
The main one is that it's best for companies that use Google Workspace. It's also a simple tool and does not require complex training.
Below is a quick review of how Copper CRM compares with other top CRM software in the market.
Copper vs. HubSpot
A quick review of HubSpot indicates that it's packed with lots of useful features, which consequently become more advanced based on your plan. The platform is suitable for SMBs and large enterprises alike.
HubSpot is the go-to option over Copper if you've got advanced requirements. This is because:
The platform offers an array of integrations, giving businesses the flexibility to work with other tools.
It's a comprehensive tool with CRM, sales, marketing, and CMS functionalities
Hubspot offers a wider range of features
Copper, on the other hand, doesn't offer much flexibility outside Google Workspace. Besides, the third-party integrations provided by Copper are also limited.
It's solely a CRM tool, which can be both an advantage and disadvantage depending on your needs.
Here are some reasons you should opt for Copper over HubSpot:
The platform is easier to use even for beginners.
Copper is a specialized CRM tool, unlike Hubspot. It gives you control over your tech stack and the tools you want to integrate with, as your business grows.
It's affordable and the pricing plans are simple i.e. no hidden charges in the form of add-ons.
Copper vs. Salesforce
Salesforce is an advanced CRM solution that's power-packed with numerous features. Owing to its vast customer base, it has diverse features for every type of business. It has solutions for every CRM need and each business stage.
Here's why you'd choose Salesforce over Copper:
Salesforce has been around for over 20 years which makes it more popular
It supports various functions, making it suitable for larger businesses
Salesforce is highly customizable, which makes it suitable for businesses with a tech-savvy team.
Some of Slaesforce's upsides make it complicated to use, which gives Copper an upper hand, especially for small businesses. Copper may not have diverse features but is simple to use and suitable for small organizations.
It's also more likely to fit into your budget, and you won't need technical knowledge to learn how to use it, unlike Salesforce.
Copper vs. Zoho CRM
Contrary to the above comparisons, both Zoho CRM and Copper are simple, easy-to-use, and affordable CRM tools.
However, just like Copper was made with the Google Suite in mind, Zoho CRM is one of the many tools from the Zoho SaaS suite.
This means that it's the best option for all those who already use other Zoho software, like Zoho Books or Zoho Mail.
Unlike Zoho, Copper only specializes in CRM and offers third-party integrations for other software such as Xero and Mailchimp.
This gives Zoho an advantage over Copper, as it's easier for clients to manage and switch between applications from the same service provider.
This is not to say that Copper does not have some advantages over Zoho.
Being a specialized CRM tool, Copper may be ideal for some businesses. Also, Copper's customer support is readily available 24/7 via email and chat on all plans. Zoho charges extra fees for additional customer support.
Copper CRM Pricing Comparison
Salesforce has an unlimited package that costs $300/user per month. This is the highest tier package offered by it. However, their lowest tier package costs almost the same as Copper at $25/user per month, billed annually.
The entry-level customer relationship management software plan offered by HubSpot is the Starter plan which costs $30 for 2 paid users.
Their most expensive package, on the other hand, costs $1200 per month, billed annually for 10 users. Hubspot also offers a free forever plan with limited features.
This is unlike Copper's top-tier package which costs $119/user per month. As a result, you're not bound to buy the package for a fixed number of users and instead have some flexibility.
Let's now compare their mid-tier plans.
Copper is the more affordable option among the lot. However, HubSpot has better marketing campaign offerings and features. It also has a free CRM tool, unlike Copper.
But when it comes to Zoho, Copper loses its price advantage. Zoho is much cheaper and costs $12/user per month, billed annually to get started. But even their costliest package only costs $45/user per month, making it the cheapest one among all. Zoho also offers a freemium pricing tier.
However, Copper CRM has more crucial provisions, including its numerous third-party integrations and workflow automation. So, you may need to weigh the features and pricing to choose the right one for your business.
The next section of this Copper CRM review looks at customer reviews of the software solution.
Get Copper CRM Now!
Copper CRM Customer Reviews
There's no better way to find out the effectiveness of a particular software than by checking the reviews of customers. This section of the review will look into the customer reviews to help you decide if Copper CRM is a good choice for you or not.
"I've been using Copper for about a month and wow it really helps! I can keep track of all my contacts and categorize them (ex. customer, lead, vendor, etc.) and create pipelines to manage what stage of the sales process my leads are in. I'm continuing to learn more about the CRM but it's definitely worth investing in!

Copper is solving my CRM, sales process, and task list needs. Before Copper I was using a Google Doc template I created to manage my tasks. This is great, but Copper's integration with Gmail and my contacts in the system makes it easier to connect the pieces together for more transparency and efficiency!"
– Amber R, Digital Marketing Specialist
"Our small business has been a Copper client for the last 2-3 years and we have been incredibly happy with the Copper CRM product and the team that supports it. As our business grows, so do our CRM needs. Copper has been able to fulfill each of these needs as they arise, often from regular updates on their product roadmap. It's almost like Copper has been "inside our head" and developed exactly what we needed prior to us asking. @TeamCopper – Great job listening to your clients in the community and actually developing your product to suit our needs. This is what encouraged us to sign a 5-year agreement with you!"
– Michael C, CEO
Try Copper CRM
FAQs
1. Does Copper integrate with Salesforce?
Copper integrates seamlessly with Zapier if you opt for the Professional or Business plan. Through Zapier, you can send information to and from Salesforce without needing any code. However, there's no direct integration possible with Salesforce.
2. What should a good CRM have?
A good CRM tool should have the following features:
Workflow automation
Third-party integrations
Lead management
Customization
Customer service
Sales analytics
Real-time data
3. What is the market price for Copper?
Copper CRM has three paid plans with Basic being the cheapest one and Business being the costliest. The pricing for each is:
Basic plan: $25/month per user, paid annually
Professional plan: $59/month per user, paid annually
Business plan: $99/month per user, paid annually
4. Is Copper CRM cloud-based?
Copper CRM is a cloud-based CRM that you can use on any device with ease. Additionally, it offers a mobile app you can use to manage your leads while you're on the move.
5. What is Copper CRM for Gmail?
Copper CRM for Gmail is a Chrome extension offered by Copper that lets you manage records from your Gmail account on Copper. You can create leads, and monitor your team, projects, and tasks on Copper with it. Using this extension, you can also track your emails and use ready-to-use email templates to create bulk email campaigns.
Is Copper CRM Your Best Option?
Now that you know what CRM is and how Copper, in particular, works, you need to review your requirements to determine if it's the best CRM solution for you.
If you're a small business that:
Uses Google applications
Needs workflow automation
Is looking for lead management capabilities
Wants to scale their business on a budget
Then Copper CRM might just be your best option. This is, of course, if you're looking for a specialized CRM tool that is easy to use and doesn't cost a fortune.
If you're a large enterprise that uses a different email platform than Gmail or doesn't use other Google applications, this may not be the tool for you. Also, if you're looking for advanced capabilities, you may not find those in Copper CRM.
So depending on your business needs, Copper may or may not be your best choice.
But the best way ahead is to try Copper out for 14 days for free and get a feel of the platform to understand if you should opt for its paid plans or not. So, go ahead and get your free trial now.