Have you been considering buying a CRM for your business?
You're perhaps on the right track.
There are endless benefits of CRM software that businesses can realize as these solutions can help you manage your customer base.
Traditionally, businesses used spreadsheets to manage their customers.
But with CRM software, you can effectively manage the entire lifecycle of your customers and engage them with ease.
You may argue that you can accomplish the same while managing your customers manually too.
But guess what?
There are numerous other benefits of CRM software.
Before we get to them, let's talk a bit about the current market scenario of CRM software.
Grand View Research shows that the retail industry has a major share in the global use of CRM software. It accounts for 23.5% of the total CRM market, followed by BFSI, and IT & Telecom.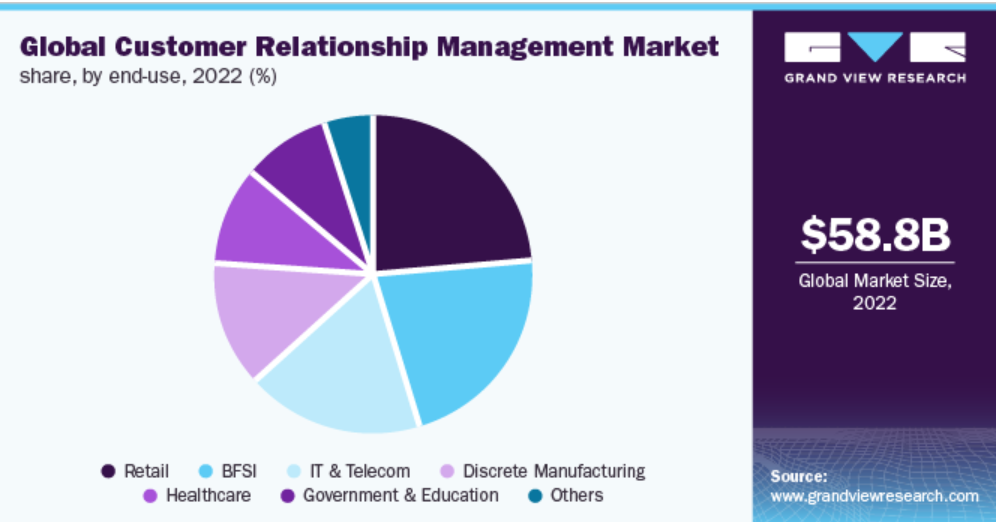 Image via Grand View Research
Moreover, the global market size for CRMs was $58.8 billion in 2022, and it's expected to grow at a CAGR of 13.9% from 2023 to 2030. Notably, the US customer relationship management market stood at $21.1 billion in 2021, which is nearly 40% of the global market size.
The global landscape of CRM is continuously evolving, and it's time for every business to reap its benefits.
Generally, businesses implement CRM for sales, marketing, and customer support. All these departments benefit equally from the strategic implementation of CRM software.
So let's discuss how you can benefit from implementing CRM software for your business.
Benefits of CRM Software for Sales, Marketing, and Customer Support
CRM software implementation brings tons of benefits to organizations of every scale. The benefits of CRM software are generally spread across sales, marketing, and customer support operations.
While sales, marketing, and customer support teams benefit the most from CRM,  HR, supply chain, and partner management may benefit from it too.
But these are special cases where the organization has integrated unique functionalities into the system.
Generally, you can expect the following benefits of CRM software: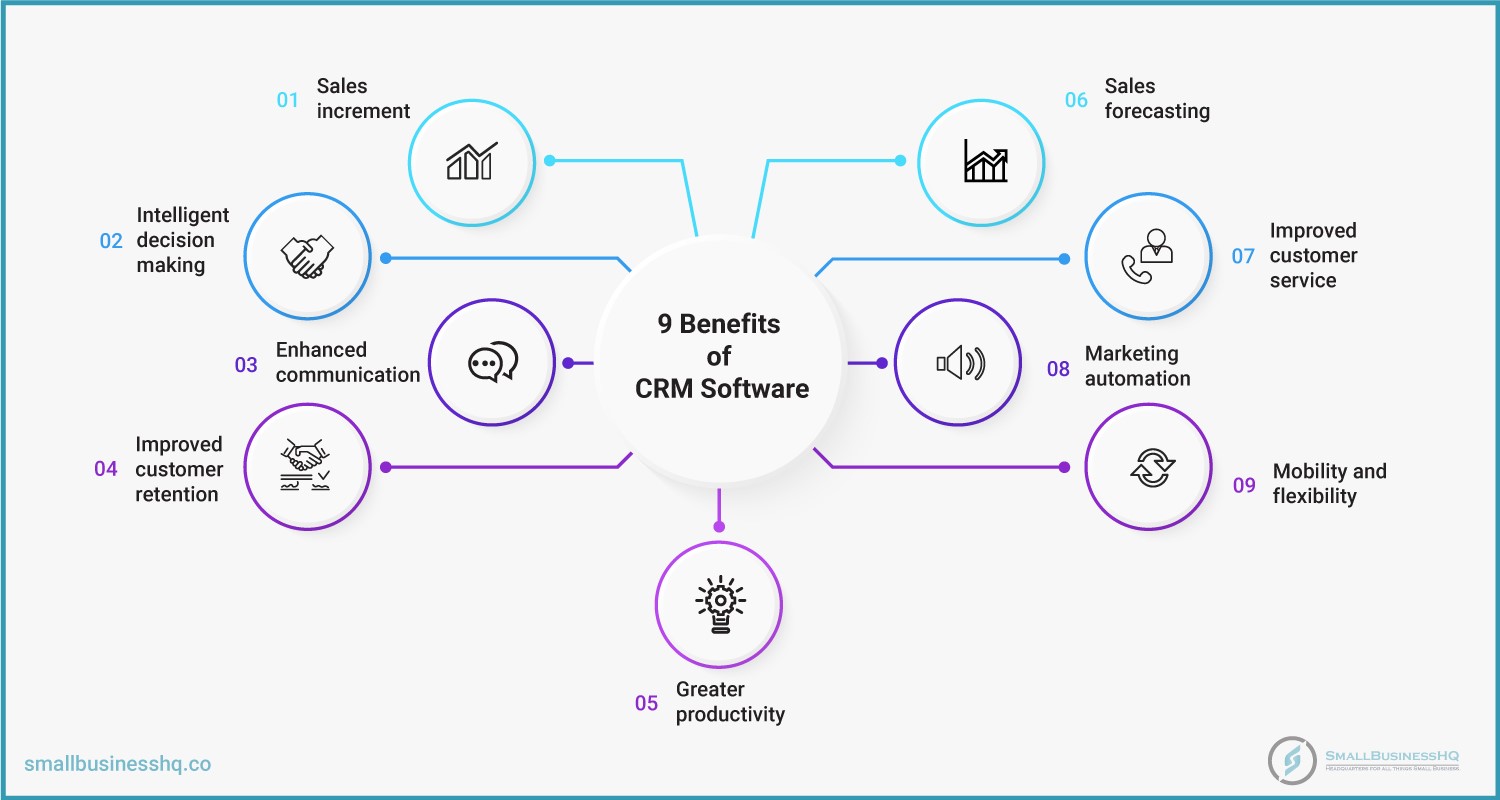 1. Sales Increment
Among customers, the very common benefits of CRM software is the simplification of the sales processes.
CRMs facilitate a centralized location for the sales database. As a result, sales teams across the organization (irrespective of their location) can access actionable insights to make better strategies for their sales pipeline.
This ease of access to customer data through a centralized database makes it simpler to drive sales. This, in turn, can directly impact your bottom line as bigger sales figures would lead to greater revenue.
Following are some of the other ways through which a CRM tool can boost revenue figures for your business: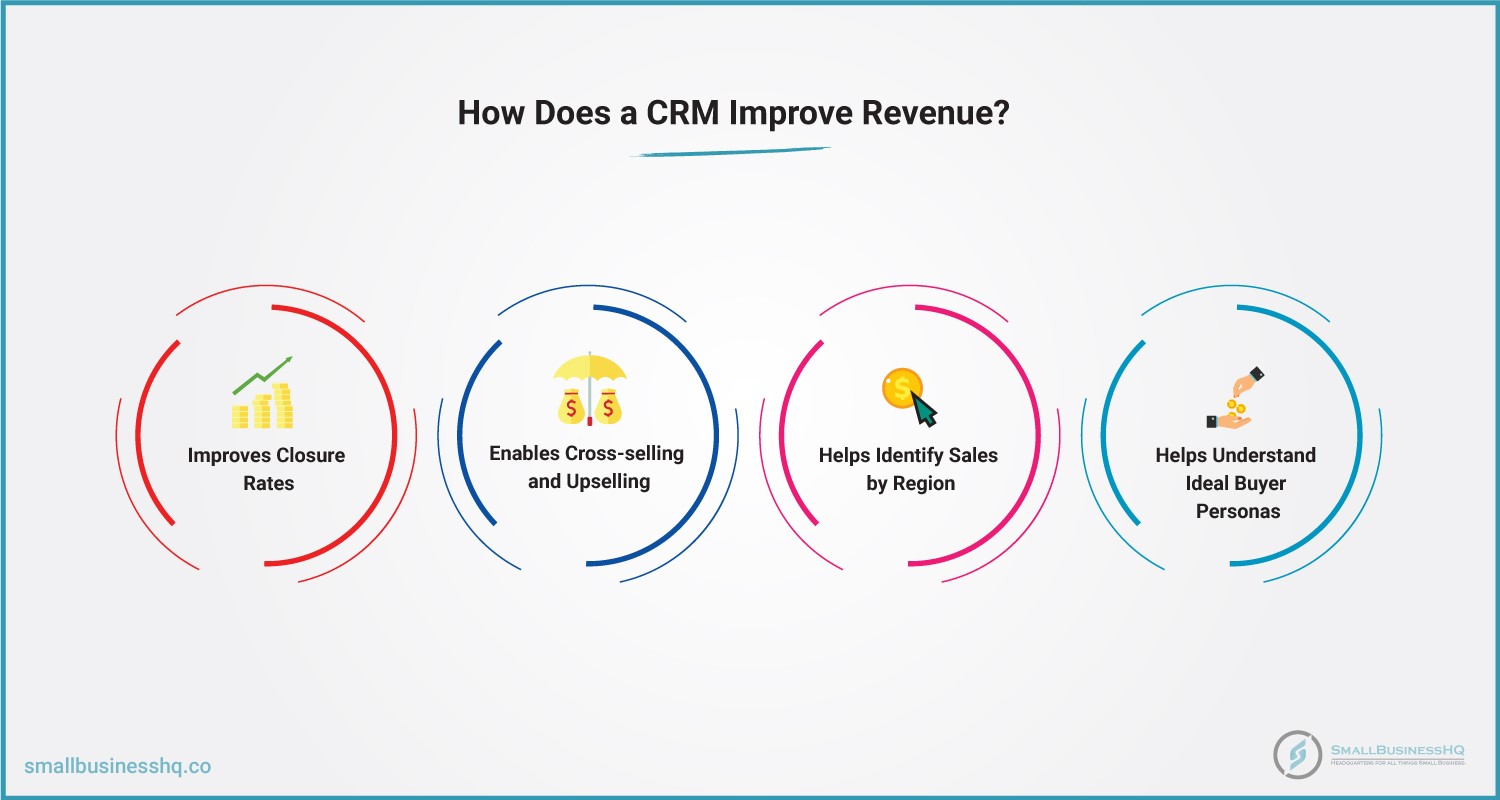 Improving closure rates – CRM software solutions provide detailed information about your customers to your sales team. As a result, you'll be better placed to understand what they want. This, in turn, will help you improve your conversion rates and grow your sales.
Enabling cross-selling and upselling – The customer data insights can help your sales representatives identify the customers' requirements and find the best opportunities for upselling or cross-selling, thus increasing the customer lifetime value (CLV).
Identifying sales by region – You can track your revenue by geographic area of operations to figure out which locations are proving to be better for your business. Based on that, you can even optimize your sales and marketing strategies.
Determining the ideal buyer personas – Your CRM software can help you identify the customers who are more likely to buy your products and get delighted by your services. These are your ideal buyers and you should focus on them to generate more revenue.
The added revenue generated by the virtue of using CRMs is, of course, one of the major benefits of CRM.
2. Informed Decision Making
CRM software solutions serve as the central hub for the entire sales, marketing, and customer support database. They can store customer data online and make it accessible to everyone.
As a result, they're a treasure trove of data and can help provide actionable insights to you. These insights, in turn, can help you make more informed decisions.
And guess what?
Modern CRM systems are equipped with business intelligence capabilities that give decision-makers a clear picture of their sales, marketing, and customer support operations.
The data is also presented to you in the form of interactive charts and dashboards. As a result, you can quickly analyze it and derive actionable insights.
For instance, your sales head can analyze the performance of customer acquisition channels to decide which ones to focus on in the future.
In addition to the data analytics and reporting capabilities, modern CRMs offer data visualizations that can prove to be a valuable feature for decision-makers.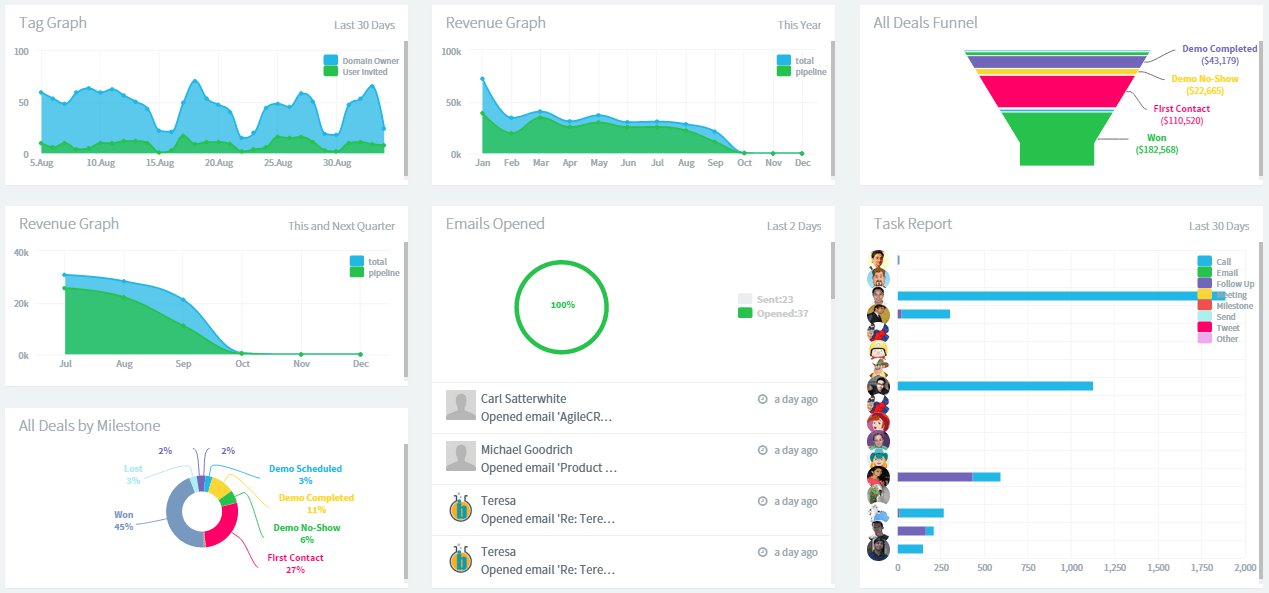 Image via Agile CRM
You can get at-a-glance summaries that will provide you deep insights into practically any metric you would want to track, including the following:
Sales cycle and performance
Leads by channels
Revenue by territory
Number of open support tickets
Customer support effectiveness
CTR for email marketing campaigns
Customer loyalty metrics
What's more?
The data in CRMs is processed in real-time to allow the concerned departments to deliver accurate insights.
Centralized intelligence and data insights are the most crucial CRM benefits for not only senior-level executives but employees too.
Additionally, the centralized nature of information means that all your team members would know where a particular customer is in your sales funnel. You'd also know all the communication that they've had with your business in the past.
3. Enhanced Communication (Internal and External)
Improved communication is among the most exciting benefits of CRM software. There are two aspects of communications within a business environment—internal and external.
Internal communication pertains to communication within the organization between teams, whereas external communication is done with customers, suppliers, and other stakeholders.
With a CRM, you can easily communicate with your customers and manage those conversations well too. This way, you can instantly respond to their queries and improve their experience.
What's more?
Centralized communication with customers also means that you'd be better able to understand the customers' needs and satisfaction levels via customer support analysis.
On the internal communication front, employees can easily communicate with each other. This inter-departmental communication ensures that everyone is on the same page.
As a result, all the employees would be better placed to respond to customer queries in the right manner. The added collaboration delivers better operational productivity as delays due to back-and-forth communication can be avoided.
4. Improved Customer Retention
As mentioned above, CRM software helps you improve the overall customer experience by responding to customers' queries quickly. This, in turn, can play an important role in improving customer retention.
And how is that?
The reason is that unless you do business in a monopolistic or duopolistic market scenario, your customers have tons of options to choose from. This means you need to offer them more than just your product or service.
CRM software allows businesses to understand their customer needs and satisfaction levels to improve their product/service offerings or communication, resulting in more satisfied customers.
For example, by using CRM software, you can analyze customer satisfaction metrics to identify the customers who are likely to churn.
Using such insights, your sales and marketing teams can create specific campaigns to target this group of customers to stop them from churning.
Moreover, CRM software can provide an omnichannel buying experience to the customers as your agents would be able to provide the same level of service to customers from all channels.
5. Greater Efficacy and Productivity
A CRM system can expedite sales, marketing, and customer support operations and help businesses achieve maximum efficiency by infusing automation.
It can automate several routine and repetitive tasks so that employees can focus on more important tasks. It can automate workflows and streamline processes like: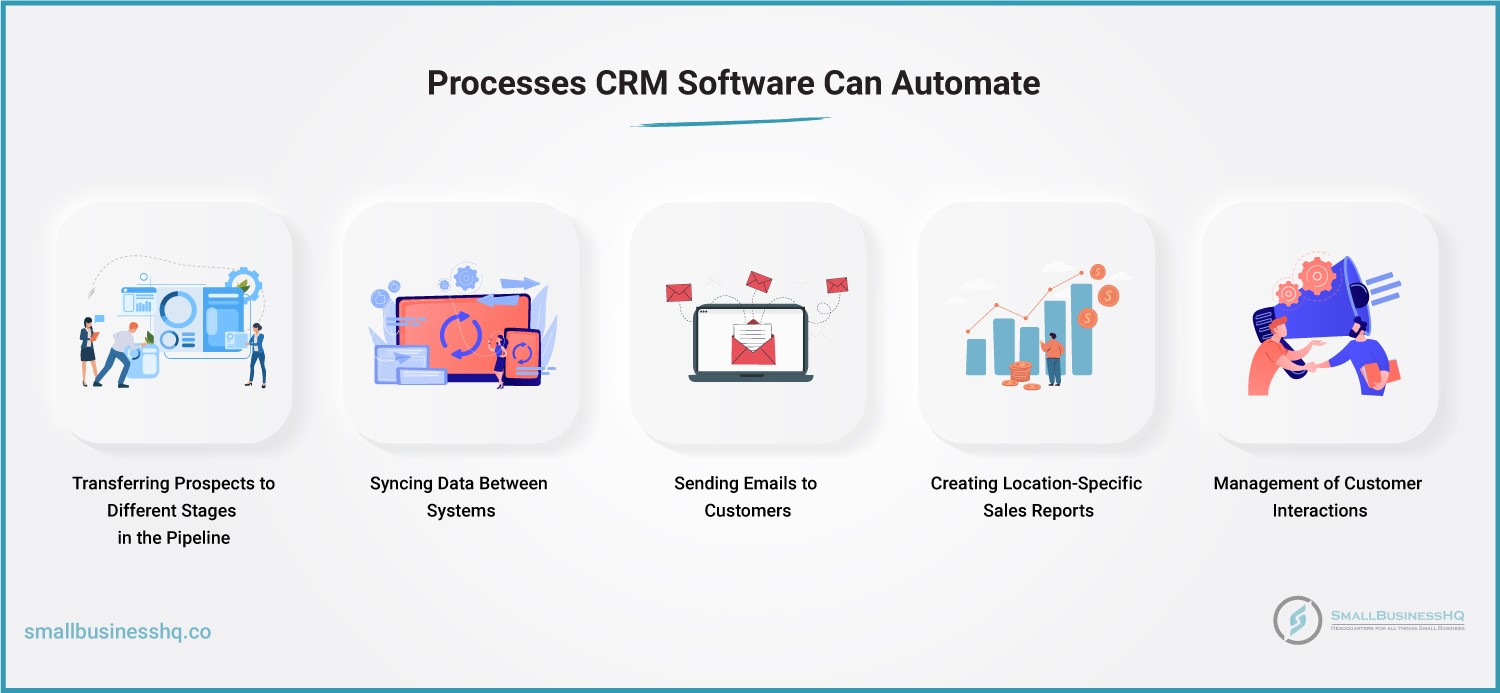 Transferring prospects from one stage to another in the pipeline
Syncing data between systems
Sending welcome/onboarding or cart abandonment emails to customers
Creating sales reports based on customer locations
Managing customer interactions done via different modes
Your employees can use the time saved due to automation to analyze customer data, create better campaigns, and facilitate quick and effective customer service.
6. Precise Sales Forecasting
One of the major benefits of leveraging CRM software is that it can help you by providing accurate sales growth predictions.
These software solutions can use sales pipeline data to identify potential leads that are more likely to convert. Additionally, using historical data, these platforms can predict how the sales could potentially grow.
This predictive sales forecasting is one of the key benefits of CRM as it can help you make strategic decisions based on estimated future demand. You can, for instance, better manage your inventory if you know how much sales you can expect in the near future.
Such forecasts are also helpful in optimizing your sales pipelines.
7. Improved Customer Service
If you've been in business for a good number of years, you must be well-versed with the necessity of customer service. Quick and effective problem resolution can help you retain customers and improve your brand image too.
And how does that happen?
As mentioned above, CRM software can help you automate several repetitive tasks. By infusing automation into customer service operations, CRM solutions result in lower service costs per customer and higher customer satisfaction.
From managing ticket systems to providing virtual help desks, CRMs have come a long way to benefit customer support departments. Marketing automation features like chatbots can take the load off your team for repetitive questions. It can also speed up the response time.
Here's a visual representation of the ways in which CRM helps improve customer service.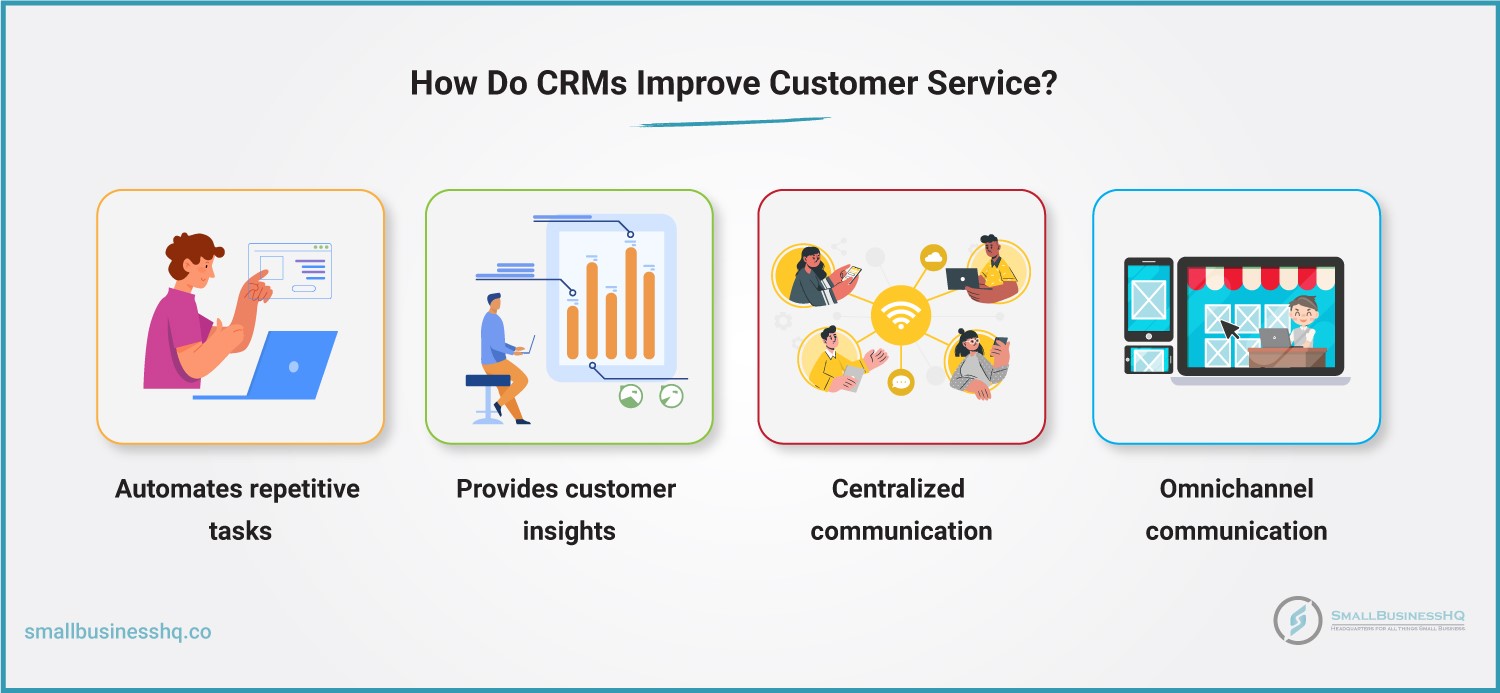 Additionally, access to vast customer insights means that your team won't have to spend time understanding the customers' problems.
Modern CRM solutions use customer data to generate reports and insights, which the support staff can access quickly to improve their service. As a result, your team would be able to provide personalized customer support.
The improved customer service is thus one of the most hard-hitting benefits of CRM software.
8. Marketing Intelligence and Automation
Customer relationship management software solutions make a marketer's life easier. Gone are the days when marketers would have to manually manage their campaigns and identify things like customer behavior patterns, ideal buyer personas, etc.
With a CRM platform in place, marketers can enhance their game through data-driven campaigns and process automation.
Additionally, with insightful information related to sales pipelines, managers can allocate their sales resources to prospects that are more likely to become customers. This targeted method of assigning resources can give you the most bang for your buck.
Here are some ways in which CRMs can benefit your marketing operations:
Customer segmentation – CRM software contains a lot of information about customers based on which it can divide customers into different segments. This can help you develop highly targeted marketing campaigns.
Email automation – Sending emails to your customers becomes easier when you leverage CRMs. With the power of email automation, you can send automated emails to your customers based on an action they take. You could also launch a drip email campaign that sends specific emails at various time intervals.
Social media marketing – Customer relationship management software can integrate with your social handles to give you insight into what's trending online. It can even help you identify the likes and dislikes of your audience, which can directly inform your social media marketing strategy.
Marketing campaigns management – Another important benefit of CRM software is that marketers can monitor their campaigns in real-time and improvise them to drive better results.
Marketing metrics – CRMs hold a lot of data on your customers and your marketing campaigns. As a result, you'd be able to track numerous past and present marketing metrics using it and improve your marketing campaigns.
9. Enhanced Mobility and Flexibility
If you've got a mix of remote and field sales teams, you'd need a platform through which they can collaborate and also manage their customer accounts. And this is one of the major benefits offered by CRM solutions.
Modern customer relationship management software can be accessed and operated using mobile devices like smartphones and tablets.
This enables your field teams to feed data directly to the system and leverage real-time insights from anywhere for a more informed sales approach.
For example, a salesperson can log information related to client/prospects meetings directly on the CRM system without even heading back to the office. Additionally, they can access all the past information about the client that's there on the CRM to understand how they should proceed further with their pitch.
They can even communicate with their team when they're meeting the client to ensure that they've got an answer to all the questions they might have.
Key Features of a Good Customer Relationship Management System
Now that you know all about the benefits that CRM solutions can offer, let's take a look at the prominent features that you should look out for when you're considering buying a CRM solution.
These features could have a direct impact on the type of services you're able to deliver to your customers. So, make sure you consider them well before zeroing in on a CRM.
Let's take a look at some of the most important features a CRM should have.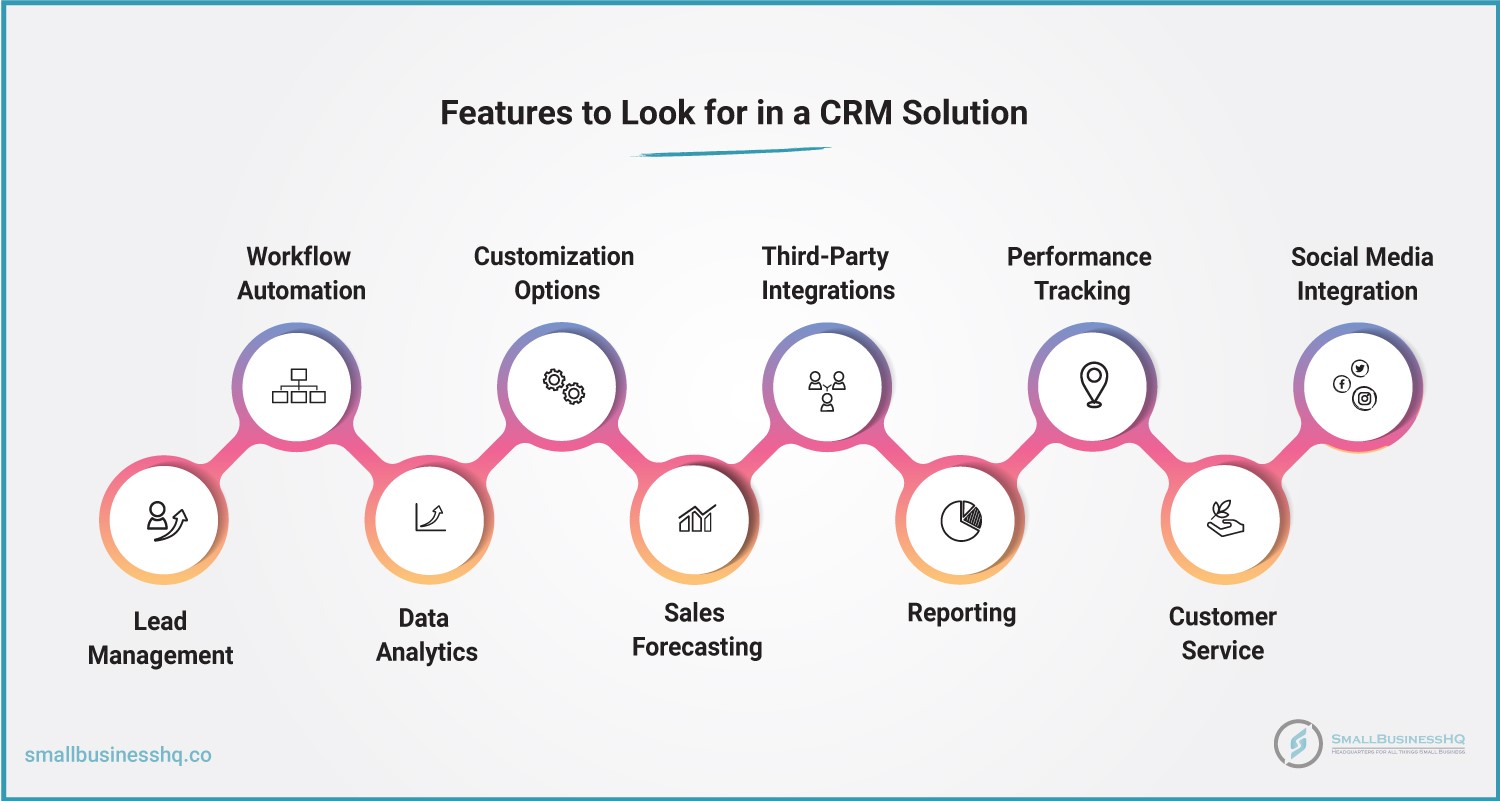 Workflow Automation
Automation can improve your operational efficiency, speed up business processes, and reduce your workload.
With workflow automation, you can set rules for CRM software to automatically take or perform particular actions based on certain triggers or happenings.
For example, CRM software can send a preset response to an email or message by a customer. Similarly, it could notify your sales team if a particular form has been filled up by potential customers.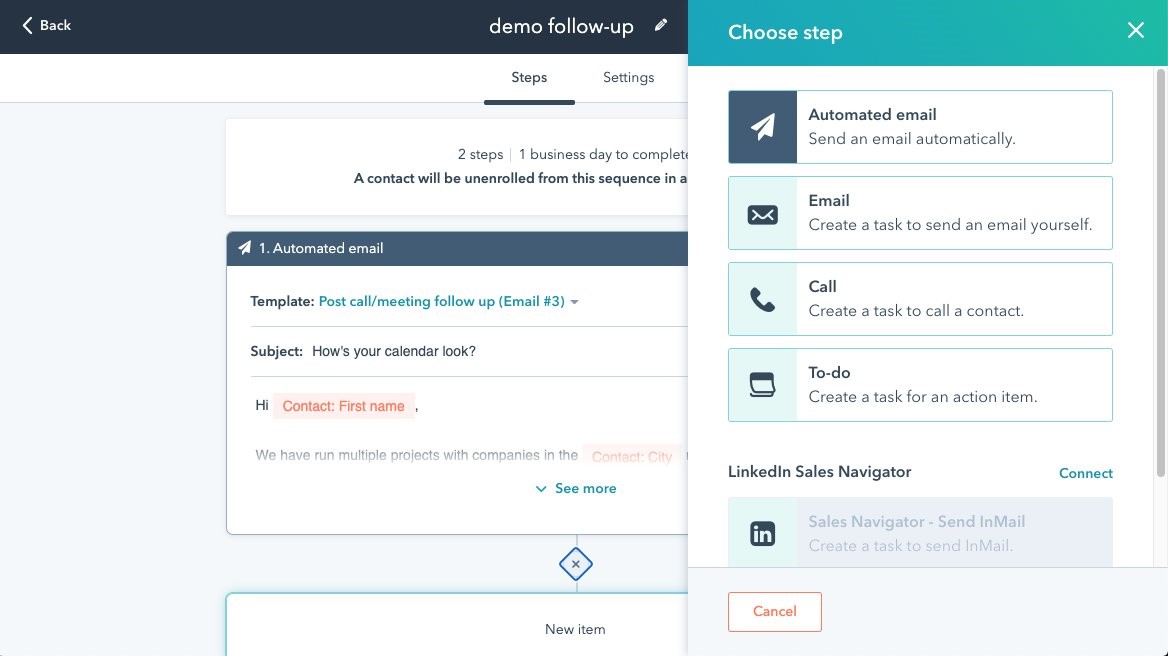 Image via HubSpot
Additionally, with workflow automation, the CRM solutions can follow up with your prospects and existing customers — all without manual intervention. You can set up a workflow for it and the system will take its course.
For instance, if a prospect has not responded to your emails for a few days, CRM software can automatically send a follow-up email. Sometimes, it's all that is needed.
Another benefit here is that you can save time and effort on repetitive tasks with workflow automation. That makes this one of the most important features to look out for in CRMs.
Customization Features
There are many proven benefits of CRM software, but how do you tailor a CRM for your business?
The answer lies in customization.
It allows you to customize several areas of operations, like visible information on your dashboard, custom reports according to your needs, custom contact fields, and so on.
You can customize your CRM using plug-ins, extensions, or other add-ons to boost the software's capability.
What's more?
Many CRMs also offer advanced customization options using APIs. This can help you extend their capability as per your requirements. By using these advanced options, you can get full access to the developer's access to customize the software completely.
Third-Party Integrations
Switching multiple tools in a bid to complete your task can be a frustrating experience, which can hamper your productivity too. Well, you don't have to go through this trouble with CRM solutions.
Just as the name of this feature suggests, CRM can integrate with other software you're using (like ERP) to expand its capabilities and add to the benefits of CRM software.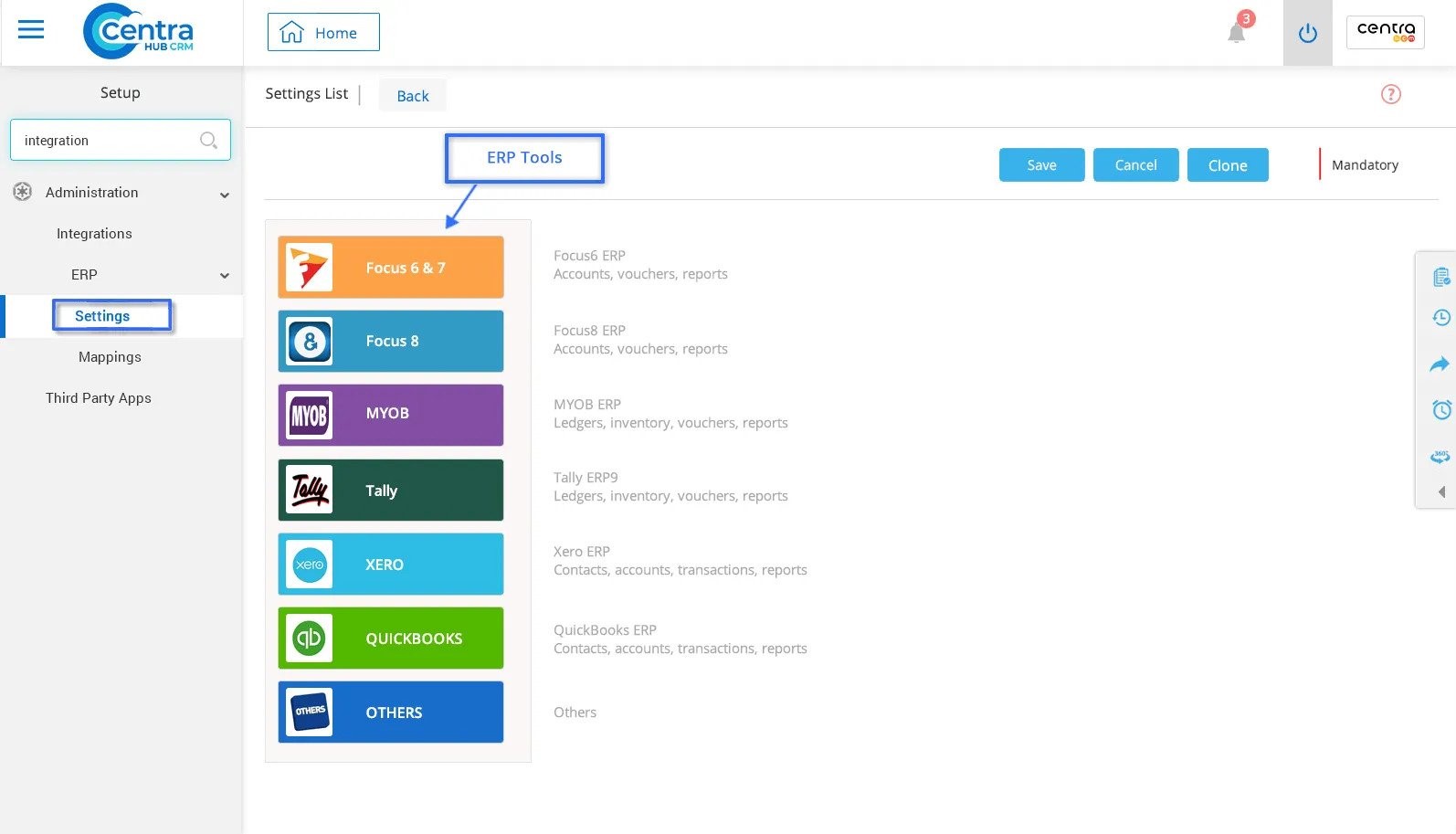 Image via CentraHub CRM
With this feature, your CRM software can integrate with Outlook, Gmail, or any other email platform you use. There's no need to switch between apps. You can even launch email marketing campaigns directly from the CRM software.
It can even integrate with cloud backup storage services like Dropbox and Box.com to back up and sync data smoothly.
Employee and Performance Tracking
The benefits of CRM software are not limited to employers but employees as well. Many CRM software solutions provide individual accounts for every employee where the employees can track their work parameters like hours, tasks, meetings, sales numbers, goals, etc.
Undoubtedly, the tracking feature is quite handy for employers. With the performance tracking feature in your CRM, managers or team leaders can track the employees using various performance metrics. The productivity of individual employees, and the team as a whole, can be measured efficiently.
Social Media Features
Social media can do wonders for your business if used efficiently. Built-in social media features can save time for your marketing and public relations team as they don't need to open different apps to publish on social media or engage with audiences.
The marketing department can also check the progress and performance of your campaigns in real-time.
Social media integration also lets you get insight into customer opinions about your products or offerings. You can adjust your social media strategy accordingly.
Following is an example of how you can benefit from CRMs and post to social media quickly.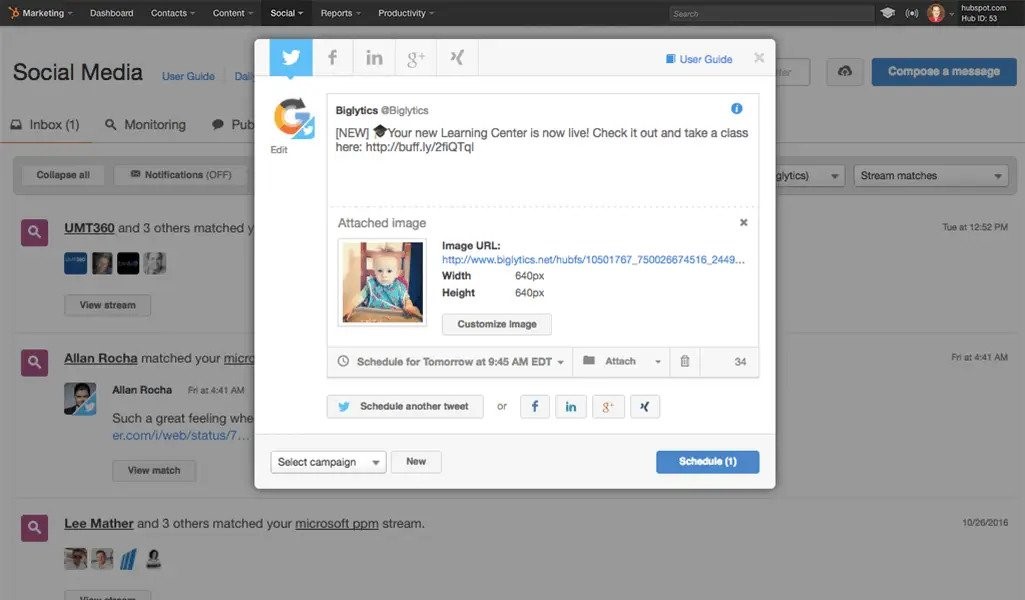 Image via HubSpot
Lead Management Features
CRM solutions are meant for lead and customer relationships management. These platforms can help you track the stage of the funnel your leads are in and also help you communicate with them.
This would help you target your messaging better to them and convert more leads into customers.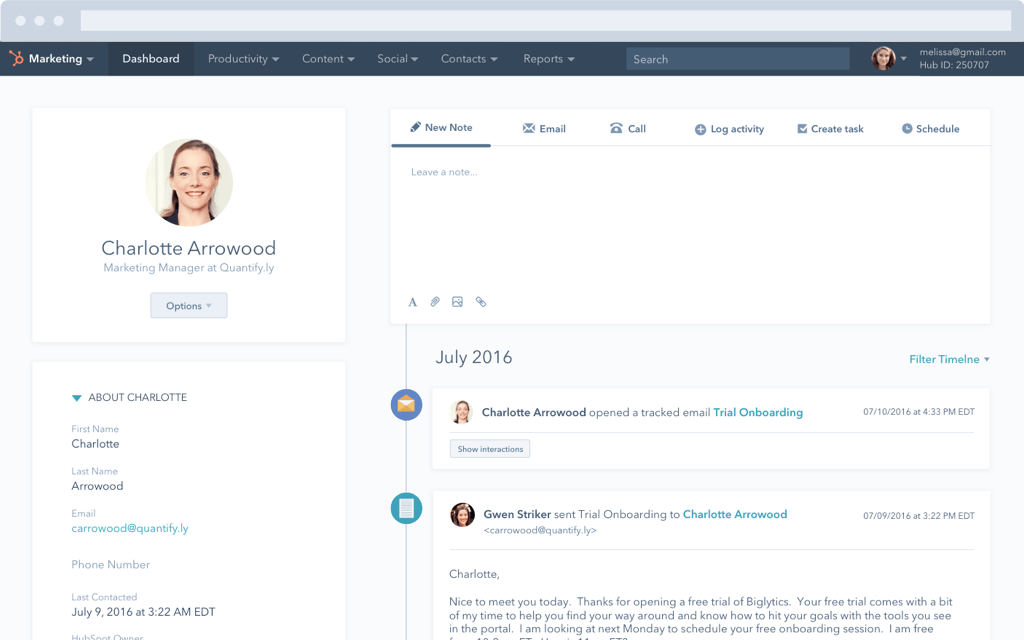 Image via HubSpot
With a CRM in place, it also becomes quite simple to categorize, score, and allocate leads to the right salespersons, improving your sales process. It's one of the biggest benefits you can get from using CRMs.
For example, CRM software like LeadSquared generates lead scores based on customer engagement. It factors in things like time spent on the website, pages visited, questions answered, etc. The higher the score, the greater the possibility of conversion.
Real-Time Data
A very recent addition to the features and benefits of CRM software is real-time data access. Needless to say, access to real-time data can make a huge difference.
For instance, a potential customer spending a good amount of time on a particular product listing might only need a gentle push to buy it. If a sales representative contacts them at the right time and resolves their concern, the probability of a successful sale becomes high.
With real-time data, you can adapt to such sudden changes in the market and make better decisions for your business, making it one of the best benefits of CRMs.
CRM Analytics
CRMs hold a lot of data on your leads and customers. Analyzing this data can make all the difference in how you make business decisions. With insights from the analytics features offered by the CRM, you can get a clue into customer behavior.
You'd also be able to see the performance of your sales, marketing, and customer service teams at a glance using CRM analytics.
Here's what sales analytics on a CRM would look like.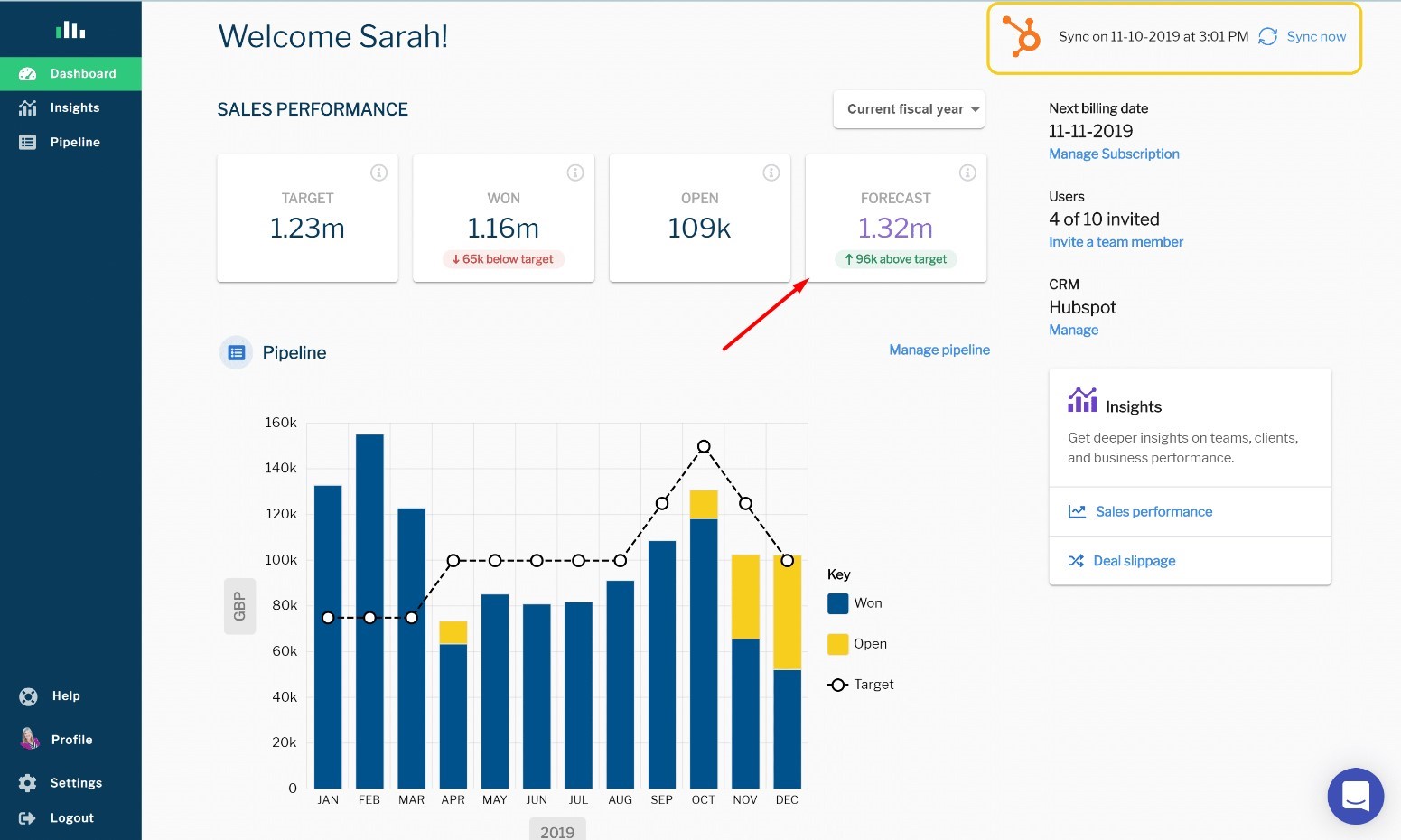 Image via QuarterOne
A good CRM solution should be able to provide analytics data related to:
Sales: To help with sales pipeline and lead management.
Marketing: To use the right marketing strategies at the right time to get more engagement.
Channels: To identify high-performing and low-performing channels to optimize your strategy.
Customers: To improve your understanding of your customers, their needs and preferences, and their behavior patterns.
Sales Forecasting
With the sales forecasting feature, you can get the most probable estimates of your sales for the future.
And how do you benefit from CRM here?
Your CRM software can provide predictions for upcoming events by using historical data patterns. With this information, you can decide your future course of action.
For example, demand for certain products rises at different times of the year due to some events or festivals. For such cases, your CRM will identify the pattern and provide sales insights, using which you can adjust procurement or production accordingly. It's one of the biggest benefits you can get from using CRM software.
Reporting
Reports give you a clear picture of where your business stands and where it's headed.
Based on these reports, you can figure out which changes need to be made to your strategy to drive further business growth.
One of the biggest benefits of CRM software solutions is that they simplify the process of report generation. They provide a wide range of reports that you can pull out anytime for reviewing and plan accordingly.
Now that you know the benefits of CRM software, are you ready to implement CRM in your sales, marketing, and customer support operations?
If yes, you need to understand the challenges you might face while implementing them. So before you rush to realize the benefits of CRM software, let's discuss the challenges.
Challenges Related to CRM Adoption
The vastly diverse and meaningful benefits of CRM software have made it a must-have for businesses today.
However, the CRM adoption and implementation journey hasn't been a smooth sail for every business. Many businesses face quite a few challenges in CRM adoption. Challenges like low user adoption rates are a huge concern for businesses.
Let's look at some of these CRM challenges that make it hard for companies to reap the benefits of CRM software.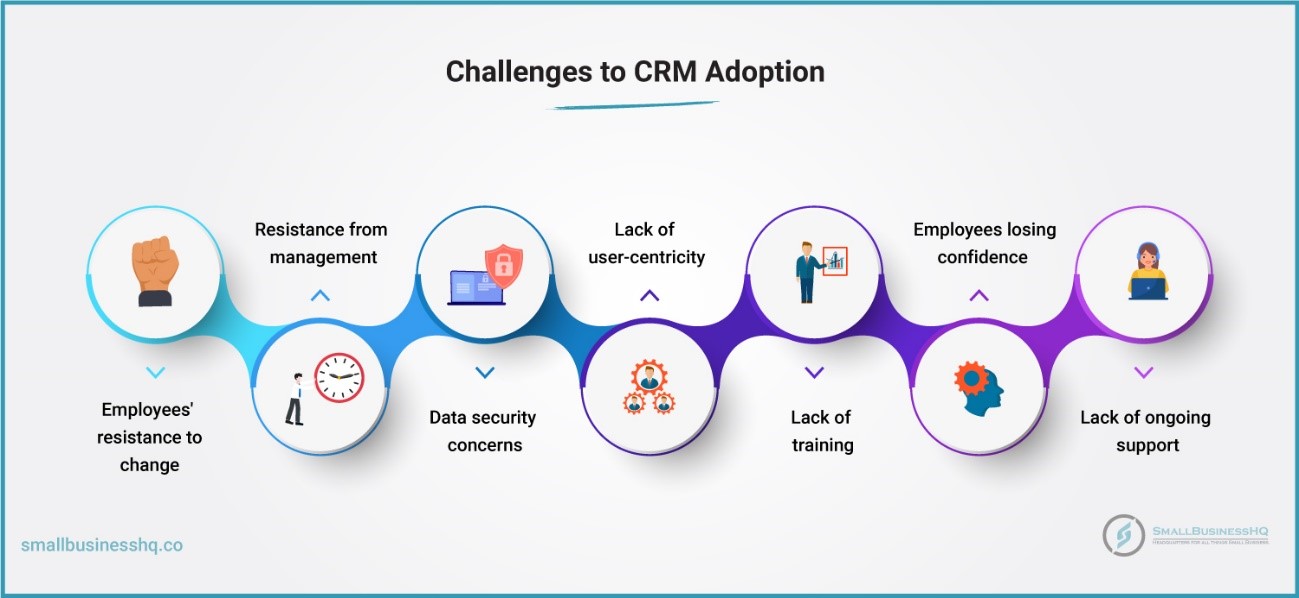 Employees' Resistance to Change
One of the most significant benefits of CRM software is to make work easy, smooth, and structured for employees.
But would you believe that one of the biggest challenges in CRM adoption is the employees?
The young workforce may adapt to the change, but the older workforce could perhaps be quite reluctant. It can be a daunting task to ask elderly employees to let go of their ingrained practices and switch to sophisticated CRM solutions.
But just as all fingers are not the same, some employees will welcome the new ways and appreciate the innovation while others resist. This may cause animosity among colleagues, and the last thing any employer wants is division among the workforce.
Employees may develop concerns about job security, productivity, or just the inability to use the new technology. With so many concerns, the adoption becomes a challenging task, if it's not handled well and the benefits of CRM software would, otherwise, fade away.
Here are some tips to reduce employee resistance and encourage quick adoption of CRM software:
Provide training
Clearly convey the benefits
Tie it to employee compensation
Lead by example
Choose easy-to-use CRM
Resistance From Management
What if the reluctance is not from the bottom but the top?
Getting the management on board for CRM adoption or implementation can be a big challenge. This could especially be the case if the management doesn't seem to see through the eyes of the sales or customer service teams.
To avoid this situation, it's essential that the concerned teams explain why they particularly require CRM and why the company should invest its capital in it. This would help convince the management.
Concerns About Data Security
Data is indeed the most valuable asset of your business, especially the private information of your customers. A big concern that prevents businesses from adopting CRMs and enjoying their benefits is the fear of data security.
Many companies could be skeptical about moving their data to the cloud for CRM implementation. Any CRM data breach could prove to be a PR nightmare.
To avoid this issue and enjoy the benefits of CRMs, you should thoroughly vet the solution you're choosing and ensure that it's secure.
Lack of User Centricity
User-friendliness is one of the key benefits of CRM software as you can tailor it according to your needs, but it can pose a big challenge to CRM adoption if not done properly.
The needs of many team members or other departments might be neglected, which might lead to the underutilization of the CRM software.
For instance, most companies customize the CRM software for sales managers, as they are the ones calling all the shots pertaining to sales. But it can cause friction among different departments.
Since numerous benefits of CRM software include plug-and-play features, it needs a thorough understanding of all of the employees' needs before you begin.
Who benefits and how they benefit should be clear when adopting CRM software. The best foot forward is to create an implementation strategy. More on this later in this blog.
Lack of Training
For realizing the benefits of CRM software and ensuring its successful adoption, familiarity with its functionalities is crucial. Comprehensive training to learn how to use the CRM software solution and get an overview of the core functionalities is needed.
Without training, employees won't feel comfortable with the new system and might want to go back to old ways. It's thus necessary to conduct training sessions by calling in industry experts or working with the software provider to arrange the sessions.
Losing Confidence in the Product
Many factors can make your employees lose confidence in the product, especially if they don't see any benefits in it. Two major reasons are as follows: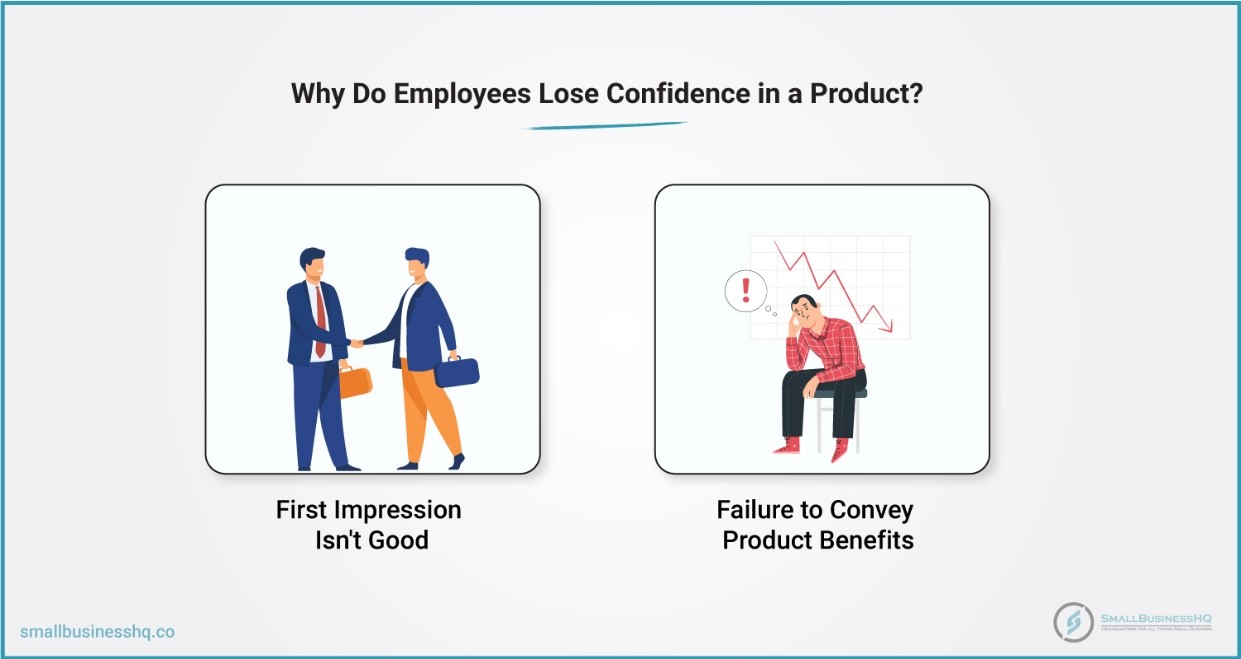 First Impression
It's said that the first impression is the last. If the first experience with the new CRM software fails to meet an employee's needs or seems too complex, your employees may become skeptical and lose their confidence.
Even when you try to make changes or improvements, it could be quite challenging to change the first impression.
Failure to Convey Benefits
Failure to convey the benefits of CRM software for specific roles or jobs hinders its adoption. If the employees cannot see what's in it for them, they'll lose confidence in the product.
Clearly convey the benefits of CRM software to employees, specifically detailing how it will help them. It can, for instance:
Make their workload easier by automating several routine tasks.
Give them easy access to all customer information from a single dashboard.
Enable better team collaboration as everyone will have a single source of information.
Help them close deals faster by getting strategic insights into each customer and their history with your business.
Run an organization-level awareness program to inform and educate your employees on the benefits of CRM. This will ensure they're more open to adopting new technology.
Lack of Support
A little support is all your employees would need when they're getting used to the new CRM solution. Many companies face a big challenge in adopting CRM software if no ongoing support is available for new users.
The inability to get answers to simple queries while working on the new software solution discourages employees from adopting it. Also, support or guidance is vital to ensure that appropriate data is being pulled for specific needs, especially during the initial adoption phase.
That's why it's essential to vet the software provider well to understand if they provide comprehensive support to your team during the initial phase.
Considering the challenges we've discussed so far, CRM implementation might seem like a tough move. But, you can easily fight these challenges if you have a strategic implementation plan.
The next section discusses how you can counter the CRM implementation challenges with a step-by-step process.
How to Implement CRM to Maximize its Benefits
Considering the challenges of CRM adoption, it's imperative for you to know the right way to implement it.
Success with CRM starts long before any employee logs in. You need to have your entire organization on the same page to realize the benefits of CRM software. And, there is no room for mistakes related to CRM implementation.
Here's how you can implement a CRM software to maximize its benefits: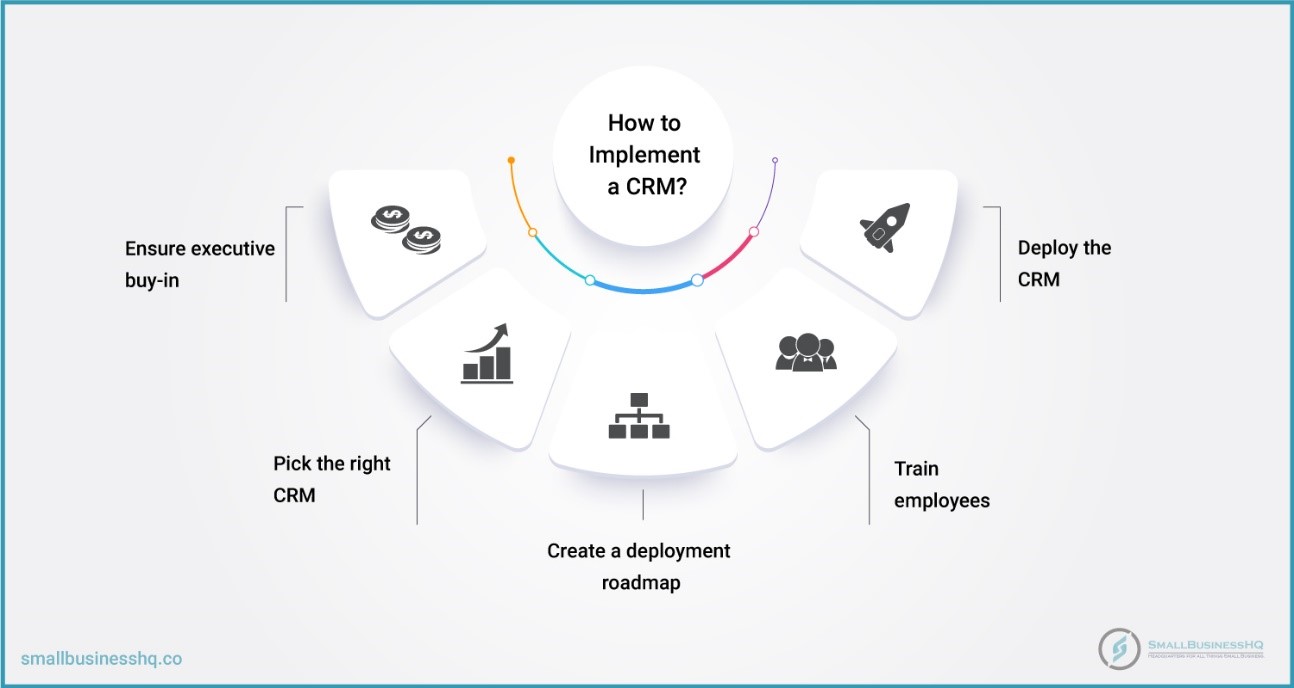 1. Executive Buy-In
The most overlooked aspect of CRM implementation is getting C-level executives' confidence. Without their buy-in, CRM implementation can't succeed.
You should seek your executives' approval before you even begin to implement your CRM. The best way to approach them is to have the following things covered in your pitch:
Areas of operations affected by CRM implementation
Benefits of CRM software specified for particular operations
Several CRM software options
One time and the recurring cost of CRM implementation
Estimated ROI
Ideally, your leadership should be pushing for CRM. However, if they aren't and you see the opportunity to implement it, there's no harm in recommending one.
However, if you're a small-mid scale business, you won't have to deal with the complex corporate hierarchy.
2. Picking the Right CRM
Picking the right CRM among different types of CRM and vendors isn't easy. You should consider several factors like feature set, integration process, cost, and support before you pick a CRM that drives you the desired benefits.
Hence, evaluate every factor and compare the CRM with your business requirements. Keep the feature set as the most weighted factor because, without the right features, you can't expect to reap its benefits well.
Most importantly, make sure that your CRM has the provisions for customer data security. Never go with inexpensive options that compromise data security.
3. Creating a Deployment Roadmap
In this phase, you'll be planning your short to long-term goals for CRM deployment and user adoption.
If you're implementing an off-the-shelf CRM system, you'll likely think about how you can customize it to suit your requirements. In the case of custom-built CRM, you can build the necessary functionalities in the beginning and keep on adding new features.
Your deployment roadmap doesn't have to be complex; you can just list down the timeframe of the various steps you need to take.
4. Training and User Adoption
Your CRM implementation isn't successful unless the end-users (your employees) aren't positive about it yet.
Your employees might not be willing to adopt a new system and change the way they work.
Hence, it's crucial for you to have a user-adoption plan where you train employees to use the CRM and educate them about the benefits of CRM software.
Your employees need to understand why you're implementing the tech-powered tool and its benefits. So, make sure you explain that well.
5. Deployment
Once you have all things planned, it's time to deploy your CRM into the sales, marketing, and customer support processes. Make sure you structure your existing data as per the input requirement of your CRM.
Most CRM vendors provide support services for their customers. Leverage this service well to ensure that you've got your CRM well set up.
FAQs
1. What are the benefits of CRM software?
The benefits of CRM software are generally spread across sales, marketing, and customer support operations. Following are the key benefits of CRM software:
Sales increment
Informed decision making
Enhanced external and internal communication
Improved customer retention
Greater efficacy and productivity
Precise sales forecasting via intelligent sales pipeline
Improved customer interactions and service
Marketing intelligence and automation
Better mobility
2. What features should I consider to reap the benefits of CRM software?
You can consider the following features that most ready-to-implement customer relationship management software come with:
Workflow automation
Customization
Third-party integration
Employee performance tracking
Social media integration
Lead management & contact management
Real-time data input and processing
CRM analytics
Sales forecasting
Reporting
You need these features to reap the benefits of CRM software to improve customer relationships and boost customer retention.
3. What are off-the-shelf and custom-built CRM systems? Which one should I pick?
Off-the-shelf and custom are the two models of CRM implementation. Off-the-shelf CRM systems are ready to be implemented in an organizational process. These CRM systems can be purchased on a subscription basis.
If you're a small-mid scale business, you can benefit from an off-the-shelf CRM system.
On the other hand, a custom-built CRM system is specifically developed for a particular organization's needs. The implementation duration for a custom-built CRM system can range from weeks to months, and the cost of implementation is very high.
Generally, only enterprises opt for a custom-built CRM system.
4. What are the challenges in CRM implementation?
Following are the challenges that make it hard for companies to get the benefits of CRMs:
Employees' resistance to change
Resistance from upper management
Lack of user-centricity
Lack of proper training
Loss of confidence in the product
Lack of ongoing support
5. How to implement a CRM system to maximize its benefits?
Here's how to implement a CRM to maximize its benefits:
Ensure executive buy-in
Evaluate the options and pick the right CRM
Create a deployment roadmap
Execute employee training and user adoption
Deploy the solution
Realize the Benefits of CRM Software
The world is ever-evolving, and so do the customer relationship management needs of businesses.
If you've decided to implement a CRM tool for your business operations, now is the right time to go for it. The benefits of CRM software are worth the investment you make.
However, make sure that you pick the right CRM software for your business after due consideration. Finally, have a plan in place to implement the CRM to ensure that you don't hit a roadblock.
Use this post as your guide to CRM selection and adoption to improve your customer experience. Good luck!