Most businesses need customer relationship management tools to generate leads, interact with prospects, and drive sales.
Luckily, certain types of CRM software can help you seamlessly manage your customer data, boost customer experience, and improve customer satisfaction.
Whether you're a small business or a startup, there's only so much you can handle when trying to grow your customer base. At some point, you'll need help automating some of your workflows.
Depending on your needs, you'll want to pick a tool that works for you from the various types of CRM software.
Do you need a CRM system?
The short answer is yes, you definitely do, regardless of the size of your business. But don't take our word for it.
This next section has statistics that prove just how widespread CRM tools are with businesses in the United States.
What Is CRM Software?
CRM software are tools that manage your interactions with your prospects and customers. Most types of CRM software utilize customer data to increase conversions and improve customer experience.
They do this by performing the following functions:
Collecting and storing customer information, e.g. contact, inquiries, and preferences, among others.
Automating sales and marketing tasks to increase conversion rates.
Analyzing client data and producing reports and predictions that help with decision-making.
Streamlining communication between departments and enabling smooth collaboration.
Automating marketing campaigns to seamlessly drive sales.
Analyzing long-term customer trends to build lasting client relationships.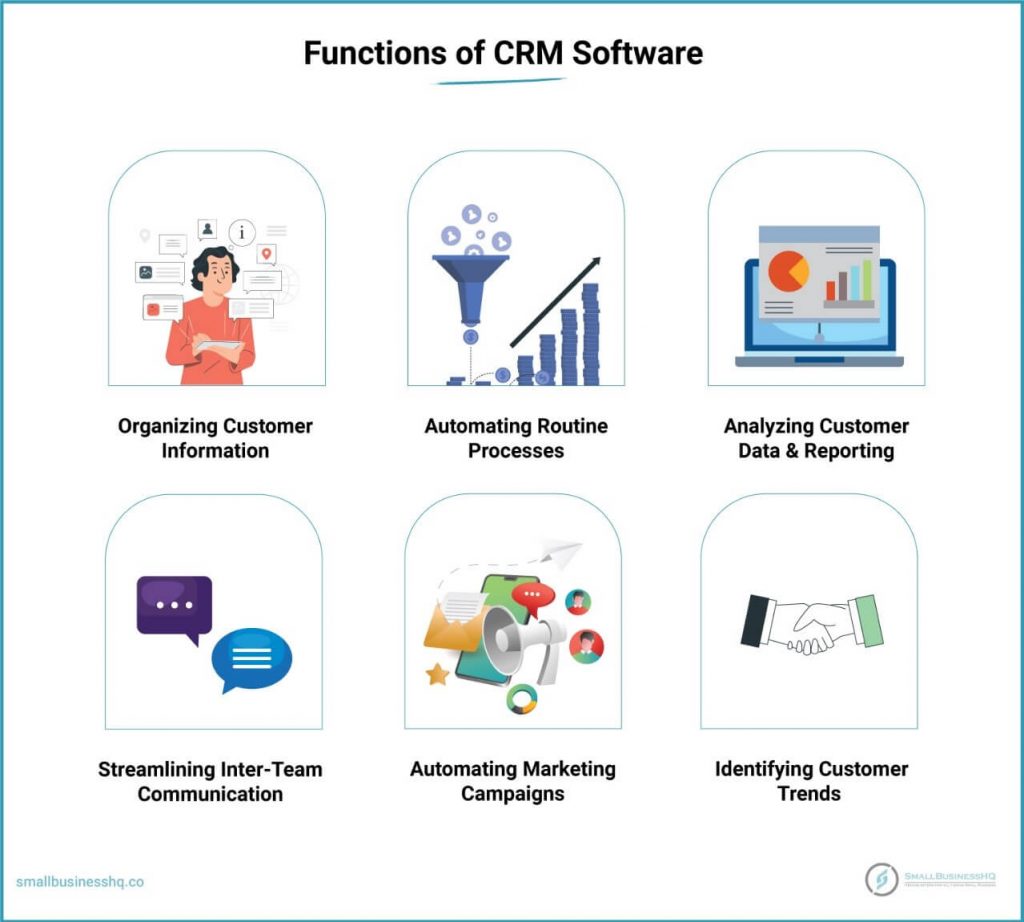 There are different types of CRM systems, each of which perform different sets of functions. Because businesses have varying needs for a CRM, understanding which types of CRM software your business needs is important.
Why are CRM software solutions important?
Find out in the next section.
Why Do You Need Different Types of CRM Software?
With customer relationship management tools, it's no longer a question of whether or not you need one.
What businesses need to ask instead is, "what types of CRM software do I need for my business?"
In 2023, the CRM market size in North America is $71.06 billion. Fortune Business Insights expects it to grow to $157.53 billion by 2030. This goes to show just how popular CRM systems are among businesses in the United States and other countries in North America. But it also means that there are numerous types of CRMs for you to choose from.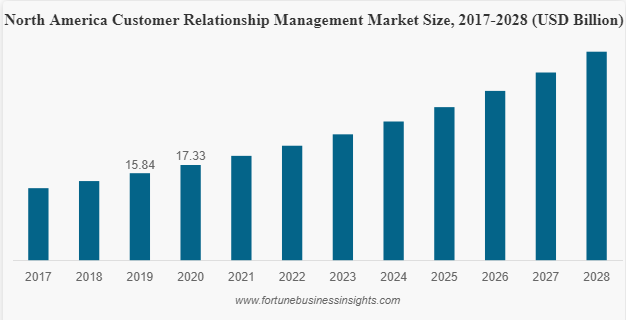 Image Via Fortune Business Insights
Grand View Research estimates that over 91% of organizations with at least 10 employees use CRM systems. These are relatively small-sized businesses. This shows that CRM tools are just as important for small businesses as they are for large enterprises.
Here are some reasons you need these types of CRM software:
CRM software can help you automate repetitive tasks to save time so you can focus your efforts on more important projects.
Different types of CRM systems can help you perform specific functions to improve your customer relationships.
Other types of CRM systems can help you organize your customer data and analyze it to draw valuable insights.
Now that that's clear, it's time to understand the different types of CRM software out there and figure out which one is best for your business.
The 5 Types of CRM Software
There are five major types of CRM software that you can choose from. Have a look: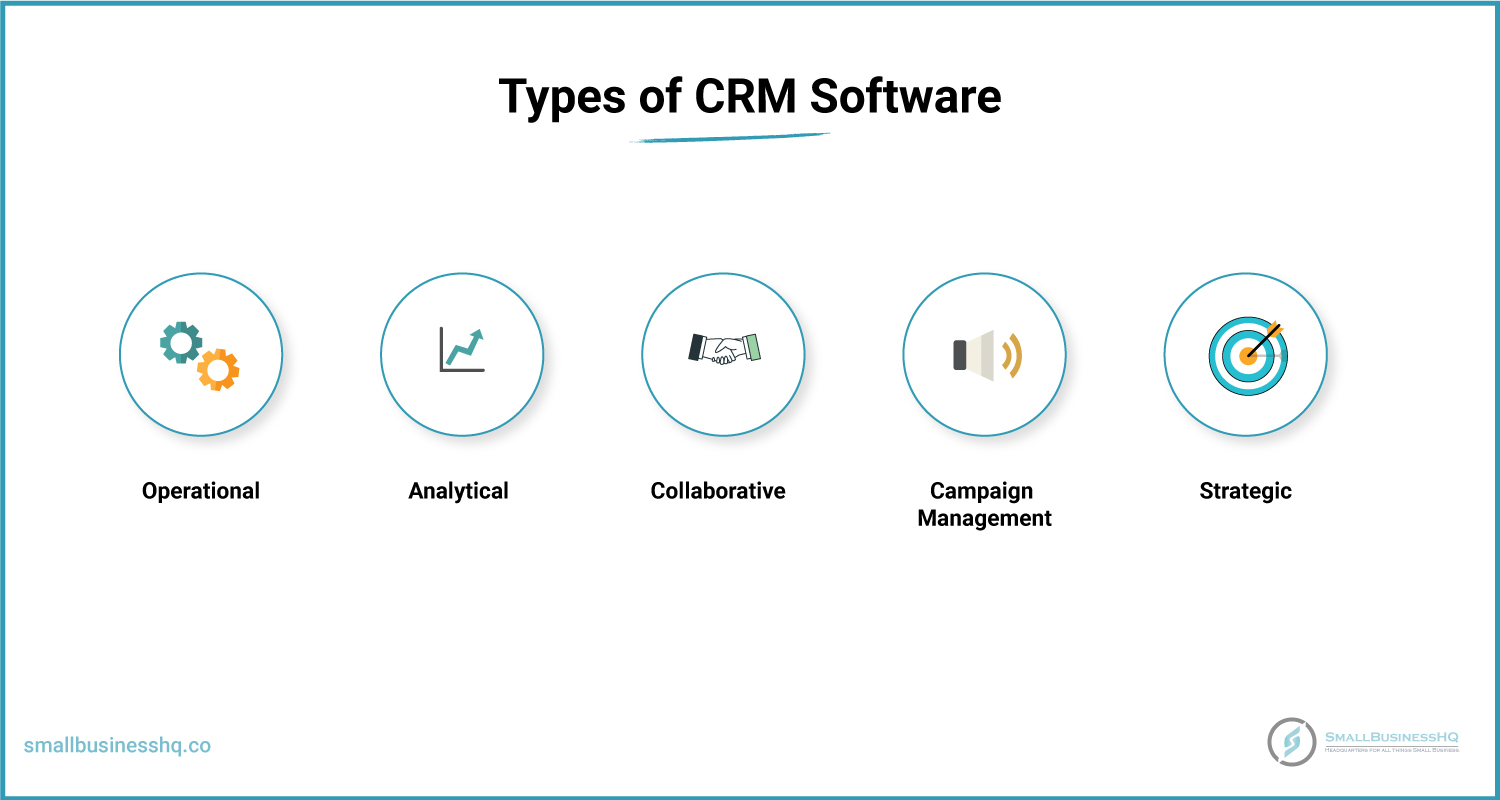 Operational CRM: These types of CRM software help manage your business operations smoothly by automating some customer-related functions.
Analytical CRM: Analyzes customer data to provide business insights, visualizations, and prospects.
Collaborative CRM: Ensures collaboration between different departments by centralizing access to customer information.
Campaign Management CRM: These integrate with other marketing tools to help run successful marketing campaigns.
Strategic CRM: A type of CRM software that uses customer data to make strategic business decisions.
Let's have a look at each of these types of CRM software in more detail.
1. Operational CRM
Operational CRM software solutions help an organization seamlessly manage its day-to-day operations.
These operations can include marketing, sales, customer acquisition, and retention. These types of CRM software solutions also help streamline communication between departments.
With an operational CRM system, you can easily generate leads and increase conversions.
How does operational CRM software help convert your prospects into customers?
By automating routine tasks, leaving your sales and marketing teams to focus on their interactions with customers.
Core Functions of Operational CRM
Here are some of the functions operational CRM can automate.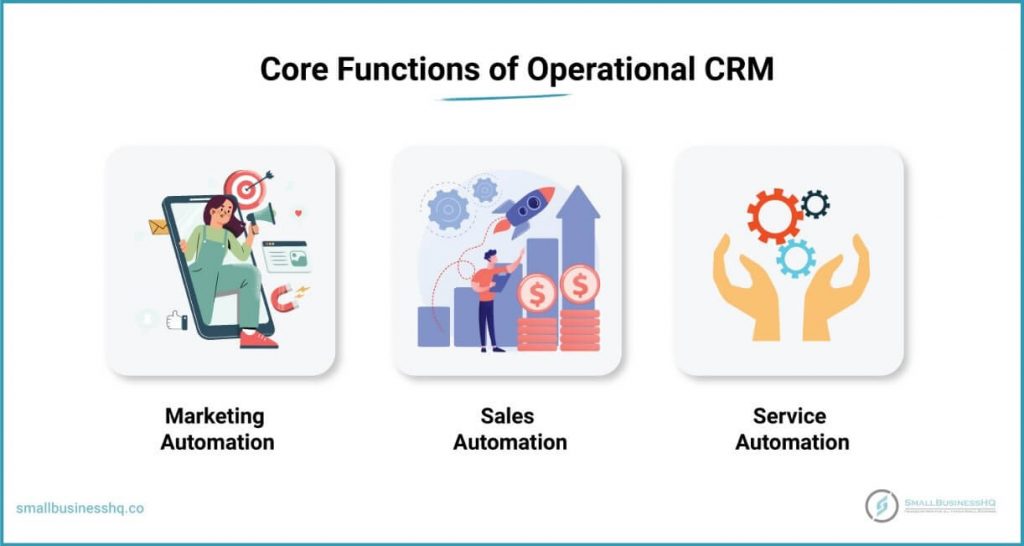 Marketing Automation
For marketers, operational CRM systems handle most of the repetitive and tedious tasks like:
Sending promotional messages
Automating email campaigns
Sending offer alerts
Posting on social media
They all have action triggers that perform these functions automatically. All you need to do is activate the triggers and set schedules.
Automation also ensures accuracy as it's based on historical data collected from clients and stored in the CRM database.
With marketing automation, your marketing team can focus on business growth rather than repetitive everyday tasks.
Sales Automation
Operational CRM systems can also automate lead generation and conversion functions. This includes tools that schedule appointments and emails. These tools help increase your conversions.
Here's how.
These types of customer relationship management software automate the initial interaction your leads have with your company, allowing your sales team to focus on closing deals.
For instance, a potential client can easily book an appointment with your sales team without having to directly interact with them, thus saving time.
Therefore, your sales automation tool in this case turns a lead into a prospect, and lets your sales team take it from there.
Service Automation
This involves providing a great customer experience to boost customer retention and promote your brand.
Service automation involves automated customer support interactions to provide quick answers to your customers.
This can be done by integrating live chat software or chatbots. These in particular help your business respond to customer queries around the clock, enhancing their experience and building customer retention and loyalty.
When is Operational CRM the Best Type of CRM Software Solution For You?
If your company is trying to reduce repetitive tasks and streamline its processes, then this is one of the best types of CRM software solutions for you.
Top Operational CRM Tool Examples
Here are a few of the best operation CRM systems for you to choose from.
1. Salesforce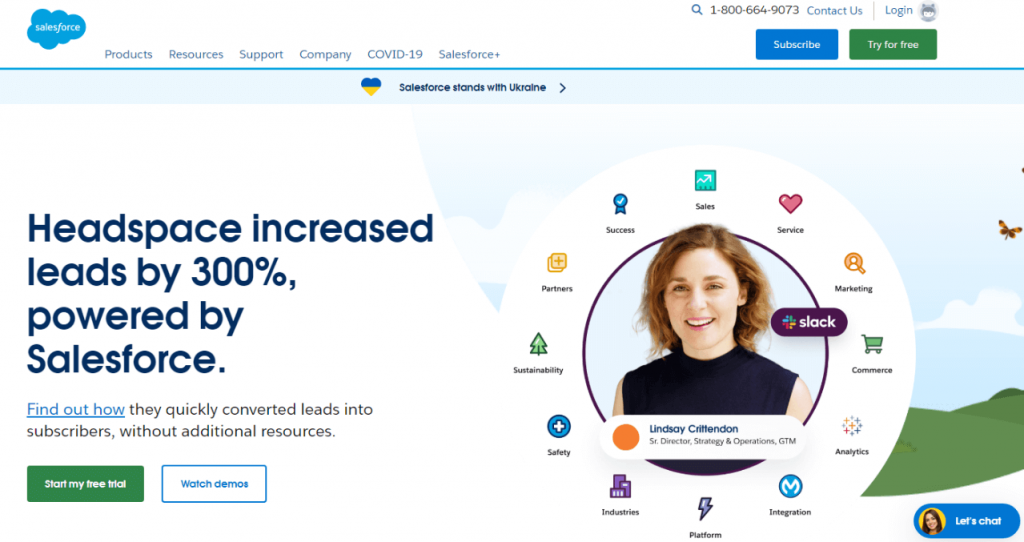 Image via Salesforce
This is one of the most popular CRM tools for both small businesses and large enterprises.
Salesforce offers CRM tools for a variety of categories and allows for a myriad of third-party integrations. It also offers a wide range of features depending on your business needs.
Here are the pricing plans that it offers:
Pricing
Essentials: $25 per user/month
Sales Professional: $75 per user/month
Service Professional: $75 per user/month
Pardot Growth: $1250 per user/month
2. HubSpot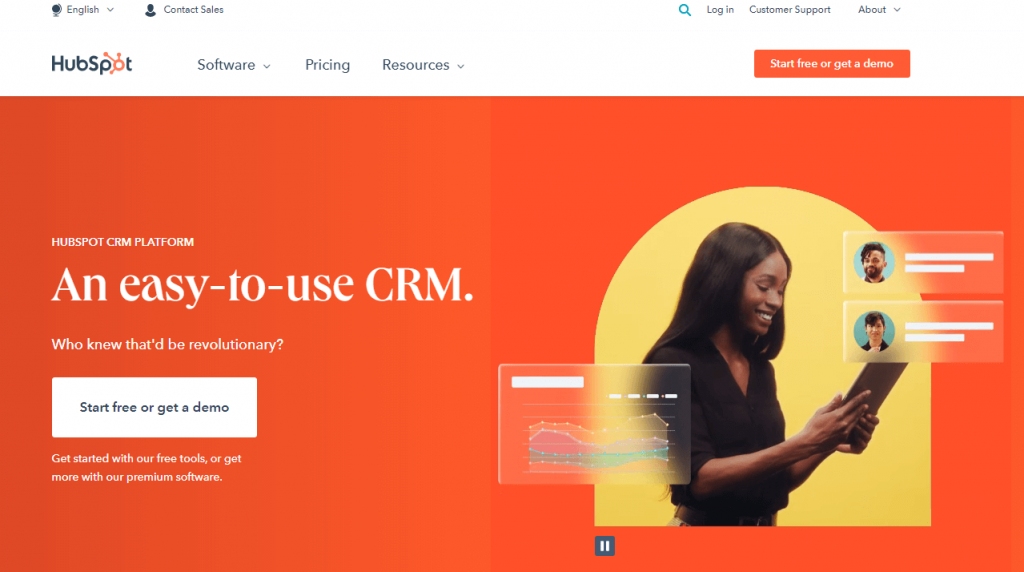 Image via HubSpot
Hubspot offers a free plan as well as tiered paid plans.
It brings your marketing, project management, and sales functions under a single platform. It also allows for multiple third-party integrations and is easy to use.
Pricing
Free plan
Starter: $45/ month billed annually
Professional: $1600/month billed annually
Enterprise: $5,000/month billed annually
2. Analytical CRM
These types of customer relationship management software gather and analyze customer data such as purchase history and online behavior to provide insights. These analytics help improve customer relations, customer satisfaction, and customer retention.
With these types of CRM software, you get reports and visuals that help you understand your customers and their needs. Here's an example of what an analytical CRM dashboard looks like: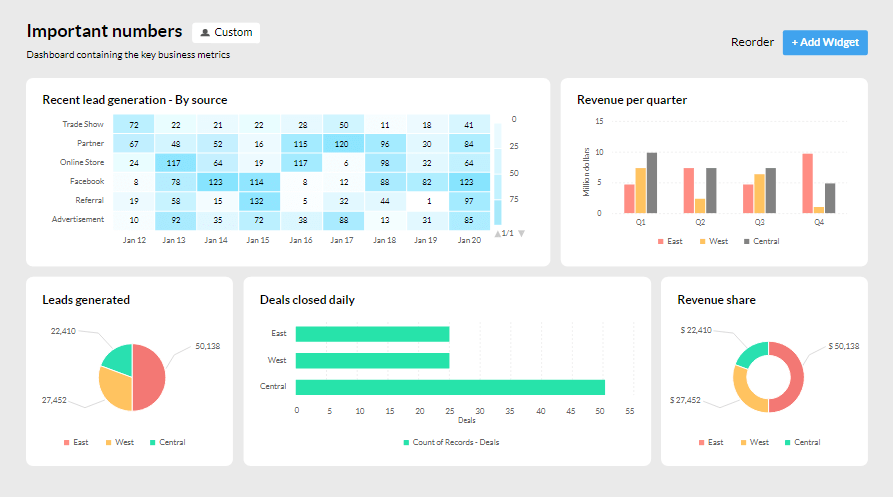 Image via Zoho
Analytical types of CRM software also collect sales and marketing information to help make forecasts. You can then use these forecasts to streamline business processes, edit your sales process, and improve your marketing strategies.
For instance, you can set more realistic marketing targets based on historical data.
These types of CRM software integrate with your company's accounting system to track cash flow and report exact revenue figures. This helps further improve the accuracy of the reports that the software solution produces.
Core Functions of Analytical CRM
Here are the core functions of an analytical CRM software solution: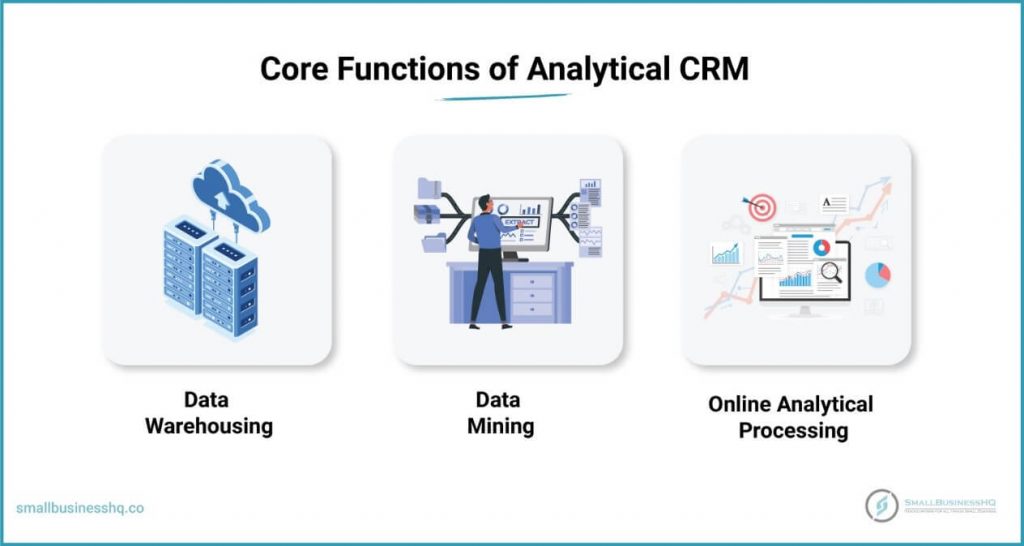 Data Warehousing
A data warehouse is a type of database used to collect customer data from various sources and store them in one place.
All good analytical CRM software data warehousing offers this function to make customer data organization and analysis easier.
These types of CRM software solutions also simplify data extraction as both current and historical information can be accessed from a single location.
Data Mining
Data mining involves tracking information about your customers to uncover their trends, patterns, and correlations. Data warehousing simply collects data. Data mining makes sense of collected data and uses it to identify patterns.
It helps you identify purchasing patterns, target marketing campaigns, personalize offerings, and make predictions about future trends. You can use these insights to better understand and serve your customers.
Online Analytical Processing (OLAP)
OLAP tools analyze data extracted by data warehousing tools from different angles. The data could include your budget, customer trends, and customer behavior, giving you the ability to make accurate projections.
This, in turn, aids your decision-making.
These types of CRM software solutions access information from different databases simultaneously as opposed to one database at a time. Therefore, the analysis is more holistic and gives you a clearer picture of your position regarding sales and marketing.
When is Analytical CRM Best For You?
Here are some cases in which analytical CRM may be the best type of CRM software for you:
If you're a data analyst who needs to make data-backed recommendations to customers.
Your managers require the data to track your metrics for decision-making.
If your accountants require access to centralized customer information to track historical transactions.
Top Analytical CRM Tool Examples
Here are some of the best analytical CRM tools for you.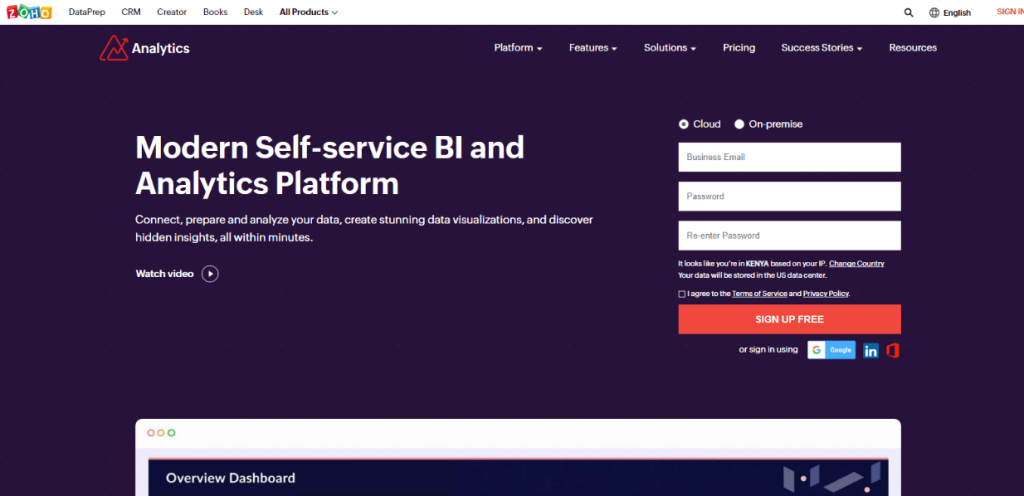 Image via Zoho
Zoho offers CRM and other software solutions for your business, including their analytics tool. Zoho Analytics helps you collect, prepare, & analyze customer data, create reports, and make predictions.
It automates most of these functions and produces visuals that give insights into your business. It's a great tool especially for small businesses as it's easy to navigate.
Pricing
Basic: $22/month billed annually
Standard: $45/month billed annually
Premium: $115 /month billed annually
Enterprise: $445/month billed annually
2. Zendesk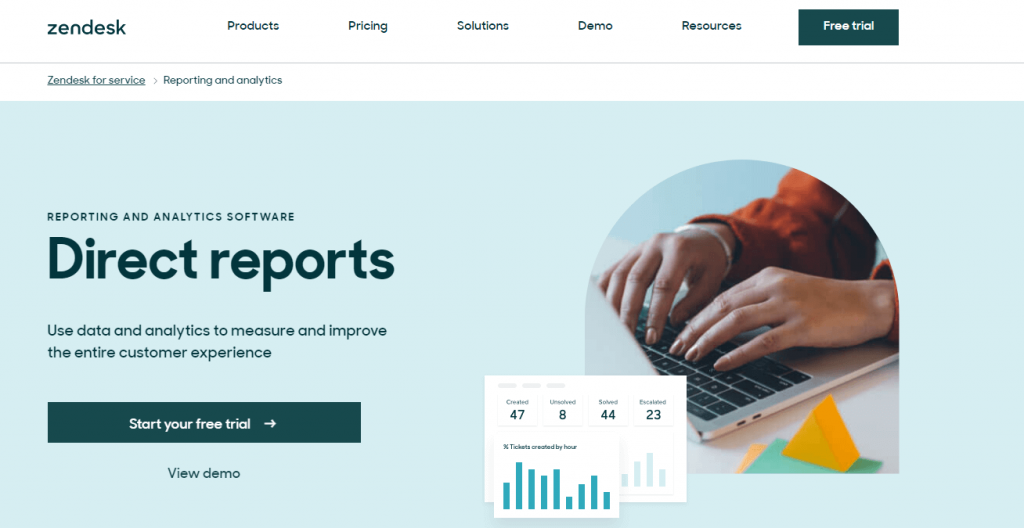 Image via Zendesk
Zendesk has a great customer analysis function that's part of their bigger CRM offering. It's a great tool that extracts customer data from sales and service departments to help you make better decisions.
It's also an affordable CRM solution. Here's a look at their pricing model.
Pricing
Suite Team: $49 per agent/month billed annually
Suite Growth: $79 per agent/month billed annually
Suite Professional: $99 per agent/month billed annually
3. Collaborative CRM
These types of CRM software tools integrate different functions like sales, customer service, marketing, vendors, and supplies, among others. This helps improve collaboration among different departments, enabling them to work together with ease.
Collaborative CRM software solutions share customer information across multiple departments and make it accessible to all. Each department also has access to customer activities and their interactions with the company.
This enables your teams to better serve the customers and improve customer experiences.
Core Functions of Collaborative CRM
Collaborative CRM systems have the following core functions.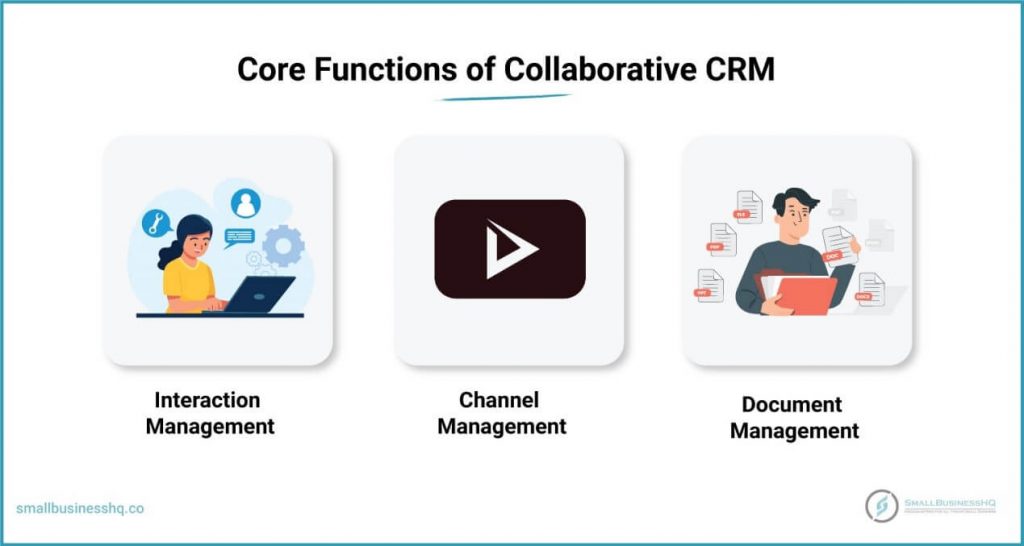 Interaction Management
Collaborative type CRM systems help you manage your customer interactions across various platforms from one spot. 
Wear the shoes of a customer support manager in a fast-growing e-commerce company. 
A customer, let's call her Sarah, has recently made a purchase from your store. Sarah reaches out to your company via different channels such as email, messaging, phone calls, and even social media platforms like Twitter or Facebook. 
Interaction Management acts as a digital command center, seamlessly capturing and organizing these interactions in one centralized platform. It harmonizes the various communication streams into a single comprehensive view, allowing your team members to gain a holistic understanding of each customer's journey and needs.
So when Sarah contacts your customer support via email regarding a product inquiry, Interaction Management logs her message, ensuring that it doesn't get lost in the sea of emails.
If she later engages with your company on social media to express her satisfaction with the product, Interaction Management captures and links these social media interactions to her existing customer profile
By tracking and consolidating these interactions, Interaction Management empowers your team members to provide personalized and efficient support.
Channel Management
Continuing with our analogy—imagine you're the manager of a large retail company with an extensive online presence. Channel management plays a vital role in ensuring effective communication with your customers across various channels.
In this scenario, the interaction management tool acts as a data hub, gathering information from customer interactions across different channels such as email, social media, phone calls, and live chat. Each interaction is carefully recorded and analyzed, extracting valuable insights that can be used to enhance future customer engagements.
By analyzing the data, you might discover that a particular customer prefers to communicate via social media platforms, while another prefers to be reached via email. This information will help you understand which channels are most effective for different customer segments.
Apart from analyzing data, channel management takes things a step further by grouping customers based on their preferred communication channels. 
You can categorize customers into different channel segments. This helps you streamline your communication efforts and tailor your messaging to align with their preferences.
Armed with this knowledge, your sales representatives and marketing teams can leverage the insights provided by channel management to reach out to prospects through their preferred channels. 
By contacting prospects through their preferred channels, you increase the likelihood of capturing their attention and driving conversions and repeat sales.
This approach allows you to meet customers where they are most receptive, fostering a sense of connection and increasing the chances of conversion.
Lastly, channel management provides valuable feedback loops. When you monitor customer responses and engagement across different channels, you can gauge the effectiveness of your communication strategies. 
Just like a conductor fine-tuning an orchestra based on audience reactions, you can adjust your communication tactics and optimize your approach for each channel to maximize customer engagement and satisfaction.
Document Management
This tool stores documents such as business contracts and files. With collaborative software, your teams can access these files from a centralized location.
With the information shared on a centralized platform, team members can easily access and review past interactions, ensuring a consistent and cohesive response to customers.
When is Collaborative CRM the Best Option For You?
This is the best option among the different types of CRM software for:
Businesses that have operations in different locations.
Businesses with teams that frequently communicate and collaborate to maximize performance.
Top Collaborative CRM Tool Examples
Here are some of the best options for you to choose from.
1. Bitrix24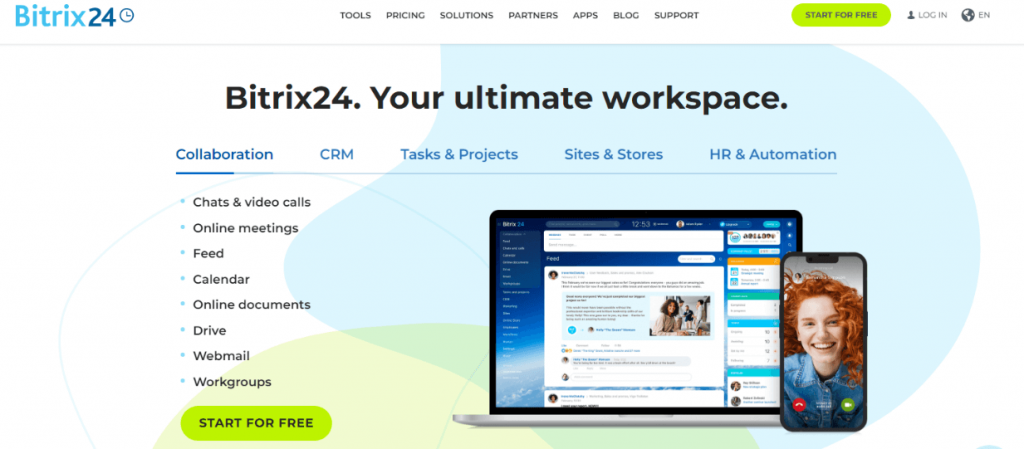 Image via Bitrix24
This tool has a free version that accommodates unlimited users, as well as paid plans. This allows your team to access it on a trial basis and ascertain its value before upgrading to paid plans.
This collaborative CRM is suitable for all businesses and has tools for all your collaboration needs. This includes tracking customer communications and projects as well as a human resource help desk for your HR team.
Pricing
Free Version with unlimited users
Basic: $39/month billed annually
Standard: $79/month billed annually
Professional: $159/month billed annually
2. Copper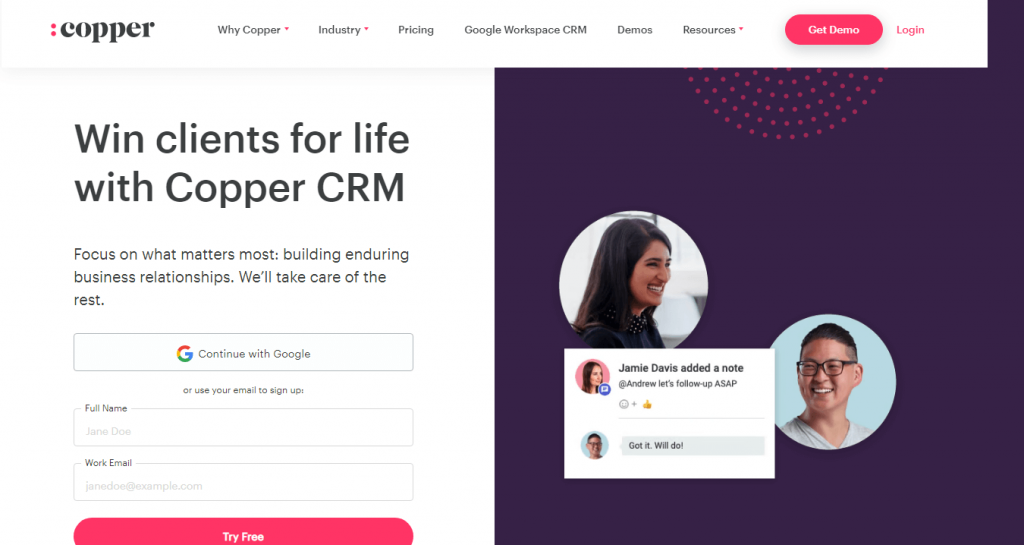 Image via Copper
This collaborative CRM tool offers a centralized access point for all customer information across your teams. Their plans are also flexible enough to allow you to scale as your business grows.
This tool is best if you're working with Google Workspace, e.g. if you're using Gmail, Google Docs, Google Drive, and Google Calendar. That's because it was designed to seamlessly integrate with Google.
Pricing
Basic: $25 per user/month billed annually
Professional: $59 per user/month billed annually
Business:$119 per user/month billed annually
Operational CRM, collaborative CRM, and analytical CRM are the three main types of CRM software commonly used by most businesses. The other two we'll discuss derive their functions from the already mentioned types of CRM software.
Some businesses, however, focus on the specific functions they carry out, hence the need to discuss them separately.
Here's a brief look at them:
4. Campaign Management CRM
These types of CRM integrate some functions of both operational and analytical types of CRM software to run successful marketing campaigns.
It has a data analysis feature that tracks and interprets data to help make better marketing decisions. For instance, this software can use customer insights to run personalized marketing campaigns.
These types of CRM software can integrate with other marketing tools like email marketing platforms.
Top Campaign Management CRM Tool Examples
Here are some options: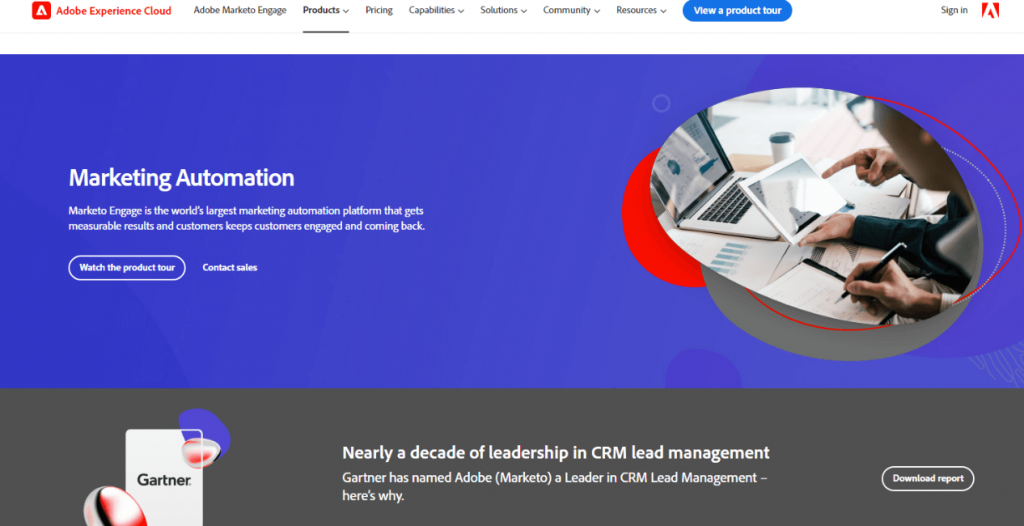 Image via Marketo
Marketo Engage monitors all your marketing channels to increase the impact of your marketing campaigns.
It helps you find and engage your leads to increase your conversions, as well as retain your customers. Their analytics also help you personalize your marketing campaigns.
Pricing
This CRM software solution has four plans for different business needs, though you'll need to consult sales for the exact pricing. These plans include:
Jumpstart
Select
Prime
Ultimate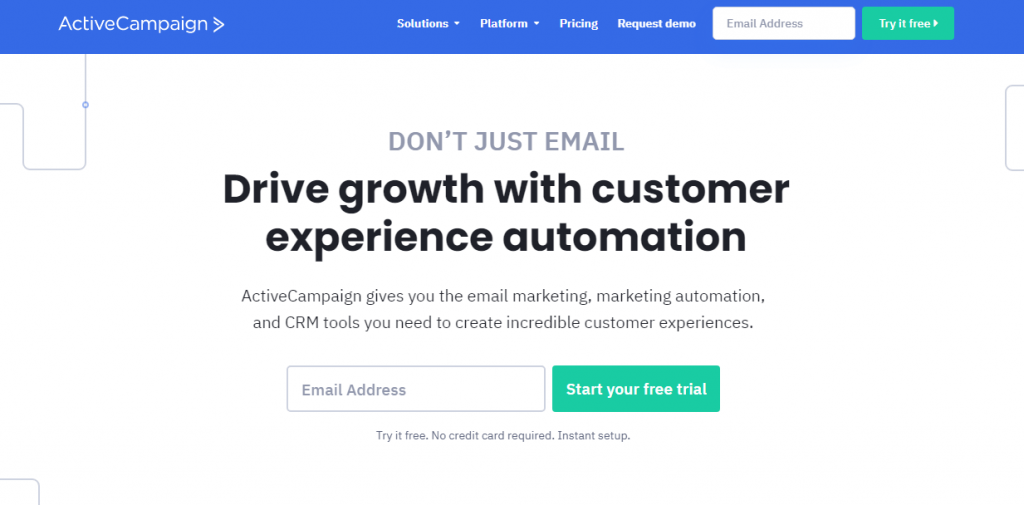 Image via Active Campaign
This CRM tool has marketing automation functions as well as email marketing capabilities to help you run winning marketing campaigns. It also supports SMS marketing campaigns.
Active Campaign enables marketers to send personalized emails to drive conversions. Most sales and marketing functions are also automated.
It has a reporting and analytics tool that tracks and analyzes marketing data from multiple channels.
Pricing
Lite: $9/month billed annually
Plus: $49/month billed annually
Professional: $149/month annually
Enterprise: Customized pricing
5. Strategic CRM
These types of CRM software function similarly to the collaborative CRM system, but with its sole focus on the customer. It's more oriented toward ensuring excellent customer experience and strategic business development based on customer data.
Another important aspect of these types of CRM software is that they focus on long-term business development. The software tracks historical customer data and uses that to identify trends that aid in strategic business decisions.
These decisions, in turn, help to retain customers and boost customer loyalty. They also allow for customization of your business's customer service operations.
Imagine a high-end boutique hotel that uses strategic CRM software. The software tracks each guest's preferences, such as room type, preferred amenities, and dietary restrictions. By analyzing this data, the hotel can create personalized experiences for each guest during their stay.
For example, if a guest always books a suite with a specific view, the hotel can proactively reserve that room for their future visits. This level of personalization enhances the guest experience, increases customer loyalty, and ultimately leads to positive word-of-mouth referrals.
How To Choose From the Various Types of CRM Software
Now that you know the different types of CRM software and what they're best for, you can pick the right one for your business. Here are a few tips that will make this process easier for you.
First, you need to understand what CRM is and its significance to your business.
Then, identify your business requirements and what features you want in your CRM solution.
Check out the different types of CRM software available in the market and make a list of the ones that offer the features you want.
Shortlist the ones that have a user-friendly interface and are easy to use. Also look for functions like third-party integrations, automation, reporting, lead management, and social media management.
Choose a system that is affordable while also offering the best features for your specific needs.
Ensure your vendor is reputable and provides excellent customer support. Read customer reviews to assess them.
If the software solution you've shortlisted has a free trial option or a demo, give it a try before committing.
Choose AI-powered CRM to get more advanced features.
Picking software for your business requires patience and a lot of research. Choose carefully, as picking one at random could negatively affect key aspects of your business.
You'll want to get it right the first time, so take your time making this decision.
FAQs
1. What are the main types of CRM software and what are their uses?
There are five main types of CRM software. Here's a list:
Operational CRM: These types of CRM software help businesses streamline their sales, customer service, and marketing functions by automating repetitive tasks.
Analytical CRM: These help businesses track and analyze their customer data to come up with insights to improve customer experience.
Collaborative CRM: Facilitate collaboration among departments and streamlines communication.
Campaign Management CRM: These types of CRM software use customer data and analytics tools to build impactful marketing campaigns.
Strategic CRM: Focus on analyzing historical data to identify long-term customer trends and patterns. This helps you serve customers better and build long-term positive relationships.
2. What is CRM software?
A CRM software solution is a tool that collects customer data from multiple sources and organizes it onto one platform. There are many types of CRM software that provide additional advanced features, depending on the type.
3. What is an example of CRM software?
Examples of CRM software include:
Collaborative CRM
Analytical CRM
Collaborative CRM
Campaign Management CRM

Marketo Engage
Active Campaign
4. How do businesses use CRM?
Businesses use CRM to:
Automate repetitive tasks and streamline business operations.
Run data-backed marketing campaigns.
Analyze customer data to make predictions and improve customer experience.
Design long-term strategies for customer retention.
Improve collaboration and communication between teams.
5. Why do businesses need CRM and how can it help small businesses?
Businesses need a CRM system to retain clients, generate leads, increase sales conversions, and improve productivity.
6. What are the main components of CRM?
The main components of CRM software include:
Lead generation and management
Sales forecasting
Marketing automation
Customer service
Workflow automation
Reporting and analytics
7. How do I choose from the various types of CRM software?
You must choose a CRM type based on your unique business needs. Here are some questions you'll want to ask yourself before choosing a CRM software solution:
Do you want to automate your sales, customer service, and marketing functions?
Does your performance rely on team collaboration?
Are you focused on long-term customer relations?
Are you focused on running successful marketing campaigns?
Do you want to understand and serve your customers better?
These questions will help you pick the right CRM tool for your business.
8. What factors are important when selecting a suitable CRM?
Here are some factors to consider when selecting a CRM tool:
Your business type and needs
The price of the tool
Ease of use
Customization and accessibility
Social media capabilities
Customer support features
9. What are the important features you should look for in a CRM?
Here are some of the features you should look for in a CRM:
Third-party integrations
Data collection feature
User-friendly interface
Automation
Reporting capabilities
10. Do you need a CRM for a small business?
Small businesses need a CRM to help them scale because CRM tools let you manage large amounts of customer data with ease. They also automate some important but time-consuming functions, letting you focus on your business growth.
Which Type of Software is Best For Your Business?
The five types of CRM software each have distinct functions and benefits depending on your business needs. Once you identify what these needs are, you'll be in a better position to choose the right CRM for your business.
For instance, operational CRM would be best suited for businesses looking to streamline their sales, marketing, and customer service operations. If you need seamless communication and cooperation among your teams, then collaborative CRM will suit your business best.
Remember, then, to work hard at identifying your needs before making your selection.
Are you looking for data to interpret your customer behavior and make predictions, for example? In that case, your business needs an analytical CRM system. Specifying what you need your CRM to do will lead you to the best decision.
So, there you have it! We hope we've helped you find a strategy for choosing the right types of CRM software for your business.