Finding the right accounting software for your organization is one of the most crucial decisions you'll make.But what is accounting software?
Accounting software helps businesses with their financial transactions. And an accounting software solution streamlines the accounting process and keeps records of a business's cash flow.
Choosing an appropriate accounting system is no easy feat, as there are many variables involved. These include:
The size of the business
A business's accounting needs
Price of the software solution
Its features
These factors and many more will come into play. Here is an exhaustive analysis of everything you need to know about accounting software, its uses, benefits, and more.
Let's get started!
What is Accounting Software?
Accounting software is a computer application that a business uses to record and process accounting transactions for various financial functions. These functions include taxation, payroll, billing and invoicing, and tracking cash flows.
Accounting transactions can be subject to both internal and external review. And because businesses have different complexities in their structures, there are different types of accounting systems for them to choose from.
Some of the core features of all accounting software include:
Billing and invoicing
Payroll management
Inventory management
These features are useful for all businesses, making accounting software beneficial to businesses of all sizes and types.
But what is a good accounting software solution?
A good accounting software solution should provide a quick summary of your profits and losses. It should also keep you up to date with the appropriate legal requirements necessary for your business operations.
Let's discuss the important features of accounting software in detail in the next section.
What are the Key Features of Accounting Software?
Now that you know what accounting software is, it's time to find out some of its key features.
Accounting software simplifies the different financial aspects of your business from financial reports to invoices.
Some tools also automate financial processes, so your business will require fewer employees to process large amounts of data. Simply put, it enables efficient and fast processing of financial transactions.
What are some of the important features that you should look for in an accounting software solution and why?
Let's find out
Accounting
This is the main feature of an accounting system.
This feature constitutes:
Accounts receivables
Accounts payables
Bank reconciliations
Fixed assets
General ledger
The more complex the business structure, the more components the accounting feature will have.
Invoicing and Billing
This is the feature of online accounting software that enables customers to receive automated and accurate invoices on time.
It also provides them with payment methods that work effectively within the industry.
For instance, some businesses require an accounting system that focuses on handling invoicing and billing. Businesses that sell fast-moving consumer goods, for instance, would need software with this particular focus.
Such businesses produce numerous invoices for their clients at a time. Here is an example of an invoice generated by an accounting system:

Image via Xero
However, there are also accounting systems that have invoice and billing simply as one feature among others. These are good for businesses that do not generate numerous invoices daily.
An invoicing and billing feature is crucial, as delayed invoices lead to delayed revenue collection. And that spells an unfavorable situation for any business.
Not only does online accounting software ensure smooth billing, but it also helps you keep track of transactions.
For credit transactions, it shows you the amount of money someone owes you, when it was owed, the amount, and when to expect payment.
A common feature in most accounting software is providing customers with the ability to pay their bills electronically. This makes billing even easier to track.
Payroll
The calculation and processing of employee payments are the functions of the payroll feature of accounting software.
It prepares and prints salary checks on time and keeps track of employee income tax and other statutory deductions.
Basically, the payroll features enable you to manage your employee payments easily and efficiently.
Here's an overview of what a payroll system looks like:
Image via Workday
Large businesses have a dedicated system for payroll management. Smaller businesses, however, can have the system as a module in their business accounting software solution.
Analytics and Reporting
This feature helps you track and manage your business's financial data for a given period. That includes your inventory, receivables, payables, and other current transactions.
It derives information from records of previous fiscal years, helping you to make future financial estimations.
These estimates form the basis for your planning and budgeting. Using the reports produced by accounting software's analytical tools, you can easily make policy changes and grow your business.
For instance, keeping track of bad debts will help you manage your credit terms.
Below is an example of analysis provided by an accounting system.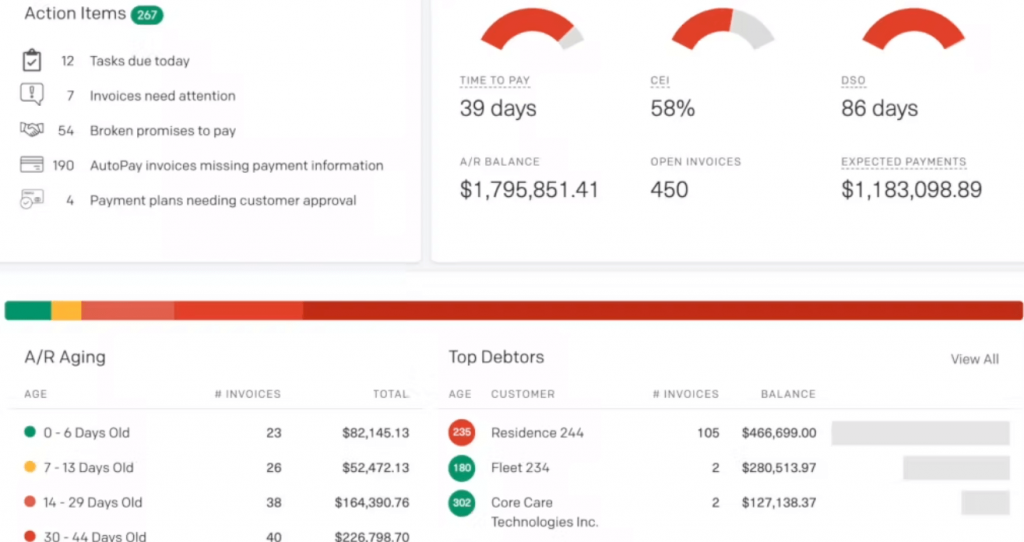 Image via Invoiced
Management of Fixed Assets
Fixed assets are, for the most part, considered to be the business' tangible value. That's what makes their management crucial to business success.
The fixed asset management feature helps with:
Keeping track of the cost records of fixed assets
Calculating asset depreciation
Keeping records of asset audit history
Determining resource allocation, e.g., equipment distribution
Here is an example of this feature and what you can expect the dashboard to look like: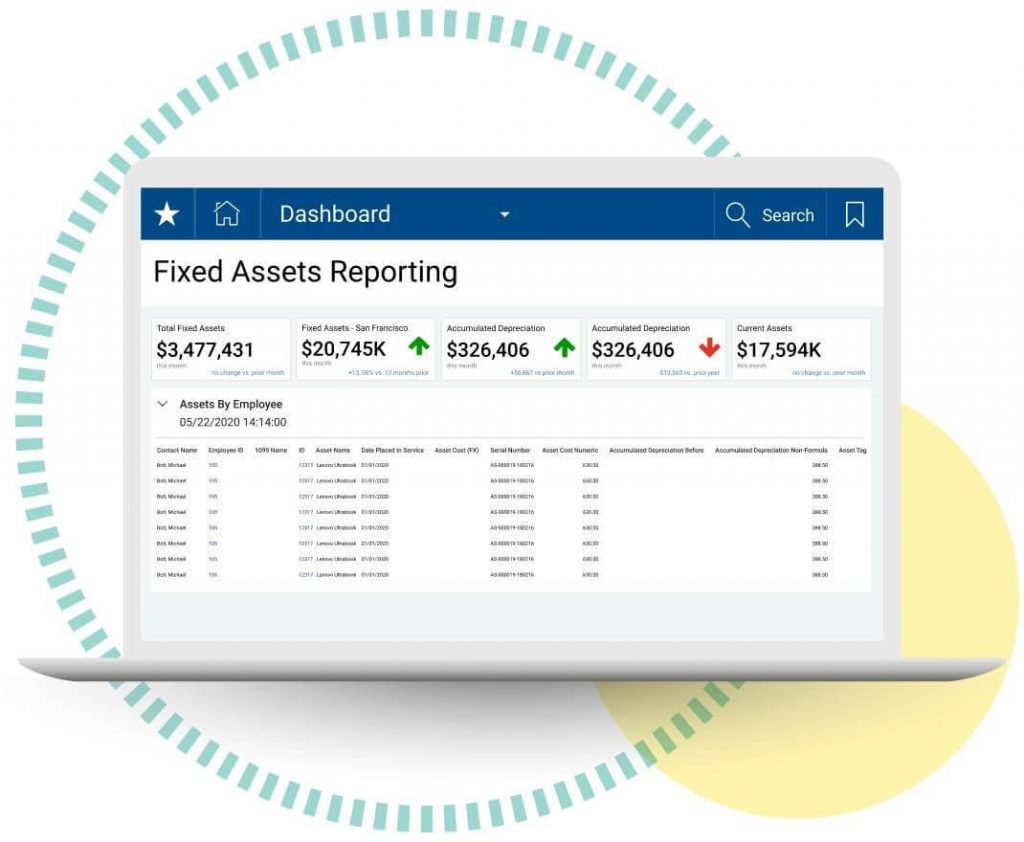 Image via Sage Intacct
Proper management of your business's fixed assets helps prevent a loss in company value due to over-depreciating assets.
Project Accounting
Project accounting involves managing the finances and resources related to a project, such as expenses, time, and people.
It's aimed at ensuring a project is completed within the allocated budget. The success of any project, after all, depends on how well its finances are managed.
Proper accounting for projects is crucial, especially for maintaining the lowest possible costs. You want to get the most returns out of a project, but still minimize the resources used.
Here's one example of a project accounting dashboard within an accounting software solution: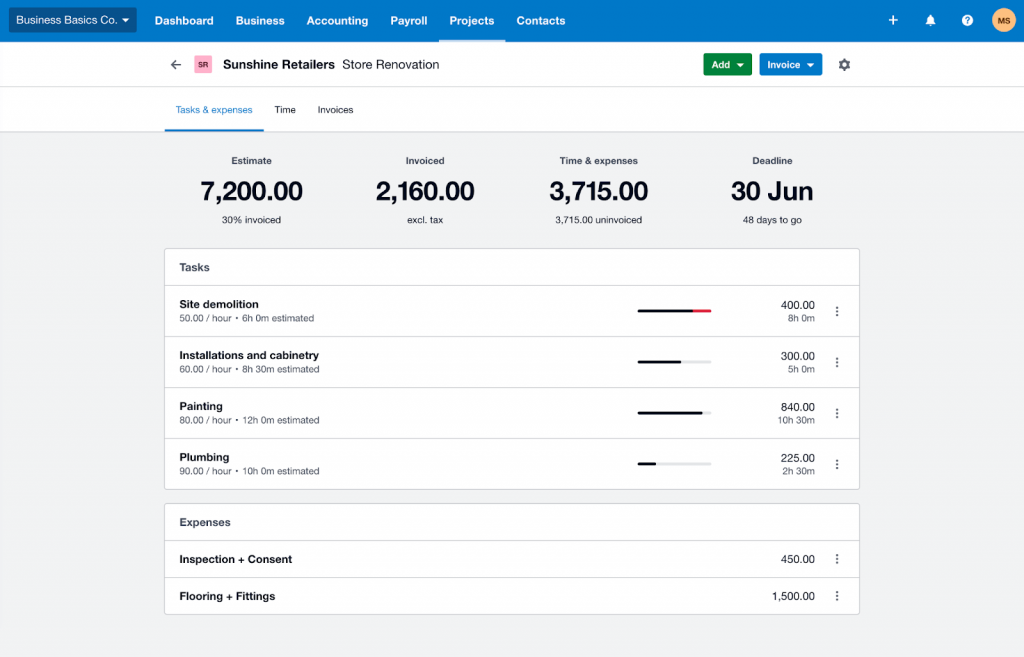 Image via Xero
The main beneficiaries of the project accounting feature are construction operators and software developers.
The main functions of the project accounting feature are:
Estimation of labor costs
Equipment costs and allocation
Material cost estimation
Other calculations involved
Fund Accounting
This is a feature mainly designed for non-profit organizations and government agencies.
Fund accounting systems are used for tracking expenditures, donations, resource allocations, and grants management.
Mismanagement of funds in non-profit organizations and government institutions is common. Hence, the purpose of fund accounting is accountability, as opposed to profitability like in other businesses.
Fund accounting systems can be used to manage different types of monetary allocations depending on the size of the non-profit.
Inventory Management
The inventory management feature records and tracks a business' stock and equipment. It enables you to control availability and movement of one's products.
It records what moves in and what moves out in terms of stocking. It also manages how stock movement occurs, for instance, on a first-in-first-out basis.
This feature does away with issues related to deliveries and stocking like understocking and overstocking. Here's an example of what an inventory management software looks like: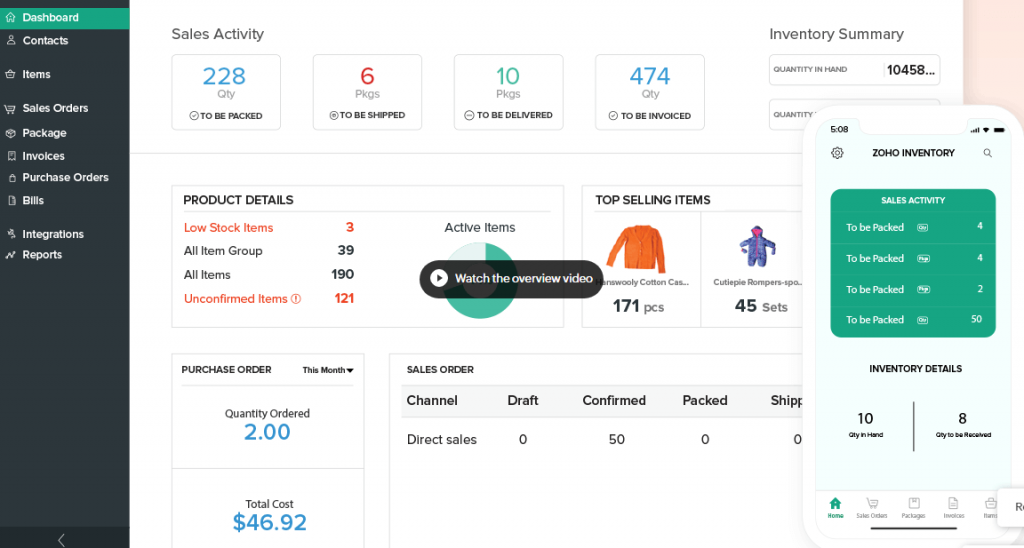 Image via Zoho
Based on the above-mentioned features, there are different types of accounting software.
In the next section, we'll look at what exactly these are.
What are the Different Types of Accounting Software?
Now you know what accounting software is and some of the key features to look out for. Next, we'll discuss the different types of accounting software.
Most accounting software can be placed under one of four broad categories, depending on their features and use cases.
However, it is possible to integrate the best features of each category to form a custom comprehensive accounting suite for your business.
Here is an overview of the 4 types of accounting software:
Billing and Invoicing Systems
What is an invoicing and billing system, and how does it work?
Billing is the process of creating and sending invoices. An invoice is a document sent to the buyer from the seller containing details of the trade.
It's with this invoice that the seller demands payment. An invoice contains a breakdown of the various items that add up to make the total bill.
Accounting system vendors have different limitations for their clients on billing and invoicing. In some instances, your system can only send a certain maximum number of invoices per period.
This may depend on the accounting package you pick.
If your business issues numerous invoices to your clients per day, then this is a factor to consider before picking your software.
Here's an example of an invoicing and billing system: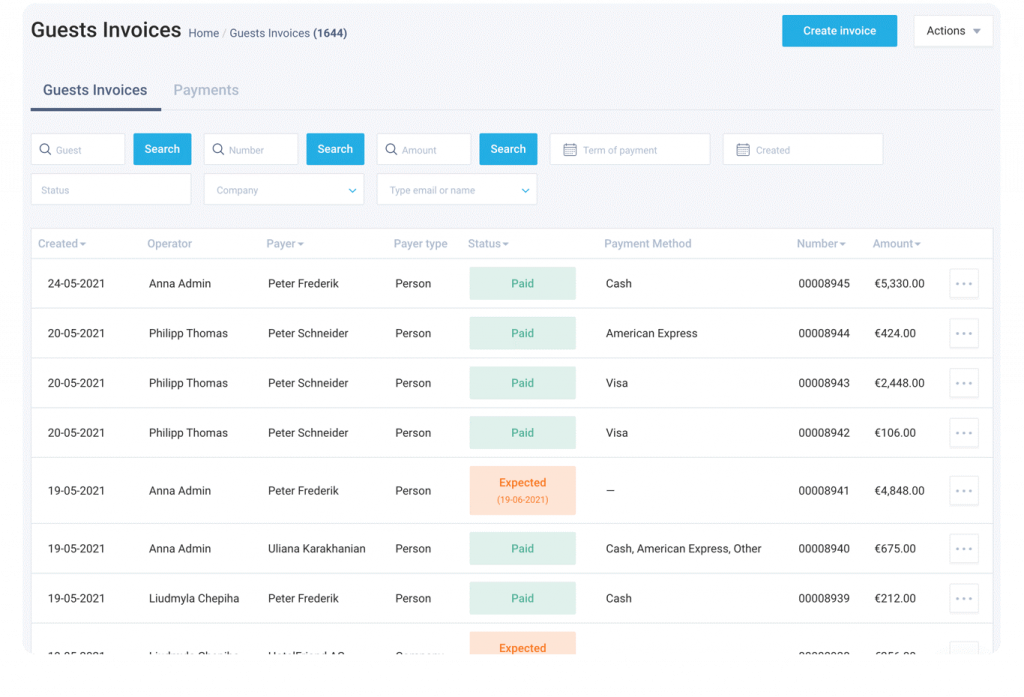 Image via HotelFriend
Invoices should be highly accurate and detailed. Errors could be a source of losses for the business.
Accounting systems have automation capabilities for billing and invoicing processes. This makes them more reliable.
It is only when a business can successfully and accurately control its finances that it can grow and outdo its competitors.
Proper management of finances using a reliable billing and invoicing system is crucial to business success.
Enterprise Resource Planning (ERP) Systems
ERP systems integrate different specialized software into one system accessible via a single interface.
This type of accounting system effectively manages a company's different resources. It minimizes redundancy by monitoring everything from a single platform.
What are some of the functions an ERP system integrates? Here are some examples:
Project management
Accounting functions like receivables, payables, and cash flow management
Procurement functions, such as logistics and distribution
Risk analysis
Human resource functions like payroll and recruitment
Marketing tools such as customer relations management software
Analytics and financial reporting
By bringing together all of these functions, ERP systems manage the resources of the entire business. They also offer centralized access to resources, which makes their distribution easy and effective.
Here's an illustration of how that works: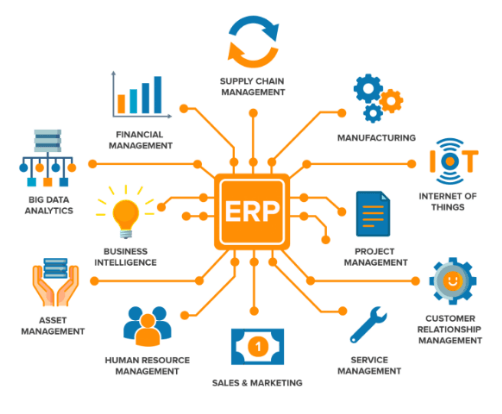 Image via Deskera
Payroll Management Systems
A payroll management system manages all the financial transactions between your business and your employees. This includes salaries, overtime, wages, bonuses, and other payments.
With a payroll system, you can both calculate these payments and process them easily to ensure everyone gets paid on time.
When processing salaries, payroll systems also make the appropriate income tax deductions and produce payslips.
Here is an illustration of how the payroll system works: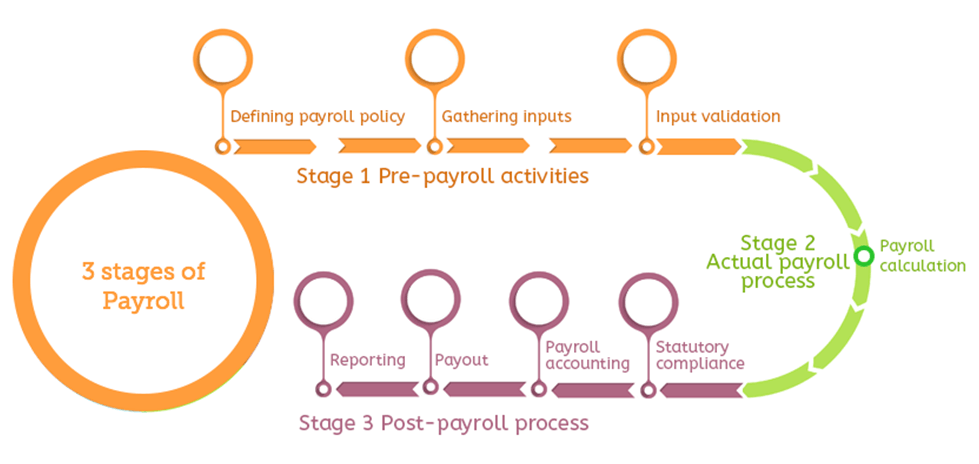 Image via Freshbooks
The automation of most of these processes ensures minimal error in the payroll system.
With businesses that issue time-based wages, payroll systems incorporate functions such as calculating total working hours. They then determine employee wages based on working hours.
The payroll system easily integrates with other human resource management systems such as recruitment. This ensures that most employee-based functions are carried out from a single, integrated platform.
Payroll systems also have automation features like, for example, filing a company's tax returns.
Expense and Time Management Systems
These are systems designed to provide a summary of costs as they relate to time spent on projects.
Time management systems reduce costs by utilizing time optimally. It also makes billing clients easy by automating time-tracking.
Expense management involves overseeing expense reports, managing cost approvals, and monitoring payments.
A business needs expenses to keep running, but without expense management, it can't run properly. Therefore, the expense tracking feature of these systems is needed to minimize costs and maximize financial productivity.
Accounting and finance teams can use this software to track reimbursements and expense reports. As a result, every cash outflow is streamlined and any risks or errors are minimized.
Integration of time and expense management ensures time is valuably spent, and that every expenditure is necessarily approved.
Below is an example of what such software looks like: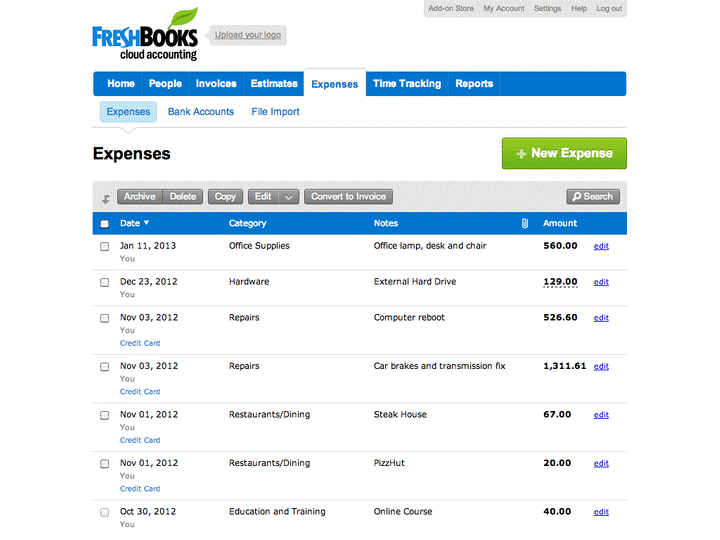 Image via SoftwareConnect
Custom Accounting Software
Custom software is accounting software that a business builds for itself.
A business may prefer to develop a software solution that's personalized to its individual accounting needs. This is as opposed to purchasing one and adding features as you grow.
This may happen by chance, especially if the business has a technology-savvy team that can come up with a solution. It may start by developing modules for specific accounting functions that, over time, can develop into a full-blown system.
You could also hire developers to design customized software for you.
Another reason for creating custom accounting software is if the ones available on the market do not serve your company's needs.
When developing custom accounting software, it's important to have them integrate with the following modules:
Customer relations software: Easily accesses sales orders and creates quotations.
Human resource software: Integrates human resource data and employee remuneration information.
Bank accounting: Helps your system manage bank transactions in real-time across different bank accounts.
Procurement system: Tracks your purchase orders and other payments.
Asset management software: Contains data on your fixed assets and on how they're utilized and maintained.
Inventory management software: Helps your accounting system access data on your stock/inventory, its value, and movement.
Uses of Accounting Software
What are some of the main uses of an accounting tool? Let's find out.
Invoicing
One of the key uses of accounting software is to generate automatic invoices.
Businesses that manually send their invoices face several challenges, including inaccuracy and time delays. Accounting software does away with these issues.
Auto-generated invoices are timely and highly accurate, making your business look more professional. This subsequently improves the relationship between the clients and your business.
Data Storage and Security
The basic function of every accounting system is to store a business's financial data.
Since most of these transactions are made through the software, maintaining this history gets much easier.
Other than financial transactions, the system also stores customer details.
Both of these are crucial groups of data that need to be protected. As such, accounting systems ensure that these details are secure.
What does that look like?
First, they limit the number of users accessing certain pieces of information on the platform. This is done by authorizing only specific users, using password protection, and through data encryption.
Second, having financial records backed up on these platforms prevents the loss of data due to misplacement or physical damage.
Data Analysis
As mentioned above, accounting software stores historical data relating to a business's financial transactions. So what is the importance of data analysis in accounting software?
Accounting systems analyze stored data to provide useful insights in the form of reports that help with strategic business decisions.
This makes it easy for you to track your business performance on metrics like profits and losses, as well as other financial data.
Accounting software makes it easy to generate financial statements like income statements and balance sheets.
Such reports are stored on the platform and you can easily access them from your software, as shown below, to use them.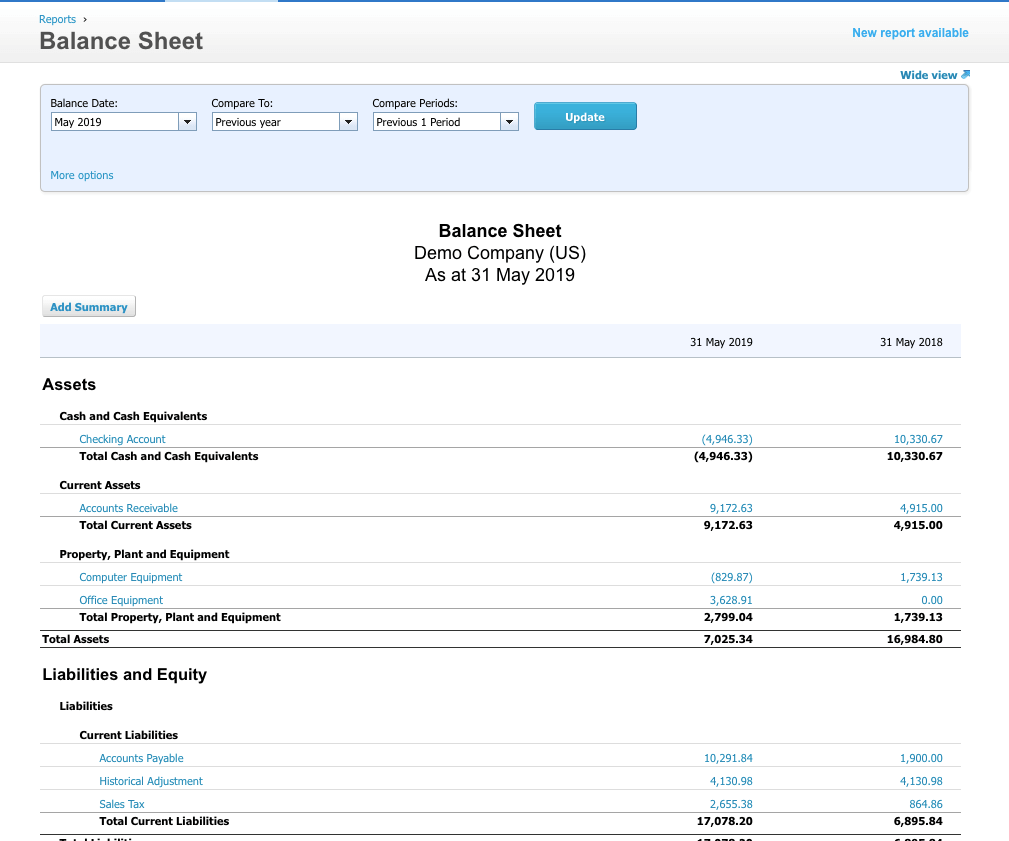 Image via Xero
This allows you to make comparisons between statements, identify disparities, and fix them.
And by analyzing historical business transactions, you can come up with possible forecasts on how future periods will likely occur.
Facilitating Transactions
Accounting systems facilitate transactions both ways—from the client to the business or from the business to its suppliers.
These systems facilitate the generation of purchase orders to keep track of a business's accounts payables.
There are several different kinds of invoices these systems can generate, depending on the nature of the transaction.
These include:
Credit notes: These are issued if you want to make refunds to a client.
Debit notes: Issued if you need to increase the amount owed by a client.
Mixed invoice: These are issued if you want to provide both a refund and an increase in the amount owed. The result could be either a debit or a credit. Either way, it incorporates two different transactions.
Commercial invoice: Issued for international sales, these include custom duty and shipment details.
Pro forma invoice: This can be sent to a client before servicing their order. It contains estimated prices of the payment they'll need to make.
Here's what a refund credit note looks like: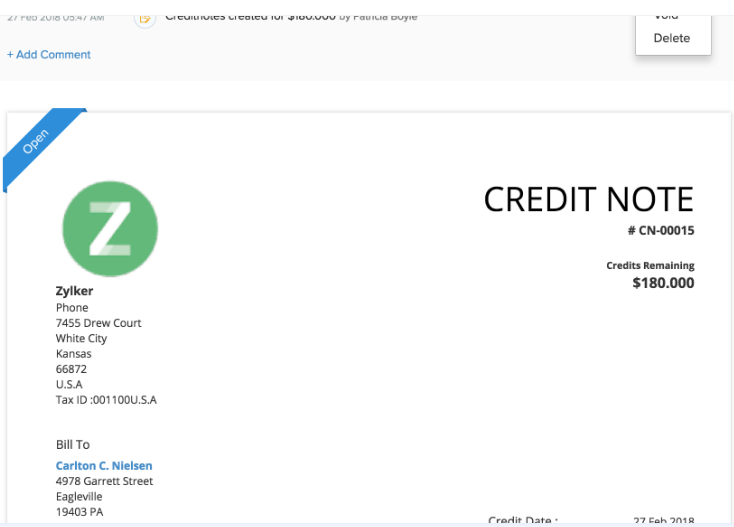 Image via Zoho
These are the most common invoices that accounting software can generate to facilitate transactions.
Besides invoices, there are other proofs of payment that accounting systems are able to generate, such as receipts.
For international financial transactions, these systems enable multi-currency options based on location. This makes commercial transactions easier across regions.
Maximizing Productivity by Efficient Resource Management
Accounting software maximizes productivity through the automation of routine tasks to save time and avoid human errors.
What resources do accounting systems manage?
Well, as suggested above, two of the main resources include time and human resources.
Accounting systems minimize human effort on tasks such as producing financial statements. Automation also frees up your employees' time and lets them focus on more important tasks.
Expense and time management features allow you to minimize your expenses, inevitably maximizing profits.
Accounting systems also produce reports and analyses that help you make better financial decisions. This is crucial for reallocating resources to more productive projects in your business.
The fixed project management aspect of accounting software also helps boost productivity. For instance, you can know where and when equipment is in use, and also manage their schedules to maximize productivity.
Through the fixed asset management system, accounting software determines a business's value by keeping track of asset depreciation or appreciation.
This way, every single resource allocation decision can be made with certainty without any risk of error.
Tax Administration
For a business to succeed, it has to work within the legal requirements of its region. The Internal Revenue Service (the IRS) has tax requirements every business needs to abide by.
Most accounting software applications have these basic tax capabilities, including 1099 forms.
Good accounting software should be equipped with different tax features. Besides 1099s, these include forms for filing:
Here's an example of what an accounting software solution's tax interface looks like: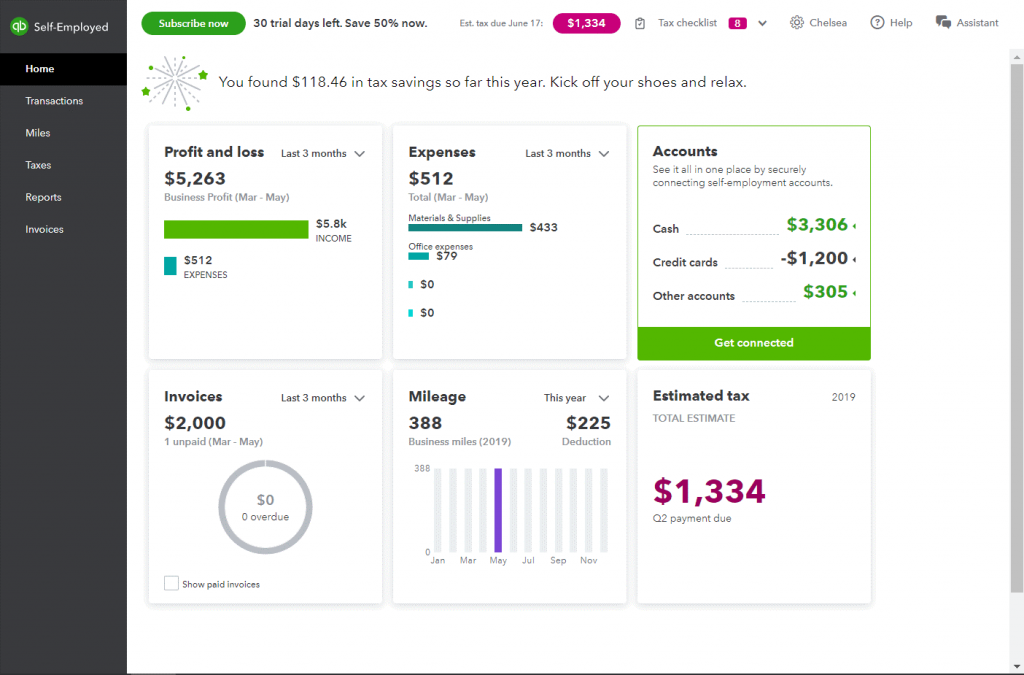 Image via Quickbooks
What are the Benefits of Accounting Software?
Every business needs accounting software for the uses discussed above. Through those functions, your financial transactions become more streamlined.
Maintaining records on spreadsheets is strenuous, even for small businesses. That's where accounting software comes in.
Here's what you stand to gain by using accounting software.
Cost Savings
With a good accounting software solution, you won't have to outsource financial management to a third party. Instead, you can take control of your finances yourself.
This reduces your labor costs.
The systems also store sensitive data online, reducing the costs related to printing and distributing documents.
Accounting software can help reduce costs for companies by reducing the requirement of manual data entry and analysis. This way, you don't have to employ more people or overwhelm your existing team.
This will allow your employees to focus on other important tasks.
Financial Transparency
Transparency is the core characteristic of good accounting software.
What makes financial transparency so important?
Accounting reports need to be transparent so that investors can easily understand a company's financial details. They need to know how the company is managing its debts, profits, and overall cash flow.
Accounting software allows them to watch in real-time how their investments are fairing and evaluate the company's overall performance.
Accurate Forecasting
With a clear overview of your current financial status, you will find it easier to develop smart strategies and allocate resources correctly.
Understanding the patterns and trends of your financial performance in detail is not always that simple. Therefore, you should use accounting software to produce reports and analytics that make this easier for you.
Accurate forecasting gives insights that help you understand what to forego and what to invest.
The best accounting software solution will also help you develop smart strategies and allocate resources to the right channel.
Productivity Improvements
There are different types and features of accounting software. All these work hand-in-hand to ensure that your finances are efficiently managed.
It increases your business' productivity by adequately managing and utilizing the resources available to their maximum potential.
Although different types of accounting systems could integrate to work together, expense and time management systems prioritize productivity.
What's more?
They specialize in time utilization and expense reduction to increase business profits.
Other types of accounting software such as the resource planning system ensure that your business utilizes available resources optimally to improve productivity.
Tax Compliance
Every business needs to comply with the tax laws of the region they operate in. Most accounting software is designed to automatically comply with such taxation laws.
Accounting software prevents you from incurring penalties that would have been imposed on your business for non-compliance with these laws.
Avoiding these penalties assists your business in maintaining a good reputation with the region's authorities. It also leads to increased profits.
Enhanced Customer Relations
Keeping customers happy is the key to the success of any business. It is, therefore, important to ensure that you maintain a healthy relationship with them.
Accounting software helps you send invoices on time, provides convenient payment options, and offers many features that help maintain smooth transactions.
Such smooth transactions encourage more business between you and the client. This is because professional business conduct assures the clients of your business's credibility.
Simplified Accounting Processes
Accounting software, at its very core, is designed to make your accounting processes more streamlined and efficient.
It performs automated calculations for your business, minimizing errors and improving accuracy.
Such software also makes it easier to handle a large amount of transactional data. This reduces the time used in analyzing this data manually.
Accounting software also keeps track of and stores all your financial transactions in an organized format. This makes it easier for you to access historical transactions and financial statements.
Security
Accounting systems protect a company's financial data from falling into the wrong hands or getting lost. This is extremely important, as financial data is a company's most valuable information.
What do accounting systems do to ensure high levels of security?
For one, accounting systems cover your data under layers of high-end encryption algorithms. Believe it or not, this makes it much safer than keeping it on an office shelf.
With accounting software, you never have to worry about backing up information because the system does it for you.
In most cases, you can design a security structure of your own and decide who will have access to sensitive data.
For instance, you can give approval rights to specific employees, as shown below.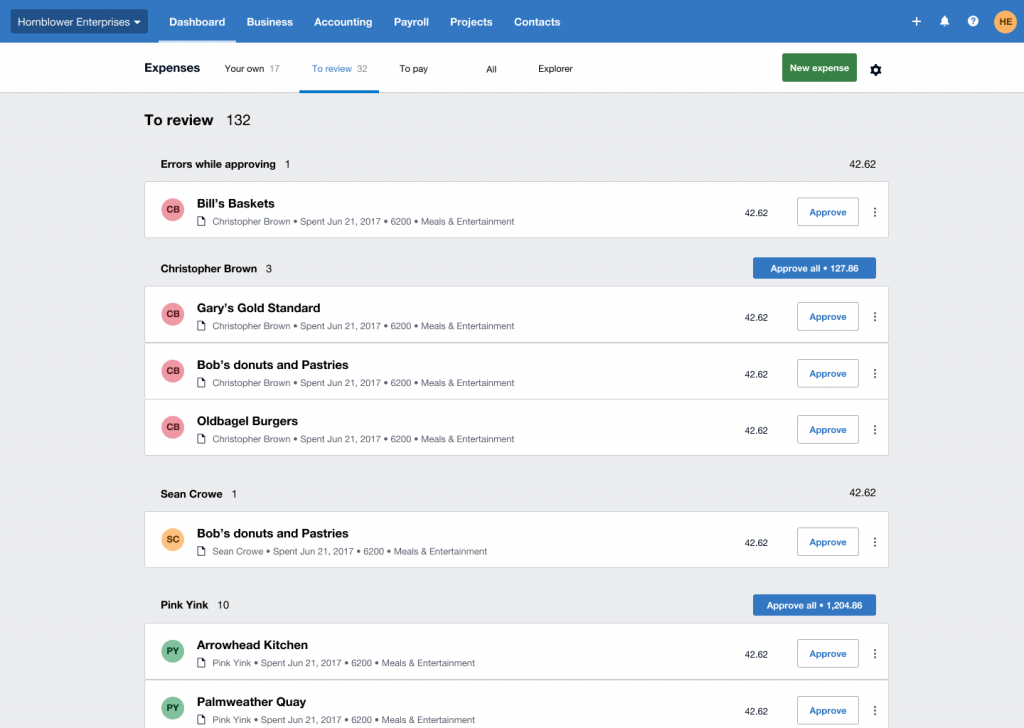 Image via Xero
You can use this feature to prevent unauthorized personnel from accessing confidential information.
The best part is that all of your data is synced at all times. Not only is it secure, it's also up to date.
6 Best Accounting Software Solutions for Small Businesses
What are some of the best accounting software solutions in the market?
This section takes a look at the top 6 accounting tools that are great for small businesses. We discuss their key pros, cons, and pricing.
This list should give you an overview of where to start when selecting an accounting system.
Let's get started!
1. Xero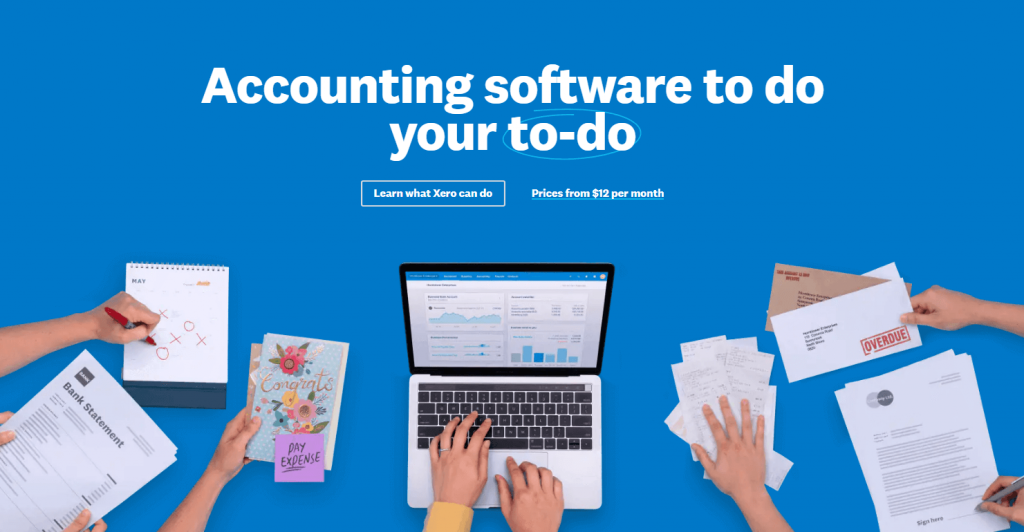 Image via Xero
Xero is a cloud-based accounting software solution that has a user-friendly interface. This makes it one of the simplest accounting software applications to use.
You can also integrate it with third-party software, such as payroll systems and payment options like Stripe.
Besides its basic financial functions, Xero also offers expense management, project management, and multicurrency functions.
Xero is widely used worldwide with over 3 million users and lots of positive customer reviews.
Pros
Excellent customer support
Easy to use
Has a mobile app
Web-based
Learning resources for new users
Cons
Provides only Basic analytics
Pricing
Early: $12/month
Growing: $34/month
Established: $65/month
2. QuickBooks
Image via Quickbooks
Quickbooks is a popular accounting software solution for small businesses and professional accountants.
What makes Quickbooks worth considering?
First this platform has a single, integrated dashboard where you can access all the modules. This makes it very easy to use and navigate.
Also, it has numerous features, including payroll, inventory management, and different tax capabilities.
It's easily customizable depending on a user's needs, especially if you use the mobile app. Quickbooks also provides learning materials to help set up and use their platform.
Pros
Cloud-based
Allows third-party integrations
Has a mobile app
30-day free trial
Affordable
Cons
Lower packages are limited to just a few users
Pricing
Simple Start: $8/month
Essentials: $12/ month
Plus: $17
3. Sage Intacct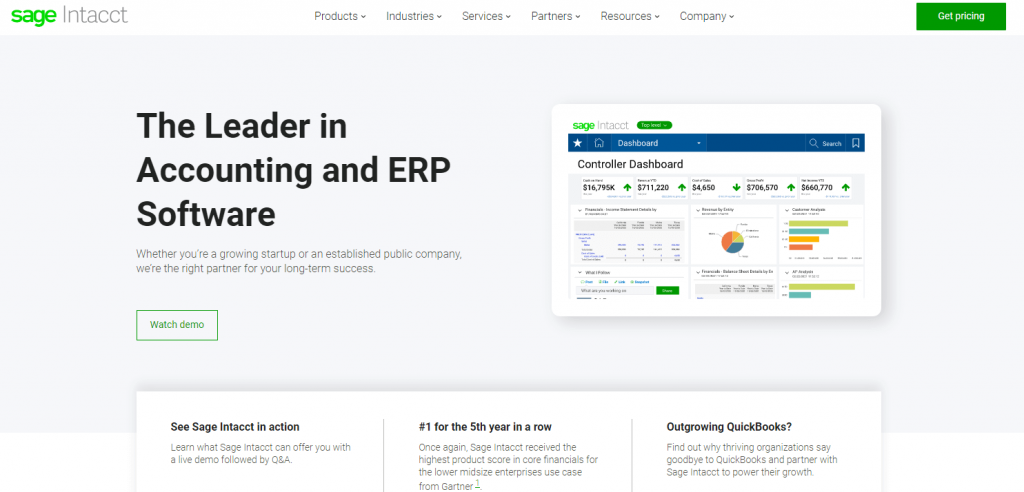 Image via Sage Intacct
Another top accouting platform for small businesses is Sage Intacct. This software is among the most popular accounting and resource planning software applications on the market.
Here's what Sage Intacct does well.
It has AI-based accounting capabilities and analytical and budgeting features that make your accounting process easy.
Sage Intacct has an accounting solution for every industry.
Pros
Detailed analytics
Seamless integrations
Cloud-based platform
Great customer support
Cons
User interface is not very user-friendly
Pricing
Contact their team for pricing.
4. FreshBooks
Image via FreshBooks
FreshBooks is a great option for small businesses that use the invoicing feature heavily. It offers lots of customizable options for sending, receiving, and editing invoices.
You can also change the appearance of your invoice to fit a specific client. This feature sets it apart from most accounting software that doesn't provide such flexibility with invoices.
Simply put, invoicing is what FreshBooks does best. This, however, doesn't mean there aren't other excellent features on this platform.
Other equally effective functions by FreshBooks include budgeting, payment collection, and financial estimates.
Pros
Customizable invoices
Seamless third-party integrations
Affordable payment plans
Cons
No stock management or payroll services
Pricing
Lite: $6 per month
Plus: $10 per month
Premium: $20 per month
Select: Customized
5. Wave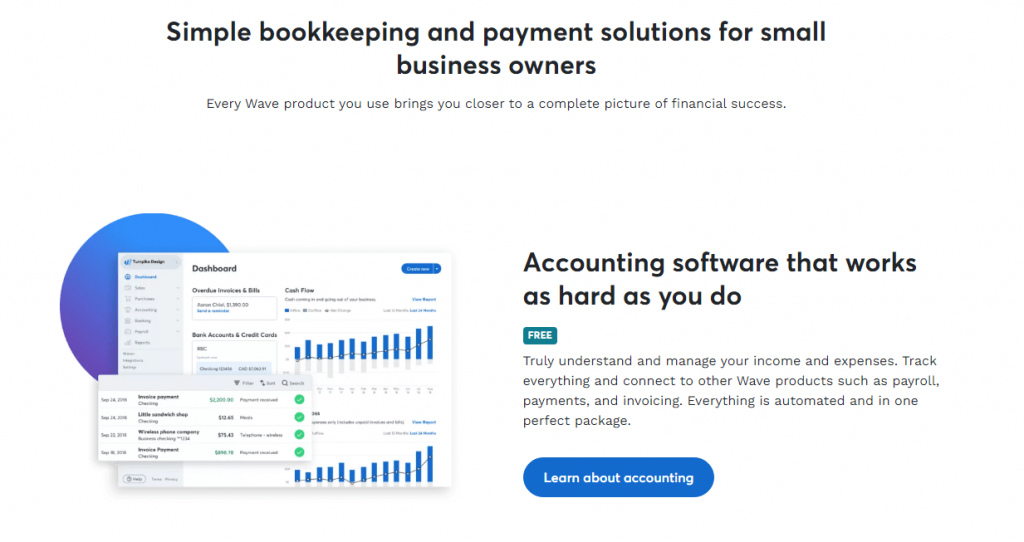 Image via Wave
Wave is among the most-used free accounting software in the market.
So what is it best known for?
Besides being free, Wave offers unlimited packages for accounting and invoicing functions.  It's one of the best options for growing small businesses with a low budget, especially ones that don't have much structure yet.
For instance, a service-based startup business that just needs basic invoicing functions will likely find everything it needs with Wave.
The free version for such businesses covers all basic accounting and invoicing functions. This includes generating reports for tax purposes.
Pros
Free accounting and invoicing
Multiple users access
Mobile app
Cons
No inventory management tool
Pricing
Regarding their paid packages, you can either pay per use or choose a monthly plan starting at $35 per month.
6. Zoho Books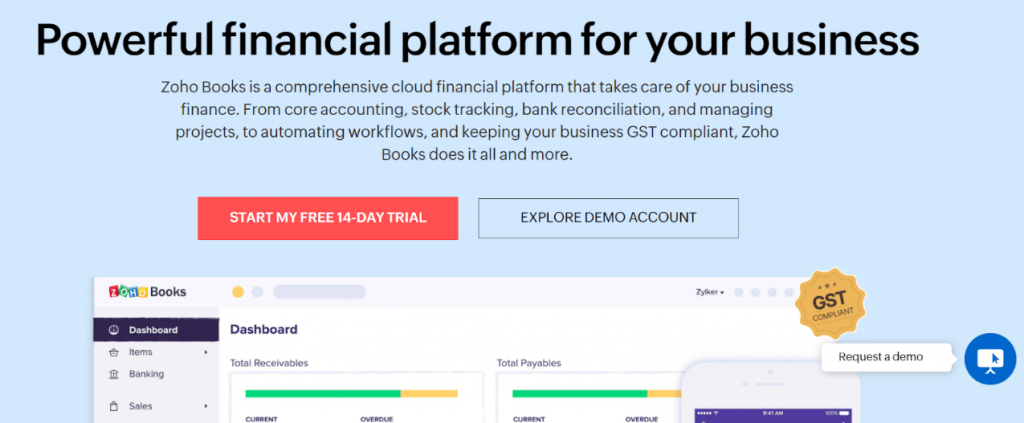 Image via Zoho Books
Zoho Books is a cloud-based accounting software solution, one of the many applications provided by Zoho. Zoho Books has a mobile app that you can use on your android or iOS device.
It's suitable for small businesses as it lets you upgrade and add more features as your business grows. Also, if you're using any other Zoho tools, it offers seamless native integrations with the entire suite.
What's more?
You get customizable invoices, expense tracking, banking, time tracking, reporting, and taxation features, among others.
Pros
Free trial available
Easy to use
Affordable plan options
Cons
No payroll management feature
Pricing
Standard: $15 every month
Professional: $40 per month
Premium: $60 per month
Zoho Books also has a free plan that allows one user and 1,000 invoices per year.
Now, let's understand how these prices are determined in the next section.
Factors Affecting the Price of Accounting Software
You need accounting software that meets your business needs but is also within your budget. So when choosing one, you may want to consider more than just the pricing.
So what exactly should you consider?
Expensive doesn't always mean effective, and neither does cheap mean inadequate. There are a couple of factors that contribute to the differences in the pricing of the tools we just discussed.
These next sections discuss what these factors are:
Type of Software
One way to classify accounting software is to determine whether they're cloud-based (online) or desktop-based.
Desktop accounting software mostly charges annual fees whereas cloud-based software offers monthly plans to their users.
Depending on your preference, you can choose between either. Additionally, developing desktop accounting software can be cheaper than subscribing to cloud-based tools.
However, you'd probably need a tech-savvy team to maintain it, ensure security, make updates, upgrade it as your business grows, etc.
On the other hand, paying for cloud-based software comes with recurring payments, but everything else is taken care of as far as maintenance goes. What you choose depends on your business model.
Features of the Software
Depending on the number of features offered, the developer may charge you differently.
They may opt to either charge a standard fee for all features or charge you based on the number of features your business requires. These are commonly known as add-ons.
You may also be charged according to how many times you have used the software solution.
Getting the right accounting software with the necessary features requires you to choose wisely.
So what's the importance of checking features before paying for your accounting software?
If you're not careful, you might find your business paying for many unwanted features. You may even have to pay extra for add-ons to get a fully functional system.
So, carefully search for the software solution with the most useful features for your business. Then later, if the need arises, you can pay extra for any necessary add-ons.
For instance, some basic features found in most software include invoicing and records of payments.
However, additional features such as payroll integration, facilitation of credit card payments, and having invoice payment reminders would require extra cost.
Here's an example of an add-on for which you'd incur extra costs: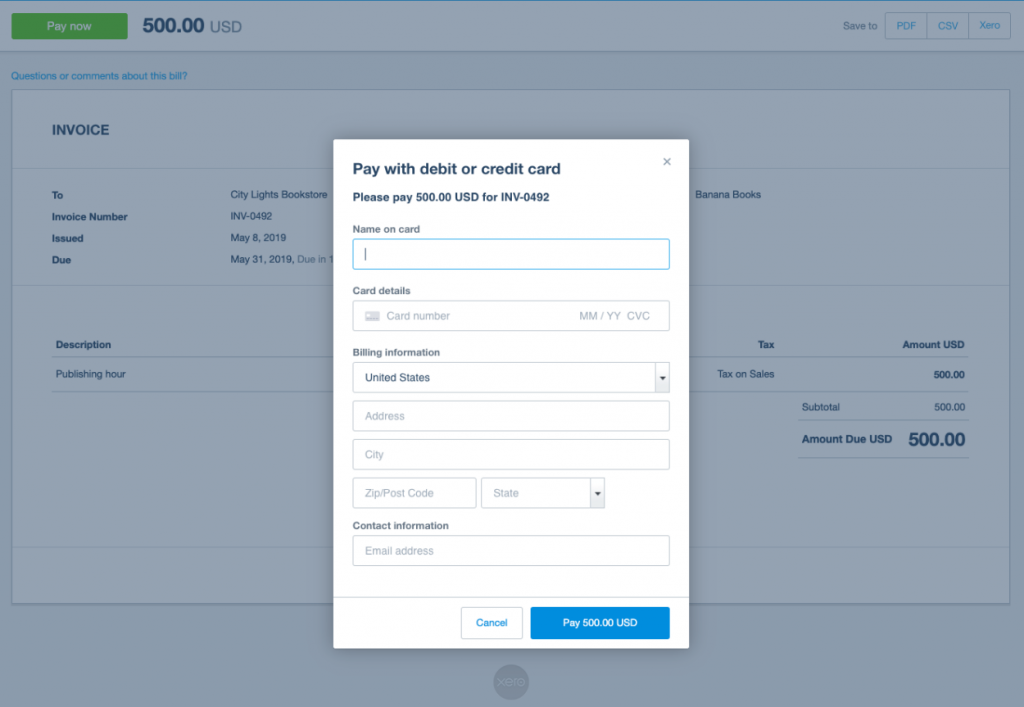 Image via Xero
Customer Support
While all vendors will offer some form of customer support, the ones that provide 24/7 support through various channels are the best. Some premium tools may offer better customer service, something else that would reflect in their price.
Some companies offer different tiers of support, so be sure to check that before choosing an accounting system.
The Number of Customers and Vendors
There are different ways in which accounting software sellers choose what to charge you.
Some charge based on the number of invoices you send in a particular period, while others may charge more for multiple users.
So be sure to carefully calculate the price you may have to pay based on your business requirements.
Add-on Charges
What are add-ons and how do they affect the pricing of accounting software?
As mentioned, add-ons are additional features offered by accounting software over and above basic plans.
Be sure to figure out any hidden fees linked to add-ons, as these could make the use of the platform costly.
Some of the common hidden fees associated with add-ons in accounting software are:
Start-up fees
Customer service fees
Cancellation fees
Fees for additional users
Annual upgrade fees
Without your knowledge, these fees can accumulate to increase the cost to something that your business might not have accounted for.
Frequently Asked Questions
1. What exactly do you mean by "accounting software"?
Accounting software is an application that helps accountants or accounting firms record and analyze a company's financial transactions.
An accounting system automates many financial transactions such as billing, invoicing, and payroll management. It also makes forecasts about the business' future budgets from already processed financial data.
Additionally, it assists you in managing the available resources of your business and using them optimally.
Accounting software ensures that your business manages all its financial duties effectively and on time.
2. What is the most commonly used accounting software?
Quickbooks, Xero, and FreshBooks are some of the most popular and commonly-used accounting software.
3. What are the types of accounting software?
Here are the 4 types of accounting software by use:
Payroll management systems
Business resource planning systems
Expense and time management systems
Billing and invoicing systems
Custom accounting software
Another categorization of accounting software classifies them as on-premise or cloud-based systems.
On-premise or desktop-based accounting software is installed locally on devices and servers. Cloud-based software is hosted by the vendor and accessed over the internet.
4. What are the uses of accounting software?
Accounting software performs many functions. Among other things, the list includes:
Invoicing
Billing
Payroll functions
Resource management
Data storage
Cashflow tracking
Data security
Data analysis and reporting
5. What is the simplest accounting software?
The most commonly used accounting software applications are popular for their ease of use. Examples include Xero, Wave, and Quickbooks.
6. What are the top accounting software?
The top accounting software applications are:
Xero
Quickbooks
Sage Intacct
FreshBooks
Wave
Zoho Books
These tools top the list because of their easy usability, integration to third-party apps, and the different accounting functions they offer.
7. What factors should I consider when choosing an accounting software solution?
Here are the key items to consider before choosing an accounting solution for your small business:
Your accounting needs
Your budget
User-friendliness
Key and add-on features
Type of Software
Integrations with other tools
Price
These should help you pick the best option for your small business.
8. When is accounting software for a small business necessary?
Spreadsheets may be enough to run your business's accounting operations at the beginning. As time goes on, however, you'll need an accounting system. Here are the signs that it's time:
When your business starts growing rapidly
If you start spending too much time on routine tasks
When you start noticing a lot of accounting errors
If you can't quickly access the information you want
If you lack the proper accounting skills
All of these signals tell you that it's time to get your practices automated to save time and reduce your room for error.
9. Do I have to use accounting software?
No. Using accounting software is not a prerequisite for the success of your small business.
However, the benefits of accounting software far outweigh the costs.
Furthermore, most accounting software applications are relatively cheap and will save you a lot more time and money.
10. Why do we need accounting software?
Your small business needs accounting software for various reasons:
Having accurate accounting transactions
Saving time by automating most tasks
Storing financial data securely
Generating reports for financial predictions and budgeting
Ready to Start Using Accounting Software?
If you've been keeping your accounting records manually and it's getting tedious, it's time to invest in a good accounting software solution.
Now that we've answered the question "What is accounting software?" and you know what to look for in one, picking the right tool for your business should be much easier.
Accounting software can make your accounting and financial processes more efficient and streamlined. It will help you avoid errors and get things running smoothly, saving a lot of time, effort, and money in the long run.
Use this post as your guide and choose the best option for your business based on your requirements. Good luck out there!