Incfile's About Us page states that it lets business owners have peace of mind in knowing that their business is in the hands of experts.
But is this really the case? Is Incfile reliable as a business formation service? We'll find out in this candid Incfile review.
We believe that if you're going to invest in a business formation service, it should be one that:
Streamlines your business formation process
Takes the paperwork and administrative workload of forming a business entity off your hands
Continues to provide compliance support even after your company is legally registered
Does Incfile offer that? This review will provide you with a comprehensive answer.
Start with Incfile for Free
You May Also Like
:
Incfile Review: The Summary Box
Incfile is one of the top business formation services in the market.
As we'll see in this Incfile review, they offer a wide range of services to business owners, both free and paid. Business owners can form a business in any of the 50 states.
All you have to do is choose an entity type, select your state, pick your package, provide your details, and they'll do the rest for you.
It's one of the few companies that offers business formation services for free.
Every formation package from Incfile comes with unlimited name searches and a full year of free registered agent service.
Higher-priced packages come with other perks like business tax consultation, business bank account, and a federal tax identification number.
Product Rating
| | |
| --- | --- |
| | Rating (Out of 5) |
| Customer support services | 4/5 |
| Value for money | 4.5/5 |
| User-friendliness | 5/5 |
| Features | 5/5 |
Start Your Business for Free
Pros
A free business formation service package, all you have to pay is state fees
A convenient online dashboard that keeps all essentials in one accessible place
Unlimited name searches
Lifetime alerts and reminders
One year of free registered agent service for each package
Offers grants to entrepreneurs
Quick turnaround times
User-friendly business formation process
Plenty of resources available for business owners
Cons
The higher-tiered packages have a hefty fee attached to them
Incfile customer service is not always reliable
Cancellation fee
Pricing Details
Business formation services
Silver: $0 plus respective state filing fee
Gold: $199 plus respective state filing fee
Platinum: $299 plus respective state filing fee
Standalone Services
Amendment: $99 plus the respective filing fee
Registered agent service: $119 per year
Virtual address: $29 per month
Tax ID number (EIN): $70
Certificate of Good Standing: $49 plus state fees
Doing business as: $99 plus state fees
Foreign qualification: $149 plus state fees
Change of registered agent: $49 plus state fees
Business license and permit fees service package: $99
Annual report: $99 plus state fees
S-Corp election: $50 for LLCs and $25 for Corporations
Trademark registration: $199 plus filing fee
Company dissolution: $149 plus state fees
Company reinstatement: $199 plus state fees
Tax and accounting services: $90 per month for the Starter package and $180 per month for the Plus package
Corporate kit: $99
Start Your Business with Incfile
Who is it For?
Incfile is an ideal business formation service for entrepreneurs who:
Are busy and want to set up their business fast
Have a hard time understanding the paperwork that's needed when forming a business
Are new to business formation and need guidance with licenses, tax matters, and other compliance requirements
Need a one-stop-shop for business formation services, such as EIN application and registered agent service
Want to delegate the task of filing the business formation filing paperwork and focus their time on other tasks like marketing and hiring staff
Business Formation Service Features
Operating agreement
S-Corp election
EIN
Lifetime company alerts
Business tax consultation
Online dashboard
Banking resolution
Business bank account
Business email and domain name
Contract templates
Start Your Business for Free
You May Also Like:
Detailed Incfile Review
What is Incfile?
It's an online full-service for business formation.
It offers legal document preparation and filing services, as well as additional services like getting an EIN, registered agent services, and more.
The business began operations in 2004 and has worked with over a million business owners.
Besides being a useful full-service company for new business owners, Incfile offers financial support to aspiring and new entrepreneurs through grants. Students with an entrepreneurship spirit get financial aid as well.
The 2023 Young Entrepreneur Scholarship Grant winner, for instance, wins $2,500 to complete their education.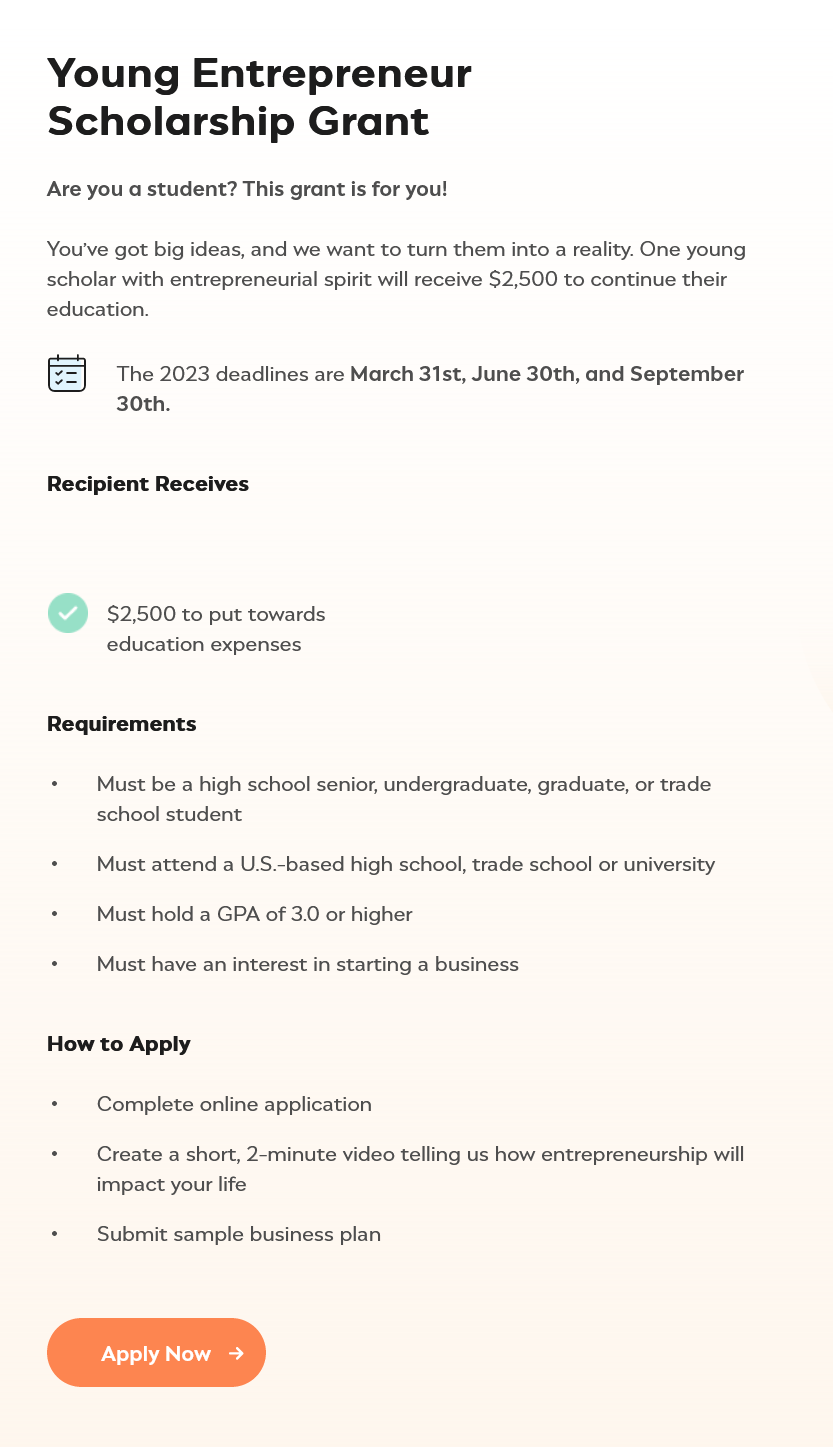 Image via Incfile
Winner of the 2023 Fresh Start Business Grant, on the other hand, gets the Incfile's Gold package for free and $2,500 in cash.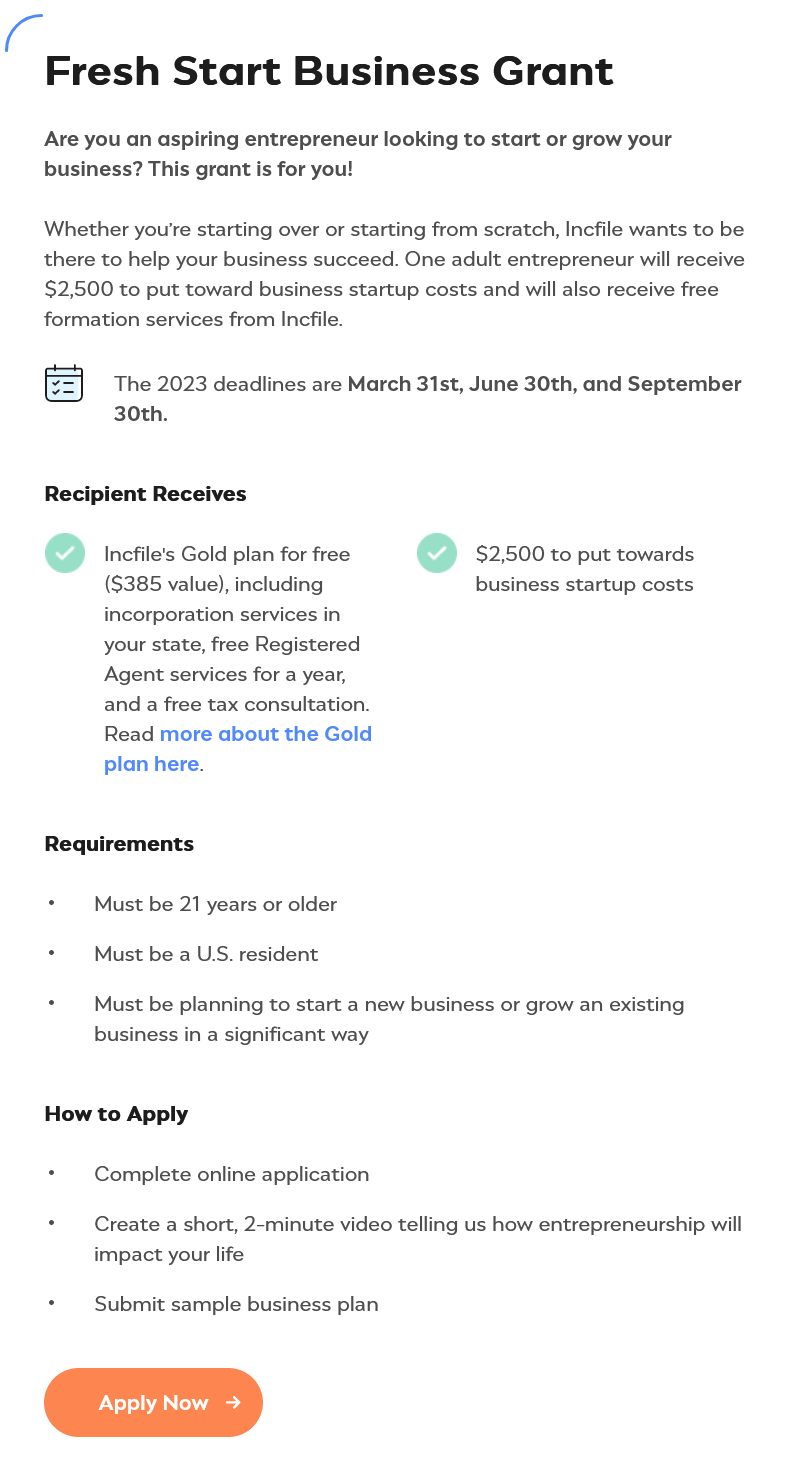 Image via Incfile
Start Your Journey with Incfile
How Does Incfile Work?
Incfile helps business owners form a legal business entity through a straightforward process that involves a few clicks.
They can help you form:
Limited liability company (LLC)
C-Corporation
S-Corporation
Non-Profit
From choosing a unique business name to picking the best entity type for your venture, Incfile works with business owners to find solutions that fit them the best.
The business formation process will basically involve the following steps:
1. Select an entity type.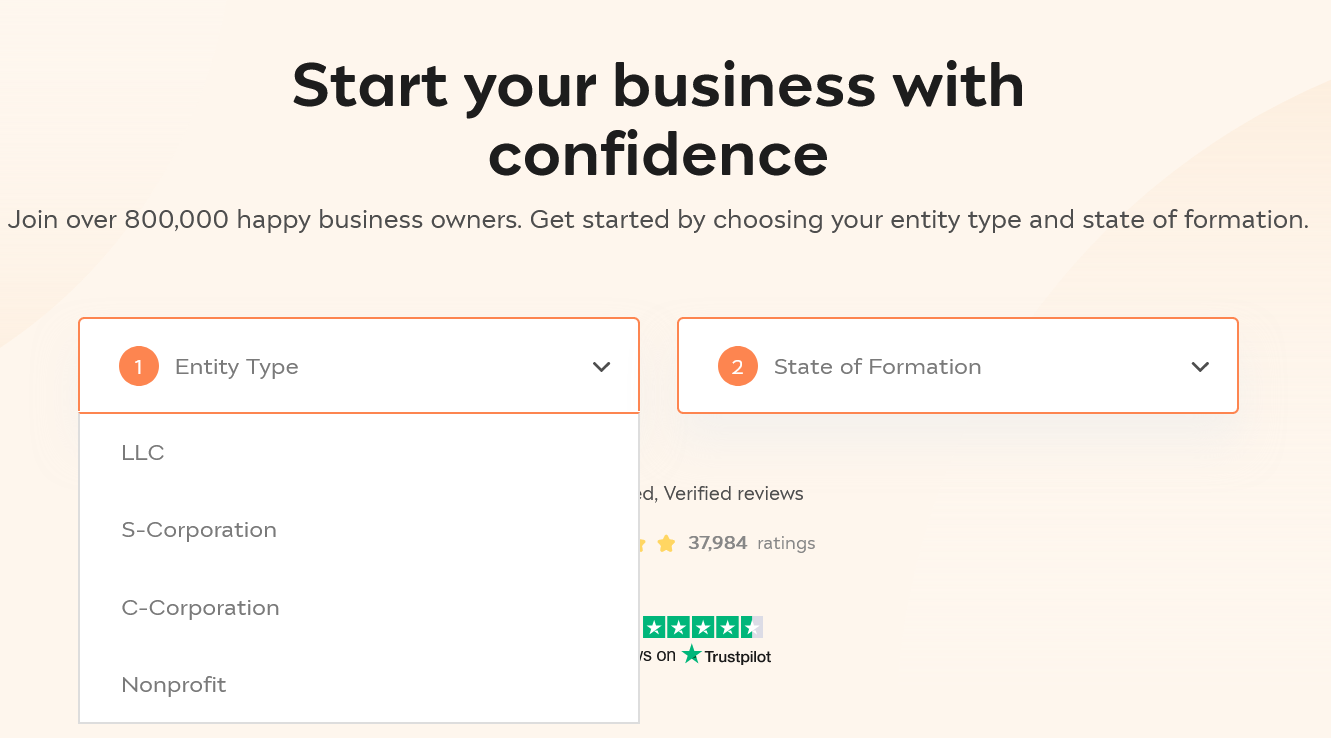 Image via Incfile
2. Select the state in which you want to start your business.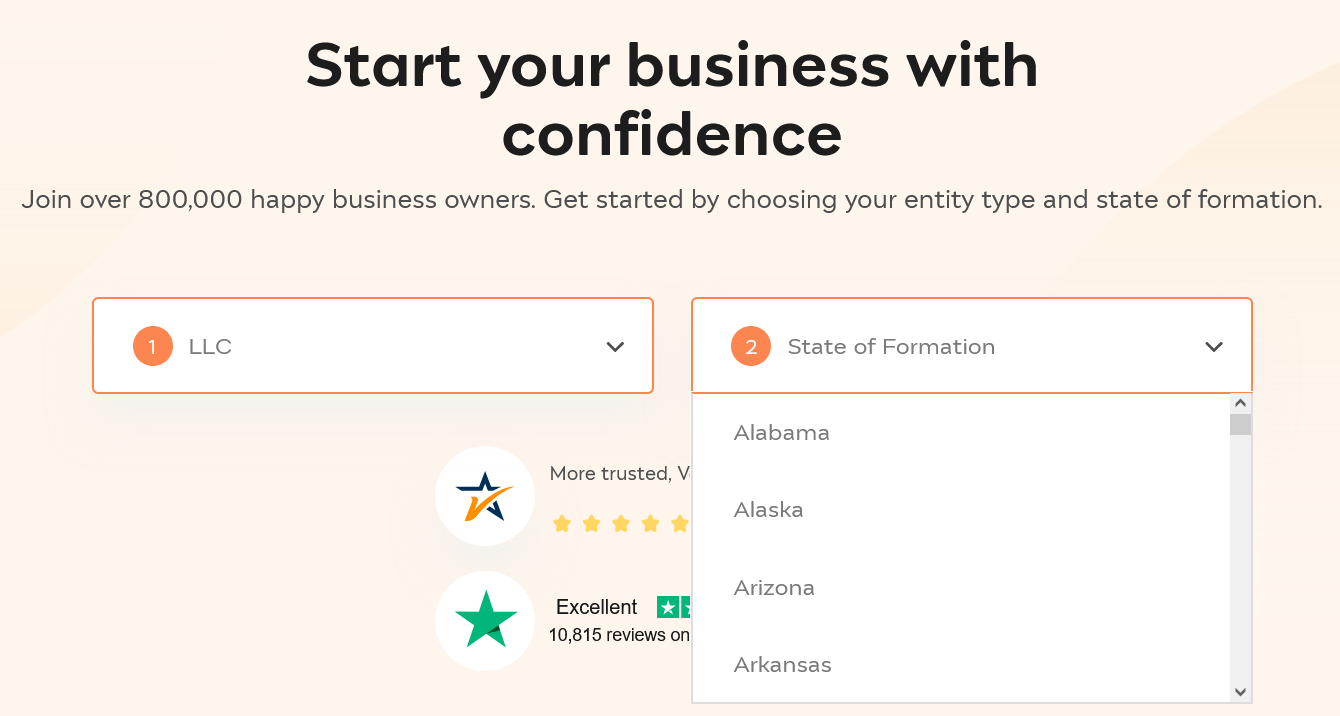 Image via Incfile
3. Choose a formation package.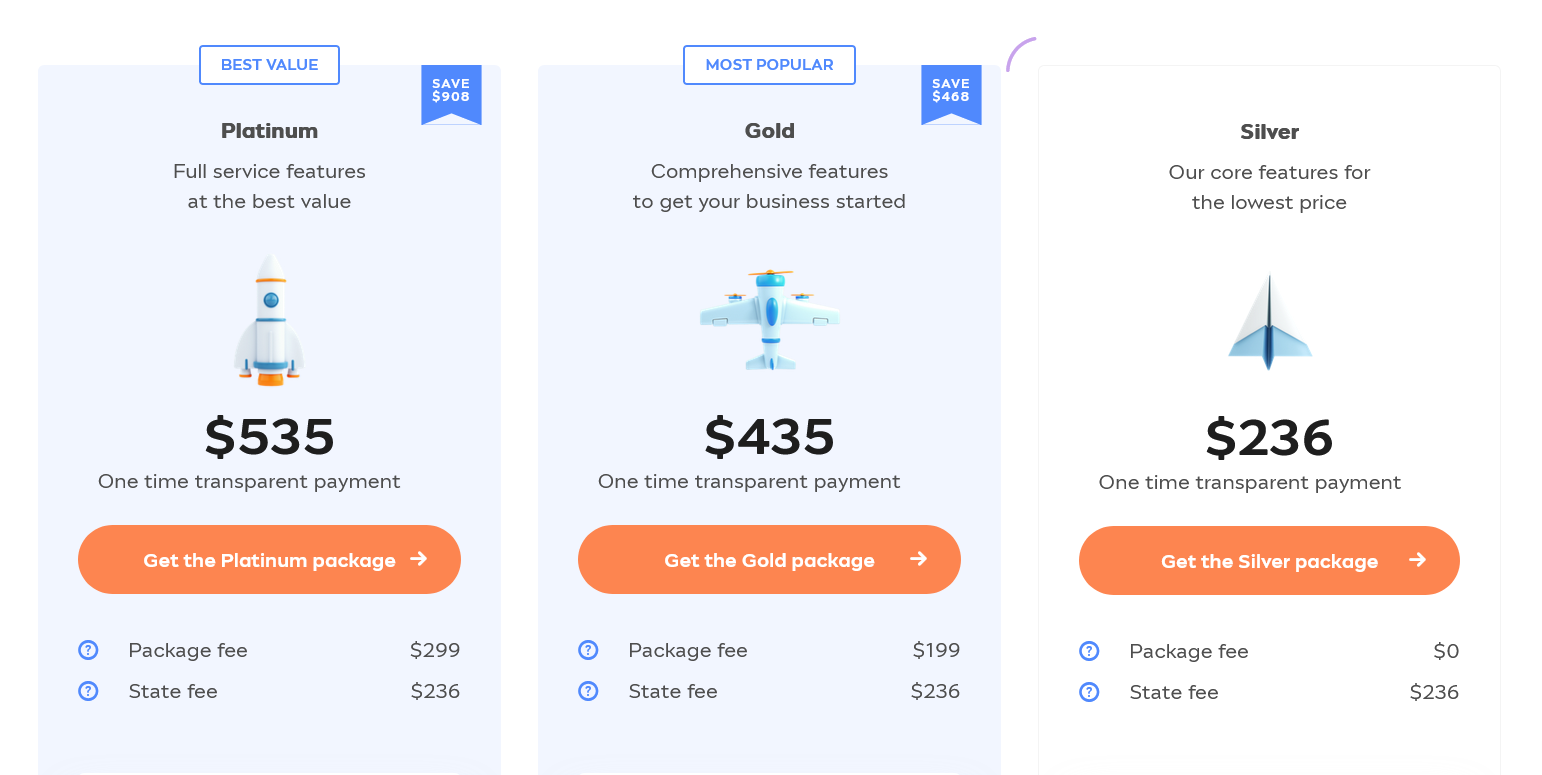 Image via Incfile
4. Start answering some questions about your business. Incfile will use this information to file the required documents for the business formation.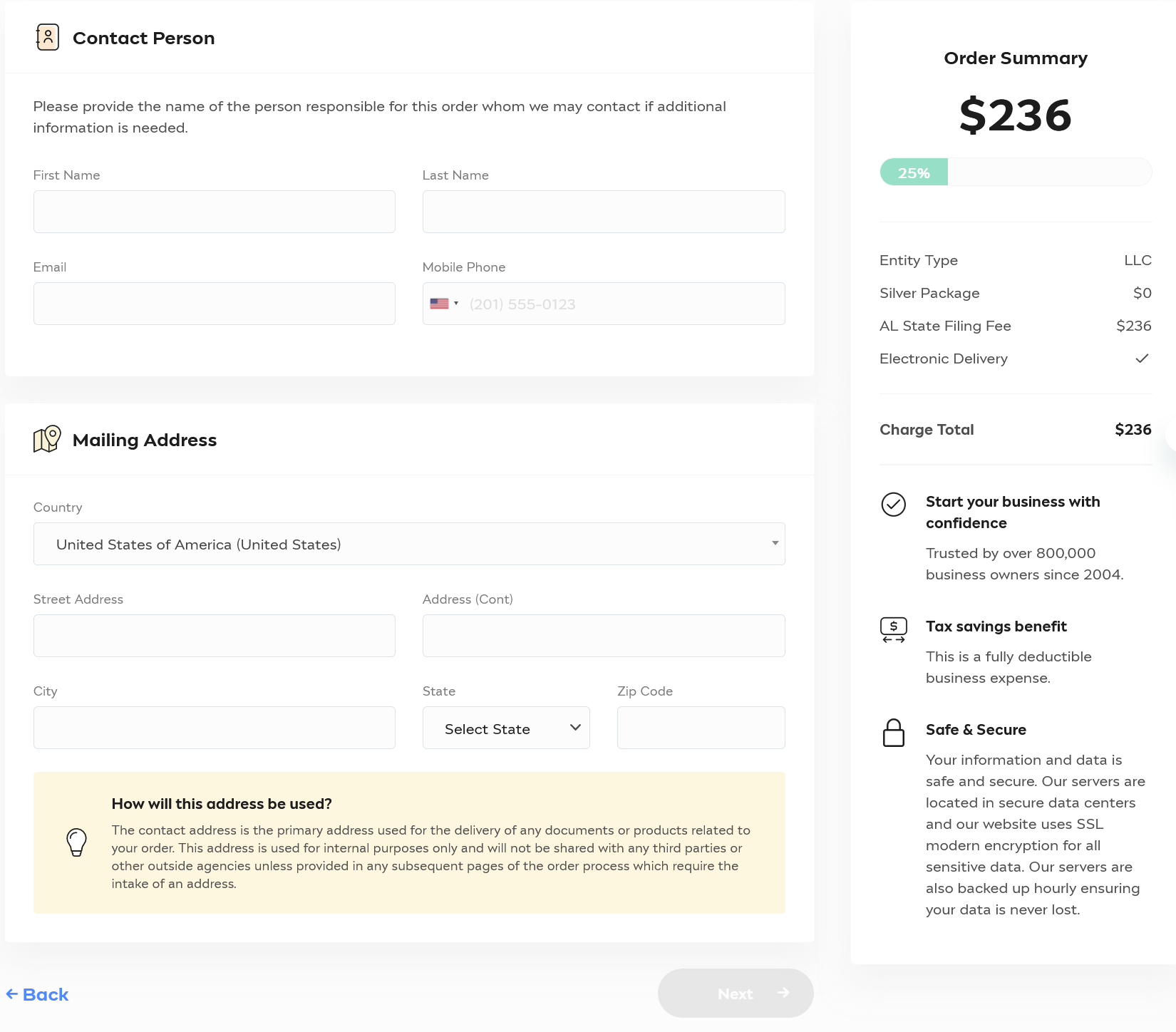 Image via Incfile
Here's some of the information you'll need to provide:
Name of your business
Business address
Business purpose and industry
Number of members and percentage of ownership of each member
Names, addresses, and contact details of the business owners (members)
Name and address of your registered agent (Each package comes with one year free of registered agent service)
Start date of the business
If it's a temporary business, its end date
Incfile also offers plenty of services that business owners can use to get their business up and running profitably. You can also select additional services you want, such as a virtual address.
And that's not all.
Incfile provides its customers with ongoing support, such as:
Business tax consultation
Reminders of compliance requirements
Contract templates
It's a one-stop-shop for business owners.
Once you start your process with Incfile, all your details and documents will be available in an online dashboard for easy access. This is also where you'll get reminders and compliance alerts.
Launch Your Business for Free
Incfile Services
Apart from the business formation service, here are some other services Incfile offers separately.
Amendment
As a business owner, you're required to file Articles of Amendment when you've made major changes to the details stated in your Articles of Incorporation or Articles of Organization.
This can be changes, such as:
Business activities
Business address
Directors
Number of issued authorized shares
Registered agent
Incfile can file the Articles of Amendment for you at a fee of $99 plus the respective filing fee of your state.
Registered Agent Service
Corporations, LLCs, and non-profits are required to have an individual or entity in the state they're registered in, known as a registered agent.
The registered agent has to be present at the registered address during regular work hours. They have to receive correspondences like litigation notices, compliance-related notifications, and other legal and tax correspondence.
You can be your own registered agent but that can hamper your mobility. But with Incfile, you can get a registered agent service for $119 per year.
But as we mentioned, if you form your business through Incfile, you get free registered agent services for the first year. From the next year, the cost falls back to $119 per year.
Virtual Address
For a fee, Incfile offers you a virtual street address where you can receive your business's mail in other states. They scan all your communication and send it to you on your dashboard.
This makes it easy to operate your business without expensive setup costs in other states. The cost of the virtual address service is $29 per month.
EIN / Tax ID Number
Businesses need an EIN for basic operations like filing income taxes, paying employees' wages, applying for credit, opening a business bank account, and more.
Incfile takes away the hassle of applying for an EIN. They'll handle the process for you at a fee of $70.
Certificate of Good Standing
A Certificate of Good Standing provides tangible proof that your business is compliant with the laws of your state and has met its tax obligations.
You may need a Certificate of Good Standing when applying for credit, carrying out some financial and business transactions, or getting into contracts.
When the need arises, Incfile can help you obtain a Certificate of Good Standing from your Secretary of State for $49 plus the required respective state fees.
Doing Business As (DBA)
A DBA or fictitious business name (FBN) is a name other than your official business name that you can use to conduct business.
You could use a fictitious business name in a situation where you have multiple branches or product lines and wish to create a distinctive brand identity for them to make it easy for your customers to recognize you.
Similarly, if you have a Sole Proprietorship or Partnership, you can opt to operate under a DBA instead of your personal names.
You can register your fictitious name for $99 using Incfile, plus the respective state fees.
Foreign Qualification
If you're expanding your business operations to different states, other than the one your business is registered in (domestic state), you need to register to do business in that state with the relevant state agency.
It's what's known as obtaining a foreign qualification.
You get a Certificate of Authority upon successfully applying for foreign qualification.
Incfile's foreign qualification service can help you gain legal standing to operate your business in any state of your choice.
They'll do a name search for you, get you a registered agent, and file the necessary paperwork at a cost of $149 for each state. You'll also need to pay for the respective state filing fees.
Change of Registered Agent
Changing your registered agent and failing to notify the Secretary of State can result in hefty fines. The consequences could go as far as losing your business license.
Besides, failing to update the address of your new registered agent means you could fail to receive correspondences in a timely manner.
To update it, you need to file a "Change of Registered Agent" with your Secretary of State and pay the stipulated processing fee. Incfile does it for a service fee of $49.
Business Licenses or Permit Fees
Failure to pay your business licenses and permit fees can result in:
Hefty fines and penalties
Revocation of your business permit or license
Inability to get into contracts and obtain credit for lack of a valid business license, permit, or Certificate of Good Standing
Yet, depending on the nature of your business, it can be hard to keep track of the licenses and permits you need.
Thankfully, Incfile offers a package where business owners get a licensing expert who does all the research regarding the permits and licenses a business needs at the local, state, and even federal levels.
The thing is that each state has varied requirements for licensing for every type of business. Finding these requirements and working based on them can be challenging to do all by yourself. But with Incfile's business package, you can get it done for $99.
Annual Reports
Every year, businesses are required to file an annual report with their state agency and pay a set fee.
The annual report is meant to provide the Secretary of State with an update about the business' operations, ownership, financial performance, and any legal or regulatory proceedings.
You can file your annual reports through Incfile at a cost of $99 plus state fees.
S-Corp Election
The IRS provides Corporations with the option to be taxed as a Sole Proprietorship or Partnership by electing to become an S-Corp and not a C-Corp.
Instead of getting taxed at the corporate level, shareholders are required to report the income in their individual income tax returns. It protects them from double taxation.
Limited Liability Companies can elect to be taxed as an S-Corp as well. For LLCs, it helps reduce the self-employment tax bill.
To elect the S-Corporation tax treatment, you'll need to file Form 2553 with the IRS, which can be a complex and burdensome process.
Incfile's S-Corporation Tax Election service can ensure you make the application correctly and with little stress. The service fee is $50 for LLCs and $25 for Corporations.
Trademark Registration
Registering a trademark with the United States Patent and Trademark Office (USPTO) protects your business name, logo, tagline, and slogan from use by other businesses.
Incfile offers the service at a fee of $199 plus the required filing fee.
They'll carry out research to ensure the artistic or literary work isn't already registered, then they'll prepare and file the trademark application on your behalf.
Company Dissolution
Once a company stops operations, it's important to officially dissolve it by filing the Articles of Dissolution.
It tells the state that the business no longer exists.
Without filing the Articles of Dissolution, the company remains liable for business taxes, annual reports, and other state requirements.
It could lead to an unnecessary accumulation of fees.
To properly terminate the company, you need to take these steps:
Hold a meeting with the Board of Directors to show a majority of the directors voted for the closure of the company. For a Corporation, you need a written document of the decision reached, signed by all shareholders
Get a Certificate of Dissolution after filing the Articles of Dissolution
Ensure you've paid all federal and state business taxes due to get tax clearance from the IRS
Close all credit lines and business accounts
Cancel all fictitious names you have registered
Incfile takes these steps for you at a fee of $149 plus the required fees by your state.
Company Reinstatement
An inactive company or one that the state has struck off or dissolved for issues like non-compliance can get back into the state's good books by filing for company reinstatement.
It restores the company to a registered state like it had never been deregistered. And this is way cheaper, easier, and more convenient than setting up a new company.
After you've sorted out the issue that got you in trouble, Incfile can help you get back to good standing with the state for a service fee of $199 plus the respective state fees.
They'll fill and file the required reinstatement forms with the Secretary of State and any other necessary state office.
Accounting and Tax Services
Incfile offers expert bookkeeping and business accounting services that are tailored to the needs of your business.
Business owners who pay for this service get:
Bookkeeping for every quarter. This includes bookkeeping software and a dedicated expert bookkeeper
Business tax returns and financial reporting
Personal tax services
Compliance assistance
Tax consultation sessions
An array of online tools and resources
The cost of the accounting service is $90 per month for the Starter package and $180 per month for the Plus package.
The service starts with a 30-minute free tax consultation. You can then choose the package that best fits the size and needs of your business. And the best bit? You have a dashboard for tracking accounts too!
Corporate Kit
Incfile goes a step further and provides new business owners with a corporate kit.
It serves as a great way to store your official business documents in an organized way.
The kit includes:
Personalized professional binder to keep your company documents
Customized corporate embossing seal
Stock transfer ledger
Security certificates
Contract library of over 25 legal documents prepared by business attorneys
Tab dividers
The cost for this service is $99.
Contract Templates
Incfile also offers a library of contract templates that make it easy to create binding terms of your client relationships and ensure all expectations are in a concrete and enforceable form.
Some of the contract templates are free for anyone to download while premium ones are only available to Incfile customers.
Get Started for Free with Incfile
Customer Support Services
One of the better aspects of Incfile is its customer service. You can easily reach them through email, live chat, or phone. You can also submit a support request through the website.
Incfile says that their support team speaks both Spanish and English, which makes them more accessible.
Another advantage with Incfile is that you don't need to pay for the highest packages to get quality support, as is the case with some other service providers.
The most basic package, which is free, comes with unlimited phone and email support, the only thing it lacks is live chat support.
Incfile users also get access to a rich knowledge base where they can get some of their questions answered without having to speak to the support staff.
Start Your Business Now
Incfile Business Formation Pricing and Features
Let's review the cost of Incfile's business formation service.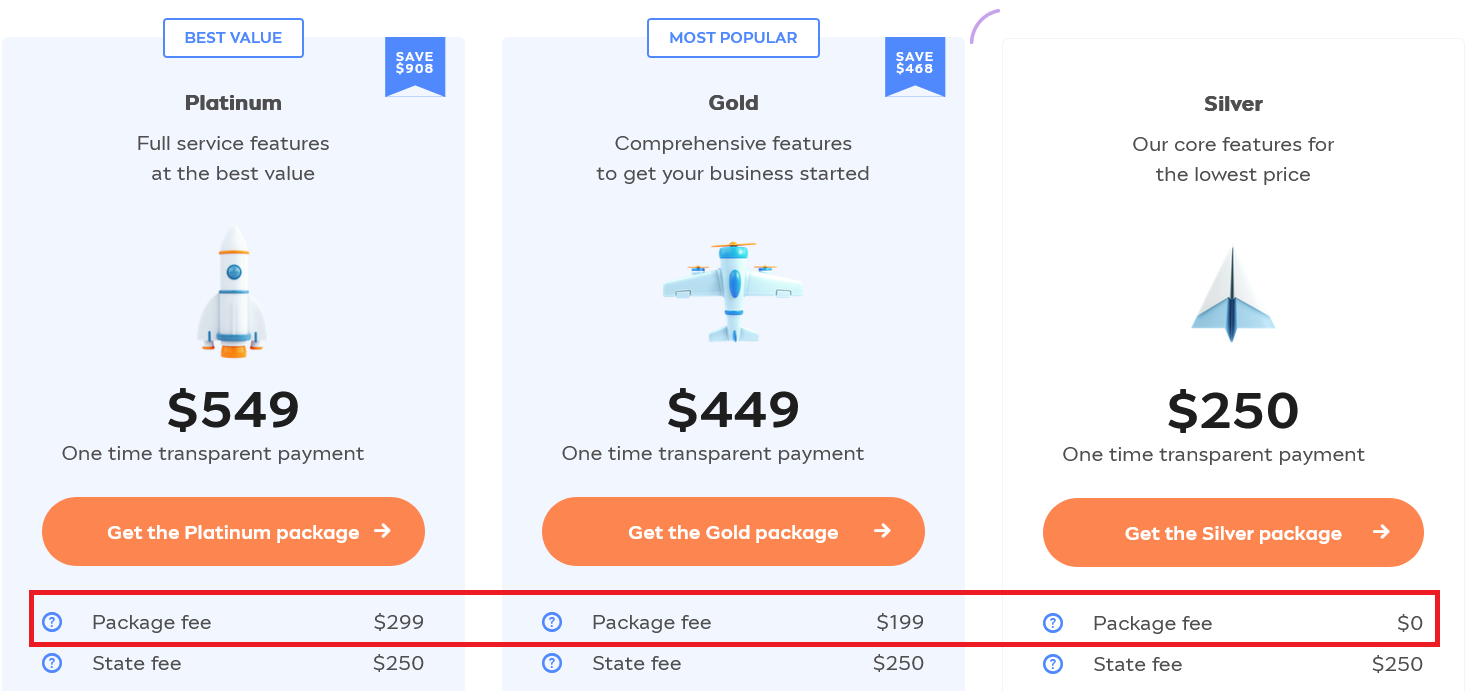 Image via Incfile
Silver Package
One of the major advantages of Incfile is that you can get the business formation services for free in its Silver package.
Incfile's experts will file the Articles of Organization for you at zero charge. The only thing you have to pay is your respective state fee.
This free package also comes with unlimited name searches and a full year of free registered agent service.
Get the Free Package
Gold Package
For a service fee of $199, you get everything offered in the Silver package, plus:
Employer identification number
Election to be taxed as an S-Corporation by filing IRS Form 2553
An operating agreement
Lifetime company alerts to keep you compliant
An online dashboard where you can access all important documents and updates
Tax consultation
Banking resolution
Business bank account
Get the Gold Package
Platinum Package
For this package, you pay more but also get expedited filing.
If you're in a hurry to get your company set up, you can get next-day filing for $299. Normal filing takes 3 to 6 weeks depending on the state you're setting up your business.
The Platinum package also comes with business contract templates. You also get a business email and domain name to establish your online presence.
Get the Platinum Package
A Review of Incfile's Pricing
In our opinion, Incfile's Gold package is the ideal choice.
If there's an urgency to set up your business and you need an expedited filing, you can pay for it as a separate service for $50 to $75.
For your online presence, work with a website developer who'll set up a professional and secure business website for you. Or do it the DIY way using a website builder.
The Silver package is ideal when all you want is someone to help you maneuver the technical language in the business formation forms and have no need for all the other extra features provided in the Gold and Platinum packages.
Start Your Business for Free
You May Also Like:
Incfile Review: The Good
There are several strong points that make Incfile an excellent business formation service.
1. User-Friendliness
You're likely to come across a lot of legalese when filing the business formation forms on the Secretary of State's website. There may be many special instructions as well about how you should fill the form.
This is one of the main reasons most entrepreneurs choose to use a business formation service. It should make the process easier, and Incfile manages to provide this.
Once you fill out your state and the type of business you wish to establish, Incfile will personalize your steps and make the process faster and simpler for you.
Start Your Business Now
2. Resourcefulness
You don't need to be an Incfile customer to access the rich resources on Incfile's website.
There're plenty of business startup guides on how to start various businesses.
Incfile has even sorted these guides by business types and industries.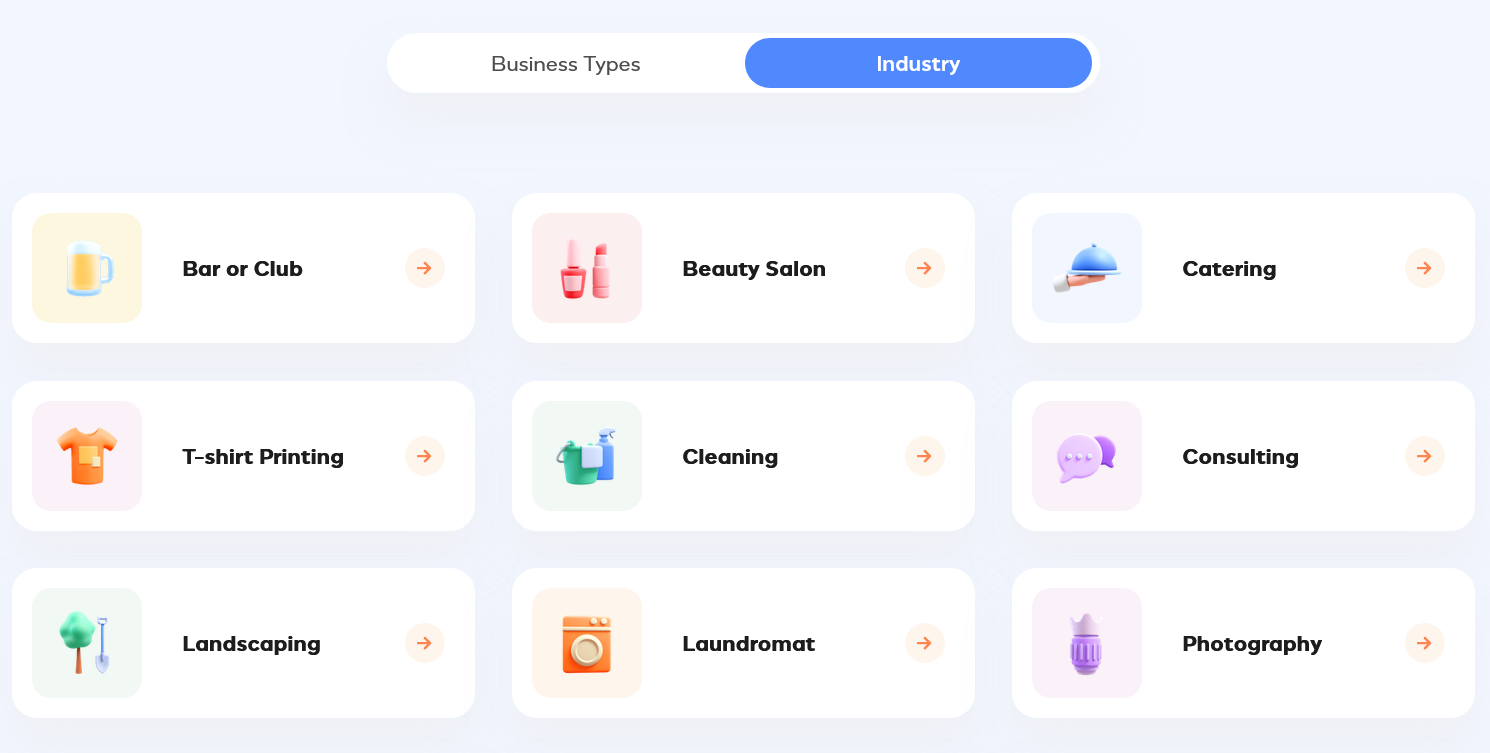 Image via Incfile
Business owners and aspiring entrepreneurs can access valuable articles on financial management, tips on how to grow a business, and more.
There's unlimited access to tools like:
A business entity quiz to identify the right entity type to set up your business
A business name search tool
A checklist for starting a business.
You can even register for a free email marketing course.
Various tools are also available to carry out research when setting up your business and ensure you remain in good standing with your state.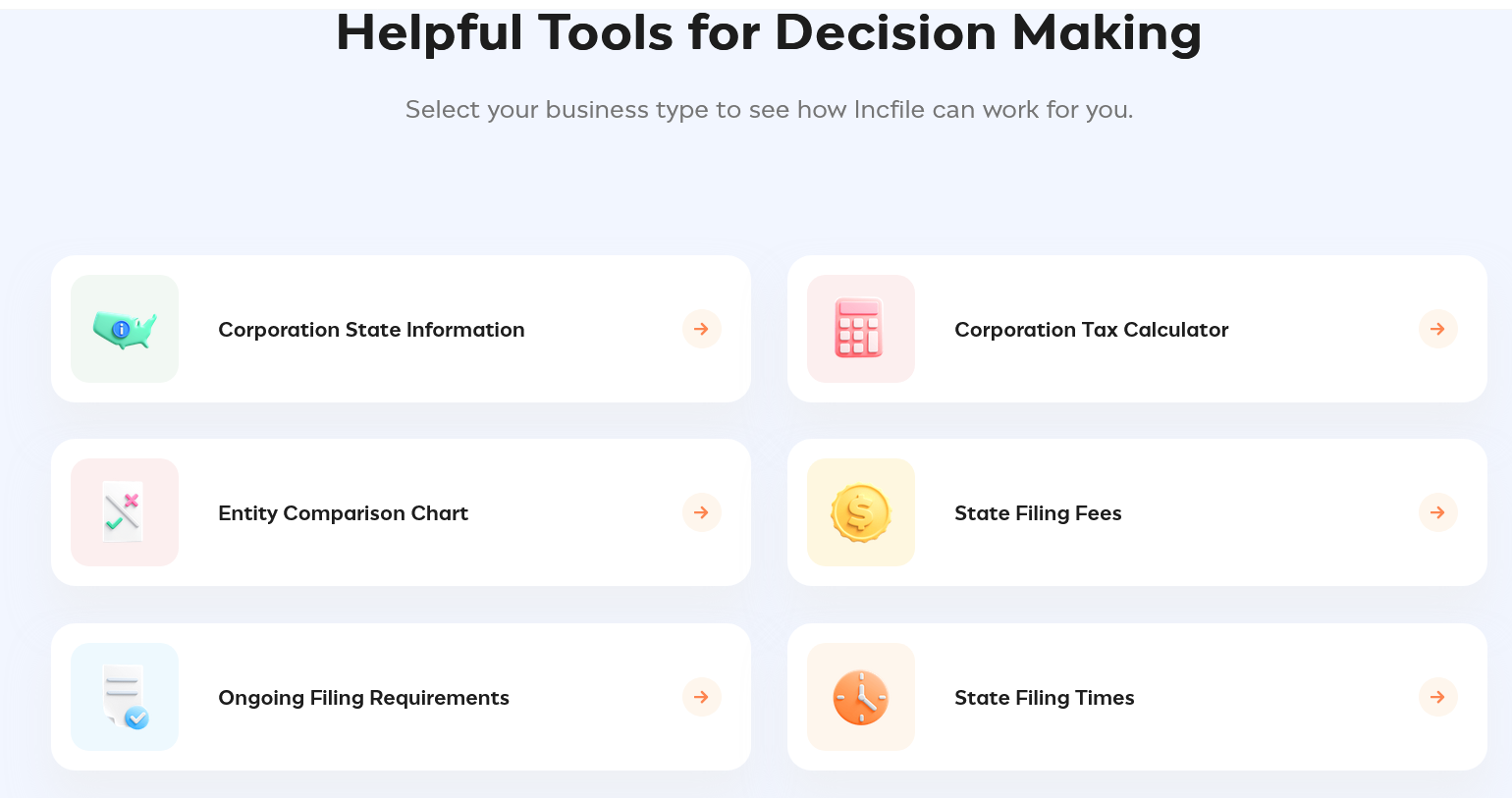 Image via Incfile
3. Quick Turnaround
Quick results are endearing. And that's what you get from Incfile.
Irrespective of the package or state you choose for your business formation, Incfile commits to making all the necessary applications as early as possible.
Every business application is a priority in Incfile's internal system.
Once Incfile files your application, the speed of the process will depend on the respective government entity.
But they've provided a tool that you can use to check how long the process will take in your respective state. It also indicates how that time can change if you opt for an expedited filing.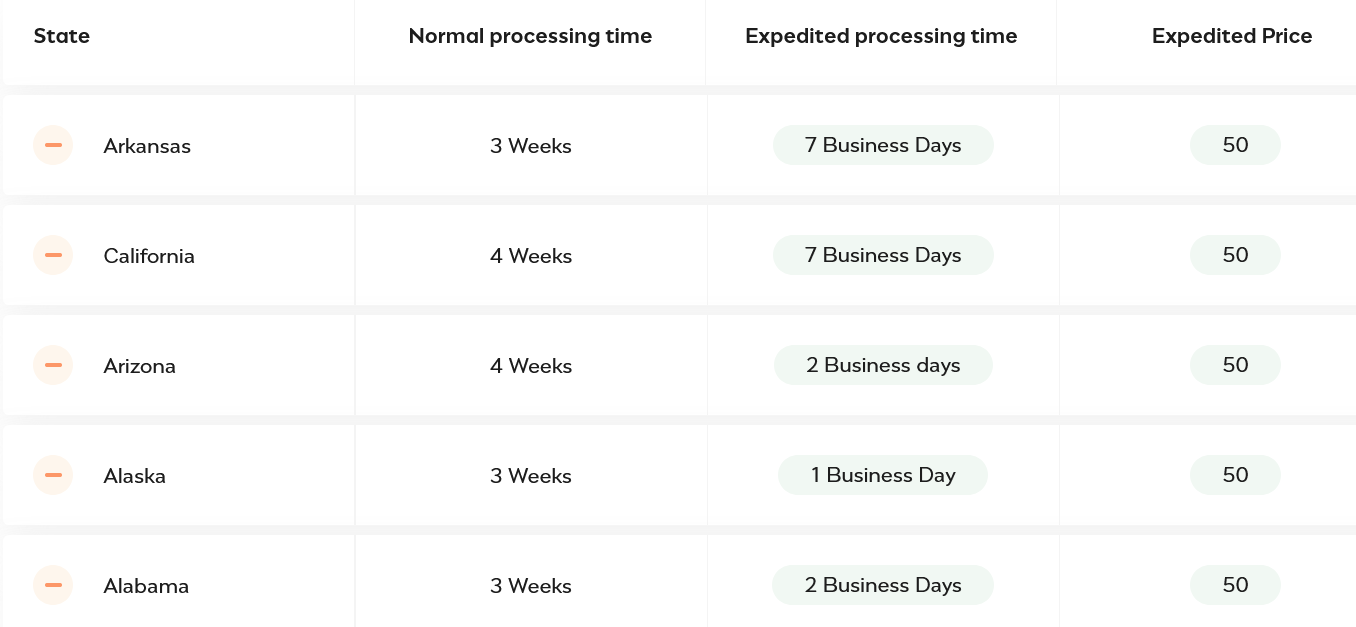 Image via Incfile
Start Your Business Quickly
4. Online Dashboard
Forming a business, whether it's a Limited Liability Company, Corporation, or Non-Profit and keeping it compliant involves filing plenty of forms with different agencies, with some of them being time-sensitive.
It can be hard to keep track of it all. And that's apart from the main goal of your business — look for customers to start making a profit.
Incfile makes it easier for business owners to keep track of what's important through a custom online dashboard.
The dashboard is a central repository for:
Important filing deadlines
Status of orders
Downloadable digital copies of drafted and submitted documents
Company information
In addition to SMS and email notifications, customers get compliance alerts and order updates from the online dashboard.
Launch Your Business with Incfile
You May Also Like:
Incfile Review: The Bad
Let's move this review to some not-so-impressive parts of Incfile.
1. Incfile Customer Service
Phone support is only available Monday to Friday from 9 a.m. to 6 p.m. CST. It would be nice if they included some weekend hours.
Besides, some customers have complained about having a hard time accessing the support team.

Image via TrustPilot
2. Refund and Cancellation Policy
In its refund policy, Incfile states that an order is refundable, but only if the money has not been forwarded to any government entity or third party.
And this usually happens 24 hours after placing an order.
For trademark filings, a refund is impossible if Incfile has already done a trademark search or if they've made payment to the U.S. Patent and Trademark Office.
In case a refund is approved, Incfile deducts a $30 cancellation fee. And if Incfile incurred any other expense related to the order, they'll also deduct that from the refund amount.
Failing to refund money that has already been forwarded to a third party or government agency is reasonable. But the fact that you lose $30 even when you cancel your order fast enough is a bit harsh.
Get Started for FREE
You May Also Like
:
How Incfile Compares to Other Business Formation Services
Let's review incfile vs. its major competitors.
Incfile vs. Inc Authority
Like Incfile, Inc Authority provides a free LLC formation service with free registered agent services for the first year.
But Inc Authority has a very responsive customer support team, and triumphs over Incfile in that area. However, Inc Authority does not offer as many services as Incfile.
The experience of Inc Authority is also less than Incfile.
Incfile boasts of helping over a million business owners while IncAuthority has only made over 250,000 business formations.
This, despite the fact that Inc Authority has been around for over 30 years while Incfile has only been operational for about 19 years.
Incfile vs. ZenBusiness
The pricing plans for Incfile and ZenBusiness are similar.
Like Incfile, ZenBusiness also offers additional services to help business owners run and grow their business. But with ZenBusiness, you'll miss out on the free perks that Incfile offers, such as free registered agent services.
A major difference is in the refund and cancellation policy.
For Incfile, you can only cancel if money has not been sent to the state agency or third party, and there's a $30 cancellation fee.
For ZenBusiness, they offer a generous 60-day money back guarantee. And you get a full refund. There's no cancellation fee.
Incfile vs. LegalZoom
Incfile and LegalZoom are similar in terms of experience.
Both also offer plenty of standalone services to support business owners.
The main difference is in pricing.
Incfile's pricing applies across all entity types. But LegalZoom pricing varies depending on the entity type.
There's a free package for LLC's that includes filing the Articles of Organization and a namecheck service. From there, customers have to pay $249 plus state fees for the Pro package and $299 plus state filing fees for the Premium package.
The price for Non-Profits starts at $99 plus filing fees while it starts at $149 plus filing fees for Corporations.
Get Started with Incfile
You May Also Like:
FAQ
1. Can Incfile be trusted?
Yes, Incfile can be trusted. They've been in operation since 2004 and have helped over a million business owners with their business formation.
2. Is Incfile really free?
Yes. Incfile's Silver package offers business formation services for free. All you have to pay is the respective state fees.
3. How do I get out of Incfile?
You can only cancel an order if Incfile has not forwarded payment to the concerned government entity or third party. You will be charged $30 for the cancellation.
4. What are the tiers of Incfile?
Incfile has 3 payment tiers for its business formation services:
Silver: $0 plus respective state filing fee
Gold: $199 plus respective state filing fee
Platinum: $299 plus respective state filing fee
5. Is the Incfile Gold package worth it?
Yes, the Incfile Gold package is a good deal. For $199 plus the respective state fees, you get:
An expert to prepare and file the Articles of Organization
Unlimited name searches
One free year of registered agent services
Employer identification number
IRS Form 2553
Operating agreement
Lifetime company alerts
An online dashboard
Start Your Business with Incfile
Incfile Review: Final Verdict
It is clear from this comprehensive Incfile review that the business formation service is worth trying.
Although there are weaknesses in their customer service and cancellation policy, its advantages far outweigh them, such as:
Free business formation services
Unlimited name searches
One year's worth of free registered agent services
In addition, you get plenty of guides, tools, and other resources to get your business moving forward and keep it in good standing.
Start Your LLC with Incfile
Disclaimer:
This content contains affiliate links, which means we'll earn a commission when you click on them (at no additional cost to you).