ZenBusiness Review: The Summary Box
ZenBusiness is one of the leading business formation companies that make it easy for entrepreneurs to start and run a business. In addition to a free LLC and Corporation formation package, ZenBusiness offers affordable paid plans.
While being known for its user-friendly platform and fast LLC formation, ZenBusiness also offers a wide range of services, such as tax consultation, expense tracking, website building, invoicing, and banking.
| | |
| --- | --- |
| User Friendliness: | |
| Customer Service: | |
| Pricing: | |
| Overall Rating: | |
If you are looking for a comprehensive ZenBusiness review, you are in the right place.While there are many business formation service providers, it can be challenging to know which one will cater to your specific business and budget needs.
ZenBusiness is one of the leading names in the industry with 8+ years of experience in the field.
In this detailed ZenBusiness review, we will take an in-depth look at the features and services the company offers, in addition to its pricing, pros, and cons.
Read on to make an informed decision when it comes to picking a business formation service provider.
ZenBusiness Review: Why Pick this Business Formation Service
Established in 2015, ZenBusiness has helped 400,000+ entrepreneurs form a business entity of their choice.
As a top-rated business formation service, ZenBusiness offers a range of features and benefits to help business owners start and grow their businesses.
In this ZenBusiness review, we will talk about the reasons to choose ZenBusiness for your business formation needs.
Transparent Pricing
Like many of its competitors, ZenBusiness offers a free plan in addition to affordable plans.
But, where it scores over most others is in its transparent pricing. All the price points are clearly listed on the website, including the cost of individual add-on services.
This makes it easy for users to make an informed decision instead of contacting the sales team and waiting for the quotes.
User-Friendly Services
Most users appreciate ZenBusiness's user-friendly platform and services, so we had to include them in our ZenBusiness review. Forming an LLC or a Corporation is easy and quick thanks to the streamlined business formation process.
There is also a chatbot that uses a conversational tone to guide users through the process, removing the hassles and confusion involved in business formation.
Fast Filing
ZenBusiness offers expedited filing enabling business formation in 1 to 2 days. While fast filing is included in its Premium plan, users can purchase this service at a price ranging from $49 to $99 even with the free plan.
You can read more about this feature in the post on IncFile vs ZenBusiness.
Additional Business Services
In addition to business formation, ZenBusiness also offers a range of additional services, such as worry-free compliance, an annual report service, and a business website.
One of the differentiating aspects, we have to highlight in this review, is the Money Pro tool that helps business owners track their expenses, tag tax deductions, track mileage, and manage their invoices.
Form your LLC for free with ZenBusiness
ZenBusiness Review: Features in the Free Starter Plan
ZenBusiness offers a free Starter plan that does not renew after the first year. In this section of the ZenBusiness review, we will list the services in the free plan:
Filing Articles of Organization/Incorporation
For $0 (+ state fees), ZenBusiness will handle the paperwork involved in business formation. This includes preparing and filing the Articles of Organization for LLCs and Articles of Incorporation for corporations.
The standard filing speed for this service is 2 to 3 weeks. You can get the fast-filing service at an extra cost if you need to fast-track business formation.
Expense and Deduction Tracking
Once you integrate your business bank account with the ZenBusiness Money app, it imports your expenses from the bank account and identifies the ones that are eligible for a tax deduction.
This will simplify your tax and expense management, at no extra cost. This gives ZenBusiness brownie points for the purpose of this review.
Free Tax Consultation
A free tax consultation is included in all of ZenBusiness's plans including the free plan.
Businesses can get insights on tax planning and deadlines through a 30-minute phone consultation with a tax planning expert.
ZenBusiness has partnered with 1-800Accountant, the well-known virtual accounting service provider that helps small businesses streamline financial planning.
Explore ZenBusiness's Starter Plan
ZenBusiness Review: Features in the Paid Plans
There are two paid plans that are billed annually. In this section of the ZenBusiness review, we'll discuss these.
Pro Plan
Priced at $199 per year, the Pro plan offers many useful features designed to remove the hassles from the business formation process. Here's a quick review of each.
Expedited Filing Speed
ZenBusiness typically processes business formation applications within 4 to 6 business days, depending on the state and the type of business entity being formed.
This is significantly faster than the average processing times with the Starter package and government agencies.
Operating Agreement
An operating agreement is not a requirement for forming an LLC, but it is highly recommended. This document sets out the rights and responsibilities of the LLC's members and managers and the rules of governance for the company.
This service is included in both the Pro and Premium plans and is also available as an add-on. You can use ZenBusiness's operating agreement template to fast-track the document preparation.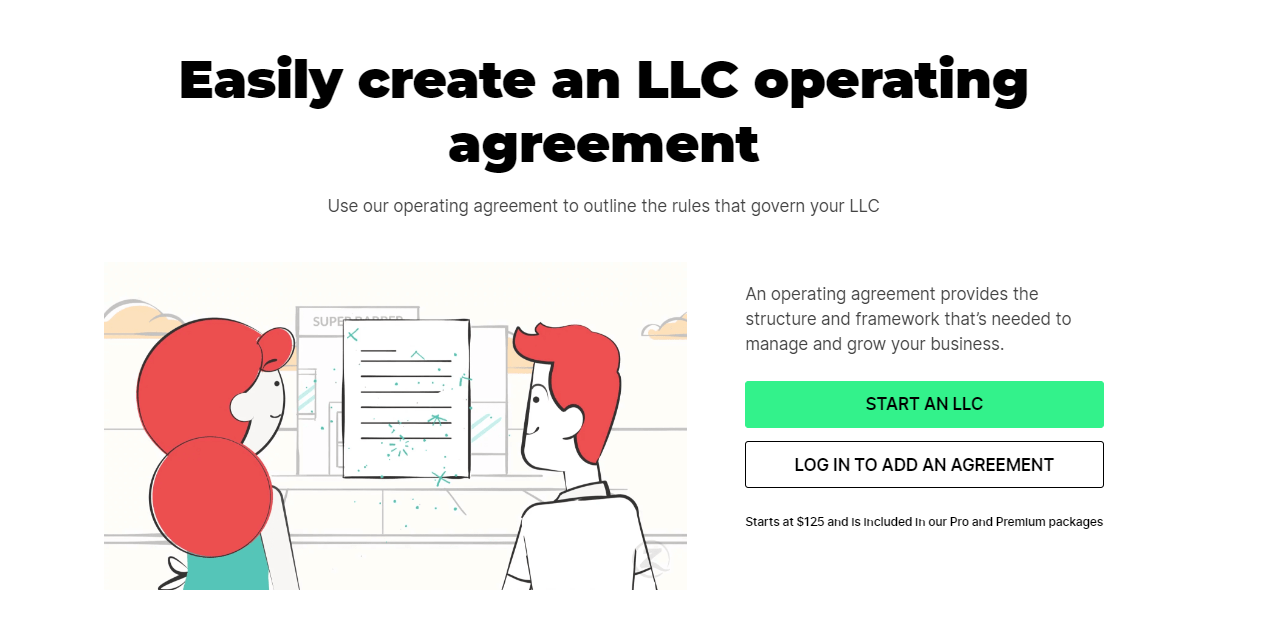 Image via ZenBusiness
Worry-Free Compliance
Next in this ZenBusiness review is the worry-free compliance service it offers to help small business owners stay on top of their compliance requirements and avoid any legal issues.
This service is designed to ensure that businesses are meeting all of their legal obligations and staying up-to-date with any changes in regulations.
Here are the inclusions with this service:
ZenBusiness takes care of ongoing state filing requirements to ensure you don't miss any deadlines.
Two amendment filings each year to update business documents in case of a change in address, name, or business ownership.
Support from compliance experts if your business faces issues with compliance.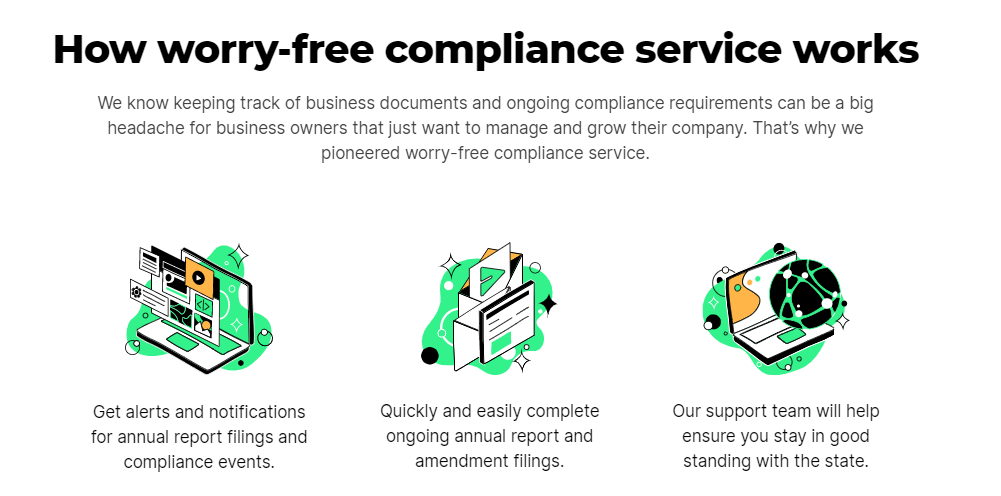 Image via ZenBusiness
Premium Plan
In addition to the inclusions in the Pro plan, ZenBusiness's Premium plan offers these services and features at a price point of $299 per year. Here's a quick review of the services offered in this plan.
Fastest Filing Speed
The Premium plan offers the fastest filing speed of 1 to 2 days.
The expedited filing speed of ZenBusiness is particularly beneficial for business owners who need to establish their companies quickly to start generating revenue and serving customers.
Custom Business Website
ZenBusiness makes it easy to build a custom business website optimized for search engines. Here are the features it offers:
A template library
Drag-and-drop editor
Mobile-friendly design
SEO tools
Embedded social media
HTTPS certificate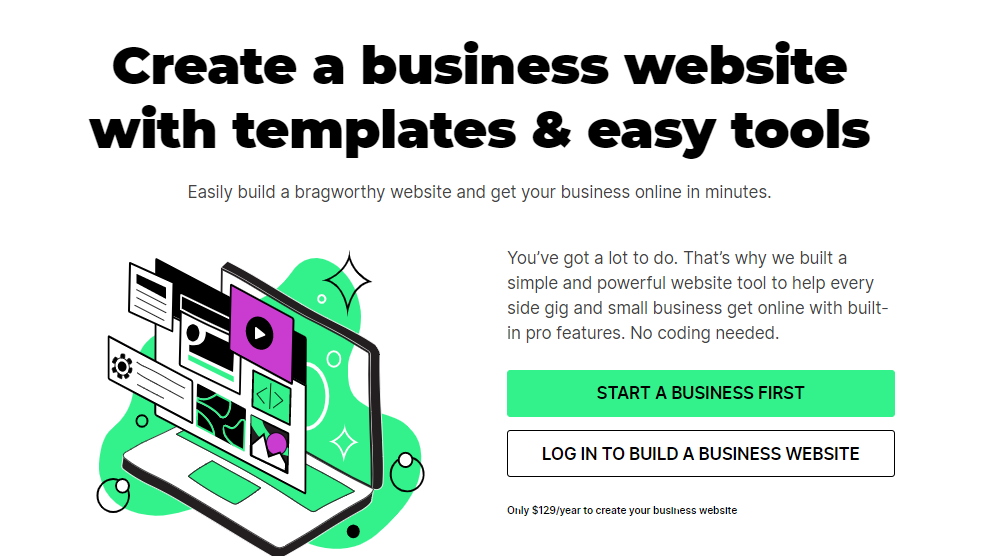 Image via ZenBusiness
A Domain Name + Email Address
Every new business owner will need a business email address in addition to a business domain name.
The Premium plan offers both of these features. In addition to 1 business email account, users get 5GB free storage, calendars, and an address book.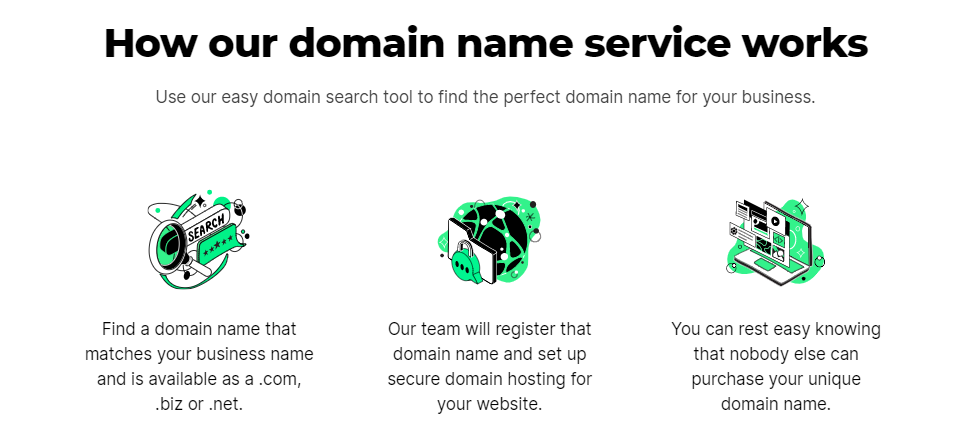 Image via ZenBusiness
ZenBusiness also offers a domain search tool that businesses can use to find a relevant domain name. Once you find a suitable name, ZenBusiness will register it while securing domain hosting.
Fast-track LLC Formation with ZenBusiness
Add-On Services
All of the services listed in the above plans are also available as add-ons. This gives more flexibility for business owners to purchase the services they need.
Here are some other services you can purchase for an additional cost.
Registered Agent Service
Businesses are required by law to appoint a registered agent to receive official correspondence and legal documents on their behalf.
While ZenBusiness does not offer free Registered Agent service like many of its competitors, it offers the service at a cost of $199 per year.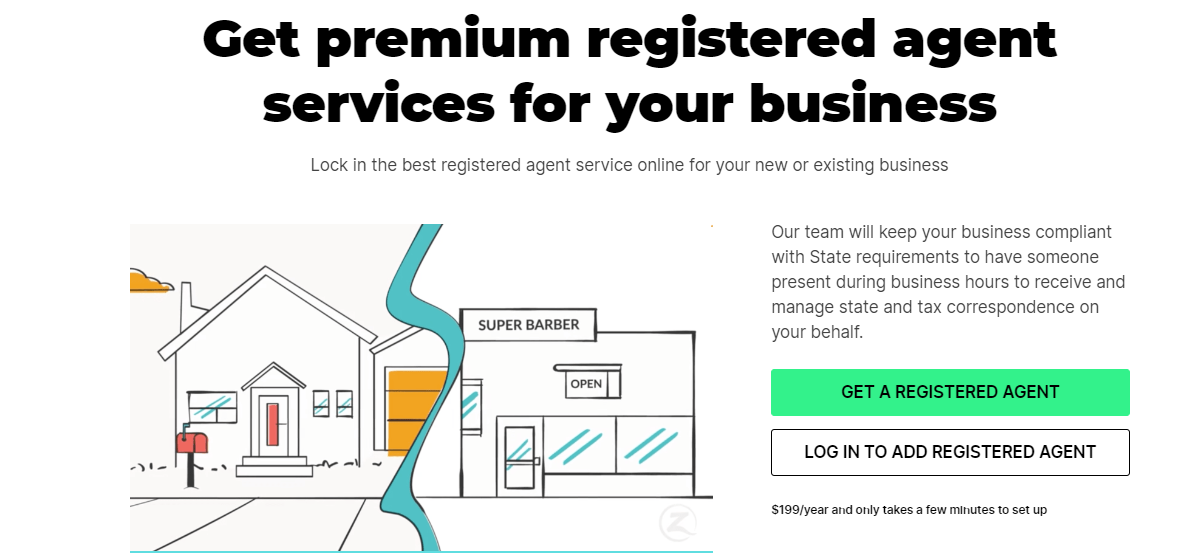 Image via ZenBusiness
This service is available to corporations and LLCs in all 50 states. ZenBusiness will accept all legal documents on your behalf, scan the documents, and upload them so you can easily access them from your dashboard.
They will also inform you of any tax or legal matters that need your action or attention.
Employer Identification Number (EIN)
EIN is a unique nine-digit number assigned by the Internal Revenue Service (IRS) to identify businesses and other entities for tax purposes.
Businesses will need it for various tax and legal purposes, such as filing tax returns, opening business bank accounts, and hiring employees.
ZenBusiness handles all the paperwork necessary to file for and obtain an EIN so that you can start hiring employees, file tax returns, and open your business bank account.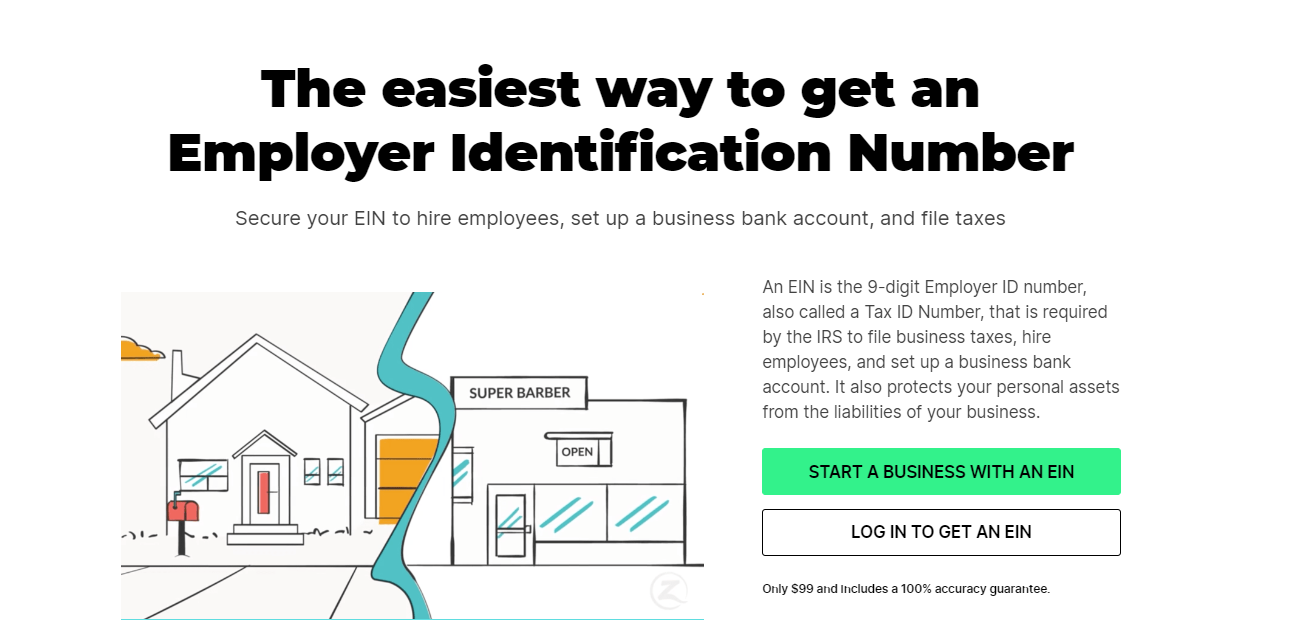 Image via
ZenBusiness
Business Document Templates
From service agreements and confidentiality agreements to breach of contract and freelancer agreements, every business needs a variety of documents.
While this process can be time-consuming, requiring the assistance of legal and compliance experts, you can use ZenBusiness's document templates to create the documents quickly and easily.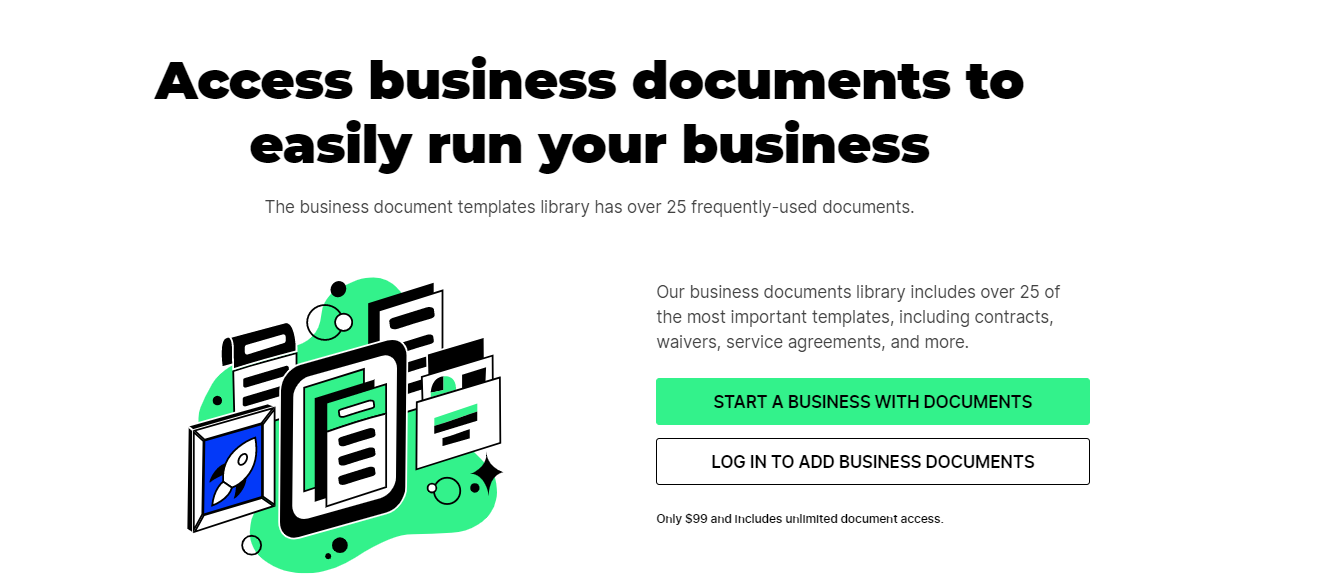 Image via ZenBusiness
Their business documents library has 25+ important document templates, such as:
Non-compete agreement
Freelancer agreement
Consulting agreement
Service agreement
Employment offer letter
Loan agreement
Purchase agreement
Joint venture agreement
New York Publication
If you are forming an LLC in New York, you need to meet publication requirements as part of the LLC formation process.
Per New York State law, LLCs must publish a notice of formation in two newspapers in New York for six weeks.
ZenBusiness's New York Publication add-on service takes care of this requirement in addition to getting you the lowest possible price.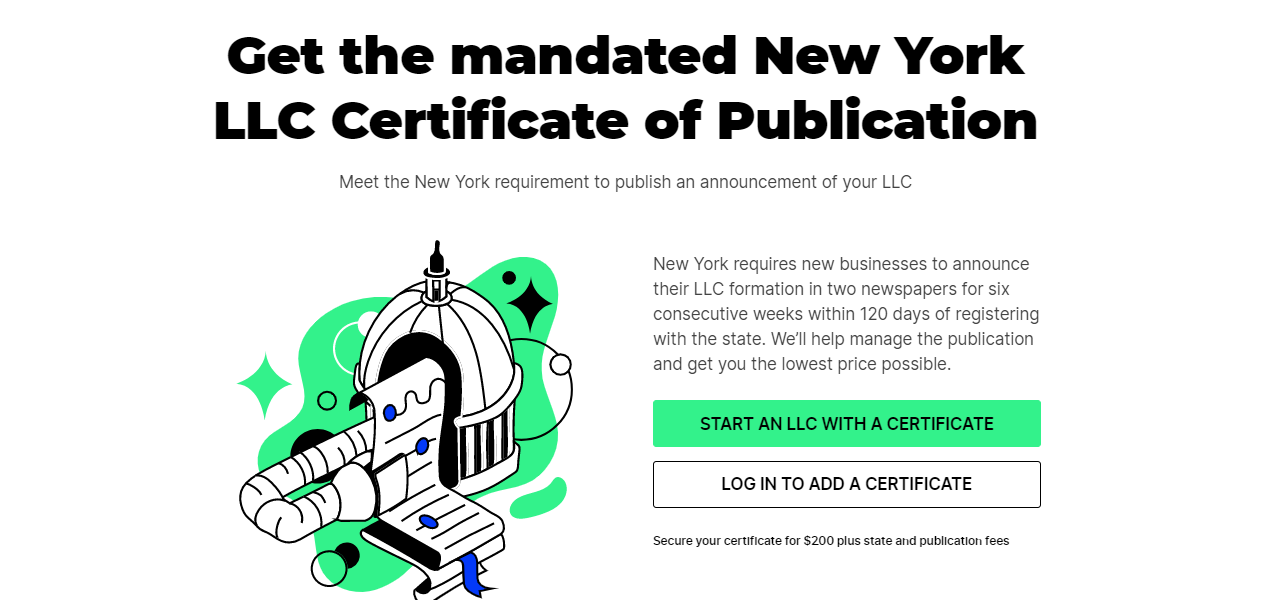 Image via ZenBusiness
They will contact the County Clerk's office to find out which newspapers to publish the notice of formation in, receive the Affidavit of Publication from the newspapers, and forward it to the state.
Business License Report
Every business will need certain licenses and permits to legally operate in the state of their choosing.
For instance, a food service business may need various permits and licenses such as health permits, seller's permits, alcohol permits, and fire permits.
Here's where ZenBusiness can help. It offers a business license report as an add-on service in partnership with Avalara—a tax compliance solutions provider.
The report helps businesses stay compliant with state and local licensing requirements by providing a comprehensive report of all the licenses and permits they need to operate legally.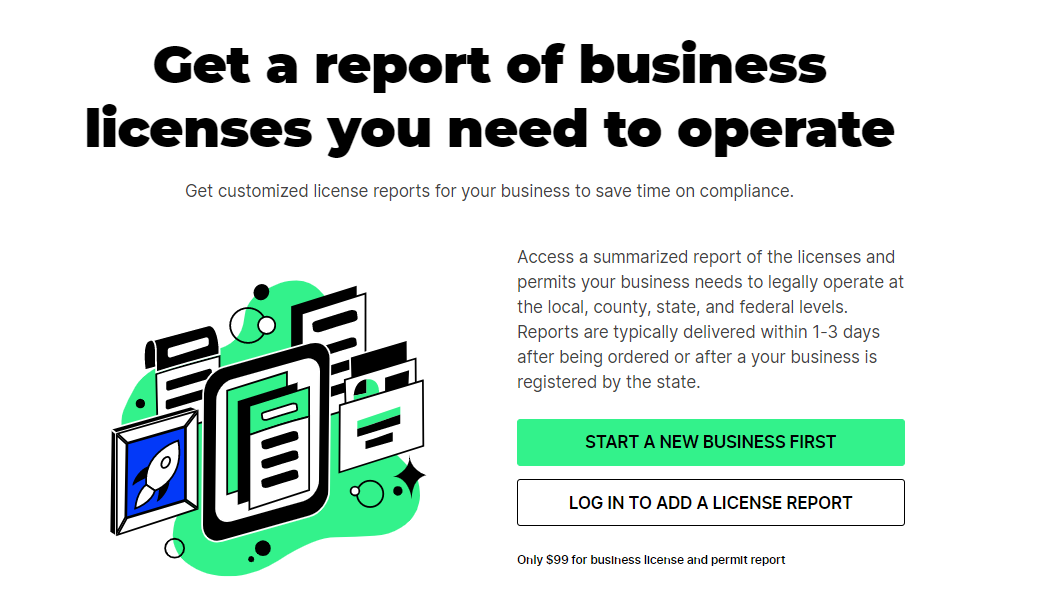 Image via ZenBusiness
Once your industry, business activities, and location are keyed in, Avalara's system identifies the specific licenses required for your business in the state.
ZenBusiness delivers the report within 1 to 3 days of ordering it.
Annual Report Filing
Most states require LLCs and corporations to file an annual report with the state's Secretary of State or a similar agency.
The due date for filing annual reports can also vary by state, and late filing or failing to file the report may result in penalties or loss of good standing for the LLC.
With ZenBusiness's annual report filing service, you can ensure you stay compliant with the state's requirements while focusing on your core business tasks.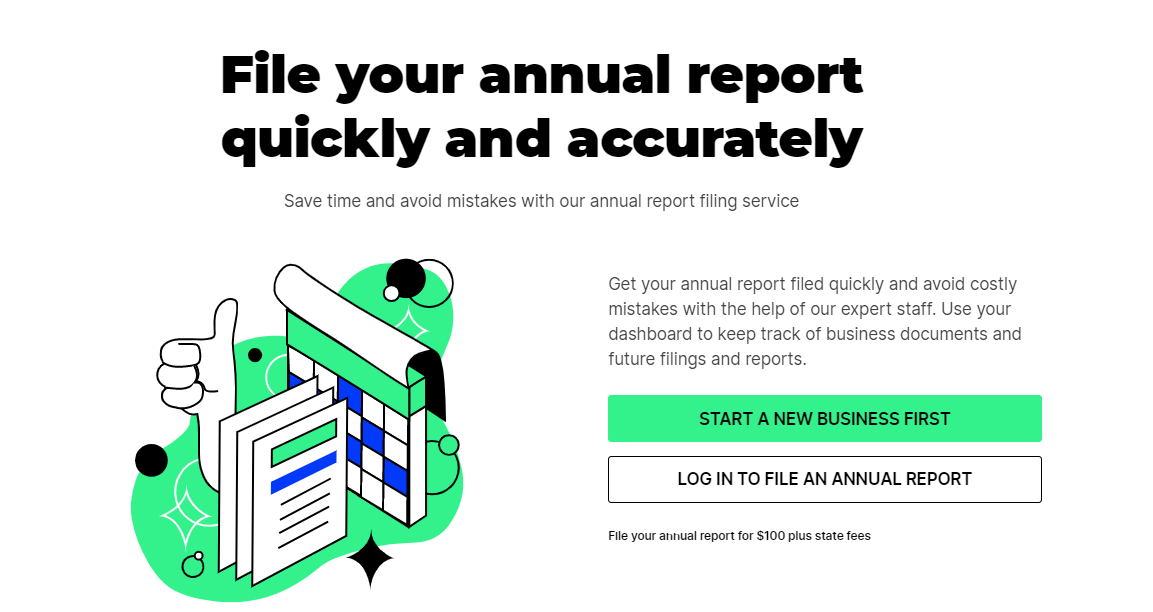 Image via ZenBusiness
After filing the required annual reports, ZenBusiness will update you on the same.
Amendment Filing
Whether you have changed your business address, its name, or your Registered Agent, it is important to update the Secretary of State on these changes in time.
This is done through a business amendment filing, a process by which a business entity makes changes to its existing business formation documents.
This add-on service from ZenBusiness is designed to help you quickly file an amendment.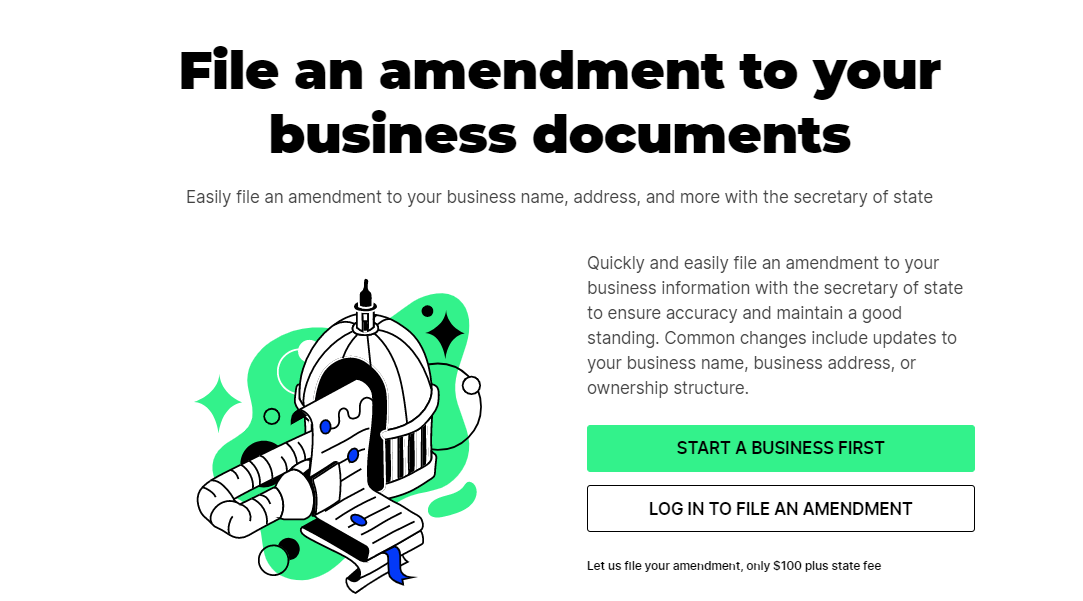 Image via ZenBusiness
Certificate of Good Standing
A Certificate of Good Standing is an official document issued by an authorized body or a government agency. It verifies a business's legal status and confirms that it is in compliance with all relevant laws and regulations.
For $100 (+ state filing fee), ZenBusiness will confirm that your business meets the state's compliance/legal requirements and apply for the Certificate of Good Standing to the state on your behalf.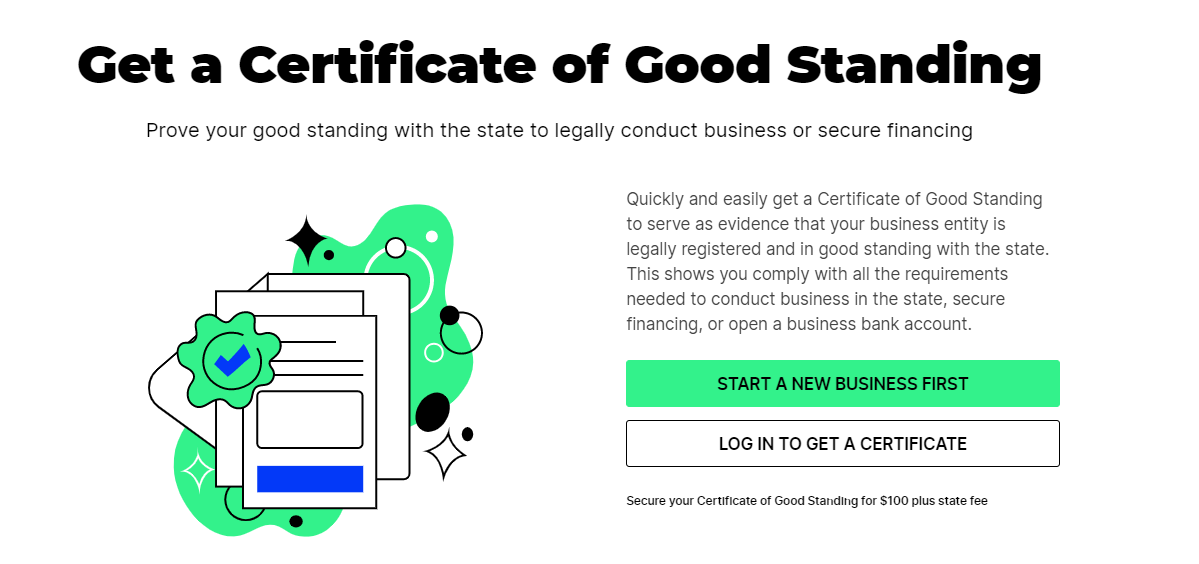 Image via ZenBusiness
Domain Name Privacy
When you register your domain name, you will need to provide contact information including your name, email address, phone number, and mailing address to the registrar.
This information is publicly available to those looking for such information with the WHOIS domain lookup.
If you are concerned about your data privacy, you can purchase the domain name privacy service from ZenBusiness.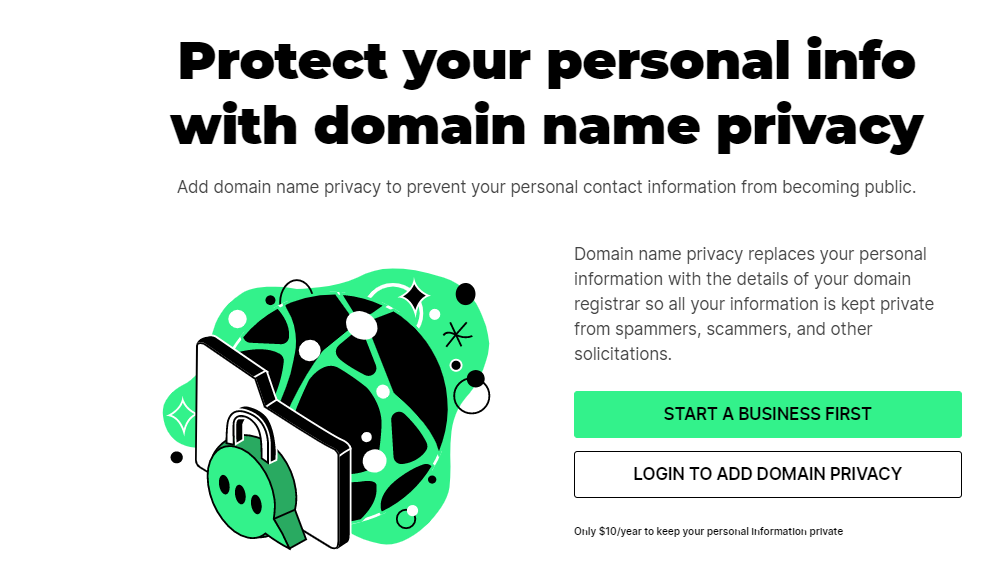 Image via ZenBusiness
This service allows you to hide your personal contact information from being publicly displayed in the WHOIS database. As a result, this feature helps limit solicitation while preventing scams and spam.
ZenBusiness Banking
This is one of the unique services offered by ZenBusiness as an add-on, so we're including it as part of this ZenBusiness review.
For just $5 per month, ZenBusiness Banking services will help you manage your finances with ease.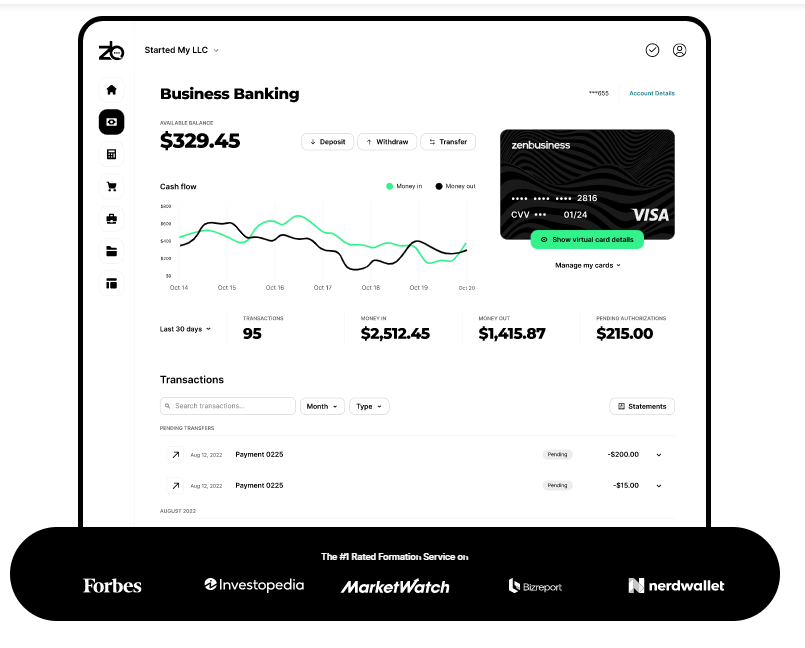 Image via ZenBusiness
Unlike most business bank accounts, ZenBusiness bank accounts can be opened with zero deposit while not worrying about meeting minimum balance requirements.
In addition to a business checking account, you will also get bookkeeping tools such as tax deduction tagging, tax preparation, and expense tracking tools.
Free ACH transfers and virtual debit cards are the other benefits of ZenBusiness banking.
Money Pro
Businesses tend to use different tools to prepare and send invoices, accept payments, and track mileage or tax deductions.
But, with ZenBusiness Money Pro, you don't need to invest in different tools for these activities. It offers all these features in one integrated platform.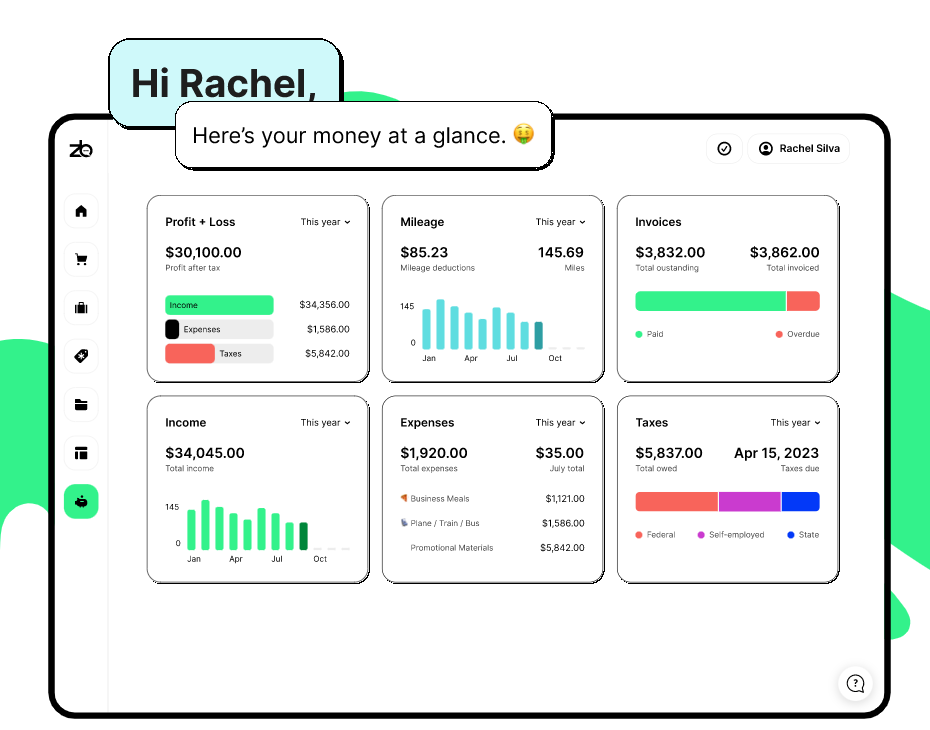 Image via ZenBusiness
In addition to making it easy for you to create and send one-time or recurring invoices, the platform tracks expenses, income, profit, and loss.
Banking Resolution
A banking resolution is a document that authorizes a specific individual to open a business account on the company's behalf.
The resolution is adopted by the shareholders of a corporation or the board of directors.
ZenBusiness offers this service at a one-time fee of $30.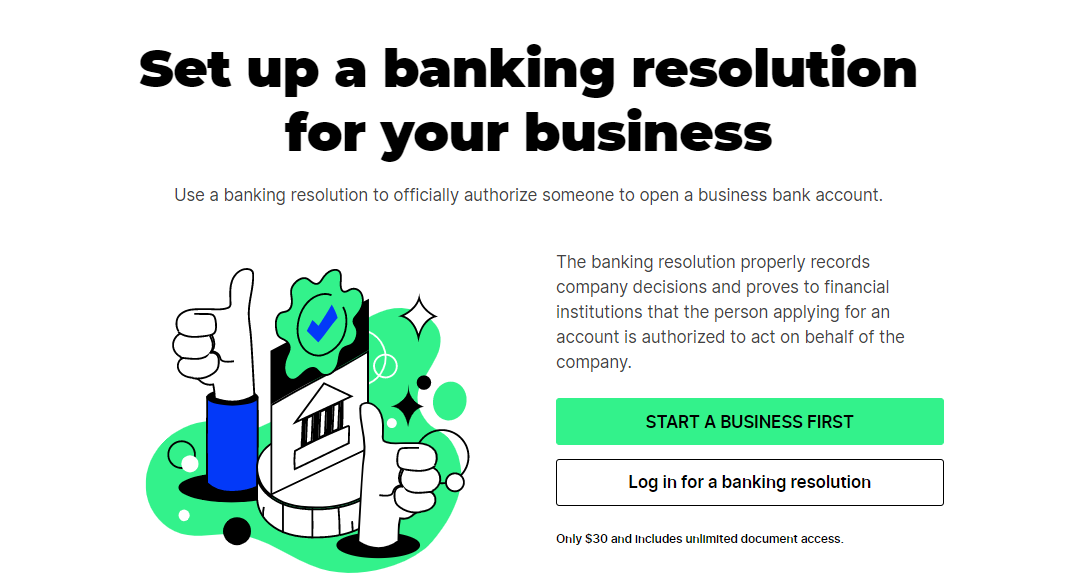 Image via ZenBusiness
Business Name Reservation
A great way to ensure your chosen name is available till you are ready to form your LLC or corporation is to opt for a business name reservation.
For $50, the company will reserve the chosen business name, which is valid for 120 days.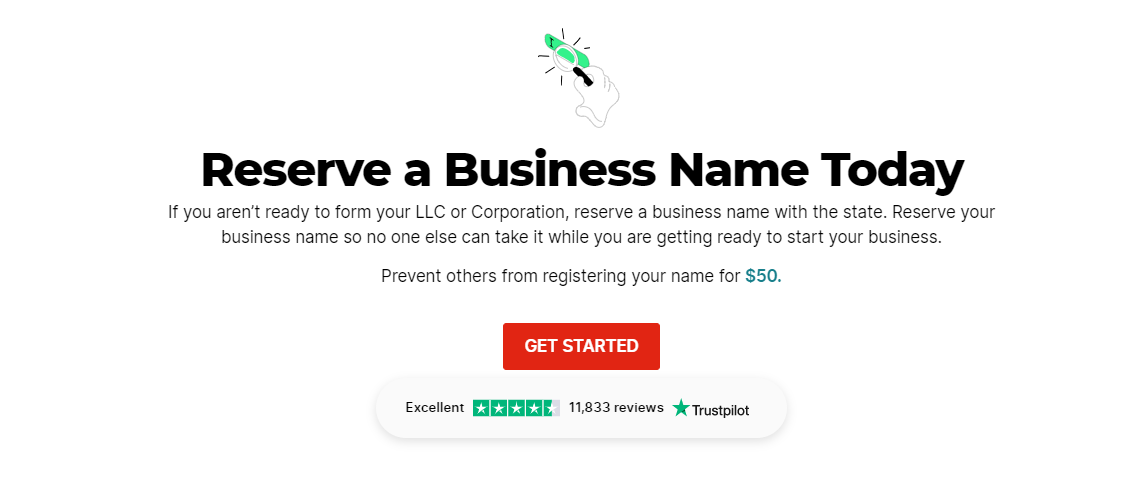 Image via ZenBusiness
Start your LLC with ZenBusiness
ZenBusiness Review: Pricing
Like many of its competitors, ZenBusiness has a free plan, in addition to two paid plans. In this section of our ZenBusiness review, we will talk about the pricing: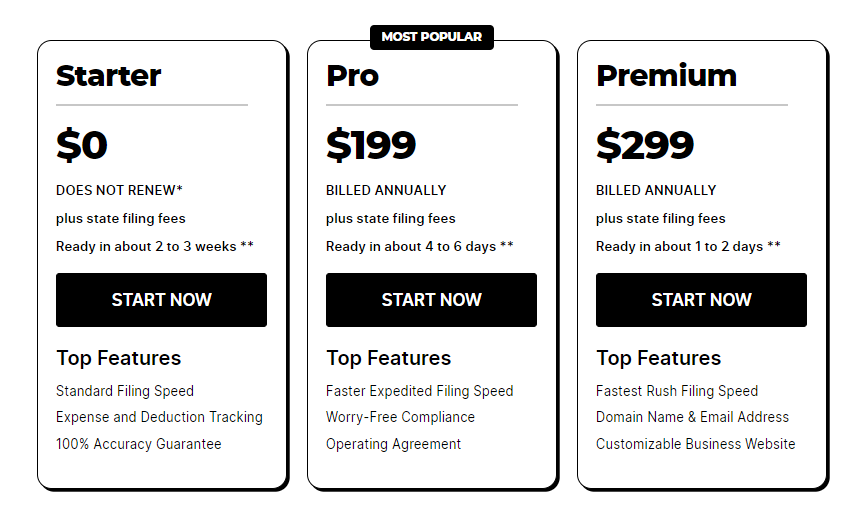 Image via ZenBusiness
There are several additional services that are priced individually that you have read about in the previous section of this review, giving small business owners more flexibility in terms of picking the ones they need.
Here are the different add-on services and their pricing.
Annual billing
Worry-Free Compliance: $199 per year
Registered Agent: $199 per year
One-time fee
Operating Agreement: $125
Employee Identification Number: $99
Business Document Templates: $99
Fast-filing Speeds: $49 to $99
New York Publication: $200
Business License Report: $99
Annual Report Filing: $100
Amendment Filing: $100
Certificate of Good Standing: $100
Start your Company for Free with ZenBusiness
ZenBusiness Review: Pros and Cons
In this section of this ZenBusiness review, we will look at the pros and cons of using this service.
Some areas where ZenBusiness is rated highly include the ease of LLC formation, affordable plans, and a range of add-on services.
However, like most of its competitors, ZenBusiness does have a few disadvantages, which we'll cover in this review.
Pros
Let's first look at the pros of choosing ZenBusiness for your LLC/Corporation formation, in this section of the ZenBusiness review.
Free LLC Formation
ZenBusiness offers a free Starter business formation package designed to help entrepreneurs and business owners get started at no cost, aside from any state filing fees that may apply.
Affordable Plans
One of the aspects that we have to highlight in this ZenBusiness review is the affordable pricing the company offers.
The Starter package is free of cost while the pricing of Pro and Premium plans are on par with the pricing points of most of its competitors in the industry.
The individual pricing points of all the different add-on services ZenBusiness offers, such as Registered Agent, operating agreement, and EIN, are also reasonable.
Fast Filing Speed
One of the key benefits of using ZenBusiness is the fast filing speeds it offers. The Premium plan offers a quick turnaround time of 1 to 2 days while with the Pro plan, you can form a business within 4 to 5 business days.
Comprehensive Business Services
Like most company formation services such as Inc Authority and Incfile, ZenBusiness offers all the features that you would look for in an LLC formation service provider.
In addition, ZenBusiness offers other useful business services, such as tax consultation, assistance with choosing a business credit card, website design, domain registration, and more.
Money Management Tools
ZenBusiness Money lets you keep track of your business finances in addition to allowing you to send invoices and receive payments.
The features of ZenBusiness Money, such as the automatic expense and income  tracker, the ability to send recurring invoices, tax prepping tools, etc. are designed to streamline your tax and revenue management.
Extensive Resources
ZenBusiness offers a variety of resources to help new business owners with their LLC formation needs.
Some of the topics covered in ZenBusiness' resource library include company formation, choosing the right business structure, understanding tax obligations, and developing a business plan.
These resources can be a valuable source of information for individuals who are new to entrepreneurship.
Get Started with ZenBusiness for Free
Cons
In this ZenBusiness review, we will also explore the cons of this service provider to help you make the right choice.
Limited Features in the Free Plan
Unlike Inc Authority or Incfile, which offer a lot of features like free Registered Agent in their free plans, ZenBusiness offers only the preparation and filing of Articles of Organization in their Starter package.
In addition, the free plan is valid only for the first year, after which you will need to upgrade to a paid plan.
Add-Ons Are Expensive
If you are opting for the free plan or the Pro plan, you may need to purchase several add-ons such as Registered Agent, operating agreement, and EIN.
As each of these services comes at an extra cost, the total cost per year will quickly add up to a significant amount.
Filing Speed Varies 
While the Starter package is free, the turnaround times for business formation can be anywhere from 2 to 3 weeks. To fast-track the process, users have to buy the expedited filing speed feature at an extra cost.
Who Should Use ZenBusiness?
Small businesses who want a basic, free company formation service.
Startups looking for an easy way of forming their LLC or corporation.
Businesses that are willing to pay extra for expedited filing.
Businesses that are looking for tools that solve financial accounting challenges, such as invoicing, tax prep, and banking.
Create your LLC Quickly with ZenBusiness
Who May Not Need ZenBusiness?
Businesses looking for a list of features in the free LLC formation package.
Entrepreneurs looking to form a non-profit or sole proprietorship.
Businesses looking for free Registered Agent services for the first year.
Simplify Corporation Formation with ZenBusiness
How Does ZenBusiness Compare to Other Business Formation Service Providers?
Some of the top competitors of ZenBusiness are Incfile, Inc Authority, and LegalZoom.
In this ZenBusiness review, we'll take a closer look at these players in the industry and compare their features, pricing, and overall value to help you make an informed decision about which provider is right for your business.
ZenBusiness vs. Inc Authority
Both Inc Authority and ZenBusiness are trusted LLC formation service providers. However, some differences do stand out.
The key difference is that Inc Authority not only offers free limited liability company formation but includes a long list of features in its free package as you can see in this image below.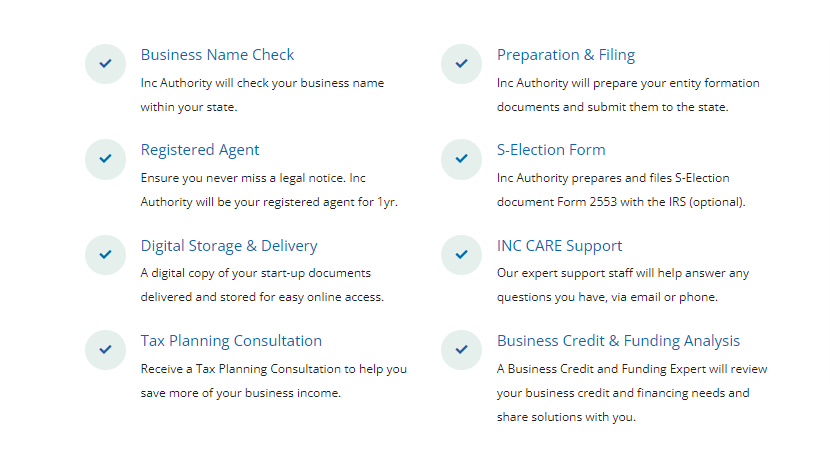 Image via Inc Authority
Inc Authority also offers multiple other business formation services in addition to LLC services, such as business planning, marketing, and one-on-one credit coaching.
In terms of customer support, Inc Authority has 4.9/5 star ratings on Trustpilot with most users appreciating their responsive customer support.
However, Inc Authority has not listed the pricing for its paid plans or additional services. Also, users find the upselling tactics that Inc Authority employs throughout the process of online business formation.
Form your S-Corp with ZenBusiness Today
ZenBusiness vs. Incfile
Incfile also offers free LLC services that include free 1-year Registered Agent services in addition to unlimited business name checks.
The pricing for paid plans is similar to that of Incfile alternatives, such as ZenBusiness ($199 and $299).
However, as you can see in this image of Incfile's pricing plans below, there are a lot more inclusions in the paid plans as compared to what ZenBusiness offers.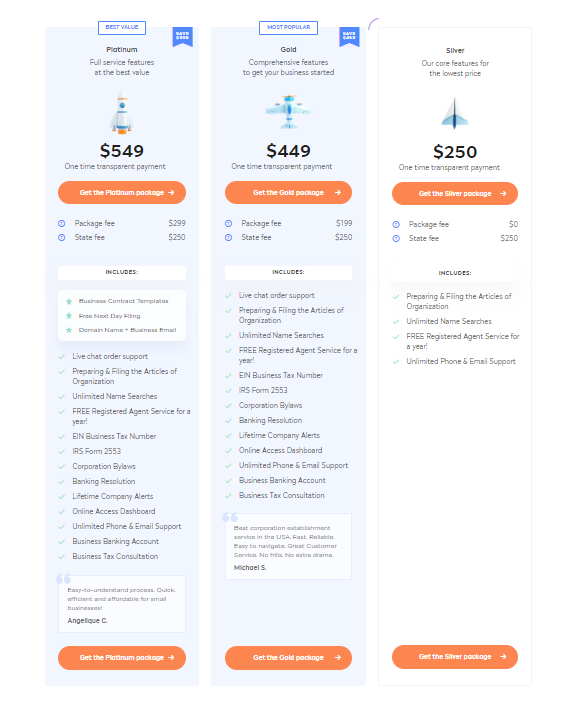 Image via Incfile
However, Incfile is not known for its efficient customer support. While Incfile offers finance and bookkeeping services, this comes at an extra cost of $90 per month.
In contrast, ZenBusiness Business Banking, which includes bookkeeping costs just $5 per month.
Form your Business in Just a Few Clicks
ZenBusiness vs. LegalZoom
Offering online legal services is one of the strong points of LegalZoom, a feature we have explored in the Inc Authority vs LegalZoom post. It also offers an extensive legal forms library in addition to comprehensive tax advice.
However, compared to ZenBusiness, LegalZoom's pricing plans are more expensive. While the Pro plan costs $249, the Premium plan is priced at $299.

Image via LegalZoom
The free plan, however, includes Articles of Organization, a name check service, a digital welcome packet, and a custom website.
Discover an Easy Way to Form Your Business
ZenBusiness Customer Reviews
On TrustPilot, ZenBusiness has earned a rating of 4.5/5 and 85% of reviewers have given it a 5-star rating.
Here are some of the ZenBusiness reviews that you might find useful:
What Do Their Customers Say About Them?
"I appreciate the speed in which I was able to set up my LLC. It's was easier than when I first formed a company more than 25 years ago. I most appreciated the "one-stop" shopping for my EIN, my registered agent, email and web domain. Can't wait to see how setting up my van account and other fiduciary services unfold! Thank you ZBiz!!!
– Larry M
"So far, it's been a pleasure having Zen business setting everything up for me, they answer my questions, they drive me to get things done, very organized. I've worked with other companies in the past where I had to do all the work, figure things out on my own, these guys help you get things done."
– Ron Vernon
Start your Free LLC Now with ZenBusiness
FAQs
Q1. Is ZenBusiness worth it?
A. Yes. ZenBusiness is one of the most reliable LLC formation companies and has been helping form LLCs, corporations, and non-profits since 2015. Their free plan is ideal for startups looking for basic company formation services.
Read our ZenBusiness review to know more about their useful services, such as banking, Money Pro, and others.
Q2. Is ZenBusiness a good registered agent?
A. ZenBusiness's Registered Agent services cost $199 per year.
As an experienced company in the industry, ZenBusiness offers reliable Registered Agent services that include receipt of documents and uploading of digital copies that you can view on your dashboard.
Q3. Is ZenBusiness trusted?
A. Absolutely. With a 4.5 star rating on Trustpilot, ZenBusiness is one of the trusted business formation companies.
In addition to its free package, the company is known for its transparent pricing and specialized business tools and services such as Money Pro, expense tracking, and business banking. Our detailed ZenBusiness review provides you with an in-depth look at what the company has to offer.
Q4. Do I need to renew ZenBusiness every year?
A. Yes. As mentioned in this ZenBusiness review, you will need to renew the subscription plans each year. However, some of the services require only a one-time fee including an Operating Agreement, EIN, license report, and Certificate of Good Standing.
Q5. What is ZenBusiness Money Pro?
A. ZenBusiness Money Pro is a financial planning and management tool offered by ZenBusiness that costs $30 per month.
This tool is designed to help small business owners manage their finances more efficiently by providing features such as tax deduction tagging, bank account integration, expense tracking, invoicing, and financial reporting.
Try ZenBusiness for Free
ZenBusiness Review: Final Verdict
In this detailed ZenBusiness review, we have explained all of its features and services that are designed to help you form your business quickly and easily.
ZenBusiness is known for its user-friendly online LLC formation services and fast filing speeds. There are also other useful business services on offer that you can purchase as your business grows.
Thanks to its transparent pricing, you will always know what to expect so you can plan ahead.
Overall, ZenBusiness is the right choice if you are looking for:
A free LLC formation package with basic features
Transparent pricing
Services like business banking, expense tracking, and invoicing
Another plus point with ZenBusiness is that it offers a 60-day money-back guarantee in addition to a free plan.
In our opinion, ZenBusiness is a good option to consider given its affordable pricing, user-friendly platform, and commitment to customer satisfaction.
Rely on ZenBusiness for LLC Formation