If you are starting a small business, you'll quickly realize the importance of proper financial management. One crucial step in this process is opening a dedicated small business bank account.
Establishing a business checking account effectively creates a clear divide between your business and personal finances, enhances the safeguarding of your personal assets, and simplifies the process of monitoring your small business expenses for tax purposes throughout the year.
If you're a new entrepreneur, you may have no idea of the exact steps to open a business checking account. And unless you intend to hire professional services to guide you, it can seem like a daunting task. Fortunately, we've done all the work and compiled a comprehensive guide to walk you through the process with ease.
What's a Business Checking Account?
A business checking account is a specialized financial account designed for businesses and companies. It enables a business owner to manage business finances separately from personal finances, promoting clearer financial records, tax compliance, and liability protection.
Business checking accounts provide business tools for professional financial management, including multiple authorized signers, business-specific features, and online banking services. These business checking accounts also enhance the business's credibility, as they allow transactions and payments to be made in the company's name.
Access to loans and business credit may be easier with a business bank account. They are offered by various financial institutions, each with its own set of features and fees.
How to Open a Small Business Checking Account
Opening a small business checking account involves several steps to ensure that your small business finances are properly managed. While the exact process may vary slightly depending on the bank or financial institution you choose, we've compiled five common steps to open a small business account.
Let's get into it.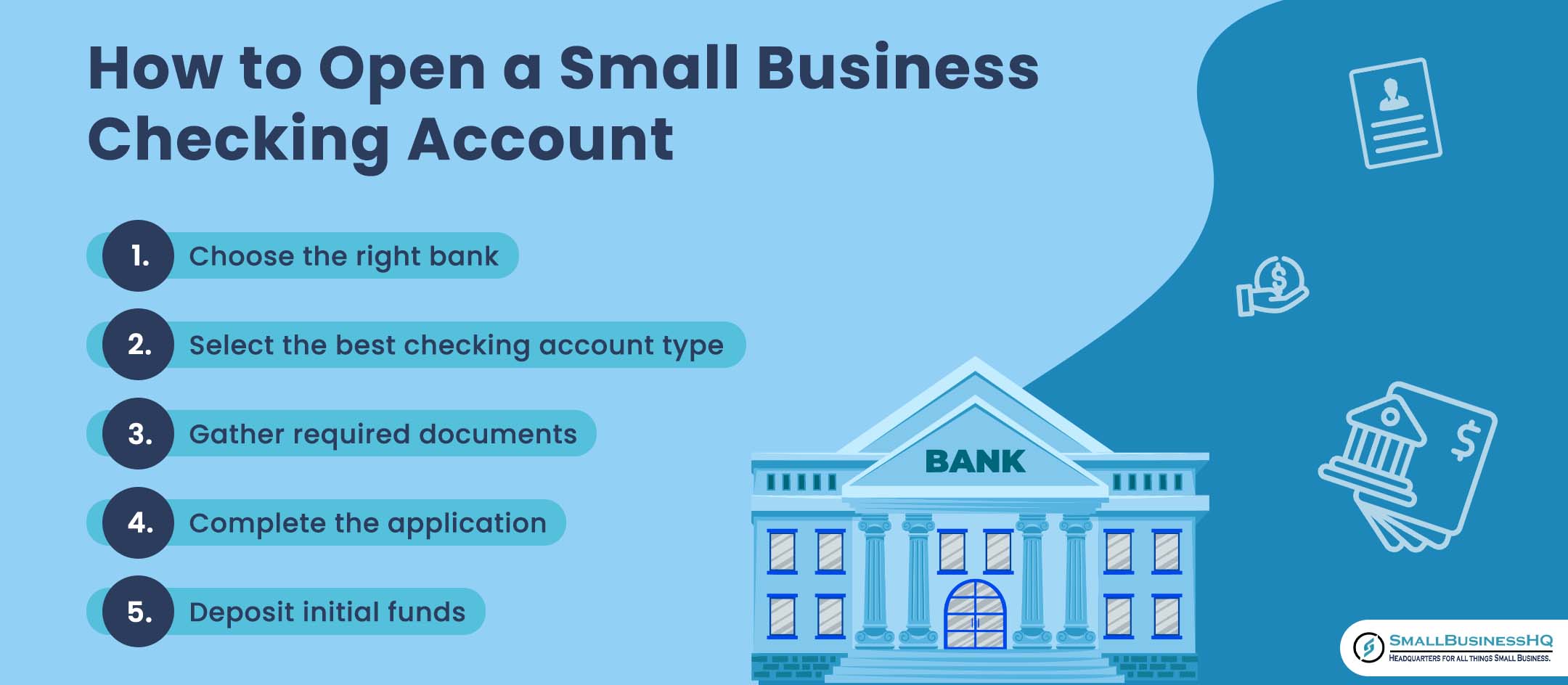 1. Choose the Right Bank
The first crucial step in opening a business checking account is selecting the right bank or financial institution to partner with. This decision lays the foundation for your small business's financial operations and can significantly impact your day-to-day banking experience.
Choosing the right bank involves careful consideration of various factors. These include: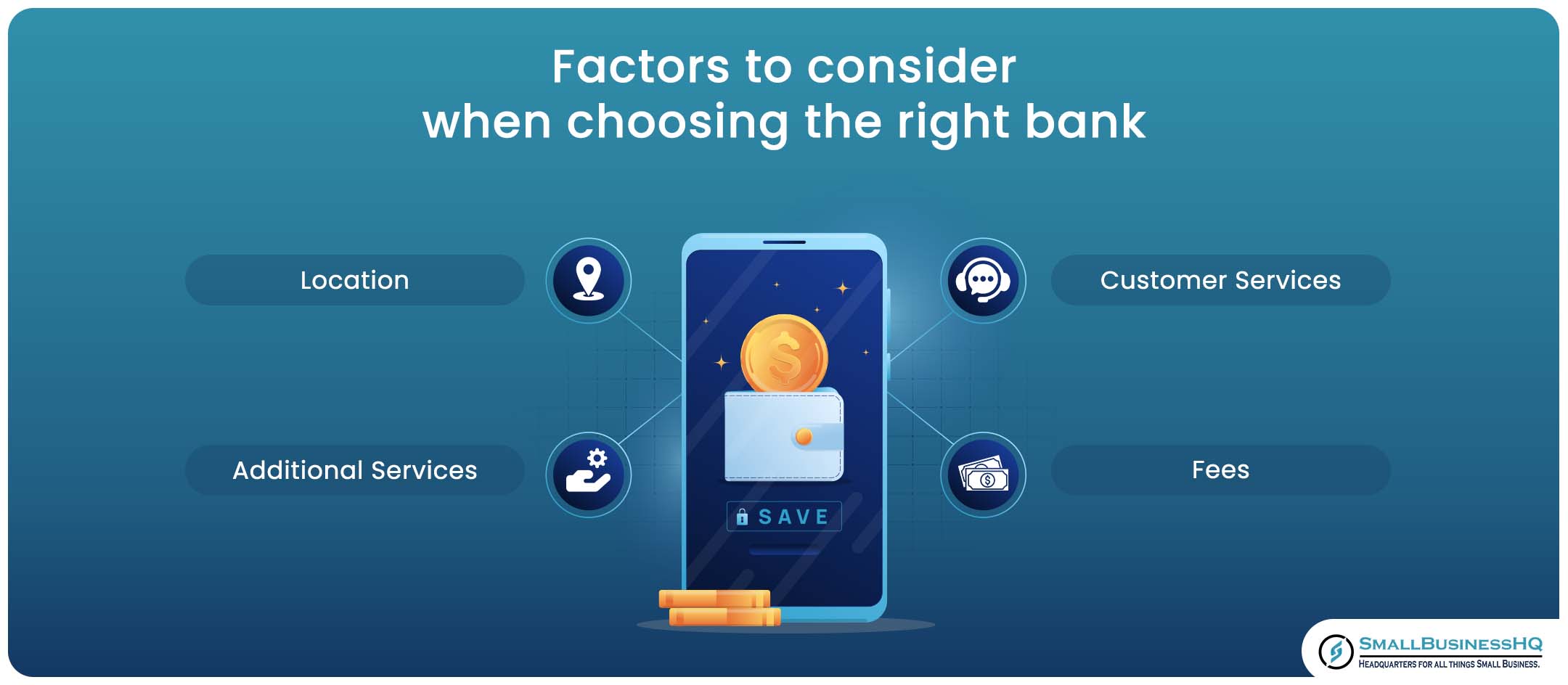 Location: You'll want a business bank with convenient branch and ATM access, whether it's in your local area or accessible online. This ensures that you can easily deposit and withdraw funds.
Fees: Banks have varying fee structures, including monthly maintenance and transaction fees, and minimum balance requirements. As a small business owner, it's essential to choose a savings account that aligns with your financial capacity and transaction volume.
Customer service: Assess the bank's reputation for customer service and the quality of its online and mobile banking services. A bank that offers user-friendly digital business tools can streamline your financial management. Poor services could spell doom, on the other hand.
Additional services: Consider any additional services the bank provides, such as business loans, credit lines, or integration with accounting software, as these can be valuable for your small business's growth and financial management.
By carefully evaluating these factors, you can make an informed decision about the bank that best suits your small business's financial needs and goals.
2. Select the Best Checking Account Type
Another important step is selecting the most appropriate bank account type to meet your specific business needs. This choice plays a critical role in how well your account aligns with your financial activities.
Business checking accounts come in various types, each tailored to different business requirements. It's essential to consider the features and terms of these account types, such as:
Account maintenance fees: Some merchant services accounts have monthly maintenance fees, while others offer fee waivers under certain conditions. Analyze your expected savings account activity and balance to determine if you can minimize or eliminate these fees.
Transaction limits: Different business checking account types may impose transaction limits, including checks written or electronic transfers. Ensure that the savings account allows the number of transactions you anticipate for your small business.
Additional services: Assess the additional services offered with the business checking account, such as online banking, bill pay, mobile check deposit, and cash handling services. Choose the bank account that provides the services your small business needs.
Ultimately, the goal is to select a bank account type that is cost-effective and aligns with your small business's transaction volume and preferences, ensuring smooth financial operations and helping you manage your funds effectively.
The good thing is, there are various checking accounts you can choose from.
Common Types of Business Checking Accounts
Here are 6 different types of business checking accounts: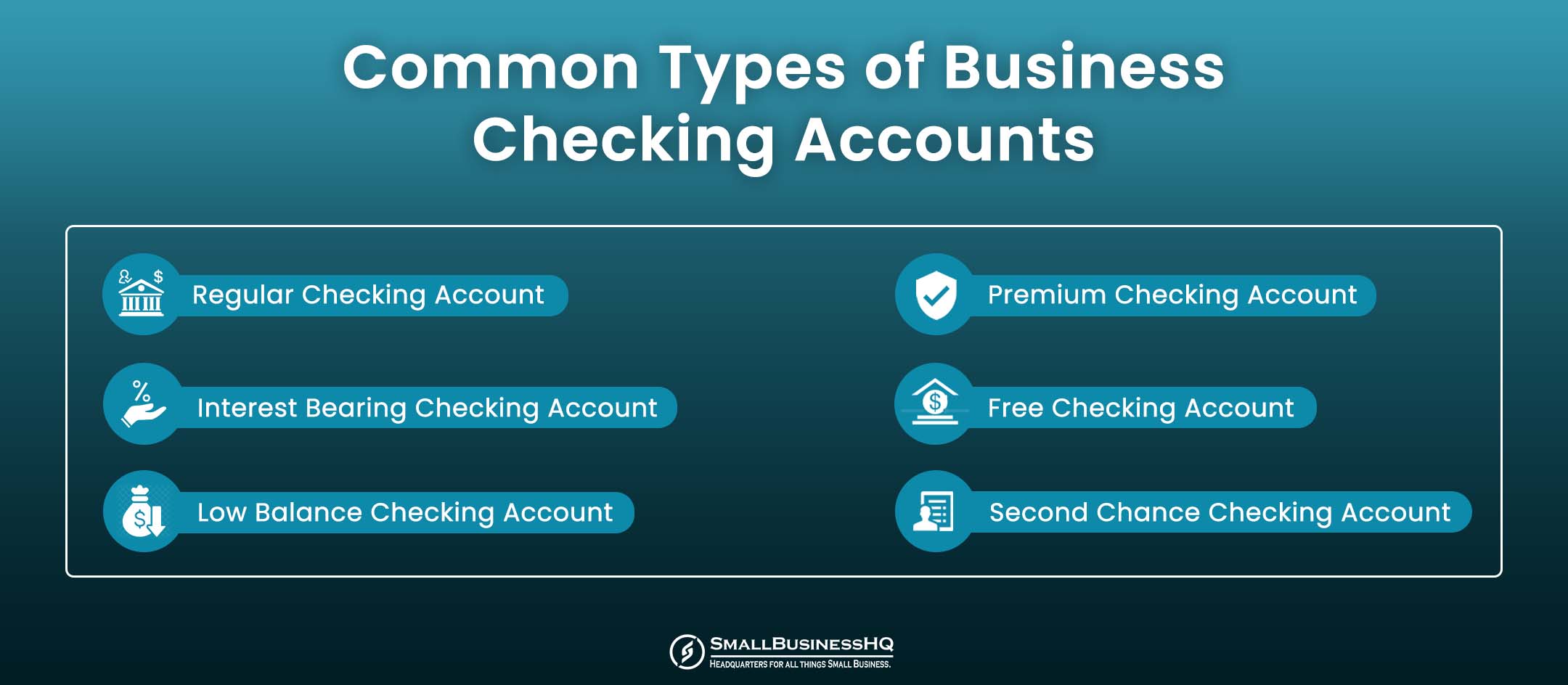 Regular Checking Accounts
A regular business bank account is a basic and straightforward option. It typically comes with low or no monthly maintenance fees if you maintain a specified minimum balance.
These accounts are designed for individuals and businesses with standard banking needs. They offer check writing and debit card access for everyday transactions, making them a practical choice for those who have consistent business bank account activity without requiring extra features.
Premium Checking Accounts
Premium checking accounts are a step up from regular accounts. They often offer higher interest rates, enhanced customer satisfaction, and a range of extra perks, such as access to exclusive merchant services, discounts, or rewards programs.
Premium business accounts are ideal for business owners who maintain higher balances and desire additional benefits in exchange for a higher monthly fee.
Interest-Bearing Checking Accounts
Interest-bearing checking accounts pay interest on the account balance, making them a suitable choice for a business owner who wants their money to work for them.
The interest rate may be tiered, providing higher rates for larger balances. While these merchant services accounts offer some growth potential, they may have more significant balance and activity requirements compared to regular bank accounts.
Free Checking Accounts
Free checking accounts are designed for cost-conscious consumers and businesses. They typically have no monthly maintenance fees, no minimum balance requirements, and may offer unlimited check writing and electronic transactions. While they lack the additional benefits of premium accounts, they are a practical choice for those who want to avoid fees and maintain simple, fee-free banking.
Low-Balance Checking Accounts
Low-balance business savings accounts are tailored to individuals or businesses that may struggle to maintain a higher minimum balance. These business savings accounts have lower minimum balance requirements or even none at all.
While they may come with lower fees or fees that can be waived more easily, they might offer fewer features than regular or premium business accounts.
Second-Chance Checking Accounts
Second-chance accounts are designed for individuals with a history of financial difficulties, including past overdrafts or banking issues.
These accounts often have more lenient qualification requirements but may include higher fees.
They give individuals an opportunity to rebuild their banking history and transition to a standard checking account as they demonstrate responsible financial behavior.
3. Gather Required Documents
Different banks may have specific document requirements, but there are a few basic documents that are commonly requested.
Collecting these documents is crucial when you need to open a business bank account, as it helps the bank verify your business's legitimacy and ensures compliance with legal and regulatory requirements.
By having these documents readily available, you can streamline the business bank account opening process and start managing your business finances more efficiently.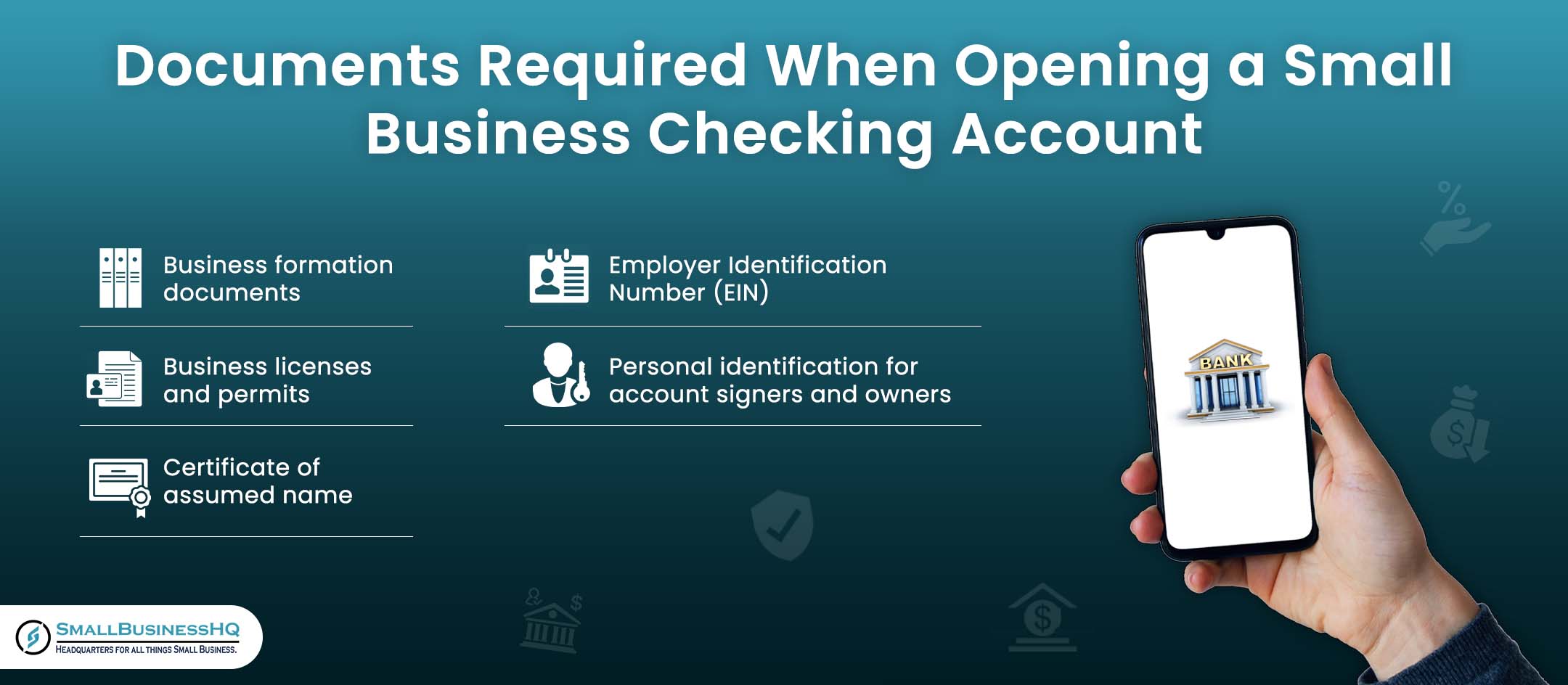 Business Formation Documents
Business formation documents provide proof of your business's legal structure and existence. For corporations, this typically includes articles of incorporation, while partnerships require partnership agreements and sole proprietorships may need a business registration certificate.
These business documents are vital when you need to open a business bank.
Employer Identification Number (EIN) from the IRS
An EIN, also known as a Federal Tax Identification Number, is essential for tax purposes and identifies your business to the IRS.
This unique number is necessary for reporting taxes, hiring employees, and opening a business bank account. Banks typically require an EIN to ensure compliance with tax regulations.
Business License or Permits (if applicable)
Some businesses, especially those in regulated industries, may require specific business licenses or permits to operate legally.
These business documents verify your business's authorization to conduct operations within your jurisdiction. Banks may request them to confirm your business's compliance with local regulations.
Personal Identification for Account Signers and Owners
Banks require personal identification, such as a driver's license, social security number, or passport, for all individuals who will be authorized to access the business account.
This ensures that the people managing the merchant services accounts are properly identified, helping to prevent fraud or unauthorized access.
Certificate of Assumed Name
The Certificate of Assumed Name, also known as a doing business as (DBA) certificate, is essential if your business operates under a name different from its legal entity name. This document links the assumed name to the legal entity and helps establish the connection between the two for the bank.
4. Complete the Application
After selecting the right bank and gathering the necessary business documents, the next step to open a business bank account is to complete the application process.
This step is where you formally request the establishment of the business bank account, providing the bank with essential information to ensure that your business is a suitable candidate for the bank account.
Visit the bank or apply online: Many banks offer the convenience of applying for a small business bank account online, which can save time and effort. Alternatively, you can choose to visit a local branch in person, where a bank representative can guide you through the process and answer any questions you may have. The choice between these options depends on your preference and the bank's procedures.
Fill out the application form: The application form is a critical document that captures important details about your business. It typically asks for information such as the business's legal name, business structure (e.g., sole proprietorship, LLC, corporation), address, contact information, and details about the authorized signers on the business bank account. It's crucial to provide accurate and up-to-date information, as any discrepancies or inaccuracies can delay the approval process.
Accuracy and completeness are key when filling out the application. Ensure that all information is current, consistent with the documents you've gathered, and reflects the true nature of your business.
Any inconsistencies or inaccuracies can lead to delays or potential issues during the approval process. Be prepared to provide the necessary personal identification business documents for the account signers and owners if you are applying in person.
Once you have submitted the application, the bank will review it, along with the provided business documents, to determine your eligibility and the approval of your small business bank account.
In some cases, you may need help to complete your application. The good thing is that you can hire professional business services to get things done. Following a successful review, you'll be one step closer to enjoying the financial benefits and convenience of your new merchant services accounts.
5. Deposit Initial Funds
After completing the application process for your small business checking account, it's essential to deposit the initial deposit amount required by the bank.
Each bank sets its own minimum deposit requirement, which can vary significantly. This initial deposit is crucial for activating and maintaining your business savings account. It serves as the financial foundation for your business's banking activities.
To meet this requirement, you need to ensure that you have the necessary personal funds available to deposit to your business accounts.
You might need to transfer funds from another account, write a business check, or make a cash deposit at a physical branch, depending on the bank's accepted deposit methods.
Failing to meet the minimum deposit requirement may result in the delay or rejection of your business bank account application.
Beyond the initial deposit, it's important to maintain an adequate balance in your small business bank account to cover future monthly transactions and expenses.
Ensuring that you have sufficient personal funds in your account will help you avoid overdrafts and associated fees, promoting smooth and effective financial management for your business.
Benefits of Business Checking Accounts
Most business bank accounts offer a range of advantages that can significantly benefit your business. Here are 8 key benefits to consider:
1. Financial Separation
A primary benefit of opening a business checking account is the clear separation of personal and business finances.
This segregation simplifies bookkeeping and financial record-keeping, ensuring that personal funds and business transactions do not overlap, which is essential for accurate tax reporting and legal liability protection of your business.
2. Credibility and Professionalism
Opening a business bank account in your company's name enhances your business's credibility. It allows you to receive credit card payments in the business's name and make payments or issue checks for business expenses, projecting a more professional image to clients, suppliers, and partners.
3. Easier Transaction Management
Business bank accounts provide business tools for streamlined financial management.
These merchant services accounts offer features such as online banking, mobile check deposits, bill payment services, and detailed transaction histories.
This makes it easier to track expenses, reconcile accounts, and monitor cash flow efficiently.
4. Access to Business Loans and Credit
Opening a business bank account may make it easier to access business loans, lines of credit, or other financial merchant services.
A well-managed business account demonstrates financial responsibility, increasing your credibility when seeking business financing.
5. Tax Reporting Simplification
Maintaining a business bank account facilitates tax preparation. You can easily distinguish business-related expenses and income, ensuring accurate tax filings. This simplifies the tax reporting process and can help you take advantage of potential deductions or credits.
6. Enhanced Security and Protection
Business checking accounts often provide extra layers of security compared to personal accounts. This can include features like fraud protection, which helps safeguard your business funds from unauthorized transactions.
Additionally, keeping business finances separate can protect your personal assets in the event of legal or financial issues related to your business, as the two are kept distinct. However, this would depend on your business entity (LLCs and corporations provide liability protection).
7. Improved Vendor Relations
When your business pays suppliers and vendors from a dedicated business checking account, it can enhance your professional relationships.
You can easily track payment and credit history, manage expenses, and maintain accurate records of transactions, which can lead to smoother interactions with your suppliers.
8. Legal Compliance
Maintaining your business finances separately is often a legal requirement for certain business structures, such as corporations and LLCs.
Adhering to this requirement ensures that your business remains in compliance with regulations, reducing the risk of legal issues or fines.
It also facilitates an easier audit trail, helping you remain accountable and organized for tax and financial reporting purposes.
Frequently Asked Questions (FAQs)
Q1. How much do I need to open a small business checking account?
The initial deposit amount for a small business checking account varies from bank to bank. Some banks may offer credit card accounts with no minimum deposit requirement, while others may ask for several hundred dollars or more. To find out the specific amount, it's best to inquire with the bank you intend to use.
Q2. What documents are typically required to open a small business checking account?
Here are the business documents you may need:
Business formation documents: These establish your business's legal structure. For instance, if you have a corporation, you would need articles of incorporation.
EIN from the IRS: An Employer Identification Number (EIN) is necessary for tax purposes.
Personal identification: Banks often require driver's licenses or passports for all account signers and owners.
Business licenses or permits: Depending on your industry, you may need to provide documents that prove your business is operating legally.
Q3. What fees should I be aware of when opening a small business checking account?
Common fees include:
Monthly maintenance fees: These are recurring charges to keep the account active.
Transaction fees: Charges for certain types of transactions beyond a specified limit.
Overdraft fees: Applied when you spend more than your business checking account balance.
Minimum balance requirements: Some merchant services accounts require a minimum balance to avoid fees.
Q4. How long does it typically take to open a small business checking account?
The timeframe can vary based on factors like the bank's policies, responsiveness, and document accuracy. Some accounts can be set up within a few days, while others may take longer, especially if there are document discrepancies or other issues. It's best to contact the bank directly for specific timelines.
Q5. Which business checking account is the best for small businesses?
The best business checking account for small businesses depends on your specific needs and preferences. However, some popular choices for small businesses include accounts offered by well-established banks, online banks, and credit unions. To determine the right account for your business, consider factors like monthly fees, transaction limits, online banking features, ATM access, and the level of customer satisfaction.
Final Thoughts
Business checking accounts serve as a cornerstone for managing your small business's finances effectively. Now you have an idea of how you can navigate the process of opening one, and the benefits that await. These steps will help you keep your finances separate from business funds, thus enhancing your professional image and simplifying financial management.
Remember that each business is unique, and your specific needs should guide your choices. By adhering to these guidelines, you'll not only streamline your financial operations but also ensure compliance with legal and regulatory requirements.
So, what are you waiting for? Use the above steps to open a business checking account for your small business. With the right account in place, you can focus on growing your business with peace of mind and financial stability.