Starting a business from scratch is no easy task and running it smoothly is even harder. That's why many business owners opt for business formation services offered by companies like Incfile and LegalZoom.
If you are planning on starting your own business then undoubtedly you'd be facing the Incfile vs LegalZoom dilemma.
Which one should you opt for? Why should you pay for business formation to LegalZoom when Incfile offers the service for free? Is Incfile a legit business if it's offering a free service?
Don't worry! In this post, we will not only help you overcome your Incfile vs LegalZoom dilemma but also provide you with all the information you need to make the right choice.
Incfile vs LegalZoom: Quick Summary
| | |
| --- | --- |
| Incfile is a free business formation service that you can use to quickly register your business and get it up and running. | LegalZoom is a premium business services provider that offers a suite of services including business formation, legal services, and more. |
Incfile vs LegalZoom: Ratings
| | | |
| --- | --- | --- |
| | Incfile | LegalZoom |
| Overall | 5 | 4 |
| Support | 4 | 4 |
| Services Offered | 5 | 5 |
| User-Friendliness | 5 | 4 |
| Value for Money | 5 | 3 |
---
Pros
| | |
| --- | --- |
| Incfile | LegalZoom |
| Free business formation | All-in-one business services |
| Free registered agent service for 1 year | 100% money-back guarantee |
| Unlimited free name searches | Easy-to-use interface |
| Phone support even with free plan | Ongoing legal support |
---
Cons
| | |
| --- | --- |
| Incfile | LegalZoom |
| Paid plans are a bit expensive | Slightly on the expensive side |
| Slow customer service response | Long order processing time |
---
Pricing Details
Incfile
LegalZoom
Plan
Cost (Per Month)
Plan
Cost (Per Month)
Silver
$0
Basic
$0 + State fees
Gold
$199
Pro
$249 + State fees
Platinum
$299
Premium
$299 + State fees
–
–
DBA
$99 + State fees
Registered agent service is free for 1 year with all plans
Registered agent service is available for $299/year

Choose Incfile

Choose LegalZoom
Quick Verdict
If you want a hassle-free way to start your business for free, then Incfile is a great option. They will register your business for free and only charge for add-on services if you need those. LegalZoom, on the other hand, is a premium service provider that offers all kinds of business services. If you need a company that will help you throughout the business formation and post-formation stages, this is the right choice for you.
Incfile vs LegalZoom: Who are These For?
Incfile
LegalZoom
Solopreneurs
Midsized businesses and enterprises
Small businesses
Anyone who wants premium and hassle-free legal services
Mid-sized businesses
---
Incfile vs LegalZoom: Services Comparison
Incfile
LegalZoom
Business Formation
Business Name Check
☑
☑
Registered Agent Services
☑
$299 per year
Business Tax Consultation
☑
–
Other Paid Services
Annual Report
☑
☑
Contracts & Agreements
☑
☑
EIN/Tax ID
☑
☑
DBA
☑
☑
S-Corporation Election
☑
☑
Legal Documents Templates
☑
☑
Domain Registration
☑
☑
Expedited Filing
☑
☑
Business Licenses
☑
☑
Trademarks &Patents
☑
☑
---
Detailed Review: Incfile
In this section of this Incfile vs LegalZoom review, you'll find an in-depth review of the various services offered by Incfile.
Let's get started.
Incfile is a business formation services provider trusted by over 800K businesses across the states. It is especially popular among small business owners and first-time entrepreneurs due to its free business formation plan.
In this Incfile review, we'll take a look at all the services it offers and whether these are worth your money. Let's get started.
Business Name Search
Incfile offers unlimited free name searches for anyone who wants to check the availability of their chosen business name. This service is available even with the free plan, making it really convenient for you to complete this step before you go on to register your business.
How does it work?
Simply search for your chosen business name in their search bar and you will find if any other businesses are using the name that you plan to use. If your chosen business name is unique, you can go ahead and register it while registering your business.
Conduct a Business Name Search
Business Formation
Incfile offers free company formation services that help you form an LLC (Limited Liability Company), Corporation, or S-Corporation in a quick and efficient manner. All you need to do is pay the state filing fees and they'll do the rest of the busy work for you for free.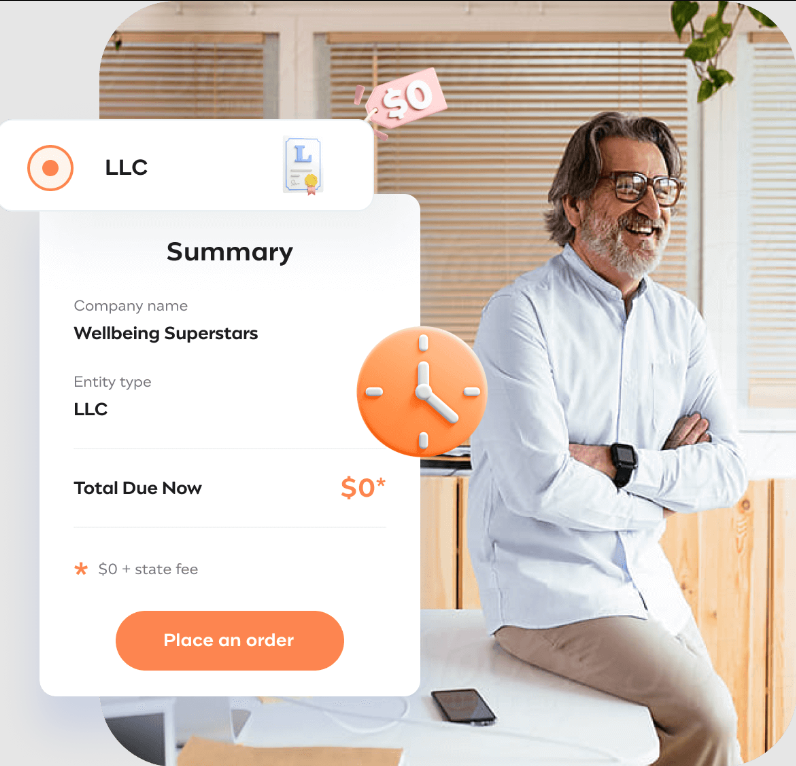 Image via Incfile
If you take the free plan, they'll prepare and file your application and register your business with the state.
With paid plans, you'll also get your employer identification number (EIN) along with business registration. Additionally, they will also file your articles of organization.
Pro Tip: If you just want quick and free business formation then you can end your Incfile vs LegalZoom dilemma right here and choose Incfile. If you need more services, then keep reading.
Registered Agent
Every business needs a registered agent to receive all legal notices and documents on its behalf. And a registered agent needs to be available at the given address during regular business hours on all working days.
As a business owner, you may already have too much on your plate and this extra hassle may not be something you would want to take on. That's where companies like Incfile can help you.
Incfile offers a free one-year registered agent service with all plans. After one year, it is a paid service that costs $119 per year.
Doing Business As (DBA)
Sometimes business owners do not want to run their businesses using long and complex legal business names. After all, these names may include words like "LLC", "incorporated", or even the owner's full name.
If you want a short, relevant, and unique name to run your business, you can file for a DBA. This is basically a fictitious name or assumed name that you can use for day-to-day business purposes.
Choose a name that your customers and prospects can easily remember and search for online. Also, make sure that it is relevant to your business and conveys what it does.
If you want multiple location-specific names, Incfile can help you get that as well.
This is a paid service and the processing fee changes depending on your state.
File a DBA Today
Accounting and Bookkeeping
Incfile offers complete business accounting and bookkeeping services at a nominal cost.
They start by giving you a free tax consultation to help you understand where you can save money.
If you choose to leverage their services, they'll prepare and file taxes for you, track and record business transactions, do bank reconciliation, and more.
Get a Free Tax Consultation
Name Change or Amendment
If you need to change your business name, address, member information, or any other important information, you need to inform the authorities.
This requires filing an article of amendment with the state and that would require some paperwork and legal hassles. Luckily for you, Incfile provides this service.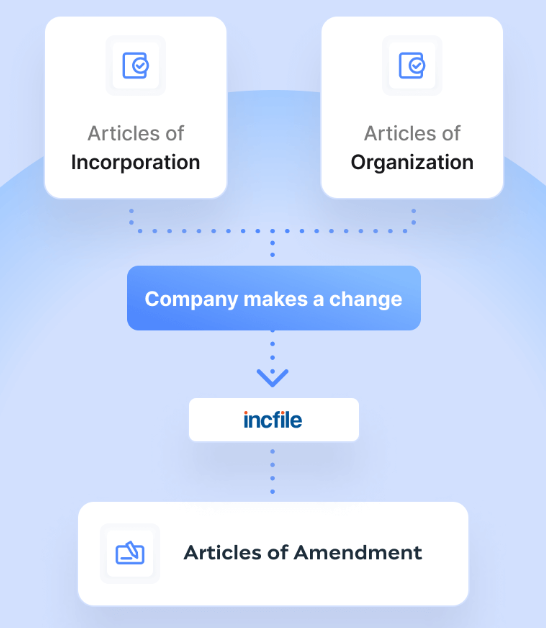 Image via Incfile
This service by Incfile costs $99 plus state filing fees.
Certificate of Good Standing
Sometimes during the course of business, you may need to prove that your business is compliant with state and federal laws and regulations and is in good standing with the government.
This can be done by obtaining a certificate of good standing from the government. Incfile can help you quickly get one, as and when needed for a nominal fee of $49 plus the state fees.
Foreign Qualification
If you're doing business in a state other than your home state, you will need to obtain a Certificate of Authority by filing for foreign qualification. This allows you to legally operate your business outside of your state.
Please note that you will need a separate certificate for each foreign state in which you operate your business.
The charges for this service are nominal—$149 plus state fees.
S-Corporation Election
If you want your LLC to be treated as an S-Corporation for tax benefits, then you need to fill out the S-Election Form 2553.
Incfile can take care of the process for you, for a fee of $50, in addition to the state fees.
Please note that this is only for treating an LLC as an S-Corporation. If you want to form an S-Corporation right from the start, then that service is free just like Corporation and LLC formation services.
Trademark Registration
When you run a business, you'd want to protect your brand assets like name, logo, tagline, etc.
These are brand identity elements that help consumers recognize your brand and if someone else starts using these they're practically stealing your brand identity. Of  course, you can't let that happen.
That's where a trademark comes into the picture. You can register a trademark to protect your brand assets. Incfile offers this service for $199 plus filing fees.
Annual Report Filing
Incfile also helps you prepare and file your annual reports for just $99 plus state filing fees. This helps you stay compliant with state regulations and stay in good standing.
Try Incfile Today
Detailed Review: LegalZoom
LegalZoom is one of the most popular business services providers trusted by over 2 Million businesses. From business formation to filing for patents, it can help you with everything you need to start and run your business successfully.
Business Formation
LegalZoom can help you form an LLC, a Sole Proprietorship, Corporation, or a Non-Profit for a certain fee. Let's check out the costs and plans for each.
LLC
There are 3 LLC formation packages catering to different business needs. The price starts from $79 plus state fees for the LLC formation service.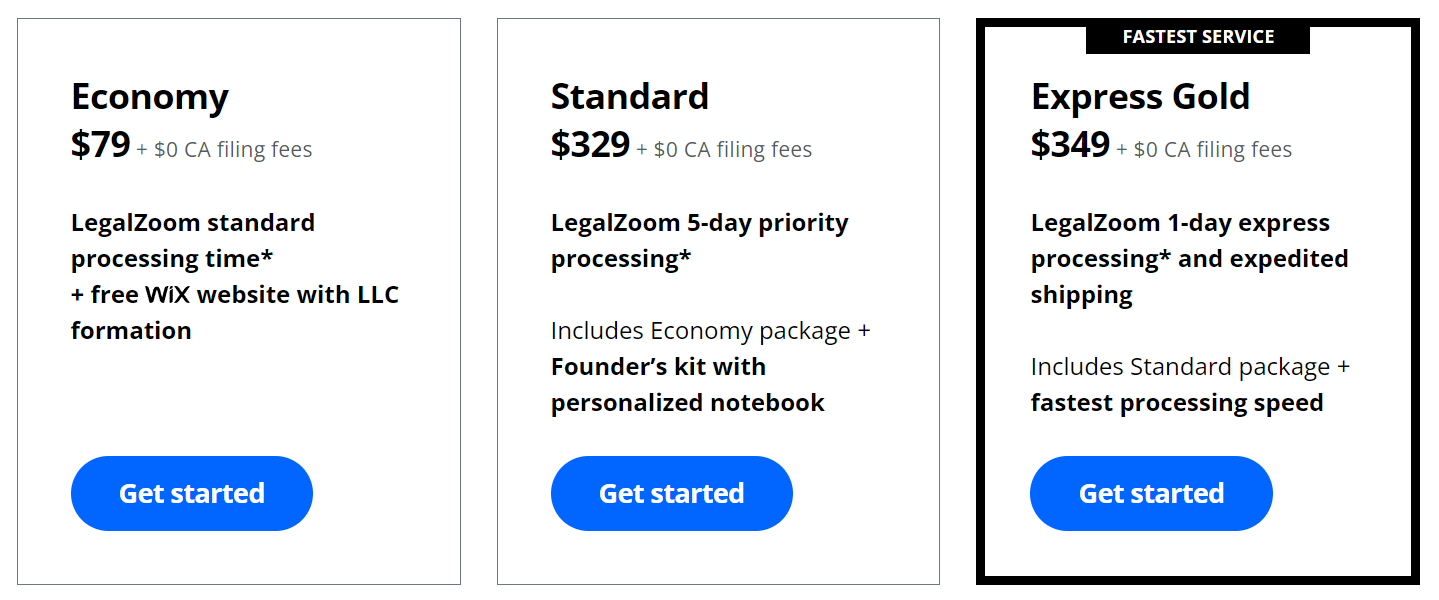 Image via LegalZoom
Choose the Right Plan
Corporation
The plans for forming a Corporation start from $149 plus state fees. Here is an overview of the packages it offers.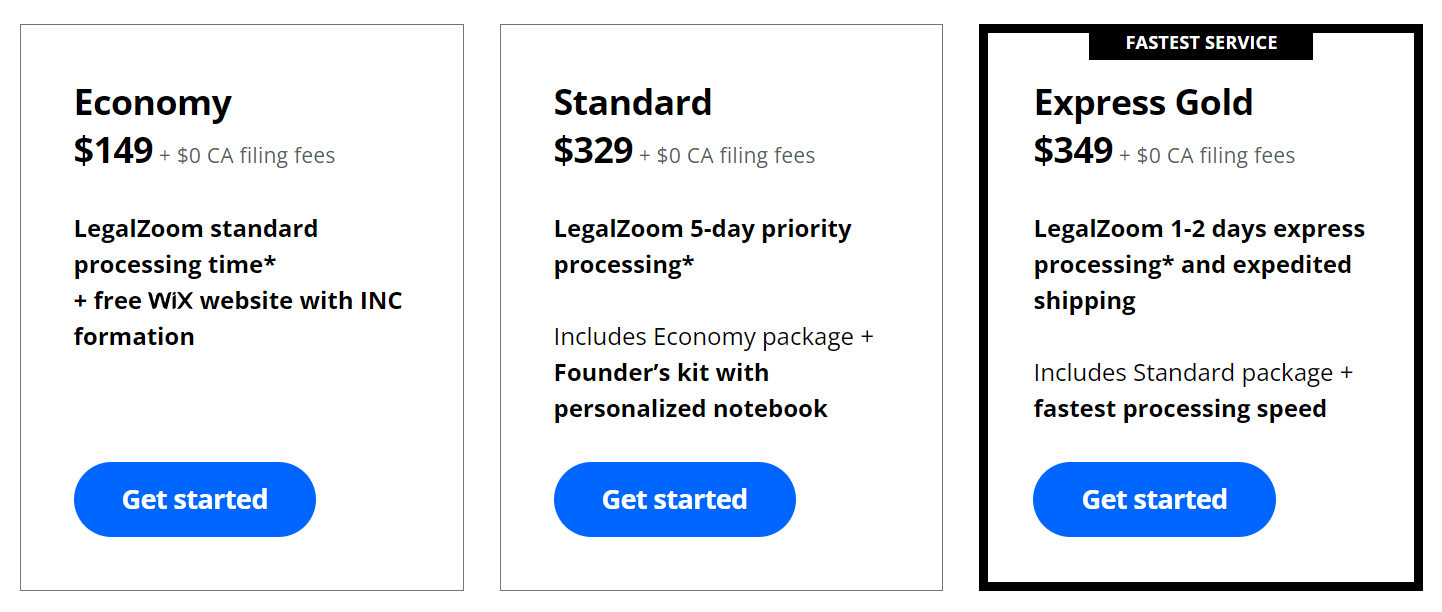 Image via LegalZoom
Nonprofit
Starting a nonprofit requires a lot of paperwork and legal forms, and a single mistake can get your application rejected. LegalZoom makes the business formation process easier and simpler for you, starting with a nominal fee of just $99 plus state fees. Check out its plans and what they offer.


Image via LegalZoom
Registered Agent
Unlike Incfile, the registered agent service offered by LegalZoom is not free. It is a paid service that will cost you $299 per year.
Doing Business As (DBA)
As mentioned earlier, business owners file DBA for various reasons. Irrespective of why you need an assumed name or how many DBAs you need to file, LegalZoom can help.
LegalZoom offers this service for $99 plus state filing fees as part of its standard plan. The Premium plan costs $119 plus state fees and includes a 14-day trial of legal advisory services.


Image via LegalZoom
Trademarks, Patents, and Copyrights
LegalZoom can help you register all kinds of trademarks, copyrights, and patents. Apart from Trademark search and registration, it also offers trademark monitoring to look for infringements.
Incfile, by comparison, offers only trademark registration, which is a win for Legalzoom in the Incfile vs LegalZoom comparison.
Trademark registration costs $599 plus federal fees.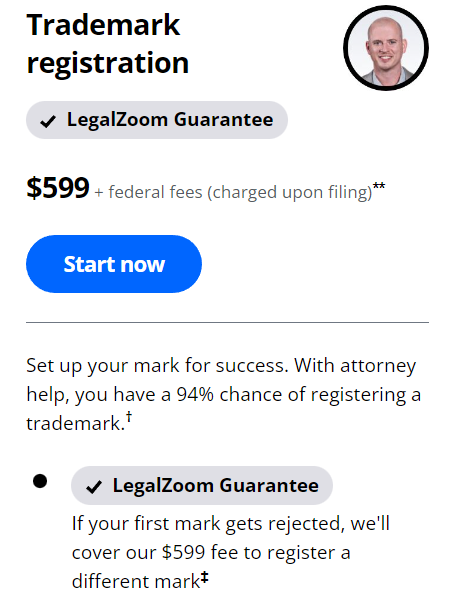 Image via LegalZoom
Trademark search pricing starts at $199 and monitoring services start from $175 per year.
Filing for copyright via LegalZoom costs $114 per year, while a provisional patent application costs $199 plus filing fees.

Image via LegalZoom
When combined with copyrights and patents, LegalZoom offers all services you need to protect your brand and business assets.
Annual Reports
Filing annual reports is mandatory for certain types of businesses and optional for some. The exact requirements vary from state to state and may also depend on your business type and structure.
However, if you do have to file annual reports, you need to ensure that these are 100% accurate, in the correct format, and filed on time. Failure to meet these requirements will remove your business from good standing with the state and may harm your reputation.
Luckily for you, LegalZoom can help you prepare and file your business annual reports on time and in compliance with government regulations. It charges just $99 plus filing fees for this service, which is the same as the price charged by Incfile.
Business Licenses & Permits
Simply registering your business is not enough for you to start operations as you also need to obtain business licenses and permits. These requirements vary for different types of businesses and also vary from state to state.
LegalZoom can help you find out the exact requirements and obtain the necessary permits for your business. This service will cost you $99.99 with the starting plan.
Tax Filing
LegalZoom offers tax preparation and filing, and tax advisory services through LZ Tax™.
They do more than file tax returns for your business, they tell you how to save money. You get the chance to talk one-on-one to tax experts who will help you optimize your tax returns to get maximum benefits.
The exact price will depend on the kind of services you need, so call their team directly to learn more about the pricing plans.
Legal Documents


Image via LegalZoom
During the course of your business, you will often need to prepare a variety of legal documents including custom legal forms, contracts, and agreements.
Such documents follow specific formats and should be legally binding. LegalZoom helps you in this regard by providing you with templates for legal documents prepared by real lawyers.
You can use these templates to quickly create all types of legal documents and download or print them instantly.
Some examples of legal documents are:
Affidavits
Bills of sale
Business contracts
Non-disclosure agreements
Promissory notes
Rental agreements
LegalZoom has over 150 different customizable templates for various types of legal documents, so you will find whatever you need from their library.
Pro Tip: If you have a regular need for legal advice and documents, then end your LegalZoom vs Incfile dilemma by choosing LegalZoom.
Foreign Qualification
As explained earlier, you need a certificate of foreign qualification to conduct business in states other than your home state. LegalZoom can take care of the paperwork and help you get one quickly, for a fee of $229 plus state fees.
Overall, LegalZoom offers a comprehensive suite of services that help you form and run your business. It is more than just a business formation service and can meet all your business needs in the initial stages as well as your ongoing business needs.
Start with LegalZoom Today
Incfile vs LegalZoom: LLC Formation Plans Comparison
A detailed Incfile vs LegalZoom comparison is not complete without a comparison of the various plans offered by each. So, let's get right to it.
Incfile LLC Formation Plans and Inclusions
In this section of our LegalZoom vs Incfile comparison, we'll list the various plans offered by Incfile and the services included in each plan.
Silver – $0 + State fees
Business entity formation, including the preparation and filing of application
1 year complimentary registered agent service
Unlimited business name searches
Phone and email support, without any limits
When doing an Incfile vs LegalZoom comparison, the biggest advantage of Incfile is that it offers 1-year registered agent service with its free plan.
Though it does not offer as many free services as Inc Authority, it's still a plus. Read our detailed Inc Authority vs Incfile post to find out other similarities and differences between the two.
Gold – $199 + State fees
Apart from the services offered in the Silver plan, here are the additional services you'll get with this plan:
Preparation and filing of federal EIN or Tax ID application
Preparation and filing of Form 2553 of the IRS for S-Corp election
Help with creating an LLC operating agreement
Banking resolution service
Lifetime alerts for upcoming deadlines to help your business stay compliant with the state rules
An online access dashboard to store and manage your documents digitally
Help with opening a business bank account
A detailed consultation with a tax consultant on how to maximize tax savings for your business
Platinum – $299 + State fees
This plan offers everything that's included in the Gold plan, plus:
Templates for various business documents and contracts
Free next-day filing option
A website domain name along with business email addresses
The primary advantage of choosing this plan is expedited filing, which can help you get your LLC up and running quickly.
LegalZoom LLC Formation Plans and Inclusions
Next, in this Incfile vs LegalZoom comparison, we'll check out the various plans offered by LegalZoom.
Here we go.
Basic – $0
Preparation and filing of Articles of Organization
Business name check service to find a unique business name
A digital welcome packet with a checklist for growing a new business
Help with designing a new business website with the help of Wix
Email and chat support
Financial account authorization letter
When you compare the free plans of Incfile vs LegalZoom, you'll see that Incfile offers more value.
Pro – $249
It includes everything in the Basic package, plus:
Help with crafting a comprehensive LLC operating agreement
Filing the application for acquiring an Employer Identification Number
Guidance on which licenses and permits you'll need, based on your business type, industry, and location
Tax and insurance consultations with experts via phone
Premium – $299
Apart from the services offered with the Pro plan, you'll also get:
Access to an experienced attorney of your choice, to consult on various legal matters related to your business
Unlimited 30-minute consultations with your chosen attorney to guide you through various legal matters
Changes or amendments to your LLC formation documents, within the first 30 days of formation
Phone support
During our LegalZoom vs Incfile comparison, we found that the former is a better option if you want ongoing online legal services. Hiring professional attorneys for every small task can be costly and LegalZoom provides a simpler and more affordable alternative.
This brings us to the end of the detailed Incfile vs LegalZoom plans comparison. Now, let's see some customer reviews for both companies before you make your final decision.
What Do Their Customers Say About Them?
This section of our Incfile vs LegalZoom comparison guide deals with customer reviews of each company. Check these out.
Incfile

LegalZoom

"All-in-one package made starting my business super easy. I didn't have to worry about making sure I filed the right paperwork or drafting documents needed to start a business. Highly recommend!."

 -Melissa Campbell

"If you are just starting a new LLC and not sure how it works then I recommend LegalZoom, things are pretty much in order all you have to do is choose what suits you best."

– Rude Wayne

"I put my articles filing together in about half an hour the night before and the next day Incfile had my complete package in the mail by 2 hours after opening. Coming from LegalZoom, I was expecting an express service to take at least a week.!"

– Stratusphorm

"LegalZoom is my go-to source for many of my routine legal needs. They have assisted me in setting up numerous corporations and LLC's over the years at a fraction of what I used to pay attorneys. Their professionalism is wonderful."

– William Stoermer
FAQs
1. Is Incfile credible?
Yes, Incfile is a legitimate and trustworthy business formation services provider that has helped over 800K businesses over the years.
And yes, it genuinely offers free business formation services where you just need to pay the state filing fees. Still, if you want more options, you can consider one of the many Incfile Alternatives that offer similar or even better services.
2. Incfile vs LegalZoom: which is better?
There's no real end to the Incfile vs LegalZoom dilemma as both these companies are good. It's just that one might be better suited to meet your needs than the other and only you can decide that.
Here's our final Incfile vs LegalZoom verdict:
We suggest making a list of services you need and then adding up the prices offered by both to come up with the total cost. When comparing services and costs, also check the scope of services and what they offer within each plan.
Make a like-for-like comparison and then make a decision to end your Incfile vs LegalZoom dilemma once and for all.
3. How does Incfile offer free LLC formation?
Incfile attracts customers via its free service but earns money from add-on services that businesses inevitably need at some point. And if someone has a good experience with their business formation service, they're likely to continue with Incfile for other services as well.
There you go—that's the trick. It's not a trick at all, just a brilliant business strategy.
4. Is LegalZoom cheaper than hiring a lawyer?
Definitely! Hiring an attorney every single time you need to take care of a legal process is extremely expensive. LegalZoom offers you a complete suite of business services at a fraction of the cost of hiring a lawyer and it makes things hassle-free.
However, when you compare Incfile vs LegalZoom, you may find the latter to be slightly more expensive. There are, of course, factors other than price that will help you solve your Incfile vs LegalZoom dilemma, so you should make detailed comparisons of their features as well.
5. Why do I need business formation services?
Forming a business requires tons of paperwork and legal hassles that many new entrepreneurs simply don't have the time for. Companies like Incfile and LegalZoom help simplify and expedite the company formation process to make things easier for you.
So, compare the services offered by Incfile vs LegalZoom and pick the company that is best suited to meet your needs.
Incfile vs LegalZoom: Final Verdict
There's no real end to the Incfile vs LegalZoom dilemma as both these companies are good. It's just that one might be better suited to meet your needs than the other and only you can decide that.
Here's our verdict:
If you need a basic business formation service, then Incfile is the cheapest option. If you have ongoing legal and tax advisory needs, then LegalZoom offers more comprehensive services.
Disclaimer: This content contains affiliate links, which means we'll earn a commission when you click on them (at no additional cost to you).